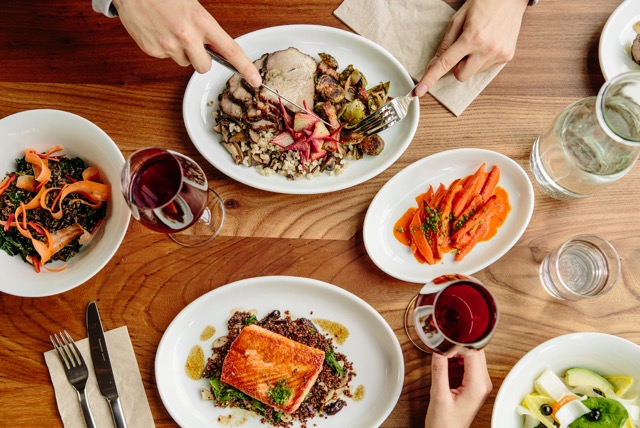 Little Gem, located at the corner of Grove and Gough in San Francisco, is a new kind of restaurant – a kind that is destined to become the new normal. Providing great attention to the increasing dietary restrictions of the general populace, Little Gem delivers incredibly fresh and locally sourced dishes that contain not an ounce of refined sugar, gluten or dairy. But you certainly won't miss those things as you marvel over the fresh asparagus, the crazy good Ora King Salmon with red quinoa, or the chocolate chunk cookie. If these restrictions do happen to bind your diet, then Little Gem is your holy grail. If you're free to consume whatever you wish, then Little Gem is simply a wonderful place to eat.
Little Gem's 'fast-casual' designation is slightly misleading. The only thing that's fast is the front counter ordering and the quick delivery of your meal. The term in no way references the food itself – much of which comes from local ranches. The Meat & Potatoes dinner plate is a healthy portion of Five Dot Ranch Flatiron steak. The roasted chicken plate is a Marin Sun Farms breast and thigh. Sourcing and healthy aspects aside, here are a few more reasons that Little Gem is shining brightly:
The Haute Dream Team: Little Gem is the brainchild of three industry heavy-hitters: Eric Lilavois, the former chief operating officer of the Thomas Keller Restaurant Group, Dave Cruz, former chef at Keller's Ad Hoc, and John DiFazio, a former NYC banker. Lilavois, a food-allergy sufferer, sought to open an eatery where those like himself could find soul-satisfying and acceptable dishes that don't scrimp on quality or flavor. He brought aboard his longtime colleague, the talented Cruz, and then DiFazio, a Wall Street finance whiz, who, after finding inspiration in Michael Pollan's Omnivore's Dilemma, was motivated to change career paths. The three care deeply about food – where it's sourced, how it's grown and who grows it. They serve only produce that is raised naturally, without additives, preservatives and harmful chemicals.
Cool Interior: The chic interior is accented with marble, concrete, black iron and locally crafted furniture. Diners choose to sit at the bar, the window ledge, in the dining room, or on the outdoor patio. (All of the wood on the bar, shelving and ledges is reclaimed American elm from a single tree sourced in Marin.) White potted succulents soften the industrial edge. Floor to ceiling windows let the sun shine in, making the entire space a warm and welcoming spot to enjoy a cup of Counter Culture coffee, or a carafe of delicious tea from SongTea.
Breakfast, lunch & dinner: Try the quinoa and almond flour pancakes with blueberries and maple syrup, or the breakfast bowls featuring a stir-fry of seasonal vegetables, rice, and egg, sunny-side up. Pair it with one of their rich, creamy, and delectable Smoothies – meals in themselves. The lunch menu also includes bowls such as the curried cauliflower and sweet potato rice bowl or try the flatbread with pork, chicken, flatiron steak, or vegetables. The dinner menu's larger protein plates come with colorful selections of fresh veggies – marble potatoes and winter radishes with the Tuscan Pork, and pea shoots and mushroom ragu with the 101 Chicken. Little Gem keeps it simple on the wine front, offering five high-quality selections by the glass or bottle. And if you think that the absence of refined sugar equals dessert disappointment, you've got to try their rich chocolate pudding and the tangy lemon custard. You'd never know each is devoid of the sweet ingredient.
Location: Little Gem's location makes it a perfect spot to grab dinner before or after a performance, and it has definitely been welcomed by grateful symphony and opera-goers. But the 'fast-casual' designation does not define the experience; guests are more than welcome to settle-in, enjoy, and linger over this new gem of a restaurant.
Little Gem
400 Grove St.
San Francisco
415.914.0501.
Hours of operation:
Tuesday-Friday, 8 a.m. – 9 p.m.
Saturday-Sunday, 9 a.m. – 9 p.m.
Subscribe to discover the best kept secrets in your city