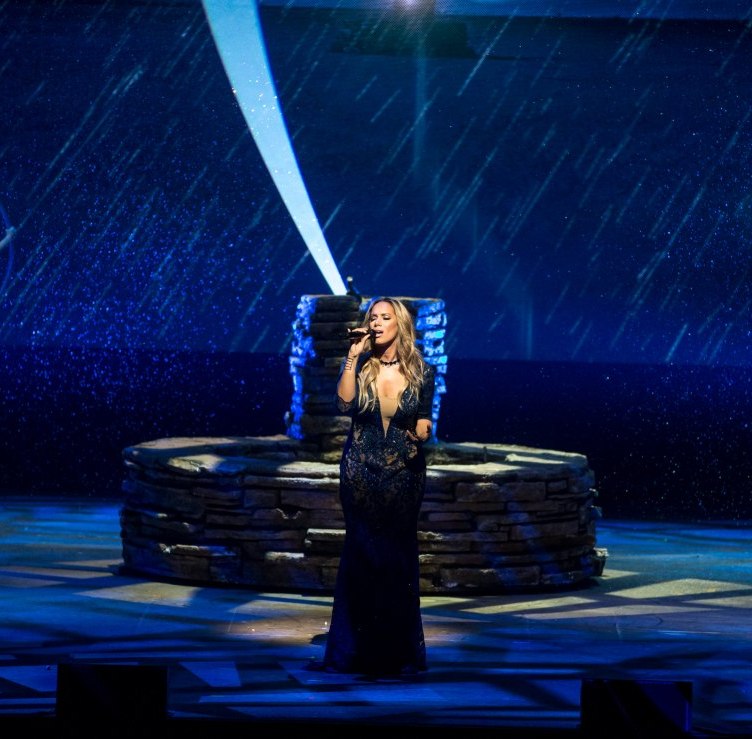 Photo Credit: Erik Kabik
Leona Lewis, the three-time Grammy nominee who rose to fame after competing on Simon Cowell's singing competition show, X-Factor, lent her voice to Cirque du Soleil's charity extravaganza One Night for One Drop over the weekend at the Smith Performing Arts Center in Las Vegas. In part, her participation helped to raise $6.5 million to raise support for critical water issues worldwide. The British songbird took some time out of her busy schedule (she's currently in the studio working on her sixth album), to chat about the event, her upcoming release and why music was only the ever possible career choice.
Photo Credit: Erik Kabik How did your participation in One Night for One Drop come to be?
It was fun. It was such a cool thing to be a part of. I was approached by Cirque, and they told me about One Night for One Drop and the foundation, and I did my own research into it. I just thought it was amazing. I love when art and charity come together to create something special. The fact that we were doing this show and able to put on such a big performance piece and be raising money for One Drop was something I really wanted to be involved in.
How did you choose your songs for the event ["Thunder" and "Bleeding Love"]? 
It was kind of a collaborative process. Hassan El Hajjami, who directed the whole show, kind of had a few songs that he wanted me to do and most went with what the show was about. At the point where I sang "Bleeding Love," it was representative of a mother's love in the journey where the little boy [Blackish star Miles "Baby Boogaloo" Brown] is lost in the world and loses his family and goes on this journey. At the end, when "Thunder" comes on, it's of course talking about the thunder and the rain and [the people are] able to finally get water, and it just made sense. Hassan's great. He has such a vision, and it was great to work with someone who really knows what he wants.
Did performing at the show make you want to try any of the Cirque skills?
You almost don't realize what dedication and skill it takes. When I've seen Cirque shows before, I always think it's amazing. When you see it backstage and watch them rehearse and see them up close practicing [it's at a different level]; the amount of work that goes into it you wouldn't realize. I have tried aerial work before actually with silks which is really fun; I did it on one of my first tours. We had three silk artists. The dedication is insane. It was so hard. You need so much body strength to be able to do it—it's really, really fun though.
Can you tell us about the inspiration behind your upcoming studio album? 
The thing is right now I'm collecting my inspiration. I'm collecting a lot from the experiences I've had on tour. Obviously doing the Cirque show was amazing. Being on the road, I get inspired a lot. I'm going to be doing a lot of traveling this year, which I'm sure will inspire me and point me in the direction that I want to go in musically. [I'll be] traveling mostly for inspiration really; I have some friends that I'm going to visit and stay with for a bit in different places around the world. Whenever you're able to experience different things and different cultures, that definitely goes into the music and affects the music.
How would you describe yourself in a phrase or three words?
Happy, caring and loving.
What would people be surprised to learn about you?
That I can lick my own elbow. Technically, that [should be] physically impossible.
If you weren't doing music, what would you be doing instead? 
If I wasn't doing music, I literally don't know what else I would do. I've just done it ever since I was so young, and it's always been something I love doing.
How would you have proceeded with a music career if X-Factor hadn't happened?
I would have pursued what I was doing before.  I had a production company that I was working with. Doing my own record independently would have been an option, but definitely going the production company route. It was going quite well actually, but I auditioned for the show and it went to a whole new level. I would have been doing what I was doing, kept getting in to the studio, kept writing, kept working with different producers. [I would have been] gigging as well—doing lots of gigging—and see where that led.
What to you is the greatest luxury in life?
If you are able to really be able to make what you're passionate about what you do for a living, I think that's probably the greatest luxury you can have.