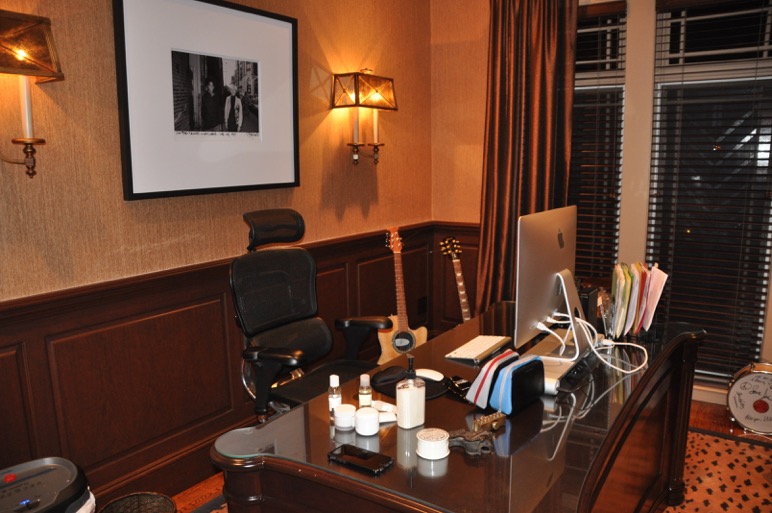 This week we've featured the desk of Ian Ginsberg, the owner of New York-based beauty brand C.O. Bigelow. Ginsberg became the third generation of his family to own the brand (which was originally called Bigelow Chemists in honor of the Manhattan landmark that's existed since 1838). Ginsberg made his family business modern by introducing its personal-care products to a wider audience by signing on with Bath & Body Works to sell its vintage-recipe balms, lotions, and other skin-care products at hundreds of stores belonging to the retail chain. Ginsberg originally sought a career in music, but couldn't resist the lure of the family business. His father, Jerry, had worked at Bigelow Chemists since graduating with his pharmacy degree back in 1952. Jerry's father, William, was also a pharmacist who bought the Greenwich Village-based business back in 1939. Here, this third-generation pharmacist and beauty brand owner shares his desktop essentials—where he comes up with his most beautiful, million dollar product ideas.
Pharmacy Antiques: A couple of fun antiques from our archives that I like to keep on my desk. It reminds of the deep heritage of our brand and grounds me in authenticity.
Testing Samples: These bottles and tubes are submissions for various new products we're working on. I try and keep a set everywhere I work so I can constantly play with them.
Guitar: I love to have to guitar on-hand to just take a break and fool around for a few minutes whenever I feel the urge. It helps to re-energize me and get my creative energy flowing.
Photograph: I love black and white photographs, especially of people who inspire me. This is one of my favorites….Warhol and Basquait walking around Soho.
American Airlines Amenity Kit: This is a new partnership that we recently launched with American Airlines. America's airline and America's Apothecary together in international business class!
Subscribe to discover the best kept secrets in your city