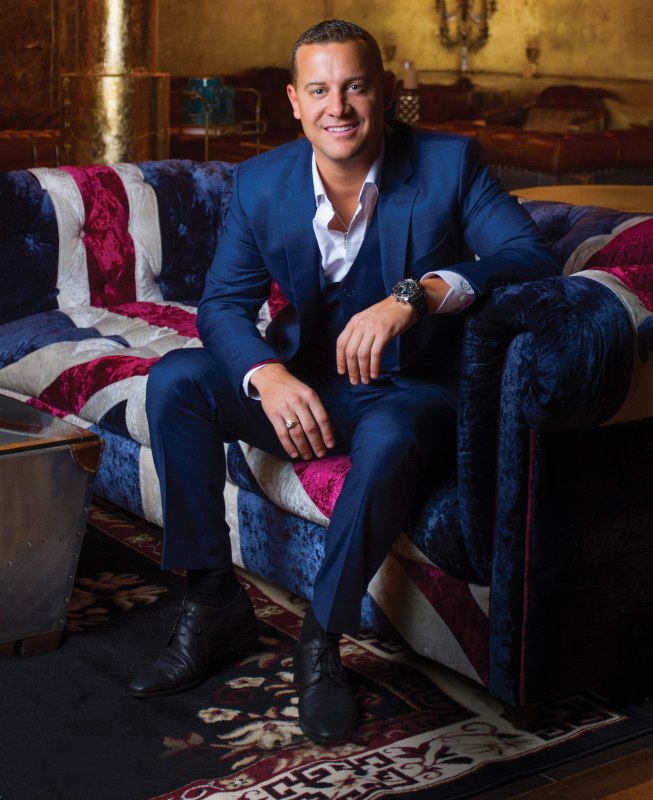 Brad Parker is the owner, operator and designer of some of Chicago's most sought after venues. The Hampton Social, Parker's restaurant concept, came after his many visits to the Hamptons and Miami, both of which are amongst his favorite places to travel. Each time he would travel home to Chicago, he noticed more and more that most restaurants were dark and industrial so naturally, he wanted to do something different and The Hampton Social, a venue that is light & bright year-round bringing East Coast components to Chicago, was born. The 7,000 square foot restaurant has floor-to-ceiling accordion-style windows that fully retract to allow summer air to fill the space during the warm months and natural light during the winter months. From the coastal-fare (lots of seafood options), refreshing cocktails and extensive wine & champagne menu, décor (white wood floors, sofas & hammocks and nautical touches), uniforms (rolled up chinos, white jeans, polo's, boat shoes), relaxed ambiance, curated music throughout the week and live acoustic performers during weekend brunch, The Hampton Social is a destination where guests always feel like they're on vacation.
In December 2015, he opened The Bassment, a speakeasy cocktail lounge also in Chicago. His vision: to inspire people to enjoy live music again in a space that is designed to be comfortable, sexy, old school and modern all in one. Parker is also a partner at Maple & Ash; Chicago's newest Steakhouse & lounge.
Where were you born: Chicago, IL
How long in Miami: My home for 32 years has been Chicago but I've been visiting Miami for business and vacation for as long as I can remember.
Neighborhood: River North, Chicago, IL
Occupation: Owner, Operator & Designer of The Hampton Social & The Bassment in Chicago, IL and Partner of Maple & Ash
Favorite Restaurant: Milos but I'm looking forward to the River Yacht Club opening.
Best Sushi: Nobu Miami
Best Italian: The meatballs at Macaluso's
Best dessert: The dessert platter at Zuma Miami
Best place for a romantic date: Casa Tua
Best Sunday brunch: Seaspice Miami
Best place for a power business meeting: Outside at Smith & Wollensky
If you have out of town guests, which hotel would you recommend? My new go-to when visiting Miami is 1 South Beach
Favorite shopping venue/boutique: The Webster
Favorite place to buy jewelry/watches: Shinola in Wynwood
Best Spa: The Standard
Favorite Charity Event: DJ Irie Foundation Weekend
Favorite Cultural Event: My buddies and I make sure to be there during Art Basel each year.
Favorite Cultural Institution: ICA
Best Steakhouse: Prime 112
Best Pizza: I dare anyone to find better pizza than Lou Mantini's in Chicago.
Best Lunch: Mandolin
Best Gym/Athletic Facility: The beach.
Best Massage: RikRak Salon and The Standard
Best Limousine/Driving Service: Uber
Best Museum/Exhibit: NSU Art Museum in Ft. Lauderdale.
Describe your city in three words: Sexy, Inspiring, Fun
Favorite historic/legendary place to see or explore: Vizcaya
All-around favorite spot in Miami: On the beach and under the sun. Also really enjoy a long weekend at Cheeca Lodge & Spa, Islamorada.
Best Aspect of: The (year-round) incredible weather is needed during the long and cold winter months of Chicago.