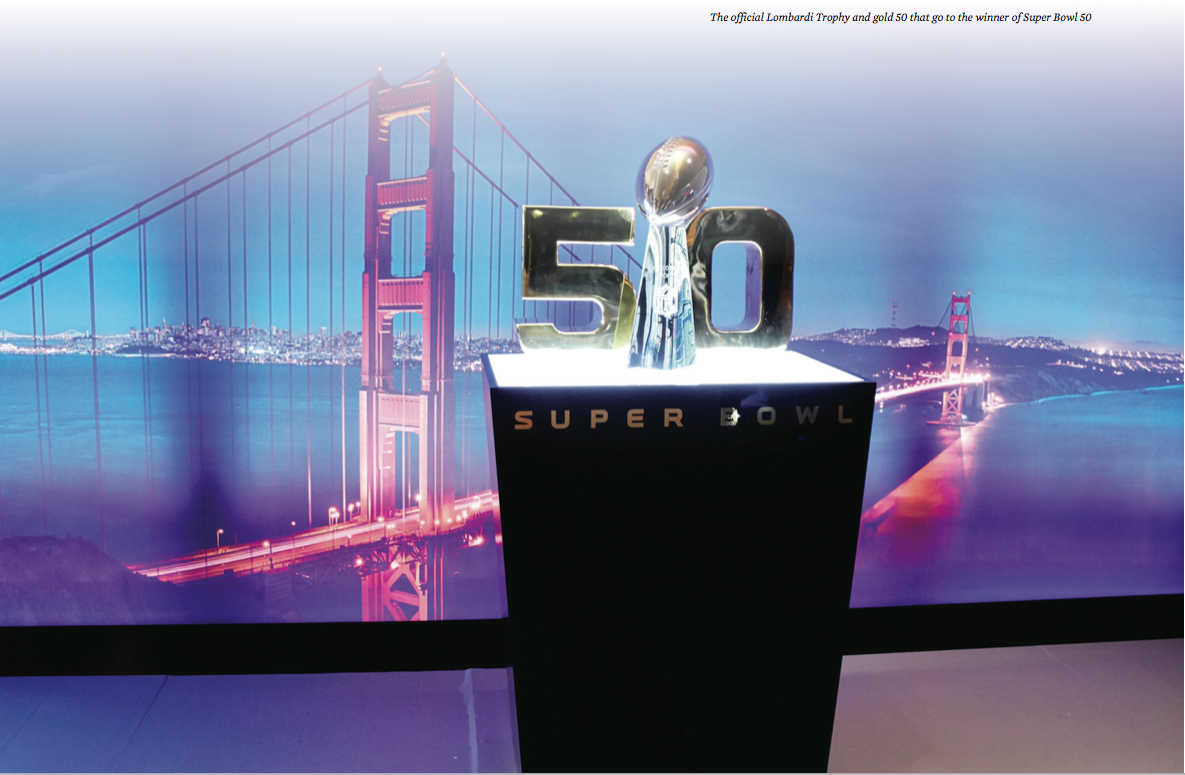 The San Francisco Bay Area will flaunt its fabulousness for nine days when Super Bowl 50 and the oodles of festivities leading up to the National Football League's behemoth championship take place this month and next. The game between the Carolina Panthers and the Denver Broncos will be played on Sunday, Feb. 7 in Santa Clara, at the home of the San Francisco 49ers in the state-of-the-art Levi's Stadium, the greenest—yes, it is LEED-certified—and most technologically-advanced stadium in the country. The golden anniversary of the sporting world's biggest annual contest—it is one of the most watched televised programs in the world— marks the big game's first return to the region since Super Bowl XIX, a 38-16 victory by the 49ers over the Miami Dolphins at Stanford Stadium in 1985, and the first time Roman numerals are not being used. Whether or not you're going to the game or even a football fan it behooves you to know what's going on. After all, an estimated one million people, including top athletes, celebrities, models and corporate bigwigs, will flock here for the week that promises to showcase the Bay Area's innovativeness, epicurean spirit, culture and fun at a variety of public events and exclusive, invite-only soirees taking place from the South Bay to Napa but primarily in San Francisco. Without further ado, here is your haute guide to Super Bowl 50.
SATURDAY, JAN. 30
San Francisco isn't known for following the rules—even when it comes to the Super Bowl. In a break from tradition, Super Bowl City, a free, public fan village presented by Verizon, opens the weekend prior to the big game. Locals, this is your time to enjoy the merriment before the hordes of visitors descend on your area. Centered in Justin Herman Plaza, on the Embarcadero at the foot of Market Street, this is where fans of all ages can enjoy family-friendly interactive games and activities highlighting the region's technological prowess, Sonoma County wines and more. Super Bowl City, open from 11 a.m. to 10 p.m. through Feb. 7, will also be the broadcast home for the CBS Television Network and the NFL Network. Plan accordingly to make sure you don't miss Saturday's official re-lighting of the iconic Bay Lights on the Willie L. Brown, Jr. Bay Bridge and a Macy's fireworks display on the first day. Also opening on Saturday is the NFL Experience Driven by Hyundai, pro football's interactive theme park that takes place at Moscone Center North and South through Feb. 7. This is where you can nab free autographs from NFL players, ogle the Vince Lombardi Trophy on display before it is awarded to the Super Bowl 50 champion, shop for merchandise and check out new attractions such as personalized digital photos and a virtual reality experience. Partake in this lively event from 10 a.m. to 10 p.m. on weekends from 3 p.m. to 10 p.m. during the week, except for Jan. 31 and Feb. 7 when quitting time is 8 p.m. and 2 p.m., respectively.
MONDAY, FEB. 1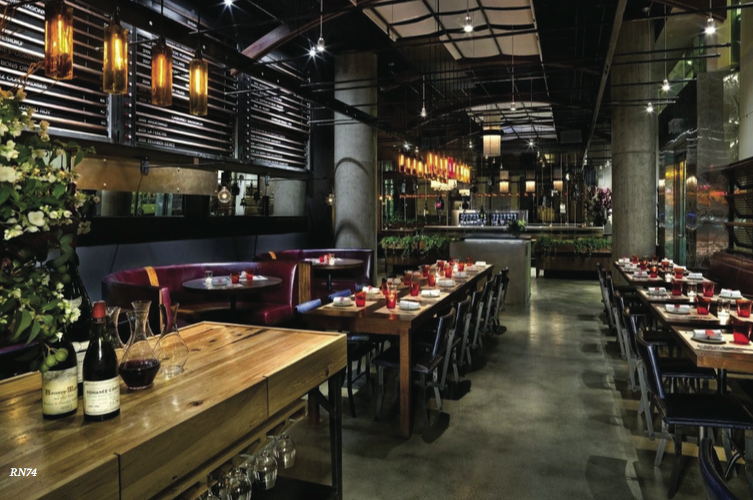 Philanthropic foodies take note: On the Fifty, the NFL's charitable dining experience at Michael Mina's RN74 and benefitting the NFL Foundation, gets underway today at noon and runs through Feb. 7. Sports fans' focus also shifts to south with the arrival of the conference champions that will square off in Super Bowl 50. The AFC winner will stay at the Santa Clara Marriott and practice at Stanford while the NFC squad will call the San Jose Marriott home for a week and work out at San Jose State. You'll have your opportunity to see the Super Bowl 50 teams in public for the first time at Super Bowl Opening Night Fueled by Gatorade, happening at the SAP Center in San Jose from 5 p.m. to 8 p.m. Listen and watch as players and coaches will address fans and the thousands of media members at this event which replaces the traditional Media Day held on Tuesday morning.
TUESDAY, FEB. 2 – WEDNESDAY, FEB. 3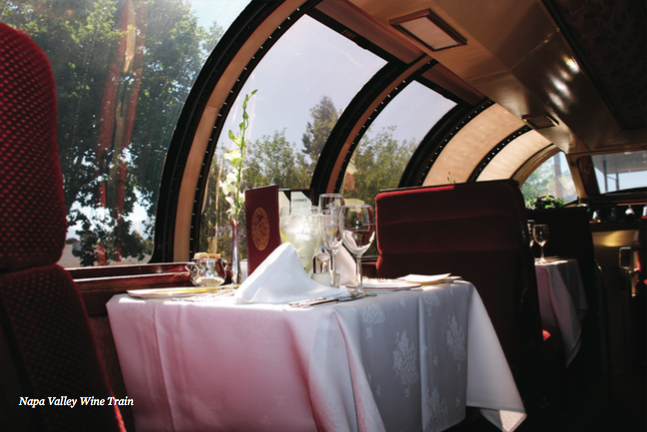 As Super Bowl City and the NFL Experience continue in San Francisco, this is a good time to explore the region. Hop aboard the "Big Game Train" for a rare opportunity to taste award-winning wines, enjoy a fabulous four-course meal, meet NFL champions and special guests and collect autographs on the historic Napa Valley Wine Train. Former NFL coach Dick Vermeil will showcase his sumptuous wines while fellow NFL vintners, including Rick Mirer, also pour theirs during this three-hour journey; a portion of the proceeds benefit the Hall of Fame Players Foundation. Return in time to nurture your cultural side with NFL Films' and the San Francisco Symphony's Concert of Champions hosted by Pro Football Hall of Fame running back Marcus Allen at Davies Symphony Hall. The concerts take place on both Tuesday and Wednesday; however, an elevated dinner package that lets you tailgate in the most unique way is only offered the first night and sure to draw VIPs such as Marva and Merton Hanks (the former 49er star and now an NFL executive).
THURSDAY, FEB. 4
Many of the out-of-towners have arrived by now and the action seriously heats up. Guests staying at the Fairmont Hotel, The Ritz-Carlton, San Francisco, Scarlett Huntington and Mark Hopkins hotels can hop on a luxury bus to St. Helena for a "3 and Out" one-day Napa Valley experience that includes the Ultimate Cab Collector tasting at HALL Wines, lunch at Harvest Table and a wine blending seminar at Raymond Vineyards. You'll be back in San Francisco by supper time. Haute Living throws an exclusive 80th birthday dinner for our cover man, former NFL great Jim Brown while three-Michelin-star chef Thomas Keller prepares a feast for the 32 NFL owners at San Francisco City Hall. The annual Legends for Charity dinner, benefitting St. Jude Children's Research Hospital and this year honoring Super Bowl-winning head coach and Emmy-award winning announcer John Madden, will be held at the Hilton San Francisco Union Square. The 7th Annual John Wooten Leadership Awards, a celebration of diversity in the name of the man (John Wooten) who has been a major instrument in the successful movement for diversity in the NFL also takes place, honoring Kaiser Permanente CEO Bernard Tyson, former Raiders CEO/CBS talent Amy Trask, NFL EVP Troy Vincent and Golden State Warriors legend Al Attles. DirecTV and Pepsi begin their three-day concert fest at Pier 70, sponsored by JETLUX, Showtime and Miller Lite, and featuring music, technology and art. The Dave Matthews Band is up this evening; expect never-before-seen fan engagement and a cool, immersive social media experience every night. Also on the schedule that evening: Ditka & Jaws Cigars with the Stars at Jones restaurant, and Madden Bowl XXII at SF Masonic. While the NFL Players' Association won't have the VIP party it's thrown in previous years, tonight marks the opening of the NFL Players Lounge, a private spot for active and former players to chill.
FRIDAY, FEB. 5 – SATURDAY, FEB. 6
How well-connected you are may determine how you'll spend these two days. The first event you'll want to attend is the Pro Football Hall of Fame Super Bowl Luncheon honoring Madden, who is going to be one busy man, at the Hilton San Francisco Union Square. You may want to take a disco nap—not at the happening Bud Light Hotel where the action is nonstop—before you start hopping to the hautest festivities. ESPN The Party 2016, a private event at Fort Mason, is sure to provide plenty of Instagram moments while the always opulent NFL Commissioner's Party is one of the most coveted invites of the week. Join 24 playmates in bunny costumes and 2,000 other revelers as Playboy celebrates its future and newly-designed magazine at a tented bash on Lot A of AT&T Park. The party, sponsored by Dodge and EFFEN Vodka and expected to draw a mix of celebrities, athletes, models and VIPs, will celebrate the future of Playboy and the brand's newly redesigned magazine. You can also get "Happy" at Pepsi Friday Night Live when Pharrell Williams performs at Pier 70, hang with your crew at part one of the two-day annual Leather and Laces affair or enjoy the 17th Annual Super Bowl Gospel Celebration at the Paramount Theatre in Oakland. Beginning at 7:30 p.m., the Super Bowl Gospel Celebration brings together Super Bowl champions and Pro Bowl players with Grammy Award-winning contemporary Christian, gospel and mainstream artists all on one stage. The Super Bowl Gospel Celebration also gives back to notable charities. This year, SBGC will donate funds to the NFL Player Care Foundation, an independent organization dedicated to helping retired players improve their quality of life. You won't want to miss Super Bowl 50 Chairman's Party featuring Tiësto and DJ Ruckus and hosted by Anthony Anderson, Becca Prowda and her husband, Super Bowl 50 Chairman Daniel Lurie, Laurie Tisch, Lauran and Justin Tuck, Karen and Ronnie Lott and Marshawn Lynch. That bash takes place at the Masonic Auditorium and benefits the 50 Fund.
On Saturday, Leigh Steinberg's 29th Annual Super Bowl Party takes place from 1 p.m. to 5 p.m. at the Metreon, but the super-sized shindig is DirecTV Super Saturday Night, co-hosted by Mark Cuban's AXS TV, at Pier 70. On tap to perform: the six-time Grammy Award-winning band, Red Hot Chili Peppers, and special guests. Party like a rock star when Rolling Stone, founded in San Francisco in 1967, returns to its roots for its annual Big Game Bash, taking place at The Galleria inside the San Francisco Design Center. Dance the night away at Maxim's party on Treasure Island or opt to please your palate when Taste of the NFL celebrates the 25th anniversary of its annual Party with a Purpose at the legendary Cow Palace. Those in a giving mood should head to Atherton (with an invite, of course) for the annual "Big Game Big Give" fundraiser to be held at a private estate and hosted by football legend Joe Montana and baseball great Matt Williams, along with honorary co-chair Lt. Gov. Gavin Newsom, and the event's emcee, Jay Leno. More than 500 celebrities, athletes, business entrepreneurs, philanthropists and other VIPs will converge to support The Giving Back Fund.
SUNDAY, FEBRUARY 7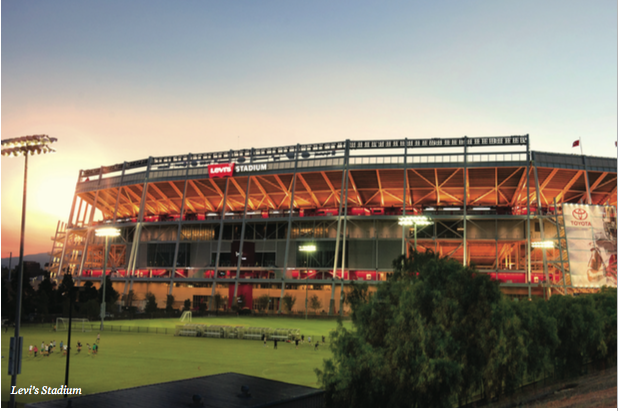 At last, Super Bowl Sunday has arrived. This electric day kicks off at 10 a.m. with the NFL Alumni Official Game Day Brunch at Fleming's Prime Steakhouse and Wine Bar in Palo Alto. At David's Restaurant, across the street from
Levi's Stadium, Tailgate 50 begins at 10:30 a.m. Afterward, make your way to Levi's Stadium for what we've all been waiting for—Super Bowl 50, pitting the Denver Broncos against the Carolina Panthers. Lady Gaga will sing the National Anthem during the pregame festivities. Global superstar Coldplay and Beyoncé will perform at the Pepsi Super Bowl Halftime Show. Get ready for front man Chris Martin's performance that echoes elements of the NFL's "On the Fifty" campaign honoring the past, recognizing the present and looking ahead to the next 50 years, and includes other special artists. If you're not in the stands, be among the more than 100 million watching the game on television. In Wine Country, you can tailgate and see the game at the Yountville Community Center with six Pro Football Hall of Famers—Willie Brown, Anthony Munoz, Jack Youngblood, Dave Wilcox, Joe DeLamielleure and Chris Doleman. When the game ends and the Super Bowl 50 MVP has announced he's going to Disneyland, it's time to rest. You deserve it.
Subscribe to discover the best kept secrets in your city