While I enjoy looking at photos of watches on social media as much as any timepiece collector does, I can't comprehend how a watch would look on my wrist until I try it on. That's why Westime is bullish on the future of beautiful watch boutiques in Los Angeles—regardless of how many e-boutiques take root online. In our three L.A.-area Westime boutiques plus our three local monobrand boutiques presenting Audemars Piguet, Hublot and Richard Mille, we've created emporiums that showcase the most in-demand models all the way to the most exclusive one-of-a-kind creations. Selection, availability, accessibility, and the comfort of knowing exactly who you are purchasing a new luxury watch from—are just a few of the benefits of shopping in the refined setting of a bricks- and-mortar watch boutique.
AUDEMARS PIGUET
BEVERLY HILLS
Our newest boutique, Audemars Piguet Beverly Hills, resides at one of the most photographed intersections in the world: where Rodeo Drive meets the quaint cobblestones of Two Rodeo. The three-level, 1,342-square-foot boutique clad in oak and Vals stone evokes the natural beauty of the Vallée de Joux region in Swit- zerland where Audemars Piguet timepieces have been crafted for the past 140 years. In addition to enjoying comprehensive timepiece collections including the Royal Oak and Millenary lines, here clients can discover a watchmaker corner, learn about the creation of Audemars Piguet watches through a "virtual manufacture" experience, and relax with a beverage in the top-level lounge.
HUBLOT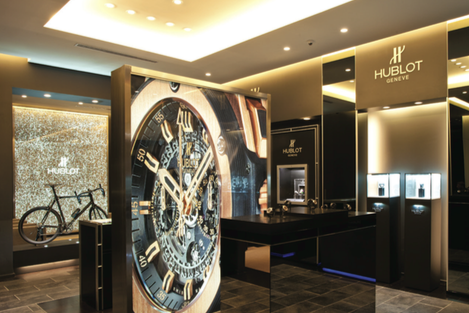 BEVERLY HILLS
Brighton Way at Rodeo Drive has emerged as a veritable "timepiece row," and Hublot Beverly Hills resides at its heart. Just like its watches, the intimate boutique embodies Hublot's "Art of Fusion" philosophy. A façade of black stone, leather furnishings, glass and metal fixtures, and high-tech details imbue the Swiss-designed boutique with contemporary style. Discover the latest Classic Fusion, Big Bang and Ferrari limited editions here while relaxing in the lounge or the VIP corner.
RICHARD MILLE
BEVERLY HILLS
Massive engraved glass window sculptures flank the entrance to the first Richard Mille boutique in the U.S.: Richard Mille Beverly Hills. The 1,400-square-foot shop on tony Two Rodeo is one of the only places in the world to find such exclusive models as the RM 19-01 Spider Tourbillon and the RM 056 10th Anniversary Felipe Massa Sapphire Tourbillon. Upon entering the contemporary space, visitors will find that natural wood, glass, dark leather and stone provide a neutral backdrop for the full collection of Richard Mille watches. Each timepiece is given a starring role in its own spotlight, with abundant space for visitors to admire it from every angle.
WESTIME
BEVERLY HILLS
Westime Beverly Hills re-opened in a bright new 2,000-square-foot location last year at the top of the Two Rodeo cobblestones. A façade of red brick and floor-to-ceiling windows provides a warm welcome to customers, and window shoppers will enjoy the six showcase towers that seem to stand at attention in the windows, until—like the hourly changing of the guard—they automatically rotate 180 degrees to present a new selection of fine timepieces to browse. Inside, showcases of varying shapes, sizes and colors are arranged in a series of intimate "neighborhoods," allowing each of the 40 watch and jewelry brands on display— from Bulgari to Harry Winston—to reside in a unique setting. Freestanding showcases, seating areas and an espresso bar create a relaxing environment that encourages customers to discover products at their leisure.
WESTIME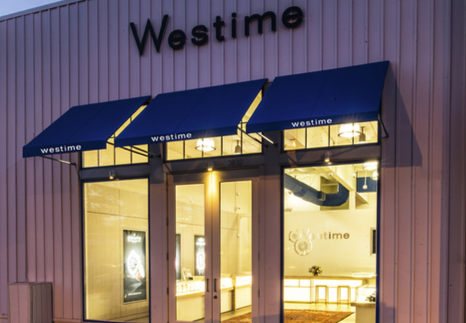 MALIBU
Malibu Village at the Malibu Country Mart is home to the community's only watch retailer: Westime Malibu. The boutique's décor complements the beach community's famously laid-back style of luxury. White-washed panels and sea- blue awnings frame Westime's oversize front windows. A cluster of Adirondack chairs provide the perfect spot for shoppers to take in the view of Westime's window displays while enjoying a rest in the sunshine. Inside the boutique, a sand and cream design scheme creates a serene backdrop for backlit displays, as well as glass cases containing a tightly edited selection of watches and jewelry. Customers can discover the collections of such prestigious brands as Audemars Piguet, Breitling, Franck Muller, Hublot, Shamballa Jewels, and Zenith.
WESTIME
SUNSET
Our 6,000-square-foot flagship boutique on West Hollywood's world famous Sunset Strip is one of the most comprehensive watch stores in the world. Here, customers not only discover the collections from 50 different watch brands ranging in price from several hundred dollars to seven figures, but they will also find hand-crafted fine jewelry, exclusive objects including Swiss-made music boxes and high performance cameras, and collectible pens. The setting also houses customized corners that present the full collections of such brands as Breitling, Audemars Piguet, Omega, Bulgari, and Buben & Zorweg.