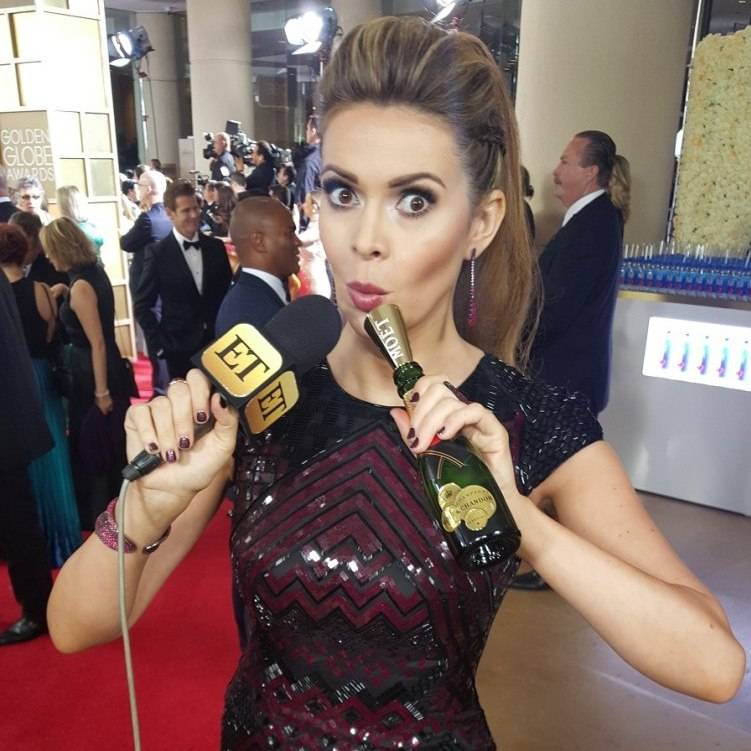 ET host Carly Steel has been a very busy bee already year. The long-running celebrity news show's newest correspondent has had a charmed life. Not only was she h
andpicked by
Tom Cruise
to travel with him on his jet for two international press tours co-hosting the
Mission Impossible: Rogue Nation
premieres, but she was also cherry-picked by
Mariah Carey
for all her ET exclusives. Additionally, she is currently the host, co-creator & co-executive producer of POP network travelogue series Jet to the Set, produced by Lionsgate, is the lead in the upcoming film
Headgame
, has a supporting role in the upcoming film
The Brits Are Coming
alongside
Uma Thurman
and
Sofia Vergara
and has guest starred in shows like  
Hand of God, Extant, The Exes, Anger Management
and Castle. Here, this mover and shaker shares what her day was 
really 
like behind-the-scenes co-hosting the Golden Globes for
Entertainment Tonight. 
6.30am – I wake up, linger in bed checking emails, Twitter, Facebook and breaking news on ETonline to catch up on the day's top stories. There are usually a few emails from my friends from the UK when I wake up that I respond to.
6.35am – immediately put on 'The Special Mask' by Evidens from Hong Kong, which wakes up and hydrates my face and Talika eye patches which de-puff and I keep both on for 30-minutes as I have a glass of hot water and lemon, and also a plant based protein shake as well as making breakfast for my Siberian cat, Khaleesi (yes, as in, Game of Thrones).
7.15am – I cycle to an hour long Pilates class which I selected on ClassPass. It's at Melrose Pilates which is my favorite studio.
8.45am – have a shower, cleanse tone and moisturize using a Clarisonic, Evidens products and Nu Face for a little pick me up.
9am – Being Scottish, I'm naturally pale so my must before Awards Season shoots is a skin finishing bronzing mist in a tent set up in my sitting room by Jessica Johnston with Vita Liberata to get that Golden Globes glow. Vita Liberata is good even day-of because it's odorless and gives a very natural, subtle color.
9.30am – Simultaneous makeup by Entertainment Tonight's lead makeup artist, Karen Knopp, hair by celebrity stylist Mathilde Campos and nails by CND nail artist Shirlee Ann. We opt for fresh makeup, glowy Orlane foundation, focusing on the eyes and cat eyeliner, a cool ponytail with trendy side braids and height at the top and gothic red polish to offset the more classic style of the dress and keep the look modern. My cat decides to get in on the action, gets her tail in the foundation and proceeds to smear it all over the dining room table! Disaster.
11.30am – The car arrives, travel to the Beverly Hilton, go through extensive security checks (this year three checkpoints because of the heightened security risks) in-between constantly checking online updates for any breaking news from Erin Johnson and Liz Applegate in our news department.
12.30pm – Head straight to our wardrobe room inside the Hilton for a final fitting with ET's wardrobe stylist, Donna Dorian. We opt for a black and dark red beaded J.Mendel dress with capped sleeves, Aruna Seth jeweled wedges (which are also comfortable for hosting long hours at the carpet and after party) and half a million dollars worth of XIV Karat jewels designed by Caryn Alpert. Also do last minute hair and makeup touch-ups.
1pm Final pre-meeting in the suite with the Entertainment Tonight team, our Executive Producer Brad Bessey, lead Globes producer Joe Siyam, and my fellow co-hosts Nancy O'Dell, Kevin Frazier and Joe Zee. Brad goes over the theme of our Globes show this year which is "Waiting for This Moment" – our coverage is all about moments – the ones we create, the one's that are captured, the ones that change careers and the ones shared in real time through our social media platforms. Love this theme!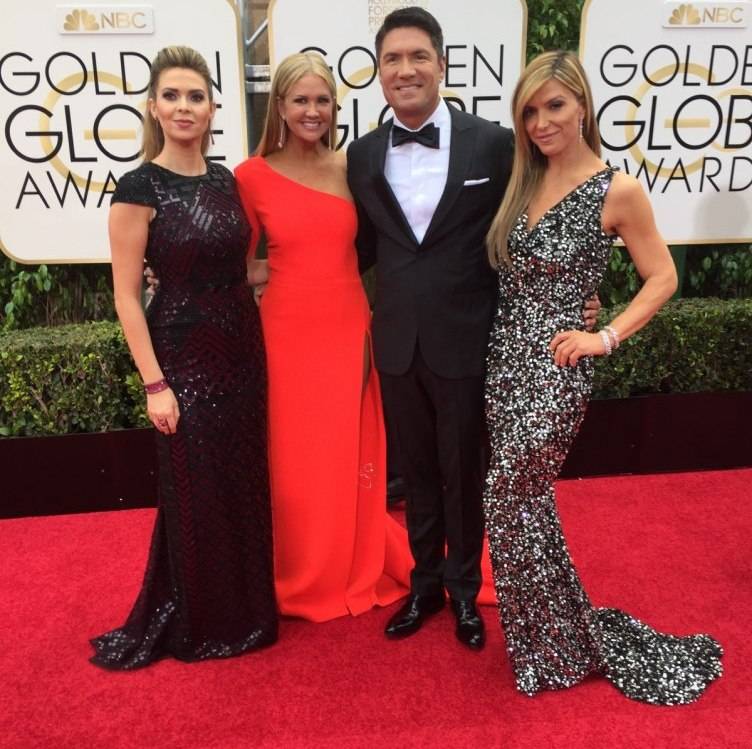 1.30pm Walk down to the carpet with Nancy, Debbie Matenopoulos and Louis Aguirre for a group shot and to walk the insanely long red carpet. Debbie attempts to have social media videos recorded of us walking in slo-mo with varying amounts of success.
2pm Get in position at our second platform at the Moet & Chandon toast bar (where they're serving 1500 bottles of mini moets on the red carpet, which is why everyone has such a good time!), and go over last minute briefing with Arnaud Desaignes and Paige Pederson from our red carpet partner and official Globes sponsor Moet, then the carpet opens – it's show time! In addition to interviewing the nominees and presenters, for every celebrity we toast with, Moet donates to a charity of their choice. The first celebrities to arrive are Alan Cumming and Regina King.
4.45pm – Finish up last interviews and toast Moet with my favorite Kate Hudson, who looks stunning in skimpy Michael Kors and attempts to lift the Moet Nebuchadnezzar, and Viola Davis who talks about how the par is set so high for any acceptance speech she now gives, then I head inside the ballroom for the show.
6.30pm I watch the show and go back-and-forth between the main ballroom and the side terrace to catch up with the nominees and winners. My favorite moment was boogying on the balcony with Quentin Tarantino, he makes any party fun!
7.30pm – leave the ballroom before the last award to meet up with our TV producer Tatiana Toomer, discuss the talking points from the show, and get into position at HBO's after-party to interview and get reactions from the winners.
8.30pm The cast of Transparent arrive on the carpet and promptly fall down as a group creating one of the funniest red carpet moments of the night. We're the first to interview Rachel Bloom fresh off her win – she's a riot and I try to abscond with her Golden Globe.
10pm – That's a wrap on ET's Globes coverage. Another successful year! Now off to the other after parties – after spending some time in HBO, head to Fox and Weinstein. At this point have given up on heels after being in them for 10 hours and switched into roll up ballet flats that are given out at InStyle.
11pm The Weinstein/Netflix party is going strong, with Harvey holding court, and the Moet vending machine has been completely emptied. Only at the Golden Globes do you have vending machines filled with mini Moets!
12 am – Finally leave the Hilton and end up at Chateau Marmont which tends to be where everyone ends up after all the after parties during Awards Season.
All photos courtesy of Carly Steel 
###
Subscribe to discover the best kept secrets in your city