Photo Credit: Drew Altizer Photography
San Francisco Opera Guild honored its longtime passionate supporter and composer/librettist Gordon Getty with a gala dinner on the stage at the War Memorial Opera House on Dec. 7, the eve of the American premiere of the renowned renaissance man's opera The Fall of the House of Usher in the same building.
Event co-chairs Mary Poland and Courtney Labe worked tirelessly to produce this fabulous black-tie event with over 300 attendees. Event stylist J. Riccardo Benavides transformed the opera stage into a beautiful, festive dinner setting with a sub-stage for a live band, a pair of opera singers and a dance floor. The dramatic set of opera Die Meistersinger von Nurnberg, which just ended on Dec. 6, served as a part of the dinner decor before it was scheduled to be disassembled and shipped back to England tomorrow.
General Director David Gockley, who is retiring next season, introduced his successor Matthew Shilvock. Opera Guild President Charlot D. Malin thanked presenting sponsor Neiman Marcus Union Square and Ann and Gordon Getty, who sponsored the wines from their PlumpJack portfolio. Delicious 2014 CADE Sauvignon Blanc and 2013 Adaptation Petite Sirah were paired with the mosaic of Maine lobster and grilled Sonoma lamb chop dinner catered by Dan McCall.
Three live auction lots included a San Francisco Opera Opening Night Extravaganza, an Escape to Italy and The Heart of Europe and fetched $50,000 for San Francisco Opera Education programs. Bradley Smith, Rose Rosenberg and Stratton Poland were the winning bidders. Maria Manetti Shrem and Ann Getty served as the evening's honorary chairs.
Tonight, San Francisco Opera presents The Fall of the House of Usher—an innovative double bill of Getty's Usher House and Claude Debussy's La Chute de la Maison Usher, both inspired by Edgar Allan Poe's chilling 1839 short story. The double bill provides two contrasting takes on one of the most transformed pieces of literature ever created. Director David Pountney's eerie production, designed by Niki Turner, provides an "aptly evocative setting for the Gothic horror writer's dark imaginings" (The Stage, UK) and features imaginative, otherworldly video projections filmed by video production designer David Haneke at Penrhyn Castle in North Wales. Conducted by Lawrence Foster, who led the 2014 world stage premiere at Welsh National Opera, this presentation marks not just the U.S. premiere of Getty's Usher House but also the American professional premiere of Robert Orledge's "truly seamless" (The Guardian, UK) reconstruction of Debussy's unfinished score.
Baritone Brian Mulligan takes on the dual roles of Roderick Usher in both interpretations of the story. Tenor Jason Bridges makes his Company debut as Edgar Allan Poe in Getty's Usher House; Bridges created the role for the 2014 world premiere. Tenor Joel Sorensen returns to the Company as Le Médecin (the Doctor) in Debussy's La Chute de la Maison Usher. The casts also feature Jacqueline Piccolino (Lady Madeline) and Edward Nelson (L'Ami) in La Chute de la Maison Usher and Anthony Reed (Doctor Primus) and dancer Jamielyn Duggan in Usher House. A co-production of San Francisco Opera and Welsh National Opera, The Fall of the House of Usher runs for four performances on December 8, 10, 11 and 13, 2015 at the War Memorial Opera House.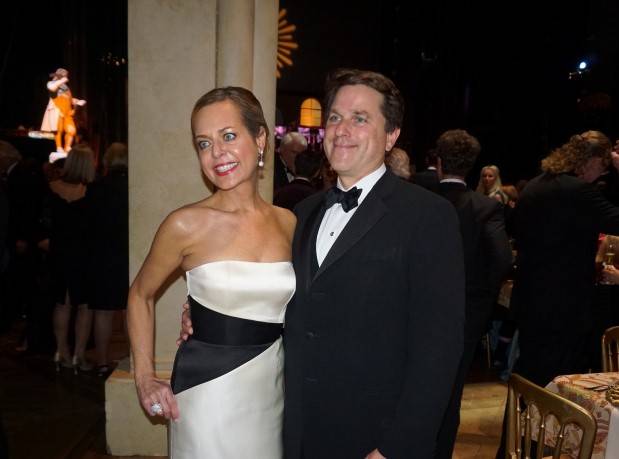 SF Opera Guild President Charlot D. Malin with Greg Malin
Olivia Hsu Decker, Jan Shrem and Maria Manetti Shrem
Stratton Poland and Mary Poland
Jack Calhoun, Curt Branom, Matthew Shilvock, Dede Wilsey and Jake Heggie
Amy Millman and Olivia Hsu Decker
Mary Poland, Karen Kubin and Olivia Hsu Decker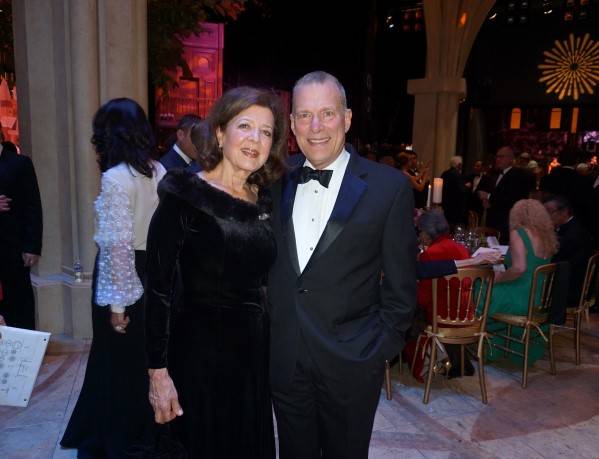 Linda Kemper and David Gockley
Event co-chair Mary Poland with John and Judith Renard
Elizabeth Fullerton and Olivia Hsu Decker
Daru Kawalkowski and Alton Irby
An Evening on the Stage Honoring Renaissance Man Gordon Getty
Barbara Brookins-schneider, Lois Lehrman, Barbara Brown
An Evening on the Stage Honoring Renaissance Man Gordon Getty
Dixon Doll, Carol Doll, Stratton Poland, Mary Poland
An Evening on the Stage Honoring Renaissance Man Gordon Getty
Olivia Decker, Matthew Shivlock, Karen Kubin
An Evening on the Stage Honoring Renaissance Man Gordon Getty
Courtney Labe, Stratton Poland, Charlot Malin, Mary Poland
An Evening on the Stage Honoring Renaissance Man Gordon Getty
Gordon Getty, Ann Getty
An Evening on the Stage Honoring Renaissance Man Gordon Getty
Helen Lin-Murphy, Courtney Labe, Jim Labe, Alex Fairey
An Evening on the Stage Honoring Renaissance Man Gordon Getty
Barbara Brown
An Evening on the Stage Honoring Renaissance Man Gordon Getty
Karen Kubin, Amy Millman, Nancy Cunningham Clark
An Evening on the Stage Honoring Renaissance Man Gordon Getty
Jan Shrem, Maria Manetti Shrem, Matias Tarnopolsky
An Evening on the Stage Honoring Renaissance Man Gordon Getty
Curt Brannom, Jake Heggie, John Corigliano, Mark Adamo
An Evening on the Stage Honoring Renaissance Man Gordon Getty
Christopher Freye, Beth Townsend
An Evening on the Stage Honoring Renaissance Man Gordon Getty
Charlot Malin, Gregory Malin, Janice Zakin
An Evening on the Stage Honoring Renaissance Man Gordon Getty
Gordon Getty, Pamela Glougao, Richard Glougau
An Evening on the Stage Honoring Renaissance Man Gordon Getty
Leon Huntting, Sallies Huntting
An Evening on the Stage Honoring Renaissance Man Gordon Getty
Robin Sutherland, Nancy Ludgus, Nadia Tichman, Larry Ludgus
An Evening on the Stage Honoring Renaissance Man Gordon Getty
Jonathan Nichols, Shannon Blunden, Alan Morrell, Mike Genoshe
An Evening on the Stage Honoring Renaissance Man Gordon Getty
George Norton, Martha Hertelendy, Janet Pease, Norman Pease
An Evening on the Stage Honoring Renaissance Man Gordon Getty
Komal Shah
An Evening on the Stage Honoring Renaissance Man Gordon Getty
Tatiana Sorokko
An Evening on the Stage Honoring Renaissance Man Gordon Getty
Mary Beth Shimmon
An Evening on the Stage Honoring Renaissance Man Gordon Getty
Teresa Medearis, Mark Medlars
An Evening on the Stage Honoring Renaissance Man Gordon Getty
Bob Hill, Dede Wilsey, Alan Malouf
An Evening on the Stage Honoring Renaissance Man Gordon Getty
Joy Venturini Bianchi, Wilkes Bashford
An Evening on the Stage Honoring Renaissance Man Gordon Getty
Armine Shamiryan, Donna Fujii, Michael Johnson, Melinda Yee Franklin
An Evening on the Stage Honoring Renaissance Man Gordon Getty
Jane Mudge, Ellis Smith
An Evening on the Stage Honoring Renaissance Man Gordon Getty
Vanessa Getty, Billy Getty
An Evening on the Stage Honoring Renaissance Man Gordon Getty
Trent Norris, Robert Beadle
An Evening on the Stage Honoring Renaissance Man Gordon Getty
Pitch Johnson, Dede Wilsey
An Evening on the Stage Honoring Renaissance Man Gordon Getty
David Gockley, Dede Wilsey
An Evening on the Stage Honoring Renaissance Man Gordon Getty
Gordon Getty
An Evening on the Stage Honoring Renaissance Man Gordon Getty
Charlotte Shultz, George Shultz
An Evening on the Stage Honoring Renaissance Man Gordon Getty
Jake Heggie, John Adams, Gordon Getty, John Corigliano, Mark Adamo
An Evening on the Stage Honoring Renaissance Man Gordon Getty
An Evening on the Stage Honoring Renaissance Man Gordon Getty
Priscilla Geeslin, Brent Assink
An Evening on the Stage Honoring Renaissance Man Gordon Getty
Linle Froeb, Jim Froeb
An Evening on the Stage Honoring Renaissance Man Gordon Getty
David Gockley, Matthew Shilvoc
An Evening on the Stage Honoring Renaissance Man Gordon Getty
Judith Renard, John Renard
An Evening on the Stage Honoring Renaissance Man Gordon Getty
Dede Wilsey, Jack Calhoun, Francesca von Stade
An Evening on the Stage Honoring Renaissance Man Gordon Getty
Costas Tsougarakis, Kai Tan, Moanalani Jeffrey, Eric Ormsby
An Evening on the Stage Honoring Renaissance Man Gordon Getty
Antony Vissian, Rose Rosenberg
An Evening on the Stage Honoring Renaissance Man Gordon Getty
Karl Lindberg, Nafiseh Lindberg, Paul Sagues, Debby Sagues, Diana Kissil, John Cullison
An Evening on the Stage Honoring Renaissance Man Gordon Getty
Afsaneh Akhtari, Riccardo Benavides, Karen Richardson, Carolyn Chandler
An Evening on the Stage Honoring Renaissance Man Gordon Getty
Marilyn Cabak
An Evening on the Stage Honoring Renaissance Man Gordon Getty
Holly Cuggino, Michael Cuggino, Barbara Brown
An Evening on the Stage Honoring Renaissance Man Gordon Getty
Susan Dunlevy, Karen Kubin, Karen Richardson
An Evening on the Stage Honoring Renaissance Man Gordon Getty
Bob Friese, Chandra Friese, Celeste Woo, Darryl Woo
An Evening on the Stage Honoring Renaissance Man Gordon Getty
Alan Kizor, Juanita Kizor, Lynn Edminster, Brian Atwood
An Evening on the Stage Honoring Renaissance Man Gordon Getty
Joshua Robison, Maria Manetti Shrem
An Evening on the Stage Honoring Renaissance Man Gordon Getty
Gordon Getty, David Gockley
An Evening on the Stage Honoring Renaissance Man Gordon Getty
Performance
An Evening on the Stage Honoring Renaissance Man Gordon Getty
Performance
An Evening on the Stage Honoring Renaissance Man Gordon Getty
Rose Rosenberg
An Evening on the Stage Honoring Renaissance Man Gordon Getty
Maria Manetti Shrem, Jan Shrem
An Evening on the Stage Honoring Renaissance Man Gordon Getty
Dance Floor
An Evening on the Stage Honoring Renaissance Man Gordon Getty
Atmosphere
An Evening on the Stage Honoring Renaissance Man Gordon Getty
Atmosphere
An Evening on the Stage Honoring Renaissance Man Gordon Getty
Atmosphere
An Evening on the Stage Honoring Renaissance Man Gordon Getty
Gordon Getty
Photo Credit: Drew Altizer Photography
Photos by Drew Altizer Photography and Olivia Hsu Decker
Subscribe to discover the best kept secrets in your city