2015 is over, so it's time to relax, make some resolutions, and of course, party the night away like it's… well, still 2015. For the best Miami has to offer, hit up one of these haute soirées and kiss 2015 goodbye in style:
LIQUE Miami: If you're in Sunny Isles on December 31st, ring in 2016 at LIQUE Miami – the area's swankiest, St. Tropez-inspired Intracoastal restaurant and lounge. For just $250 per person, make a reservation for the 6 PM seating for a delicious, five-course pairing dinner of the chef's favorites. Looking for more? Push back the reservation to 9 PM; for $450 per person, it includes a bottle of Cristal champagne and mouthwatering menu items like Avocado King Crab Tower, Veal Milk Burrata, Kobe Beef Steak Tartare, Hudson Valley Muscovy Peking Duck, Prime Colorado Rack of Lamb and more. LIQUE Miami is located at 3945 NE 163rd Street. The celebration will take place on December 31st. To reserve your table for either one of the two seatings, call (305) 705-2425.
The National Hotel Miami: Sitting in the heart of South Beach, The National Hotel Miami is one of Collins Avenue's hottest Art Deco locales. This NYE, dance your way into 2016 with the hotel's extravagant New Year's Eve Supper Club and 75th anniversary celebration. Start the night with a glass of champagne, party favors and Spicy Orange Duck Bites and Short Rib Blue Cheese Tartlet appetizers, and move on to the all-you-can-eat buffet; a smorgasbord of King Prawn Salad,  Tequila Cured Salmon, wild Atlantic salmon steaks, Rack of Lamb, Beef Wellington, and a dessert bar of French Pastries, Mousses, Tortes and more. Then, party the night away to the tunes of The Cabaret South Beach, an ensemble of singing and dancing musicians, and kiss 2015 goodbye. The National Hotel Miami is located at 1677 Collins Avenue. The celebration will run from 8:30 PM to 1 AM on Thursday, December 31st. Tickets are priced at $160 per person. For more information about the party, or to make a reservation, call (305) 423-7211.
Delano Beach Club: This New Years Eve, head to the Delano Beach Club for a "Tropical Madness" party like you've never seen before. Hosted by NYC nightlife icon, Suzanne Bartsch, this all-night soirée promises debauchery in paradise, as the idyllic Delano Hotel will be transformed into a fabulous menagerie of rare orchids, flowers of passion, mischievous monkeys, cannibal witchdoctors and restless natives. Need we say more? The Delano Beach Club is located inside the Delano Hotel, at 1685 Collins Avenue. The "Tropical Madness" party will take place on December 31st, beginning at 9 PM. To inquire about pricing, or make your reservation, contact the organizers at (305) 674-5752 or delanonye@mhgc.com.
Mondrian South Beach: Looking for haute NYE? Head to the swank and romantic Mondrian South Beach for premium open bar, rotating DJ sets and a private fireworks display alongside breathtaking views of the iconic Bayside fireworks show. While the $250 General Admission tickets would surely give you a night to remember, those looking for a more intimate soirée can opt for the luxurious daybed or cabana, starting at $1500. To really start 2016 on a good note, come a little early and indulge in a delicious, three-course champagne dinner by Mondrian Executive Chef Dustin Atoigue. The Mondrian South Beach is located at 1100 West Avenue. The celebration will take place on December 31st, from 8 PM to 3 AM. The champagne dinner is priced at $350 per person. All reservations and bottle service for the evening can be made here.
Shore Club: Fans of Orange is the New Black will be banging down the Shore Club doors this New Years Eve, as the iconic hotel will host a haute party with none other than Taryn Manning ("Pennsatucky") and Grammy-nominated producer Dave Audé. To pair your party with a dinner, make a reservation at Terrazza and enjoy a tasty, four-course plated feast by none other than Chef Steve Rhee. As if that wasn't enough, the first 200 guests to RSVP to Shore Club will get to toast to new beginnings for free – including a complimentary glass of champagne – as they countdown the last moments of 2015 right alongside Manning and Audé. Shore Club is located at 1901 Collins Avenue. The party will take place on December 31st, starting at 9 PM.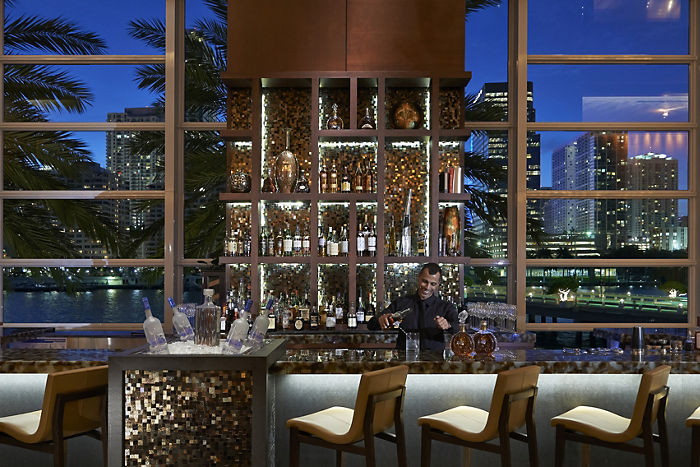 MO Bar + Lounge: This NYE, celebrate at Brickell's hottest hotel, the Mandarin Oriental, Miami, as the swank MO Bar + Lounge throws a haute party with popular Miami DJs, stylish favors and handcrafted cocktails in a suave setting, all overlooking the Miami skyline and Biscayne Bay. While a $75 ticket promises entry and two glasses of champagne, $250 will get you VIP table seating with fresh King Crab, Maine Lobster, Stone Crabs and more, all paired with a bottle of Piper-Heidsieck champagne, of course. MO Bar * Lounge is located inside the Mandarin Oriental, Miami, at 500 Brickell Key Drive. The party will take place on December 31st, from 9 PM to 1 AM.
The Forge Restaurant & Wine Bar: When it comes to the hottest celebrations around, there's no one who does it better than The Forge Restaurant & Wine Bar. Offering two dinner seatings and a bar package, guests can choose from Chef Julia Doyne's three- or four-course dinner – which includes luxuries like Yellowfin Tuna Tartare, Butter Poached Lobster, White Truffle Risotto, Creekstone Farms Filet Mignon, Flourless Chocolate Cake, unlimited Verve Clicquot and more – and follow it up with a night full of premium open bar, party favors, DJs and dancing. The Forge is located at 432 W 41st Street. Celebrations will take place on December 31st. The first seating will occur at 6 PM, and will include a three-course prix fixe dinner priced at $95+ per person. The principal seating will occur at 9 PM, and will include a four-course prix fixe dinner at $350+ per person. The Bar Package – which includes performances by Project F, a bottle of Verve Clicquot per couple, reserved seating at The Forge and canapés prepared by Chef Julia Doyne – will run from 10 PM – 1 AM for $175+ per person. Reservations can be made by calling (305) 538-8533.