Photo Credit: Courtesy Garrett Rowland
Every so often a restaurant comes along that knocks us off our feet. NINEBARK, the most exciting eatery to open in downtown Napa in quite some time, is one of those. Then again, we wouldn't expect anything less from the ridiculously-talented Chef Matthew Lightner, whose 13-seat Atera in Manhattan garnered two Michelin stars within six months of opening in March 2012. Now, Lightner has brought his talents west, where he is the executive culinary chef of AvroKO Hospitality Group West—and we couldn't be happier. Here's why we're gaga over this two-month old restaurant.
Photo Credit: Kelly E. Carter
The fare:
Naturally, the number one reason we're crazy about NINEBARK is the creativity of Lightner, who must be overjoyed with the produce offerings he has access to now that he is in the golden state. His menu features California focused, market-forward cuisine utilizing innovative preparation techniques: smoking with local hardwood and shrubs, charcoal grilling and marinating in herbal, fruit and floral broths. What you can order depends on which floor you're on so choose wisely, although there is some crossover.
On the Provisions menu, offered in the Rooftop Lounge, we are particularly fond of the salt cod beignets with garlic aioli and olive oil as well as the grilled focaccia with parmesan and herbs, and the pickle plate that is as beautiful as it is delicious. Fortunately, all three are also on the Bar Menu.
The middle floor is where you can see Lightner and his crew in action in the very open kitchen. We wouldn't blame you if you ordered a multitude of salads because all are as equally amazing as they sound:  grilled avocado salad with kohlrabi, heirloom citrus dressing and wheat crisp; horiatiki with market selections of fresh fruit and produce, feta cheese; and grilled broccoli with smoked cheddar cheese, green goddess dressing and wild arugula. This is, by far, the best broccoli we've ever tasted—and we're broccoli lovers. The standout appetizer is the curry of baby turnips with trout roe, marcona almonds and spiced bread crumbs.
Skewers add a playful touch to both the table and the palette. We're sure you'd be happy with any of the four but in particular the smoked foie gras, seasonal shelling beans in broth and fermented truffle.
Under the plates section, there are five choices and all winners. An extra high five goes to the aged ribeye with cornbread pudding (we're wondering if we can just get a big bowl of this next time), young onions and salsa verde although the charcoal roasted duck, roasted pork neck, petrale sole and whatever the market fish is for that day are sure to please as well.
Photo Credit: Kelly E. Carter
Chefs love it:
Christopher Kostow of three-Michelin starred The Restaurant at Meadowood and his darling wife Martina, were in dining one of the nights we were there. Jacques Pépin, the internationally recognized French chef, was there another time. Yes, it's that kind of place. You never know which culinary rock star you're going to see. We don't know about you, but it's always comforting to see top chefs eating at the same place you've chosen.
Brunch:
We were thrilled when NINEBARK expanded its hours by adding a weekend brunch service, which began on Dec. 12. While you can order a few dishes from NINEBARK's dinner menu, some of the new items you'll certainly love are the bread pudding served with creme anglaise, house granola with yogurt and seasonal fruit, fried oyster po'boy dressed with remoulade, slaw, pickles, and lettuce (fried egg optional), smoked local seafood benedict-English muffin, poached eggs and caper hollandaise—and the NINEBARK burger with fries with optional add ons of bacon and fried egg.
Rooftop Lounge:
Too bad the outdoor patio, which boasts spectacular views of the town and the Napa River, is closed for the season. However, the rooftop lounge, which you go through to step onto the patio, is pretty darn spectacular. And from the "gliders," which we think you'll enjoy relaxing on as much as we do, you can still gaze outside. It's also nice having tables that pull out so you can adjust by how much food and drink you order. If you're like us, it will be a lot!
Hand-crafted Cocktails:
The cocktail program, innovated through a collaboration between Chef Lightner and head bartender Andrew Salazar, varies based on location in the restaurant. At the first floor bar, the team mixes up classics with twists inspired by Lightner's cooking techniques, and on the third floor, Salazar offers a selection of new creations that really show his talents. We found the Old Ball Game, NINEBARK's take on an Old Fashioned, lots of fun. Made with popcorn and peanut-infused rye whiskey, Demerara and leather (yes, leather; your server will explain),  it is served over hand-chipped ice cubes and comes with a side of caramel popcorn! You may ever start singing Take Me Out To The Ballgame after a couple of these.  even makes their own cola to be used in cocktails such as the Tennessee Cola, made with whiskey, house cola and toasted grain. There's nothing like a little bubbly before dinner. Order the Brut Rosé, Domaine de la Renaudie from Touraine, France.
Décor:
AvroKO Design should be applauded for its eye-catching work that puts you in the dining mood. We're crazy about the garden-driven design that sprawls throughout NINEBARK's three floors. The ground floor features a relaxed bar and dining area with an abundant and glowing "goods & produce" wall. The second floor is a casually elegant dining room centered around an arched, open kitchen and a chef's table. You'll be just as taken with the mound of colorful produce on the table in front of the kitchen as what's going on inside the kitchen. The third floor rooftop-lounge offers a garden-style dining and bar experience with central lounge "gliders," which we mentioned above, and banquettes covered in vintage plaids.
Service:
Whether you're at NINEBARK for the first time or a repeat customer, we're pretty darn sure that you're going to be as impressed with the service every time. From the moment you enter to the second you leave, you'll be showered with attentive (yet never obtrusive) service and helpful. Both Aya Ikeda, the Director of Operations for AvroKO Hospitality Group West and who is not too big to pitch in and wait on customers herself, and general manager Phil Abram have done a masterful job at hiring and training a professional staff.
History:
Everyone loves a good story and this building certainly comes with one. When the place was known as Fagiani's Liquor Store & Bar, Anita Andrews was murdered in the bar in 1974. She and her sister, Muriel Fagiani, owned the cocktail lounge. Soon thereafter, Muriel closed the bar and it remained vacant, and it took 36 years for Napa police to crack the case of The Mystery on Main Street. In 2012, New York-based AvroKO Hospitality Group opened Fagiani's Bar and The Thomas Restaurant, only to close it in July to make way for the new concept of NINEBARK and Lightner. Speaking of…
Photo Credit: Russell Yip
Matthew Lightner:
Yes, we saved the best for last. The chef was already a star before he arrived but expect his name to become even more well known now that he's shifted his allegiances back to the west. Born and raised in the Midwest, Lightner first came west for culinary school. He graduated with high honors from Portland, Oregon's Western Culinary Institute in 2001 and worked his way through kitchen in Oregon and California, including chef de cuisine at L'Auberge, our fave hotel in Del Mar and where he worked alongside James Beard award-winning Chef Paul McCabe. He put his passport to use with a stage at Chef René Redzepi's Noma in Copenhagen, an exclusive 18-month program at Mugaritz in the Basque region of Spain where he developed and perfected the techniques and flavors you can now enjoy at NINEBARK, and learned from legendary chefs Ferran Adrià, Andoni Luis Aduriz, and Juan Mari Arzak.. The former executive chef at Castagna in Portland, has picked up a slew of awards, including Food & Wine's "Best New Chefs in America" and is a two-time "Rising Star Chef" nominee by the James Beard Foundation. For three years, he wowed at Atera with his tiny tasting counter in TriBeCa. Now we've got him and there's plenty on is plate. Beyond NINEBARK, AvroKO and Lightner have laid out a long-term plan for AvroKO Hospitality Group West's expansion in the Napa Valley over the next several years with projects opening in 2016 and beyond. We hear that Calistoga is next on the list—and we can't wait!
NINEBARK, 813 Main Street, Napa, 707-226-7821; hours Tuesday to Sunday, 5:30 p.m. till late, Saturday and Sunday brunch 11 a.m. to 2:30 p.m.; www.Ninebark-Napa.com
Photo Credit: NINEBARK
Smoked foie gras, seasonal shelling beans in broth, fermented truffle
NINEBARK Burger and fries
Grilled focaccia w parmesan and herbs
Japanese-style cheesecake, persimmon, parmesan, cream cheese ice cream
Panache Indochine (served on the 3rd floor terrace)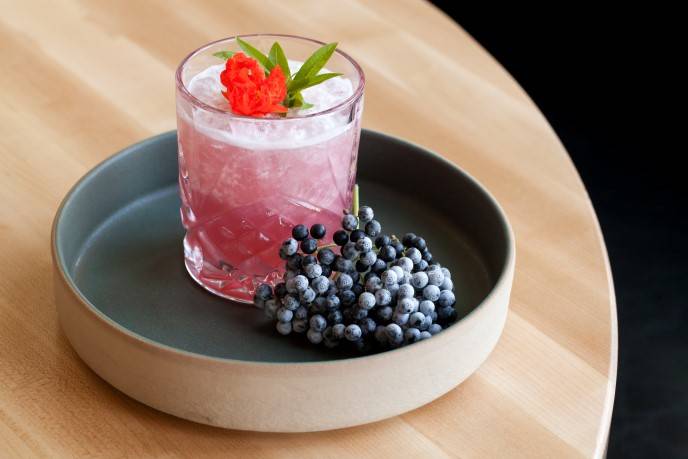 Between the Vines (served on the 3rd floor terrace)
0G3A7277 (Custom)
0G3A7158 (Custom)
Ice carving
CF029918 (Custom)
0G3A6861 (Custom)
0G3A6935 (Custom)
0G3A6968 (Custom)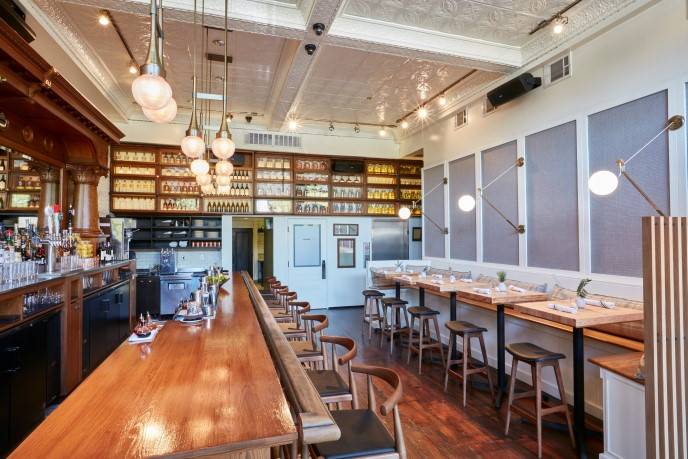 0G3A7071 (Custom)
0G3A7186 (Custom)
0G3A7233 (Custom)
0G3A7254 (Custom)
0G3A7284 (Custom)
0G3A7364 (Custom)
Gallery food images by Kelsey McClellan; interiors and exteriors by Garrett Rowland