As a pant suit aficionado and a lover of men's fashion and tailoring, I've always been drawn to the concept of power dressing, and I am not talking about the stereotypical notion of big shoulder pads and masculine silhouettes, I am referring to the message of confidence that your clothing conveys when you step into a room.
Men really understand the power of fit and presentation when it comes to dressing, and I think this very concept is missing in the women's market.
For example: A few months ago, I had a new female client who is a litigator and a partner in her law firm. She came to see me because she needed help looking more authoritative at the workplace. She is working with a new international client (a company made up of all men) and they felt that her way of dress did not instill enough confidence to believe she could get the job done. When I first met her, I saw what her clients were referring to. Standing at 5ft tall, she came in wearing a knit jersey dress with a peplum, ballet flats and a cardigan. This outfit lacked tailoring and fit, which it is one of the main reasons she did not convey the message of power and confidence.
Power dressing is what this woman needed, and after working with her for several weeks, we revamped her wardrobe, We created a wardrobe solution that was modular and consisted of skirt suits, dress shirts, tailored dresses and slacks in the finest Italian wools. I kept her silhouette very simple with clean long lines and sharp angular shapes. This helped elongate her body and conveys the message of power. I also kept the color scheme in the neutral family with grey, navy and black, but punched it up with gold accented jewelry, pearl earrings and complimentary shoes. This solution kept her looking feminine, but powerful without looking contrived.
I just got a call from her yesterday, her new clients in Italy was very impressed with her new look at the meeting. I founded The Tailory New York solely for this reason—to make my clients feel empowered in their clothing. I am one happy consultant.
10 RULES TO MODERN DAY POWER DRESSING
IT'S ALL ABOUT THE FIT

When it comes to power dressing, proper fit should be number one. Nothing will make you feel more confident and powerful than something that fits your body perfectly. Whether you are doing custom or simply altering your pieces, make sure that the clothes are fitted to you and not the other way around.
BE BOLD IN STATURE

When it comes to looking and feeling more authoritative in your "power suit" the shoulders and the lines of your suit plays the biggest role. Choose angular shaped vs. soft rounded silhouettes to evoke more power and stick with jackets that have a strong shoulder.
THE FULL SUIT IS KEY

Head to Toe dressing is the new thing is Power Dressing. Instead of breaking up your silhouette with separates, wear a full suit. When doing solids, make sure the fabric has a slight texture to them. If you want to go extra bold, a classic navy pinstripe goes a long way.
BE ON THE MOVE WITH EASE
For those days spent running around town instead of being in the office—do it in style with a sharp, strident flat.
CARRY A STATEMENT BAG
Compliment any power outfit with a statement bag. Whether hands free or a tote, make sure it reflects the same power aesthetic. Keep to shapes that are angular with clean lines with minimal hardware.
HEELS ARE GOOD
Flats are great for running around but when it's back to office setting, a little bit of elevations speaks to being poised and polished.
THE CRISP WHITE SHIRT IS A MUST
There is a reason why Men have a minimum of 5 white shirts in constant rotation—There is nothing more classic or elegant. It's polished under a suit or even on its own with a pair of tailored trousers or pencil skirt.
LEGGINGS BE GONE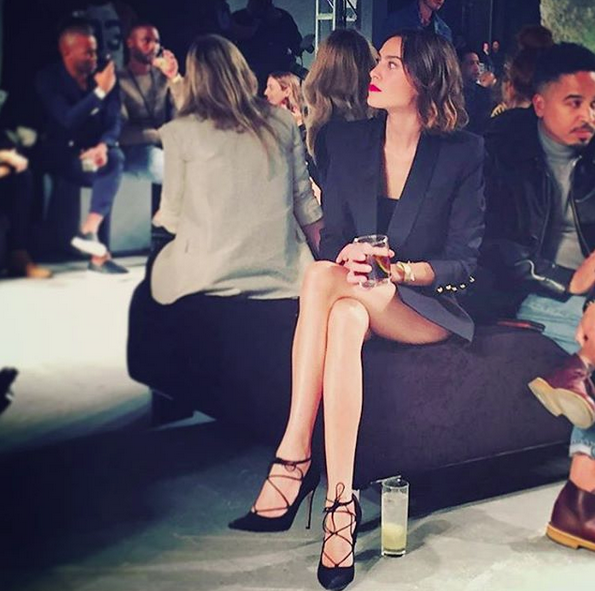 Be gone, black-clad legs! Amp them up with pantyhose instead and let it shine through. Need an inspiration? How about "Working Girl" circa 1988-only one of my favorite movies.
THE PENCIL SKIRT IS YOUR FRIEND
The mini skirt screams action, the peplum screams cute, but the pencil? The Pencil says Business. Next time you need to look authoritative but don't want to lose your femininity, put on a pencil skirt. Do keep in mind that the length should hit right above the knee, at the knee or right below it.
ACCESSORIZE IT
No outfit is complete without the proper accessories. Punch up your wardrobe with statement pieces like tiered bangles in various shapes and colors (I prefer gold) or keep it simple with one statement piece like a bold necklace.
Subscribe to discover the best kept secrets in your city