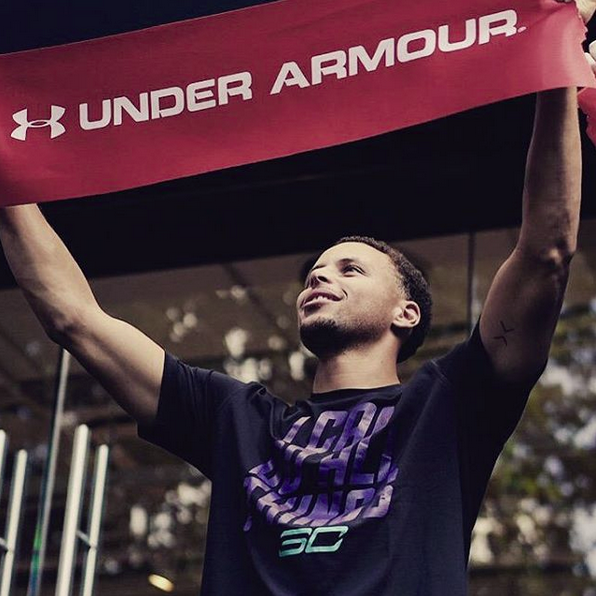 On Wednesday, Sept. 16th, Under Armour announced it will extend its partnership with MVP and NBA champ Stephen Curry's through 2024. The announcement was made at the Under Armour's Global Headquarters in Baltimore.
Curry has had a phenomenal year. Following his championship win with the Golden State Warriors, Curry welcomed a healthy baby girl named Ryan and was named the Best Male Athlete at the ESPYs.
"Stephen is a once-in-a-generation talent and has unprecedented influence on the game of basketball," said Adam Peake, EVP, Global Marketing. "His work ethic, uncompromising self-belief, and commitment to the community are characteristics that make Stephen the perfect partner to ignite the growth of Under Armour in the sport of basketball and around the world. We are extremely proud to call Stephen family and we are excited to write the next chapter of our shared story."
The 27-year-old said, "Under Armour has felt like family since day one. In the first two years of our partnership, we accomplished so much both on and off the court, and I'm looking forward to being part of the brand's story for the rest of my playing career and beyond. Together we share a passion for making athletes better and instilling self-belief in athletes everywhere. The entire team has done an amazing job to develop innovative product that performs on the court and build platforms that allow me to connect with athletes all over the world.  The best is yet to come."
Under Armour will continue to expand Curry's signature footwear line and collection of products through year-round initiatives and increase global availability.
As a result of Curry's success, earlier this summer the athletic brand saw a dramatic increase in revenue. According to the report released by Under Armour, second quarter footwear sales increased by 40 percent to $154 million from $110 million in the prior year's period. This growth is a primary result of the continued product expansion across the running category as well as the excitement surrounding NBA's MVP Curry and his signature footwear.
Photo via Instagram 
Subscribe to discover the best kept secrets in your city