Photo Credit: Kelly E. Carter
Ladies and gentlemen, San Francisco's social season is officially underway! To get in the mood for tonight's San Francisco Opera Ball 2015, fashionistas and socialites gathered at the exclusive Villa Taverna on Sept. 9 to preview the stunning de Grisogono Collection in celebration of the city's most elegant affair, which takes place at the War Memorial Opera House. Giovanni Mattera, de Grisogono's dashing brand ambassador, along with Opera Ball 2015 co-chairs Karen Kubin and Jane Mudge and Charlot D. Malin, President of the San Francisco Opera Guild, hosted the two-hour, invite-only affair where millions of dollars of Fawaz Gruosi's truly dazzling creations were on display.
"Please grab a glass of bubbles and enjoy the baubles—cheers!" Malin said in her brief welcome speech to the guests, who included Dede Wilsey, Barbara Brown, Maria Manetti Shrem and Jan Shrem, Allison Speer, Willie Brown and Sonya Molodetskaya, Brenda Zarate, Rada Katz, Jack Calhoun, Jorge Maumer, Carolyn Chandler, Victoria Yeager, Boaz Mazor, Gregory Malin, Beth Townsend, Maria Quiros, John Resin and Olivia Hsu Decker.
Although de Grisogono doesn't have a store in San Francisco, it has quite a presence and supports the arts. "People in San Francisco, we find, are a little bit different from [those] all around the United States because they love to dress up," Mattera noted. "They love to wear beautiful jewelry and gowns. Los Angeles and New York is more bare."
The jewelry house, founded by its creative director Gruosi, has been having events in the the Bay Area for nearly a decade. Wilsey was a guest at the first party. "We started to see Dede and all of the people around her who loved the jewelry," Mattera says. "We've become friends with everybody now. We've been coming here for so many years that I know everybody. I know more people here than I do in New York! We come here three or four times a year."
While the 120 pieces on display included pret-a-porter pieces, it was the rare one-of-a-kind jewels enclosed in glass cases that were opened when someone wanted to try on a piece that garnered the most attention. We were most taken with a showstopping, $6 million necklace comprised of Colombian emeralds and a brilliant collection of VS1 diamonds in the back and an emerald ring with four huge stones as well diamonds on the bottom of the ring for the wearer to gaze at.
We expect to see some of San Francisco's most stylish women wearing de Grisogono jewels tonight at Opera Ball 2015. Much of the focus, of course, will be on the frocks. Don't be surprised if this event is a repeat performance of last year when more than 10 women donned designs by Oscar de la Renta, who would succumb to cancer the following month. Mazor, the right-hand man to de la Renta for many years, told us at Villa Taverna that he expects between 12 and 15 fashionistas to wear Oscar de la Renta tonight. Expect to also see creations by Vasily Vein, a favorite of Molodetskaya.
Jack Calhoun, Dede Wilsey, Giovanni Mattera and Boaz Mazor
Sabrina Baldieri, Allison Speer and Victoria Yeager
Sabrina Baldieri's de Grisogono earrings
Willie Brown and Sonya Molodetskaya
Barbara Brown and Roberta Sherman
Brenda Zarate, Sonya Molodetskaya and Rada Katz
Rada Katz's Sophia Webster butterfly shoes
Carolyn Chandler
Jorge Maumer, Maria Quiros and Beth Townsend
Gregory R. Malin and Olivia Hsu Decker
Brenda Zarate and Sonya Molodestkaya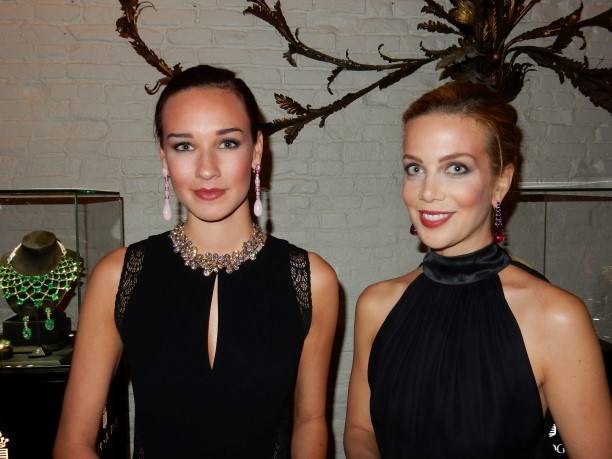 Models
de Grisogono jewels
de Grisogono jewels
Performance
Photos by Kelly E. Carter