After singing the "National Anthem" at the Fight of the Century, actor and singer Jamie Foxx performed at The Bank Nightclub inside the Bellagio.
Foxx arrived on the red carpet just before 1:30 a.m. wearing dark designer glasses, a custom tee and black pants and shoes. He stopped to take photos and was then escorted with his entourage to his table located behind the DJ booth.
Once inside, the crowd was still buzzing from the 12-round victory of Floyd "Money" Mayweather and went wild when Foxx took the mic. After hyping up the crowd, Jamie began his performance with the hit single "Slow Jamz." It was then followed by several other of his hit tracks that included, "Unpredictable," "Gold Digger" and "Blame it (On The Alcohol)."
His performance lasted nearly two hours and had the entire crowd singing, dancing and laughing. Foxx, who mostly sipped on champagne also performed a few songs from his upcoming album, including his lead single "You Changed me" featuring Chris Brown.
Also in attendance was David Chappelle, who joined Foxx behind the DJ booth for a few songs and also posed for pictures that Foxx later posted to his Instagram account.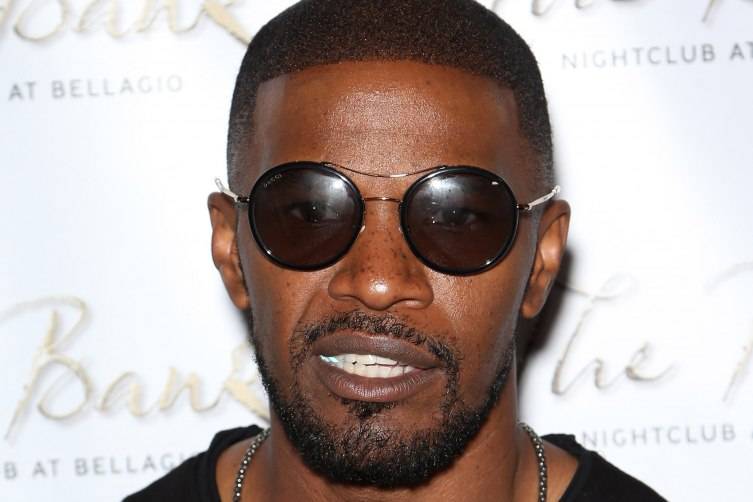 Jamie Foxx Performs at Bank Nightclub at Bellagio Resort & Casino for Las Vegas Fight Weekend
LAS VEGAS, NV - MAY 02: Actor/singer Jamie Foxx arrives at The Bank Nightclub at the Bellagio on May 2, 2015 in Las Vegas, Nevada. (Photo by Gabe Gins…
Jamie Foxx Performs at Bank Nightclub at Bellagio Resort & Casino for Las Vegas Fight Weekend
LAS VEGAS, NV - MAY 02: Actor/singer Jamie Foxx arrives at The Bank Nightclub at the Bellagio on May 2, 2015 in Las Vegas, Nevada. (Photo by Gabe Gins…
Jamie Foxx Performs at Bank Nightclub at Bellagio Resort & Casino for Las Vegas Fight Weekend
LAS VEGAS, NV - MAY 02: Actor/singer Jamie Foxx (2L) performs at The Bank Nightclub at the Bellagio on May 2, 2015 in Las Vegas, Nevada. (Photo by Gab…
Jamie Foxx Performs at Bank Nightclub at Bellagio Resort & Casino for Las Vegas Fight Weekend
LAS VEGAS, NV - MAY 02: Actor/singer Jamie Foxx (R) performs at The Bank Nightclub at the Bellagio on May 2, 2015 in Las Vegas, Nevada. (Photo by Gabe…
Dave Chappelle
Jamie Foxx Performs at Bank Nightclub at Bellagio Resort & Casino for Las Vegas Fight Weekend
LAS VEGAS, NV - MAY 02: Actor/singer Jamie Foxx (2L) performs at The Bank Nightclub at the Bellagio on May 2, 2015 in Las Vegas, Nevada. (Photo by Gab…