Photo Credit: Marlowe
The 2014 World Series champions, our San Francisco Giants, kick start their season with the home game opener against the Colorado Rockies today at South Beach's beautiful AT&T Park. Since checking out the Giants in action is on every haute San Franciscan's to do list come April, it's time to turn our attention to the area surrounding the ballpark. There's plenty of bars and restaurants in the neighborhood, but these seven spots stand out amongst the rest.
Photo Credit: Marlowe
For a truly delicious meal pre-or-post game, Marlowe is your best bet. The first restaurant from the power team Anna Weinberg, James Nicholas, and Jennifer Puccio, Marlowe opened in 2010 across the street from the ballpark on Townsend. However, developers threatened to tear down the space that housed the restaurant, so in October 2014, Marlowe moved a few blocks away to the old Coco500 location at 500 Brannan. The second incarnation of Marlowe is bigger, brighter, and better with an interior design by Ken Fulk and a menu of new American bistro fare. There's steak tartarte with poached quail egg and crostini, grilled calamari and chorizo tartine with avocado, salmon roe, and toasted garlic, and a spectacular burger with caramelized onions, cheddar, bacon, and horseradish aioli. There's also an extensive cocktail list with classics like the Pimm's Cup and innovative concoctions that feature more exotic spirits such as mezcal, cachaca, and armagnac.
Photo Credit: District
For the wine aficionado, you can't beat District. This lofty happening wine bar offers an extensive list of wines grouped together in interesting categories. Enjoy a flight of Bordeaux blends from around the world or experience the difference between oak and stainless steel aging styles. District's lounge area is great for large groups and the menu of small plates is perfectly shareable. Some personal favorites include the mushroom pate with pickled vegetables and crostini, the fontina arancini with smoked tomato sauce, and the Moroccan spiced lamb meatballs with manchego cheese. There's also pizzetas, housemade charcuterie, and a nice selection of artisinal cheese.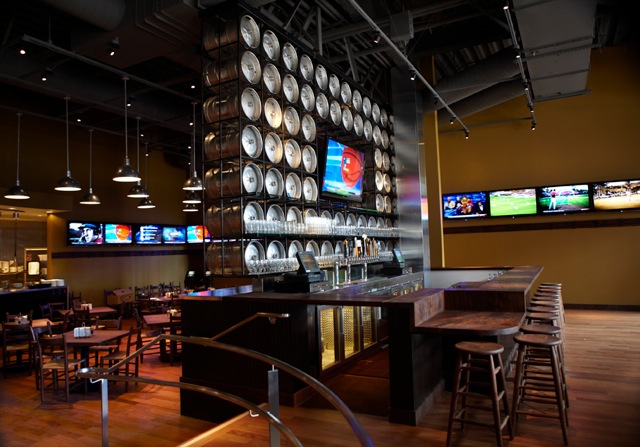 Photo Credit: Public House
Die hard authentic Giants fans who don't want to miss a minute of the pregame action should head to Public House. The sports bar and restaurant, from Traci Des Jardins, has 26 televisions, a massive bar, and an outdoor patio. In-the-know Giants fans take advantage of Public House's secret entrance into the ballpark and roll into the game with a plastic pint of one of the 24 mostly-California brewed beers on tap. The food is upscale bar classics like chipotle Buffalo wings with housemade ranch, pork belly potato skins with salsa verde and crema, and tri-tip cheesesteak with gouda, poblanos, and onions. On game days, Public House can be pretty packed, so if you want a prime spot on the patio, we suggest you get there early.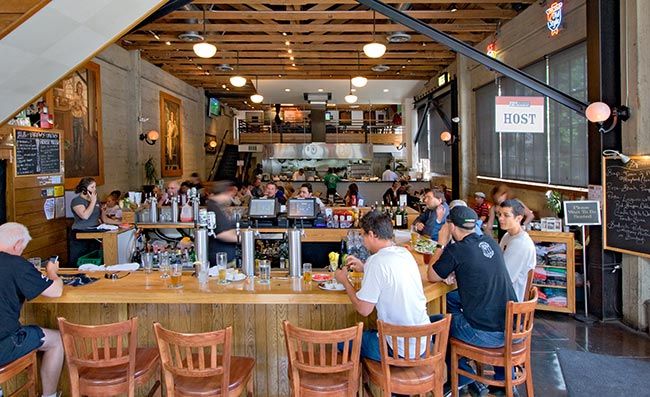 Photo Credit: SF Brewers Guild
For beer lovers, we recommend 21st Amendment. One of San Francisco's original local breweries, 21st Amendment is a short walk from AT&T Park — just up 2nd Street. The fifteen year old brewery makes a more relaxed IPA called Down to Earth, but the beer to drink during baseball season is their seasonal watermelon wheat, Hell or High Water, which is available from April to September. Enjoy the refreshing beer in their alley-like beer garden or pair it with a fresh tuna salad melt or pesto chicken pizza.
Photo Credit: Rena B. Meyer
Those in search of an amazing sandwich to bring to the game should stop by Deli Board on their way to the stadium. Deli Board, from Cleveland native Adam Mesnick, started in 2009 as a delivery sandwich joint that specialized in sensational meaty sandwiches. Today, the Board has somewhat of a cult following and for good reason: the sandwiches are downright delicious! A crispy-on-the outside, soft-on-the inside French roll encases the warm meat and cheese filling and ensures that the sandwich holds its shape while you travel to the game. The Gold-n-Berg-n-Stein, with corned beef, pastrami brisket, kosher salami, muenster cheese, cole slaw, and thousand island is one of the best sandwiches around. It's meaty, creamy, melty, and finger-licking good! Vegetarians take note: Deli Board also offers a few falafel-based sandwiches that are just as scrumptious as their meat-based counterparts.
Photo Credit: 25 Lusk
Want to enjoy a lux happy hour before you pull up a seat club level? 25 Lusk is calling your name. Designed by award-winning architect Cass Calder Smith — sleek fire places come down from the ceiling and plush private nooks are excellent for intimate chats — the restaurant has one of the most beautiful lounge spaces in the city. Happy hour is from 5pm to 7pm, Monday through Saturday, and the bar bites are upscale culinary delights. Think crispy tempura octopus with black garlic vinaigrette, soft pretzels with sharp cheddar fondue and truffle, and lobster rolls with lemon aioli.
Photo Credit: Epic Roasthouse
For a celebratory steak postgame, you can't beat Epic Roasthouse. A little further from the stadium on the Embarcadero, Epic Roasthouse is a known hangout of the Giants players. The masculine restaurant with stunning views of the Bay Bridge is a modern steakhouse with large brown leather booths, a massive industrial wheel at the center of the space, and a custom built wood-burning grill and oven. Chef Parke Ulrich serves up eight different types of steak, from a 30-ounce Tuscan porterhouse to a 14-ounce prime dry-aged ribeye. There's all the classic steakhouse accoutrements: sauces, mashed potatoes, sautéed spinach, and roasted asparagus, and an extraordinary wine list with difficult to find California Cabs and Pinots, show-stopping Burgandys and Bordeauxs, and memorable European varietals.