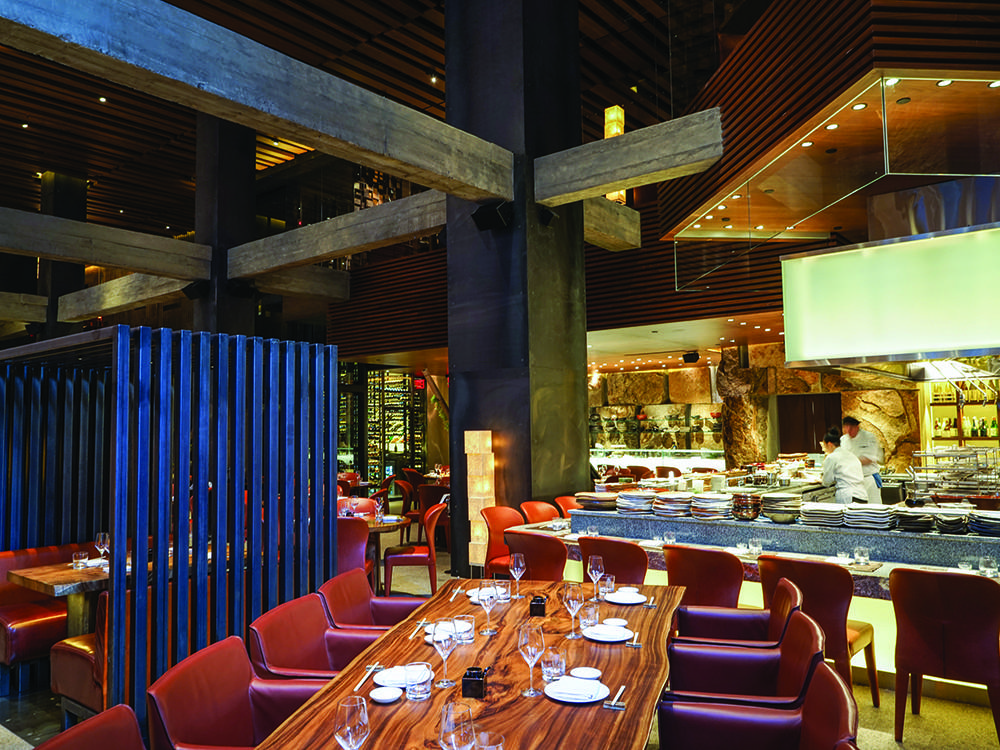 When Chef Rainer Becker first opened his own restaurant back in 2002, he figured it would be a one-off venture. But the overwhelming success of Zuma—a cool, sumptuous Japanese spot nestled in London's Knightsbridge—soon propelled him to broaden his sights beyond the borders of the English capital.
Offering an array of authentic, Izakaya-style dishes dashed with modernity, Becker's Zuma empire has since taken the world by storm, conquering eight other cities across the globe including Hong Kong, Istanbul, Dubai, Abu Dhabi, Bangkok, and Miami.
"I decided to keep the same 'Zuma style,' but embrace the energy of each location," says the acclaimed chef, who also happens to be the mastermind behind the equally resplendent Roka line of nosheries in London. "I never wanted it to feel like a chain."
Indeed, every Zuma—thoughtfully tailored to reflect the vibe of the metropolis in which it lies—boasts its own distinct persona, though can easily be identified as one of Becker's carefully crafted eateries due to a few key common threads, such as the incorporation of a sushi station and robata grill (apart from the main kitchen) into each venue.
We chatted with the culinary heavyweight about the newest addition to his delectable Zuma kingdom (now a star-studded phenomenon): a two-story dazzler nestled in the heart of midtown Manhattan that's attracted just as many A-listers as its sister outposts since it debuted earlier this year.
What prompted you to open Zuma in NYC?
Like everyone who comes to New York, I fell in love with its energy. It is an incredible, exciting place, and we wanted the restaurant to feel permanent, unshakable, bold, and urban like the city itself. New Yorkers have a greater understanding of Japanese food than the natives of most other cities. What we offer at Zuma is Japanese food that is authentic, but not traditional. I wanted to create dishes that would reach a wider audience and were more robust in flavor. I spent a lot of time in Japan and, like every chef I know, was blown away not only by the purity of the food culture, but also the subtlety of texture and [preciseness of] temperature. So [to simplify things], I based the whole idea around the more informal Izakaya-style of dining.
How often does the menu change?
It is a large menu that offers many different dining experiences. You can pop in for a bowl of sashimi, or perhaps just some chicken wings and grilled vegetables from the robata. Or you can order a selection and mix it up. The menu has been designed to work worldwide, so it does mainly stay the same. However, there are obviously seasonal changes, and depending on location, there will be general availability issues with ingredients. So there will be modifications and changes, but the core menu [remains constant].
Have you decided which Zuma New York dishes will be crowned signature plates?
We opened only a few months ago, and signature dishes will develop in time. Those types of location-specific dishes need to come through customer feedback. I'm kind of old-school—if we implement a new dish and it doesn't sell, we take it off the menu immediately. Our guests decide, and are generally pretty vocal on what they like and don't like, so we will wait and see. But I think something with dry-aged beef may become a New York staple, given the feedback we've heard so far.
Aside from the basics, name a few ingredients that Zuma New York's kitchen would be completely lost without.
Gosh, there are so many! If I had to pick just a few—soy sauce (obviously!) and miso, but also togirashi [a common Japanese spice mix], sesame seeds, and citrus, like yuzu.
What is the most difficult dish to prepare on the menu? Are there any dishes that might seem easy to create, but in reality require a lot of time and skill to do so?
The black cod—it's a three-day process with the marinade and every piece is different, so it's an experience to cook—but it's worth it.
What's the top rule to abide by in your kitchen?
The same number one rule applies to every element of Zuma, from the way the kitchen and front of the house are run, to the conceptualization of its design: attention to detail is key!
Since the opening, what's proven to be the most popular menu item at the New York outpost?
Many people order edamame for a snack while reading the menu. But the aforementioned black cod has been very popular, as well as the tuna tataki and the spicy beef.
What's the story behind the New York branch's "business lunch" feature?
It's simple, really—since we are located in Midtown, in a neighborhood that is very business-centric, we wanted to offer a meal at a reasonable price for regular lunchgoers that would encapsulate the Zuma experience. The dishes don't take longer than 20 minutes to prepare, which accommodates those who want to dine in a hurry.
Which dishes would you recommend to a diner who claims to not be a big fan of Japanese cuisine (and is dining at Zuma NYC in hopes of having his or her mind changed)?
The baby chicken—it has a good blend of Japanese flavors, [though might pleasantly] surprise someone who isn't a fan of Japanese food. There's also the rock shrimp tempura, which is creamy, crunchy, spicy, and salty all at once.
Care to divulge your favorite item on the menu?
The chicken wings—they are simple and super tasty.
Are you looking to open anymore Zuma locations in the future?
Still catching my breath after this one! I don't have a structured plan—it more just comes together if all the elements work. It's about the right location, as well as the city itself.
Subscribe to discover the best kept secrets in your city