One of the ABC islands in the Dutch Caribbean (alongside Aruba and Bonaire), Curaçao—a sliver of land favorably sited off the Sea's hurricane belt—is chiefly admired for its glistening waters, white sand beaches, and extraordinary reefs.
Apart from its picturesque natural landscape, however, the nation's most fascinating feature is its remarkable culture: a well-blended fusion of Creole, Latin, and European tastes and traditions, set against a tropical desert backdrop.
Now less than five hours from New York via air thanks to JetBlue's new nonstop flights (and just three hours away from Miami), the small, quaint isle offers East Coast cosmopolites the chance to explore a sunny, mild locale bursting with history and color.
Haute Living recently paid a trip to the intriguing isle, a sun-soaked melting pot peppered with towering cacti and 150,000 polyglots (many of whom are fluent in as many as five languages, including Dutch, Portuguese, Spanish, English, and Papiamentu, the local Creole).
Read on for a roundup of must-do's in Curaçao, guaranteed to make your experience on the island extra sweet (or dushi, as its natives would say).
#1: Explore the storied capital
The streets of Willemstad are flanked by svelte structures just as kaleidoscopic as Curaçao's roots, toting a showcase of Dutch architecture that'll make you believe you're in Amsterdam (though a more exotic form of the Netherlands capital, dashed with Latin flavor). A sparkling inlet known as Sint Anna Bay slices the nation's metropolis—deemed a UNESCO World Heritage Site in 1997—into two parts: Punda ("the point") and Otrobanda ("the other side").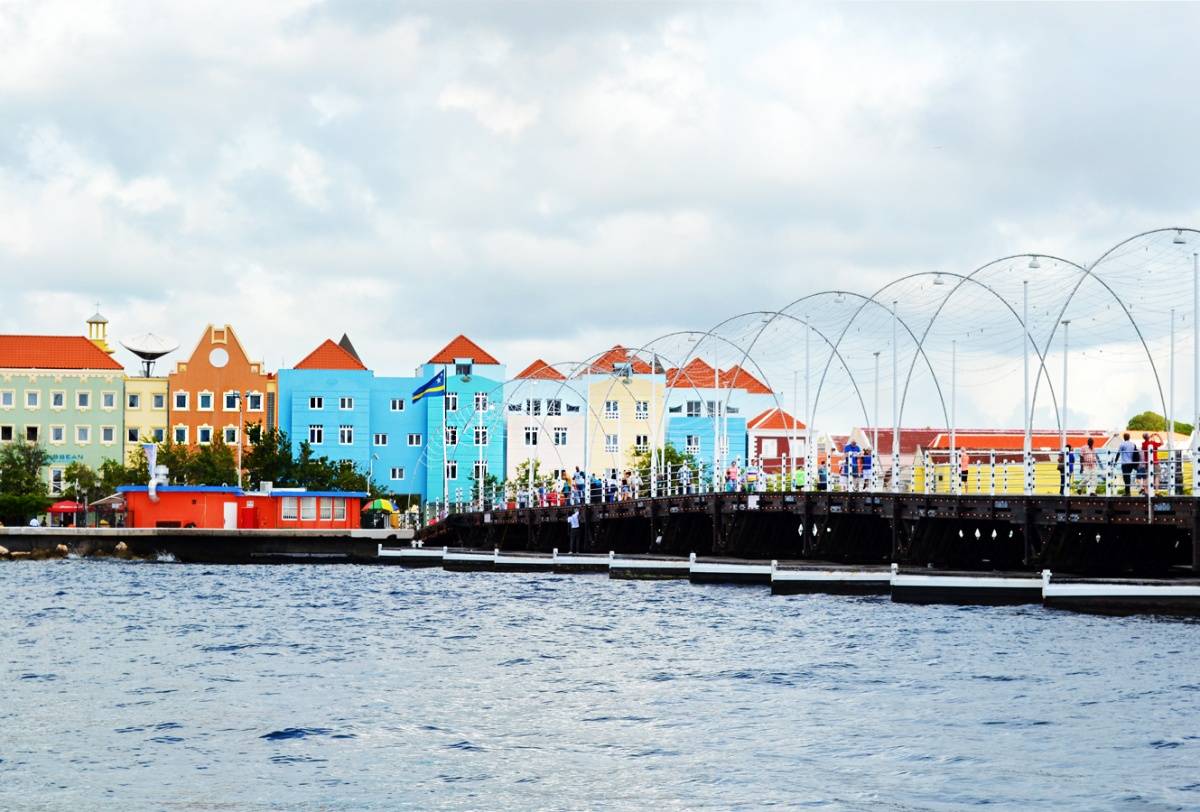 While you're in Punda (the elder of the two town halves, it's packed with many pedestrian-only streets lined with shops of all shapes and sizes), be sure to get a glimpse of Fort Amsterdam (once an active military fort and the base of the Dutch West Indies Company, it's now the seat of the nation's government), and Queen Wilhelmina Park (where you can snap a photo beside the oversized "CURACAO" and "DUSHI" signs, recently spruced up with fresh coats of paint). History buffs should also pay visit to the Mivke Israel-Emanuel Synagogue, the oldest Jewish house of worship in the Western Hemisphere.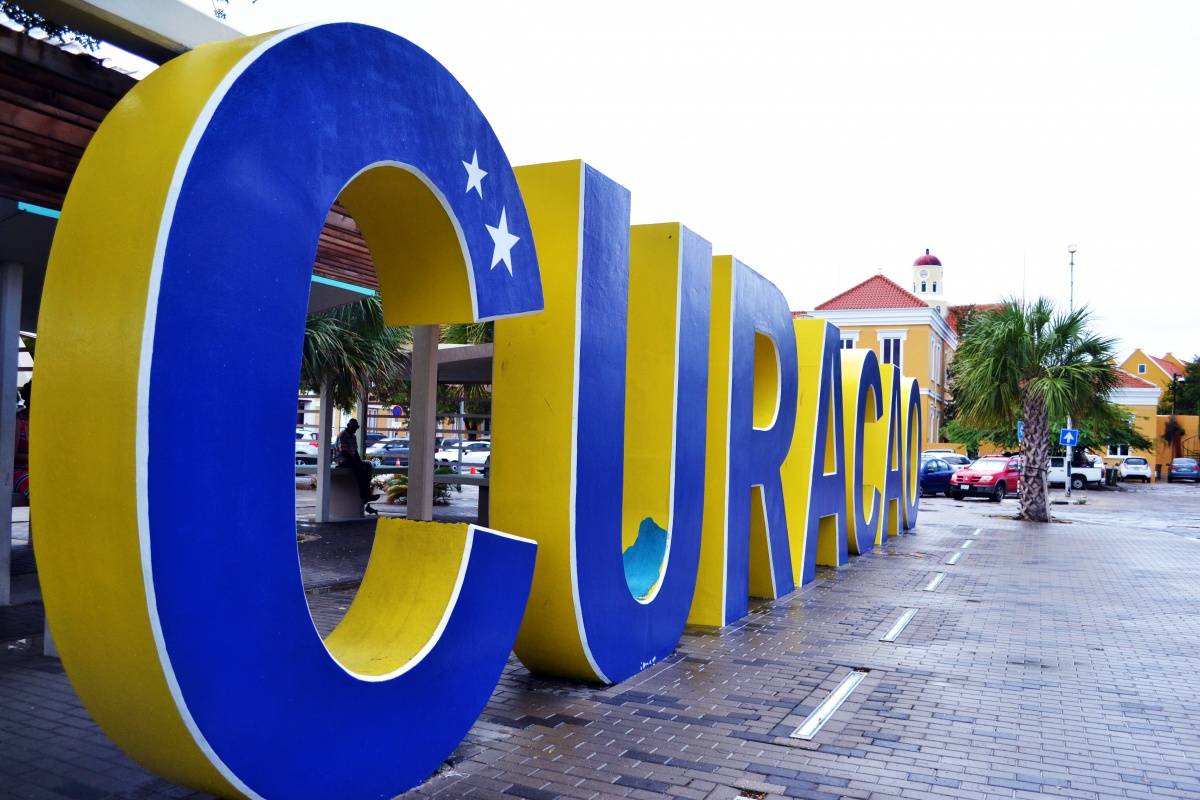 A number of insightful historical institutions also lie in Otrobanda: among them, the Curaçao Museum (a former military hospital), and Museum Kurá Hulanda (home to the largest collection of African art in the Caribbean). Those looking to do some shopping can wander around Rif Fort (an erstwhile fortification long ago built to protect the Bay's entrance, it's now a mall filled with shops chock-full of potential souvenirs).
To travel between the two points, saunter down the Queen Emma—a pontoon bridge that lights up in rainbow fashion at night, also known as "the Swinging Old Lady" due to its ability to swing open to make way for passing ships (in which case free ferry rides become available for those looking to cross).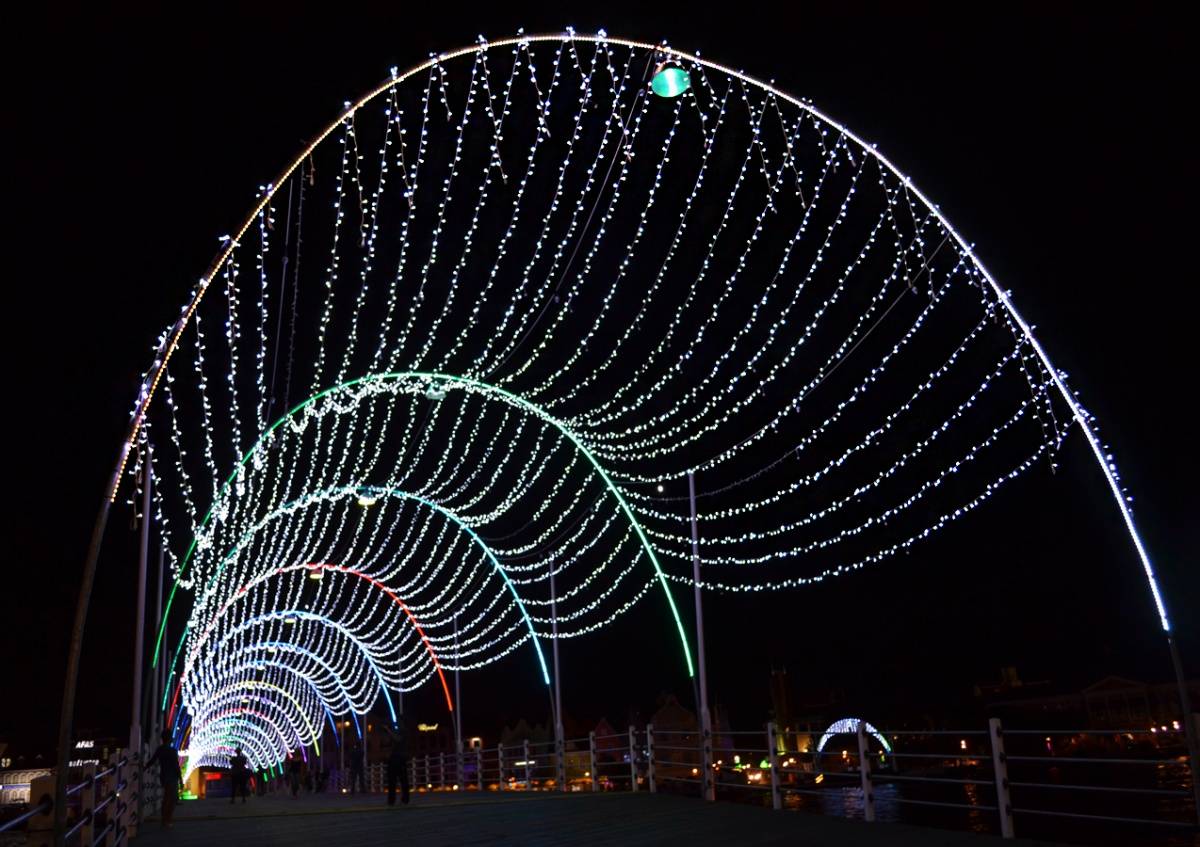 #2: Nosh at Plasa Bieu
For authentic island fare, head over to Plasa Bieu (translation: "Old Market"): a mammoth dining spot minutes away by foot from the city centre. Shaped like a pitched wooden tent, the communal-style locale features a line of grub stands offering up a slew of homestyle dishes, which diners can either take to go (as many local lunchgoers do), or enjoy while seated at one of the long, plastic-covered picnic tables in the cavernous food court.
Opt for the fried kingfish or one of the traditional meat stews, with a side of rice, beans, and fried plantains. If you're feeling adventurous, go for a bowl of kadushi (cactus soup). Cap off the meal with a freshly-made batch of pumpkin pancakes, and be sure to grab a refreshing batido at one of the street vendors outside (the island's trademark fruit shake, it comes in an exotic assortment of flavors such as tamarind and papaya).
#3: Visit the Floating Market
A stone's throw away from Plasa Bieu rests another popular marketplace—a waterfront, open-air bazaar sited along Sha Caprileskade, known as the "Floating Market." There you'll find a line of Venezuelan sailors who've journeyed from their native land—located just 40 miles south—to vend fresh fish and fruits, anchoring their vessels and setting up stands directly in front of the motley stretch of bobbing boats (hence the Market's curious name).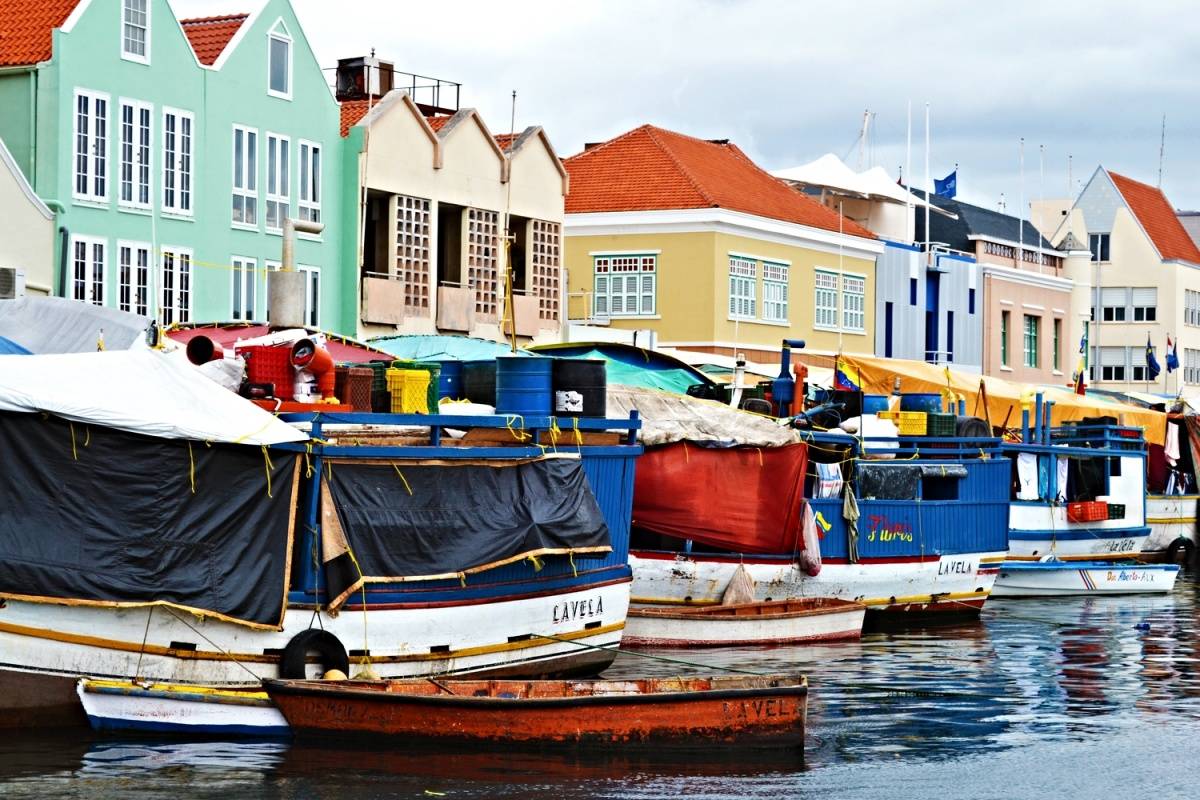 The sellers stay at the spot for months at a time, receiving new shipments to replenish their stocks daily. The one-of-a-kind stretch coolly highlights Curaçao's close proximity to South America, adding yet another element to the island's mishmash of cultures.
#4: Meet a feathery fellow at the Ostrich Farm
For animal-loving daredevils who've always wondered what it'd be like to hop on (and eventually fall off) the back of a big bird, Curaçao's one-and-only ostrich farm—the largest outside of South Africa—is the place to be. But if you're a little too chicken to test your luck while clutching onto a feathery beast, note that the on-site tour is plenty of fun, even minus the wild ride.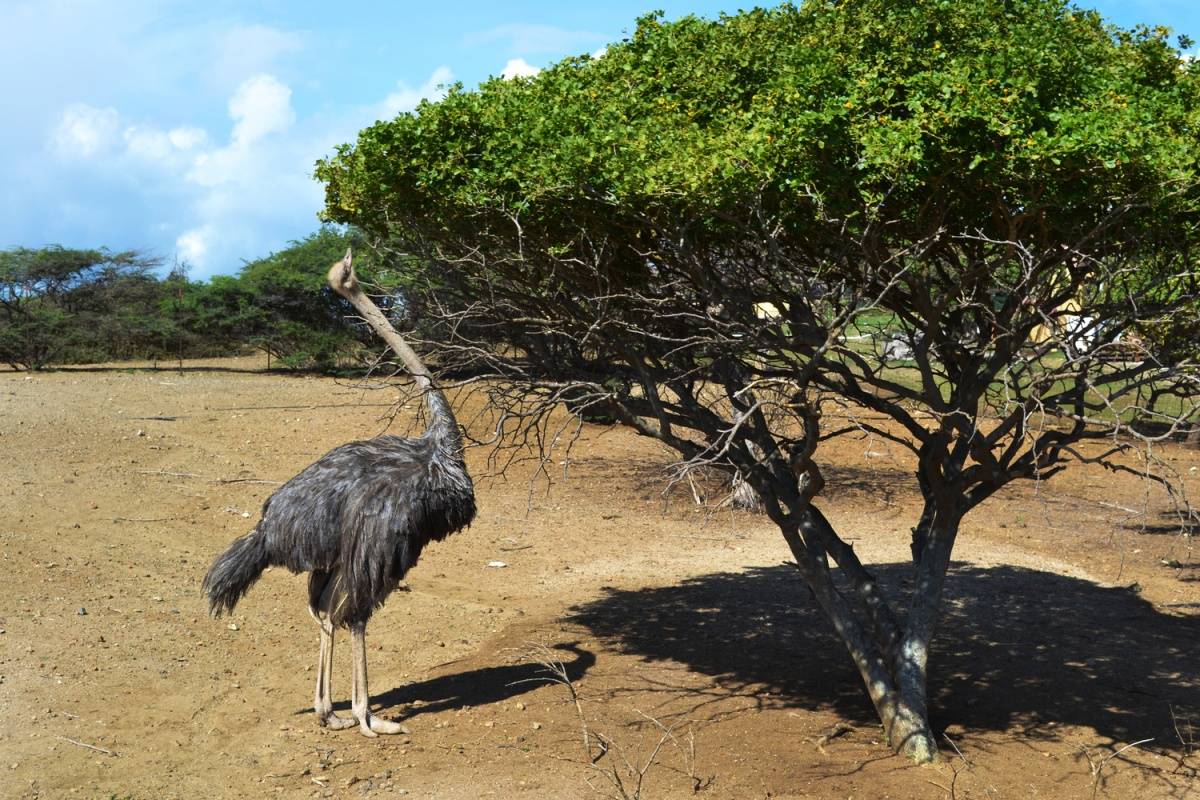 You'll encounter ostriches of all ages at the family-friendly farm (plus a few crocodiles and potbellied pigs), as you inch down a dusty road on board a camouflage-colored safari truck. Later down the line, you'll have a chance to feed the long-necked fowls and stand atop one of their surprisingly strong eggs (which can amazingly withstand an average adult's entire weight).
#4.5: Aloe up
Before you leave the Ostrich Farm, take a short side trip to the aloe vera plantation next door and stock up on some phenomenal all-natural products—from bottles of pure aloe juice, to aloe body gels and lotions—all produced on site.
If you have the time, sit down for a brief lesson on the treasured succulent, beloved for its countless beneficial uses (apart from being a natural antibiotic, it's a proven immunity booster and pest repellent). At the end of the interesting spiel, you'll get the opportunity to sample a fresh piece of aloe, sliced right before your eyes.
#5: Tour the Den Paradera Herb Garden
Curaçao native and botany expert Dinah Veeris has owned and operated Den Paradera for decades, maintaining a vast garden that's quite fittingly home to hundreds of different sprouts (most of which boast extraordinary medicinal properties).
Instead of opting for a self-guided tour, let Veeris—a bubbly septuagenarian whose passion for her craft is palpable when she speaks—take you through the dizzying maze of flora. We guarantee you'll enjoy the experience twice as much with her lively narration—a string of fast facts and anecdotes that'll make you "ooh" and "ahh" at the sight of seemingly mundane leaf clusters.
At the quaint souvenir store you'll be greeted by hordes of wholesome homeopathic tea leaves and oils meant to relieve every conceivable ailment, from high blood pressure and headaches, to even heartbreak (a few bags of Veeris' "Love Potion" tea will reportedly do the trick).
#6: Dip into the 'Blue Room'
A unique underwater cave, the Blue Room—named for the brilliant sapphire hue that reflects off its interior—is tucked in a limestone cliff between the beaches of Santu Pretu and Santa Cruz in Westpunt (the westernmost point of Curaçao).
The grotto's supremely lucent deep waters make it a splendid locale for spotting all sorts of tropical fish, so we recommend you don snorkeling gear before going in. For the sake of safety and convenience, sign up for a guided excursion with one of the certified diving companies based nearby such as Go West Diving, which offers snorkeling trips to the popular spot every Wednesday and Saturday.
[If you're not too strong a swimmer, take note: the mouth of the cavern becomes submerged when the tide is high, requiring venturers to brave a few crashing waves and swim beneath several feet of rock in order to enter, making it particularly difficult for life-vest wearers to get through.]
#7: Take a hike at Shete Boka National Park
Sited almost at the foot of Christoffelberg (Curacao's highest peak), Sheta Boka spans nearly four square miles of craggy coastline, heavily beaten by hawkish waves. A nature lover's paradise, the protected swath—open to the public for a small fee, from 9am to 5pm daily—is home to seven different bokas (or bays), four of which can be easily reached on foot or by car.
Boka Tabla—the most frequented of the bunch, due to its position right off the park's entrance—features a narrow inlet that leads into the small mouth of an underground cavern, where one or two visitors at a time can sit and watch the waters pound against the limestone rock as the tide rolls in.
There are two trails for hikers to enjoy, each offering an hour-long trek: one cuts through Boka Pistol and Boka Brown (where sea turtles often go to lay their eggs), while the other winds past rolling lava hills and leads down to a natural bridge in Boka Wondami.
[Quick tip: Regardless of how much walking you plan on doing during your visit, be sure to wear sneakers—or at the very least, close-toed shoes—in order to avoid getting injured on the jagged terrain.]
Save
Subscribe to discover the best kept secrets in your city