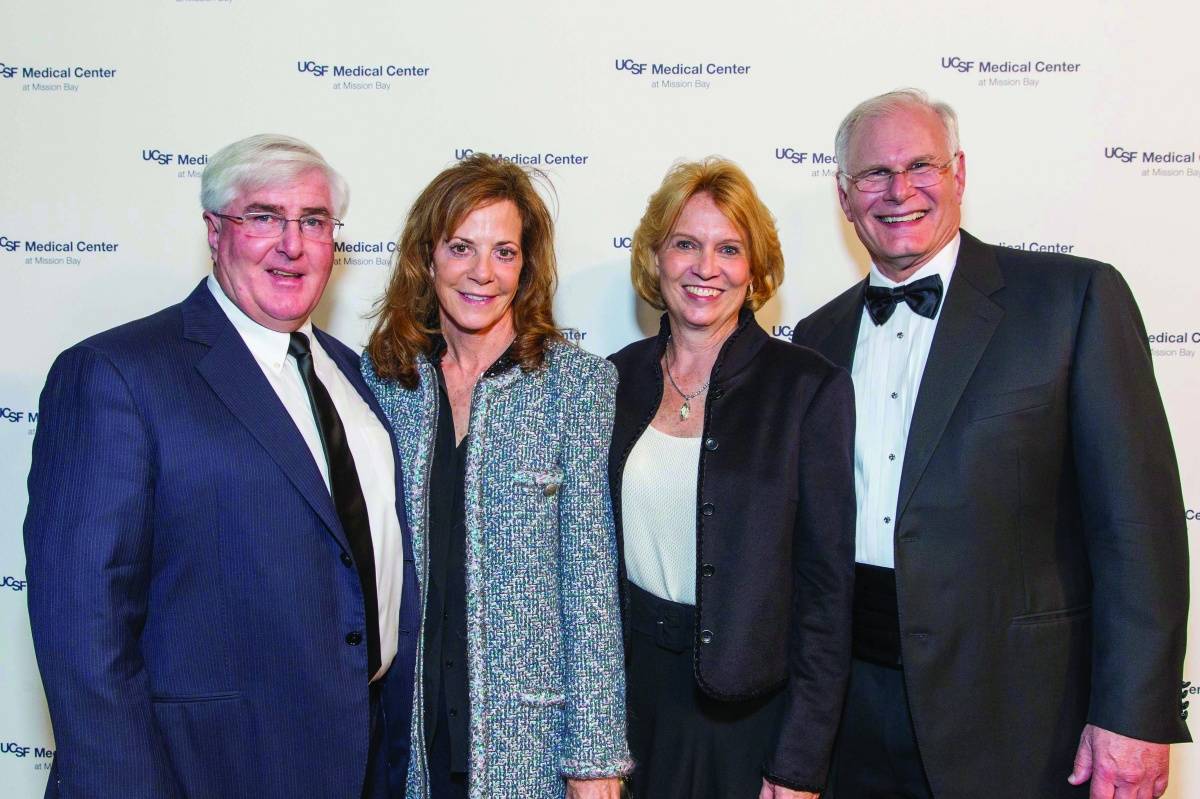 The $1.5 billion UCSF Medical Center at Mission Bay—a "Next Generation" hospital that took 10 years to become a reality—opened on Feb. 1st, just a few weeks after a star-studded Champions Gala was held at the center to thank and honor the "champion" donors. Led by philanthropists Marc and Lynne Benioff, Dede Wilsey and Ron Conway, these supporters, along with hundreds of other backers, donated over $550 million in private funds for this new, state-of-the-art hospital complex.
The exclusive gala was held Jan. 10th in a luxurious 51,000 square-foot-tent with soaring, 50+-feet-high ceilings twinkling with lights, elaborate decorations and stylish couches and chairs in lounge areas for guests to relax and mingle—all masterfully created by Los Angeles-based Sequoia Productions, which does the annual Governors Ball following the Academy Awards.
UCSF Medical Center and Benioff Children's Hospitals CEO Mark Laret and UCSF Chancellor Sam Hawgood wanted the gala to be opulent enough to match the scale of generosity of the supporters. Together, they stood at the entrance to the cocktail reception and greeted over 1,000 supporters who helped fund the new facility comprised of the UCSF Benioff Children's Hospital, UCSF Bakar Cancer Hospital, UCSF Betty Irene Moore Women's Hospital and the Ron Conway Family Outpatient Gateway Building.
The evening's entertainment featured three-time Grammy-award winning singer Tim McGraw and Academy Award-winning actor Kevin Spacey, who performed three songs and surprised the audience that he could sing too. McGraw performed his signature country music and talked about his Bay Area roots—his father, former Major League Baseball player Tug McGraw, was born in Martinez.
There was an after-party with Band From TV, a group of actors who play for charitable causes and sang "Man in the Mirror" with Oakland School for the Arts: Vocal Rush for the champions.
The best performance, however, goes to a Benioff Children's Hospital patient, Rhett Krawitt, who wasn't even three years old when he learned he had leukemia. He talked about his live-saving treatment at the hospital and urged the audience to continue its support. This brought back my heartwarming memory of last year's UCSF Benioff Children's Hospital fund-raising event, A Starry Evening of Music, Comedy & Surprises, where a dozen children from the hospital performed onstage with the celebrity participants.
I had the pleasure to be among the first to hear the breaking news of my clients Ron and Gayle Conway's $40 million donation to the UCSF Ron Conway Family Gateway Medical Building. Including Conway's donation, UCSF Medical Center  had raised $550 million of its $600 million goal before the opening.
I also shared the excitement with Dede, who raised $400 million as chair of the Campaign for UCSF Medical Center at Mission Bay. Although the philanthropic powerhouse has a wing named after her in the de Young Museum, she says that accomplishment doesn't compare to a medical center that cures people with "the best doctors, the best scientists and the best researchers."
Too bad the Benioffs were traveling and missed this lovely evening. Marc, whom I interviewed for the last issue of Haute Living about the $200 million gift he and his wife Lynne gave for the UCSF Benioff Children's Hospitals in Oakland and Mission Bay, proudly pointed out at a Jan. 29 news conference for the opening of the hospital, the cutting-edge facility is a joint effort of nearly all San Francisco tech leaders, companies and individuals—whether it was giving money, designing technology or creating a patient solution. The Benioff Children's Hospital is also equipped with BEAR Force One, a medical helicopter whose acronym is short for Benioff Emergency Air Rescue. The hospital features the only operating hospital helipad in San Francisco to transport critically ill babies, children and pregnant women to the medical center from outlying hospitals.
We San Franciscans should be extremely grateful and proud to have this first-class health care facility in our city. I don't wish for anyone to need a hospital, but if you ever do, UCSF Medical Center at Mission Bay is the place to be!