So what does Ben Affleck do these days when he's not portraying Batman? Addresses the Senate, of course.
The movie star and director will be addressing the Congo crisis at a Senate subcommittee tomorrow, marking the second time he has made his case to the Senate concerning the cause.The subcommittee is chaired by South Carolina Republican Sen. Lindsey Graham.
Affleck made a serious case for U.S. involvement in the Congo crisis last year. Affleck proposed ways in which the U.S. can bring aid to the crisis: increasing agricultural aid, dealing with corruption, and assuring that fair elections are held.
Affleck is very serious about the cause and says that he wants his activism to define his legacy just as much as acting, directing, and being a family man.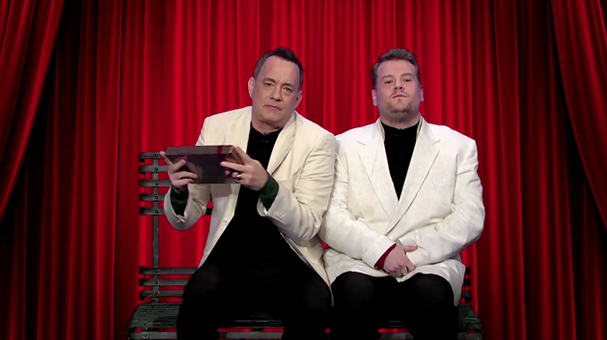 James Corden kicked off "The Late Late Show with James Corden" with a seriously high profile guest, Tom Hanks. Corden and Hanks went the extra mile by performing pieces of scenes from EVERY movie in the Tom Hanks filmography. They completed the feat in a mere eight minutes.
The duo performed lesser known Hanks films like The Burbs and humorously expressed confusion regarding performing a scene from the uber-confusing Wachowskis film Cloud Atlas.
Tom Ford proved to be a man of multiple talents when he directed the 2009 Colin Firth-starring film A Single Man. He is now looking to follow up his next with a "post-modern noir thriller" entitled Nocturnal Animals based on the Austin Wright novel Tony and Susan. Who is going to foot the bill for the famed fashion designer's passion project? Triple threat superstar (and stylish guy in his own right) George Clooney is set to produce.
The novel was published in 1993 and chronicles a woman named Susan who received a book manuscript from her ex-husband that she left 20 years ago. The ex asks Susan for her opinion on the book. The story then splinters off into two stories: the novel within the novel and Susan as she confronts the dark realities of her being.
The project is still in early development but most likely will attract a torrent of top acting talent, considering Colin Firth was nominated for an academy award for A Single Man.
L.A. Haute 100 updates consist of news about members of our Los Angeles Haute 100 List; a list of L.A.'s most powerful players.