Photo Credit: Patrick Gray/Erik Kabik Photography
Award-winning music group Rascal Flatts celebrated the beginning of its Rascal Flatts Vegas Riot! residency with a grand arrival at the Hard Rock Hotel and a high-energy performance at The Joint on Wednesday, Feb. 25. Rascal Flatts Vegas Riot! continues at The Joint Feb. 27-28 and March 4, 6-7, 11 and 13-14.
The event kicked off with the Foothill High School Marching Band as they marched out to one of Rascal Flatts' No. 1 songs "Fast Cars and Freedom" in front of Hard Rock Hotel's iconic guitar. Once in position, Rascal Flatts band members, Gary LeVox, Jay DeMarcus and Joe Don Rooney, revved the engines of NASCAR petty cars and burned out past hundreds of screaming fans, signaling the beginning of their residency in true Sin City style, courtesy of Richard Petty Driving Experience.
"Tonight's the big opener, and we're thrilled to death to be at the Hard Rock Hotel & Casino and to be the first country residency at The Joint," said LeVox. "…we'd love to have you come out. I don't think you've ever seen us before like this Riot tour."
Following, Rascal Flatts presented Travis Pardee, the director of bands at Foothill High School, with a giant $5,000 check for the high school's music program and to thank the students for their hard work. The donation was made on behalf of Rascal Flatts, Hard Rock Hotel and AEG Live Las Vegas. The trio concluded the event by posing for photos with the race cars, signing autographs and leading the marching band through The Joint's front doors.
That evening, Rascal Flatts took the stage for the first concert of its nine-show residency. The packed house went wild as the band played top hits such as "Riot," "Mayberry," "Bless the Broken Road," "Me and My Gang," and many more. High-definition video displays, large LED screens, colorful lights, incredible solo breaks and covers like Hozier's "Take Me To Church" completed the night of pure entertainment. The guys came back to the limelight for a bursting encore, playing "Life is a Highway" as fans danced along.
"We're going to be here for three weeks," exclaimed DeMarcus. "Vegas will never be the same."
Like Haute Living Las Vegas? Join our Facebook page or follow us on Twitter. Want Haute Living Las Vegas delivered to your in box once a week? Sign up for our newsletter.
02.25.15 Gary LeVox at The Joint in Hard Rock Hotel & Casino_Erik Kabik, Erik Kabik Photography (2)
02.25.15 Gary LeVox at The Joint in Hard Rock Hotel & Casino_Erik Kabik, Erik Kabik Photography (3)
02.25.15 Gary LeVox at The Joint in Hard Rock Hotel & Casino_Erik Kabik, Erik Kabik Photography
02.25.15 Rascal Flatts Leads Foothill High School Marching Band into The Joint at Hard Rock Hotel & Casino_Patrick Gray, Erik Kabik Photography
02.25.15 Rascal Flatts Presents Travis Pardee of Foothill High School With Check_Patrick Gray, Erik Kabik Photography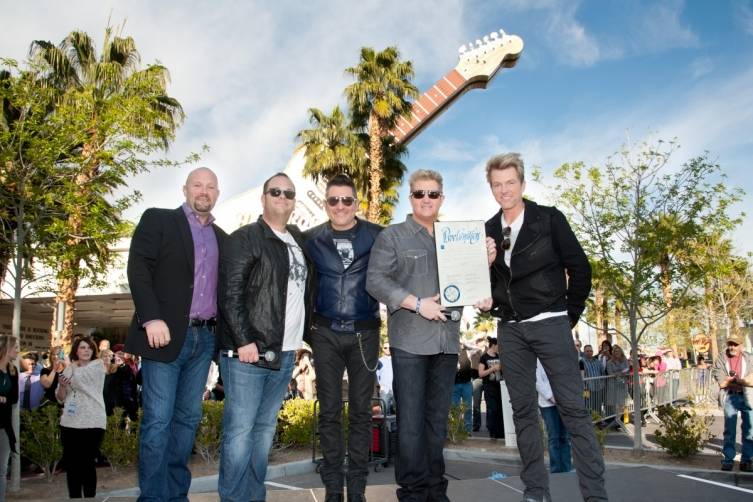 02.25.15_ Chas Smith, Bobby Reynolds and Rascal Flatts Pose with 'Rascal Flatts Vegas Riot Day' Proclamation__Patrick Gray, Erik Kabik Photography
02.25.15_Chas Smith, Jay DeMarcus, Travis Pardee, Joe Don Rooney, Gary LeVox and Bobby Reynolds_Patrick Gray, Erik Kabik Photography
02.25.15_Hard Rock Hotel & Casino executives, AEG Live Las Vegas executives, Rascal Flatts and Craig Wayne Boyd_Patrick Gray, Erik Kabik Photography
02.25.15_Jay DeMarcus at The Joint in Hard Rock Hotel & Casino_Erik Kabik, Erik Kabik Photography (2)
02.25.15_Jay DeMarcus at The Joint in Hard Rock Hotel & Casino_Erik Kabik, Erik Kabik Photography
02.25.15_Joe Don Rooney and Gary LeVox at The Joint in Hard Rock Hotel & Casino_Erik Kabik, Erik Kabik Photography
02.25.15_Joe Don Rooney at The Joint in Hard Rock Hotel & Casino_Erik Kabik, Erik Kabik Photography (2)
02.25.15_Joe Don Rooney at The Joint in Hard Rock Hotel & Casino_Erik Kabik, Erik Kabik Photography
02.25.15_Joe Don Rooney of Rascal Flatts Arrives to Hard Rock Hotel & Casino in Style__Patrick Gray, Erik Kabik Photography
02.25.15_Joe Don Rooney, guitarist and Gary LeVox at The Joint in Hard Rock Hotel & Casino_Erik Kabik, Erik Kabik Photography
02.25.15_Rascal Flatts at Grand Entrance at Hard Rock Hotel & Casino_Patrick Gray, Erik Kabik Photography
02.25.15_Rascal Flatts at The Joint in Hard Rock Hotel & Casino_Erik Kabik, Erik Kabik Photography (2)
02.25.15_Rascal Flatts at The Joint in Hard Rock Hotel & Casino_Erik Kabik, Erik Kabik Photography (3)
02.25.15_Rascal Flatts at The Joint in Hard Rock Hotel & Casino_Erik Kabik, Erik Kabik Photography
02.25.15_Rascal Flatts Pose with Richard Petty Driving Experience Race Car_Patrick Gray, Erik Kabik Photography (2)
02.25.15_Rascal Flatts Pose with Richard Petty Driving Experience Race Car_Patrick Gray, Erik Kabik Photography (3)
02.25.15_Rascal Flatts Pose with Richard Petty Driving Experience Race Car_Patrick Gray, Erik Kabik Photography
Subscribe to discover the best kept secrets in your city