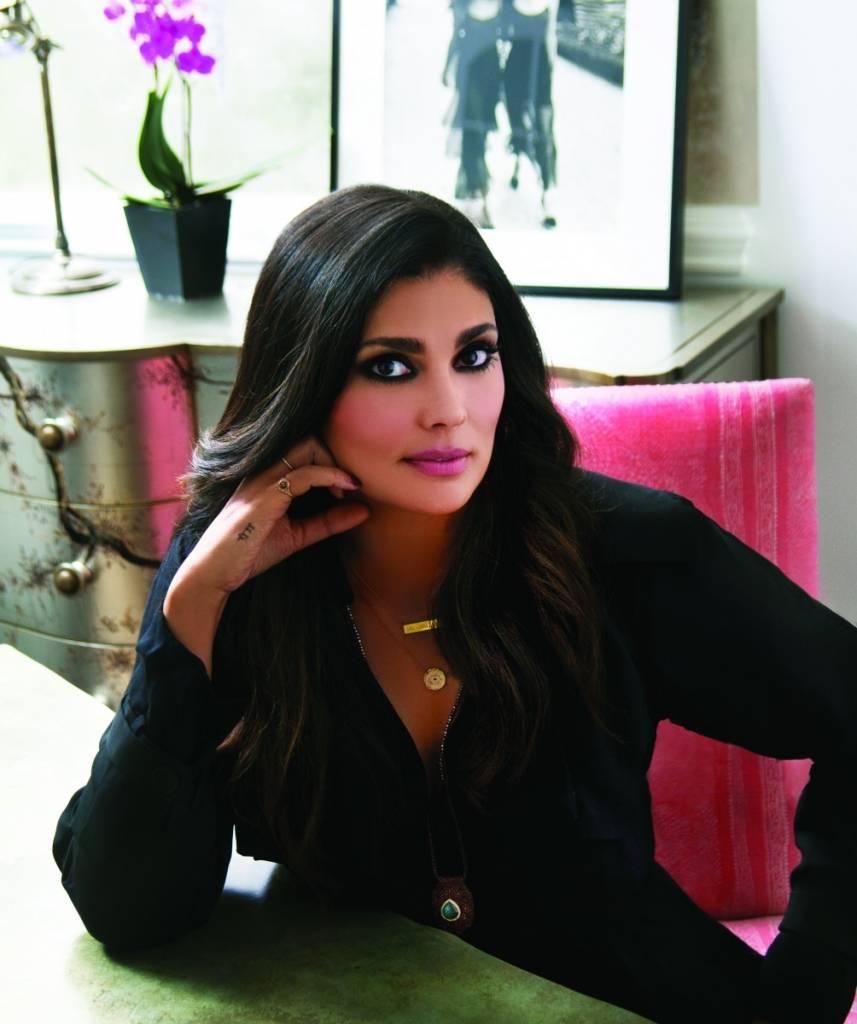 "Why are you all dressed up?"
This question—posed to Rachel Roy by her daughter Tallulah—is asked in the innocent way that only a child has. The six-year-old has just come home from school to find her mother dressed to the nines in a black trench dress, looking perfectly polished and coolly composed: a bright, shining example of a sophisticated career woman.
However, to Tallulah, this seems out of the ordinary. To her, Roy isn't a philanthropic and successful fashion designer: she's just "mom"—albeit a mom who, as she notes, "looks pretty."
The interaction between mother and daughter is particularly telling. Up until her child's arrival at their artfully-decorated Sherman Oaks home, Roy has been the consummate professional. She speaks with a measured air in a voice that is just as melodic as the classical music playing elegantly in the background. But with Tallulah's appearance, she becomes warmer, happier. There is nothing in Roy's world more important than her kids.
Tallulah and her big sister Ava, 14—Roy's children with ex-husband Damon Dash—were the key reasons the designer packed up her life and made the huge move out west to sunny southern California after ten years in New York City.
"I had a calling," the Monterey native confesses. "My inner soul had been telling me to move out of Manhattan. It didn't necessarily tell me where, but I knew I wanted to be by the ocean. I knew it would be easier to work in fashion in Los Angeles than in say, Florida. It took me three years to be brave enough [to make the move]. I had a huge staff, an office, and a showroom. Who leaves that when you've worked for ten years just on that? I was brave enough to do that for my children, to give them grass and their own rooms. I couldn't afford to do that in Manhattan like I could here. They have a completely different life now."
So does Roy. Though she still flies back and forth between both cities, her quality of life has vastly improved since landing on the best coast. "I've put in my time. I grind; I work really hard. My work ethic is still there, but this is the time in my life when I need to put my kids first. Now that that stress has been eliminated, I'm a better mother, a better friend, and a better co-worker."
She's certainly made the right move, as fate would have it. After going through many legal difficulties when her line's previous parent company shut down her sample room and fired her employees with the intent of selling her trademarks to another company in 2014, Roy needed a fresh start. The very day she arrived in Los Angeles, she landed new business partners in Topson Downs, a privately held apparel and manufacturing company. With this new alliance, Roy was able to maintain complete control of her name and brand.
"[Moving] was the hardest decision I ever made in my life, and as soon as I did it, the universe just blessed me," she says, noting, "Everything happens for a reason."
See it as a fresh start, if you will. As she prepares to turn 41 this January, Roy is putting the uncertainty, trials, and tribulations of her past behind her and focusing on the future. "You couldn't pay me a million dollars—maybe a billion—to relive my twenties… I wouldn't want to," she says. "It wasn't a time of knowledge for me. I was sleepwalking. I wasn't aware that happiness comes through making the decision to be happy. I was designing the life that I wanted, but it was in such slow motion that I didn't realize until my mid-thirties what it meant to have responsibility. It's the idea of self-rule: we are in charge of ourselves and we rule ourselves—no one else does.
"Even if you're in the position of a disparaging relationship—with a business partner or otherwise—there are still decisions you can make to design the life you wish to live, to take that freedom that you are given and take a stance," she continues. "I've been working on it, but it hasn't come full force yet. I'm still designing [my life] every single day."
First and foremost, she does this by giving back. She launched the Kindness is Always Fashionable platform—a program created to support her philosophy that philanthropy takes on all forms—in 2010, when heavy monsoon rains left one-fifth of Pakistan's land area underwater. She designed an artisan tote, and, after enlisting the help of celebrity friends like Jay-Z and Oprah Winfrey, sold the bag globally, later donating 100 percent of the profits to UNICEF's disaster relief and recovery efforts. Through this initiative, she has designed totes to raise funds for the Japanese tsunami relief, collaborated with the Heart of Haiti, OrphanAid Africa, and pal Lauren Bush's FEED Projects. Most recently, she designed T-shirts in support of the "Girls Are Not For Sale," a campaign organized by Girls Educational & Mentoring Services (GEMS)—the only organization in New York State specifically designed to serve girls and young women who have experienced sexual exploitation and domestic trafficking.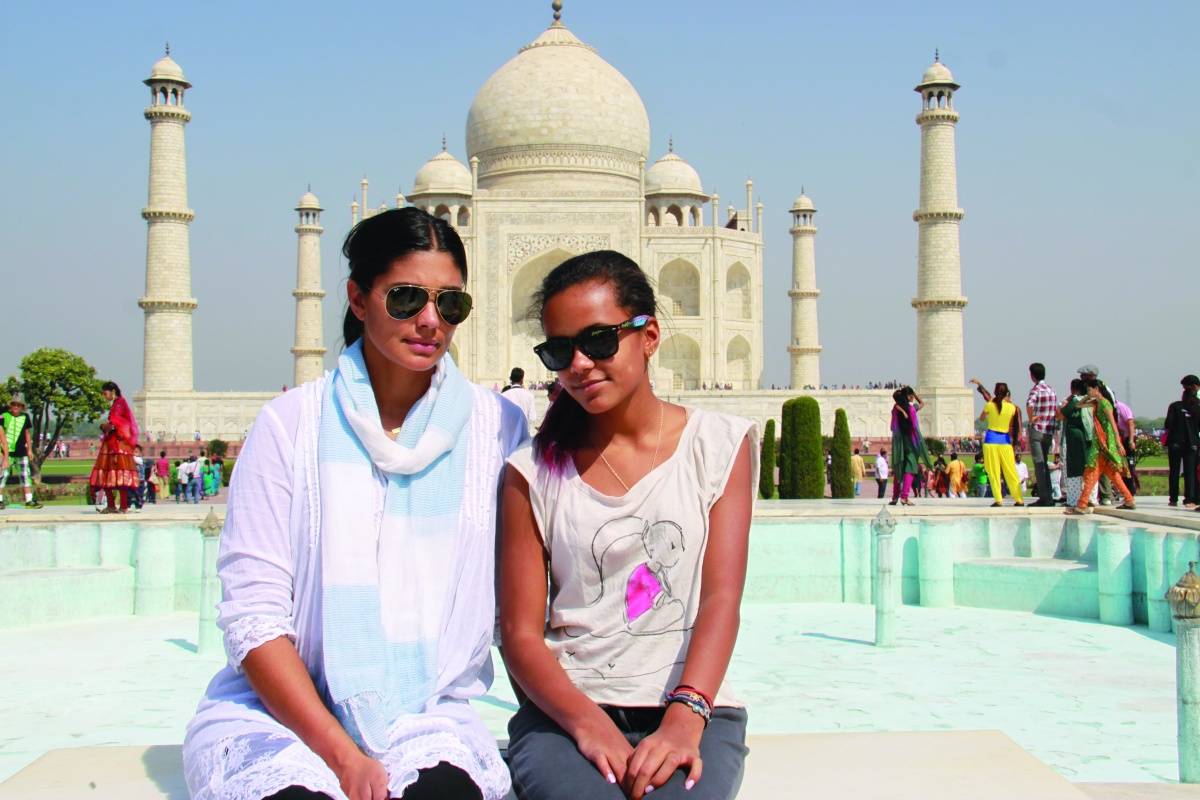 Roy will do anything philanthropic to help support women and children who do not have a voice, whether it be enlisting the help of friends or hosting events for a cause. "Any charity event a friend is doing I'll say yes to if I'm in town. I kind of feel, how can I not? We are so blessed, and I see firsthand the devastation in the third world. My father was an immigrant from a very low caste system in India, and I know what it's like not to have the opportunity to work," she says.
This is partially why Roy might seem all business: she was blessed with just about the strongest work ethic any woman can have. "My big thing is work," she confesses. "If we can work, we can take care of ourselves. We're not looking for a handout. We can have self-respect. In many countries, employment is not an option. Freedom, for me, comes through working. For many years, we sleepwalk through our lives until we realize we're in charge of our lives. Happiness only lies in the decisions we are making for ourselves."
Roy is very aware that true happiness doesn't always come easy—she's been through enough hardships in her life to become more than aware of that fact—but she's learned how to handle the tough times gracefully.
Though she has made headlines many a time thanks in part to her divorce, she chooses to ignore the drama, focusing instead on work, her family, and building that better life she's mentioned.
"Any time you're in the public eye, there's always going to be silly things written about you," she notes. "I love when [the media] get things wrong, because then I don't have to talk about the things that they get right. I've had very colorful relationships. I'm a living example to my customers that I'm just like them, going through the same things, and [able to show] how I'm getting through it. I take the good with the bad. There's nothing that really phases me in that way."
She has help, of course. Yoga and meditation are great tools that aid the designer in putting things into perspective. She's a frequent visitor of pal Deepak Chopra's wellbeing center outside of San Diego, and even used to have a yogi come to her Manhattan pad to work out her external and internal kinks. "Every pose is difficult. Right when you think you can't get through it, you can stand for one more, two more breaths. It was a metaphor for life," she declares. "[My instructor] would start every practice with, 'What are you going through?' Every pose would go to my heart or throat or wherever she thought I needed help working on. I would then find myself in my personal life thinking, 'I can't get through this.' But then I'd stop, take a moment, breathe, and get through it. Even when my children are having a tough time, I put them in restorative yoga poses. My 14-year-old will be angry, and three breaths later, we'll all be laughing. The things we hold onto are meaningful and so silly at the same time."
As part of her new adventure in southern California, Roy is going to continue to focus on her family, on teaching her daughters to give back—they're heading off to feed homeless teenagers at the nonprofit shelter Covenant House immediately after we speak—and, quite simply, on love. Though the designer says, "I'm dating," she isn't speaking solely of romantic love, but of self-love as well.
"The biggest luxury in life is love—loving yourself and loving others unconditionally," Roy says. "100 times out of 100, the couple you want to watch is the one who is in love. Not the couple where he has a private plane but you know he's cheating on her. I also want to be around that woman who loves herself. Love is not given to everyone. There are some powerful people, some wealthy people, who never experience it. They've never felt it, and they don't know what it is. Love is the equalizer of all people."
Subscribe to discover the best kept secrets in your city