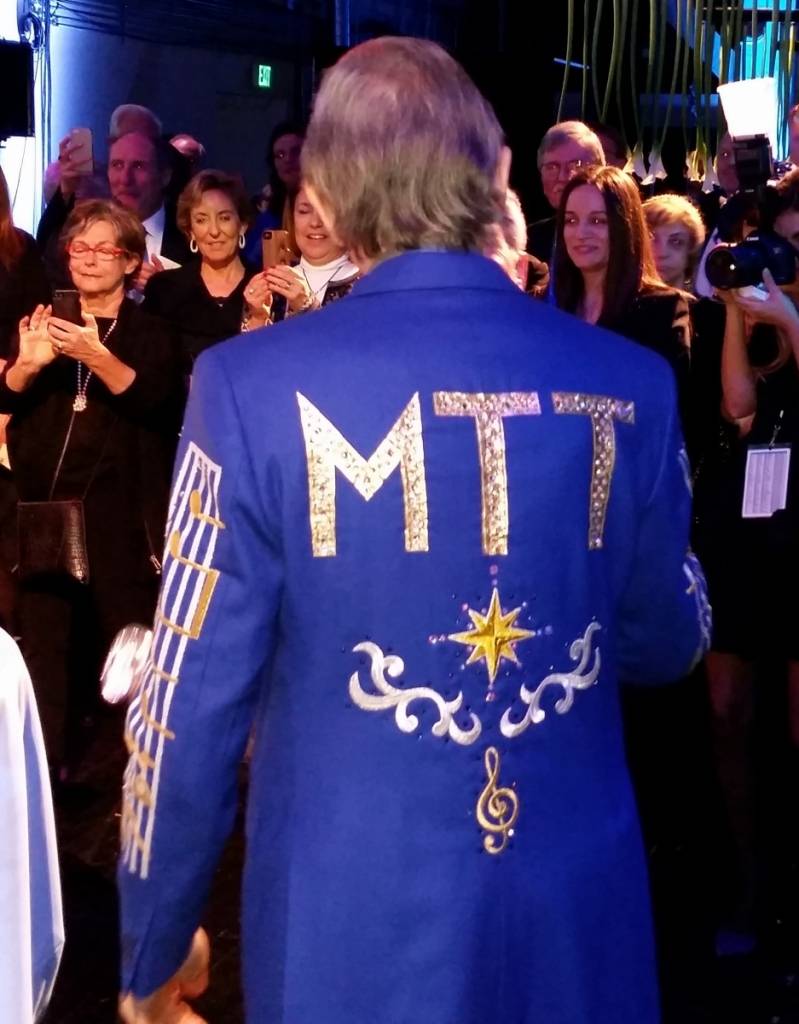 Photo Credit: Kelly E. Carter
There was a sea of blue at Davies Symphony Hall as revelers wore the favorite color of San Francisco Symphony Music Director Michael Tilson Thomas, whose 70th birthday gala took place on Jan. 15. Gov. Jerry Brown was among the 350 guests at a sit-down dinner held before a dazzling celebratory performance with guest artists—including surprise performers Boz Scaggs and Elvis Costello.
Photo Credit: Ellian Raffoul for Moanalani Jeffrey Photography
The festive program honored MTT's distinguished career as a conductor, pianist and composer. Thomas, in his 20th year as Music Director, turned 70 on Dec. 21. With the holidays out of the way, the man credited for leading the transformation of the San Francisco Symphony into one of the world's leading ensembles deservingly had the evening to himself.
Photo Credit: Kelly E. Carter
The elegant affair began with an hour-long cocktail reception in the Wattis Room, where MTT fans included Gov. Jerry Brown and wife Ann Gust, Nancy and Paul Pelosi, George and Charlotte Shultz, the latter who wore a glittery heart-shaped "WE LOVE MTT" pendant, Mark Leno, Carl and Yurie Pascarella, Denise Hale, Joy Venturini Bianchi and Jack Calhoun.
Photo Credit: Kelly E.. Carter
Then it was into the blue-hued SoundBox—the SF Symphony's new experimental concert venue in Zellerbach A Rehearsal Hall—magnificently decorated by Stanlee Gatti with calla lillies hanging upside down from rods, blue MTT seat covers and bold, black MTT centerpieces. Alice Waters created a tasty menu, which included celery root soup with black truffle butter and grilled rack of lamb with Middle Eastern spices. Franklin Templeton Investments and Wells Fargo sponsored the dinner, while William Hill Estate Winery generously provided the wines.
During the cheese course, MTT took to the stage and thanked dinner chairs William Fisher, Marcia Goldman and Nellie Levchin and acknowledged his husband/manager Joshua Robison. A glowing letter, which called MTT "an extraordinary conductor and musician" who "has inspired joy, awe and sorrow with a simple movement or a single note," from President Barack Obama was read. There were gifts for the birthday boy, including a bottle of 1995 Chateau Calon-Segur [a Bordeaux blend from Saint-Estephie], a bottle of Delaforce port from 1944, the year he was born, and a pair of black MTT BUM underwear similar to World Series MVP Madison Bumgarner's MAD BUM.
However, the present to end all presents was a cobalt blue jacket with a glittery MTT on the back designed by Jamie Nudie, the granddaughter of Nudie Cohn, who created the infamous gold lamé suit for Elvis Presley in 1957.
The real fun came next in the form of a sensational evening of sounds. Sponsored by the past and current presidents of the San Francisco Symphony and their spouses [Nancy and Joachim Bechtle, John and Marcia Goldman and Sakurako and William Fisher], the special concert featured pianists Yuja Wang, who wore a show-stopping hot pink gown with a high slit, Jean-Yves Thibaudet, Emanuel Ax, Jeremy Denk, and Marc-André Hamelin. There were collaborations, some comical, and brilliant performances.
Hamelin performed the third movement of Shostakovich's Piano Concerto No. 2; Ax played the Andante of Mozart's Piano Concerto No. 21; Thibaudet and Jeremy Denk performed Schubert's Marche caractéristique; and Wang joined the Orchestra in Litolff's Scherzo from Concerto symphonique No. 4, a work she also performs on the SF Symphony's Masterpieces in Miniature recording, recently released on the Symphony's own SFS Media label. The program also included works by Bizet, Tchaikovsky, Rossini and Bernstein.
Photo Credit: Ellian Raffoul for Moanalani Jeffrey Photography
Before intermission, symphony goers were treated to a surprise rendition of the Beatles' "Birthday" performed by Scaggs, Costello, Drew Zingg, Phil Lesh, Lars Ulrich and Karl Sevaride. At the end of the show, a cast member from Beach Blanket Babylon, sporting a red dress and giant birthday cake on her head, led the crowd in singing "Happy Birthday" to MTT.
Photo Credit: Ellian Raffoul for Moanalani Jeffrey Photography
Afterward, it was back to SoundBox for an exclusive after-party with cake [MTT fed the first piece to Robison], cocktails and the performance of a jazz trio.
Proceeds from the Birthday Dinner support the SF Symphony's community and education programs, which annually serve over 75,000 Bay Area children. Also central to the MTT birthday celebration is a special campaign to support the acquisition of fine stringed instruments for use by members of the Orchestra. Long a priority for MTT and the SFS, a number of generous donors, patrons and friends are supporting the instrument acquisition through the newly created Michael Tilson Thomas 70th Birthday Fund.
Atmosphere
David Laudon, Joni Kaufman and Randy Laroche
John Gambs, Paula Gambs, Gretchen Kimball and Barbara Brookins Schneider
Paul Pelosi and Nancy Pelosi
Denise Hale and Susan Swartz
Charlotte Shultz
Sabrina Buell and Yves Behar
John Meyer and Mickey Hart
Phil Lesh and Elvis Costello
Dominique Scaggs and Boz Scaggs
Jessica Miller and Lars Ulrich
Yurie Pascarella
Nanci Fredkin, Lisa Goldman and Marcia Goldman
Helen Hilton Raiser
Jack Calhoun
Boz Scaggs, Lars Ulrich, Elvis Costello, Michael Tilson Thomas and Phil Lesh
Franz List conductor, JeanYves Thibaudet, Yuja Wang, Michael Tilson Thomas, MarcAndré Hamelin, Emanuel Ax and Jeremy Denk
Joy Bianchi and Jennifer Raiser
Michael Tilson Thomas
Emanuel Ax
Nion McEvoy, Leslie Berriman, Joshua Robison, Alice Waters and Mark Buell
Alice Waters, Davia Nelson and Madeleine Fitzpatrick
Amy Tan, Lou DeMattei and Niloufar Talebi
David Stull and Stacy Cullison
Photos by Moanalani Jeffrey Photography and Ellian Raffoul for Moanalani Jeffrey Photography