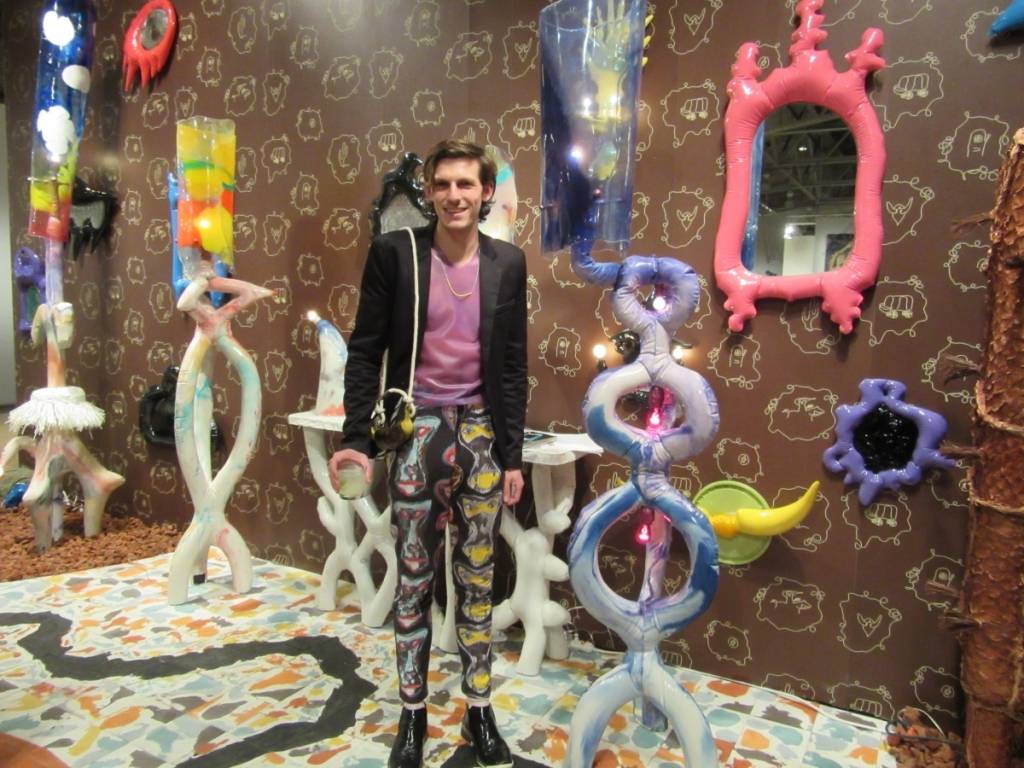 Photo Credit: Kelly E. Carter
Fog in San Francisco wouldn't normally make news but it does when it is the FOG Design+Artfair, which kicked off its second edition with a posh preview gala on Jan. 14 at the Fort Mason Center Festival Pavilion. The four-day festival, benefiting the San Francisco Museum of Modern Art (SFMOMA), is open to the public Jan. 15–18. The preview gala crowd was as uniquely stylish as the art that filled the space.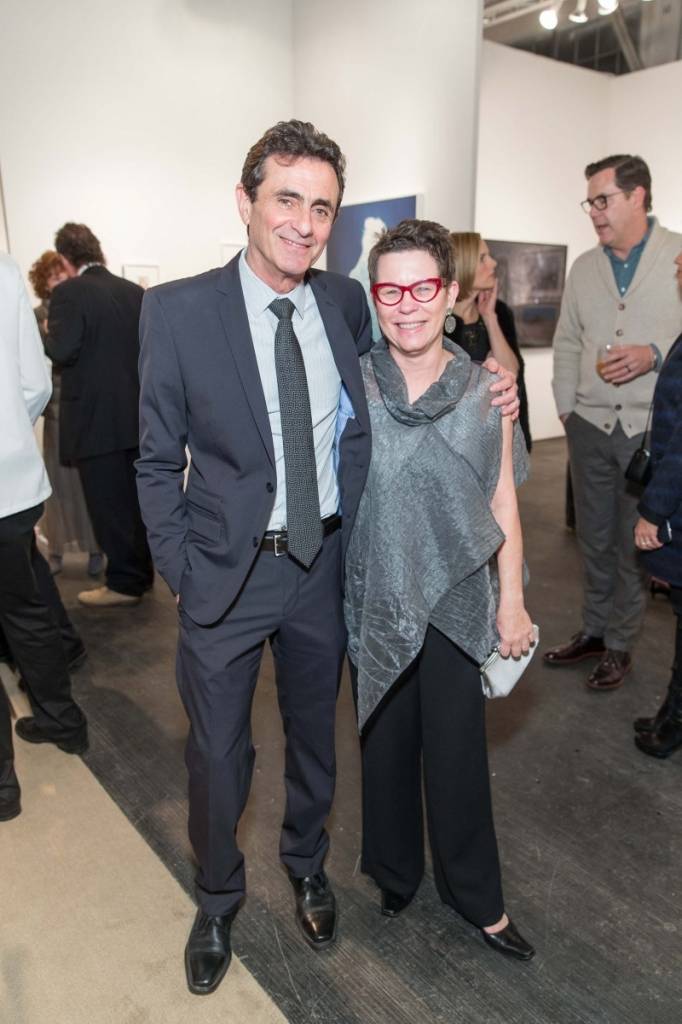 Photo Credit: Drew Altizer Photography
Among the leaders in the design industry, SFMOMA patrons and supporters, VIP guests and top-level sponsors on hand were Douglas Durkin, Bob, Randi and Emma Fisher, SFMOMA director Neal Benezra, Justin and Lauren Tuck, Sabrina Buell, Yves Behar, Helen and Chuck Schwab, Maria Makela, Cathy Topham, Allison Speer, Susan Swig, Katie Paige, Dede Wilsey, Colin Bailey, Ken Fulk, Denise Hale, Komal Shah, Jean Larette, Joy Venturini Bianchi, Loree Erlick, Rosemary Baker, Sujata Pherwani and Veronica-Rivas-Tramontozzi.  The evening included entertainment, culinary creations by McCalls and delectable signature cocktails featuring spirits by in-kind partner Campari America.
The preview gala offered patrons a special preview of exhibits and an exclusive buying opportunity prior to the public opening of the fair.The festival itself is a event is a celebration and exploration of modern and contemporary design, architecture and art with dynamic exhibits, custom installations, art galleries, lectures, and discussions with leaders in the art and design worlds.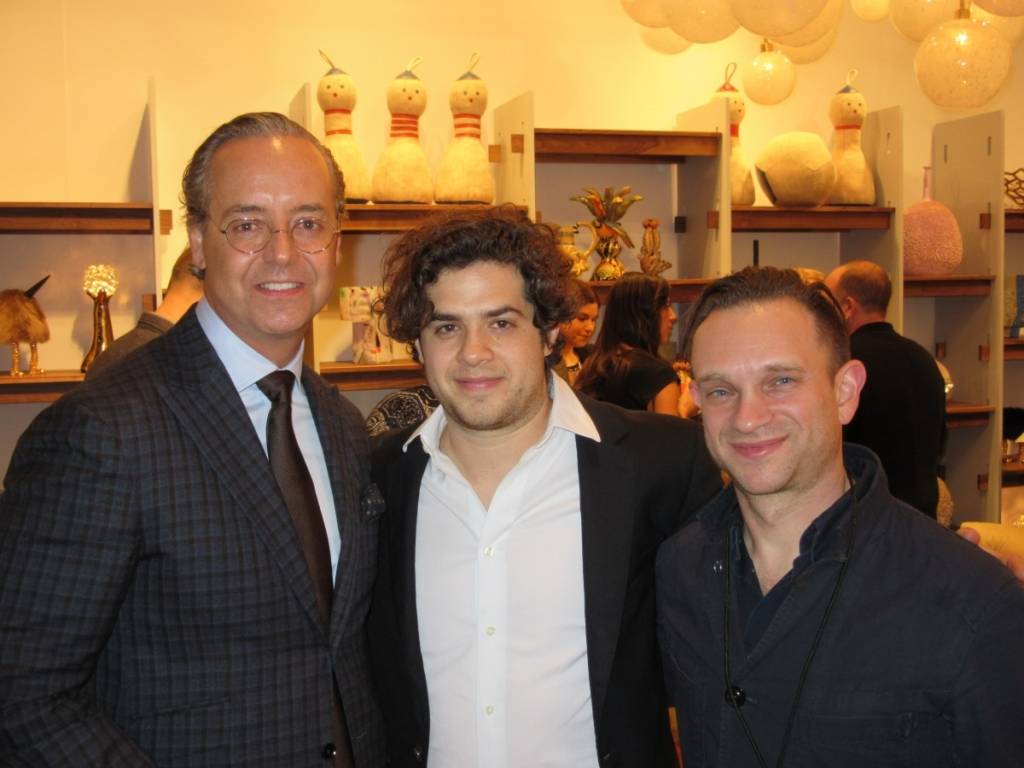 Photo Credit: Kelly E. Carter
"Last year's inaugural fair was wonderfully successful, showcasing and defining the distinct traits that make San Francisco an epicenter of art and design," said Douglas Durkin, Designers Forum chair and member of the FOG Design+Art Steering Committee, which conceived and developed the fair. "San Francisco has a thriving creative community that reflects the region's innovative spirit and entrepreneurial personality. FOG Design+Art is evolving into a destination event for collectors locally and around the world."
Sponsored by Citi, FOG Design+Art feature dozens of prominent 20th-century and contemporary art and design dealers from the Bay Area and beyond. David Wiseman is here from Los Angeles; Twiga Mbunda from her art gallery on Sacramento Street in Presidio Heights. New Yorkers showing off their designs this year include surrealist furniture designer Misha Kahn and Taffin jewelry designer James de Givenchy, a passionate colorist who inventively pairs bold combinations of diamonds, peridots, sapphires, mandarin garnets, coral and spinels.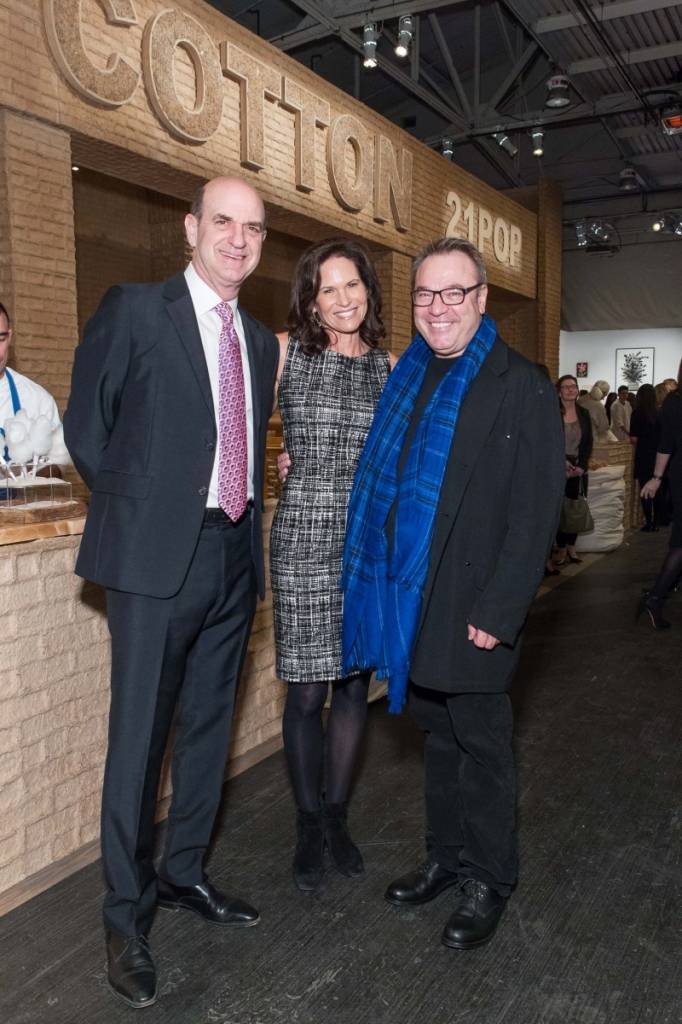 Photo Credit: Drew Altizer Photography
The hit of the gala was Stanlee Gatti's unique installation 21POP, back from last year. This year's theme for the popular 21POP installation is cotton. 21POP: COTTON, dedicated to "craft by hand," begins with the organic cotton seed, then moves to the organic farm, and through the processes of growing, ginning, yarn production, indigo dyeing, threading the loom, intricate weaving, garment design, garment production, and finally, to the marketplace. 21POP 2015 features artisans who grow, spin, dye, weave, sew, and design with cotton, as well as those who make cotton rag paper. This is a celebration of cotton—there's even cotton candy!
Those attending during the public days can enjoy pop-up dining experiences by Cotogna and Jane and a lineup of lectures and interactive discussions with leaders in the design and art worlds.
Proceeds from the FOG Preview Gala and fair will support SFMOMA's California-wide exhibitions and education programs providing meaningful art experiences to more than 60,000 students, teachers and families each year. Honorary co-chairs are Roselyne Chroman Swig and Susan Swig. The Steering Committee includes Durkin, Gatti, Katie Paige, Allison Speer and Cathy Topham.
Denise Hale and Ken Fulk
Rosemary Baker, Lorre Erlick, Colin Bailey and Jean Larette
Stanlee Gatti's 21POP
Sven Bruntjen and Paulina Paczkowska
Dede Wilsey, Genevieve Molat and Pascal Molat
Mark Rhoades and Joy Venturini Bianchi
Jeweller James de Givenchy
Twiga's currency necklace
Deejay
Komal Shah, Sujata Pherwani and Veronica Rivas-Tramontozzi
De Luca Bendett Carter
Subscribe to discover the best kept secrets in your city