If you're like most of us, you've pushed your body to the limit this holiday season in San Francisco. You spent more time lifting cocktail glasses than weights and there was more debauchery going on than downward dogs. Now that we're into the new year, get a new you going with a trip to one of these SF Bay Area spas.
Mandarin Oriental, San Francisco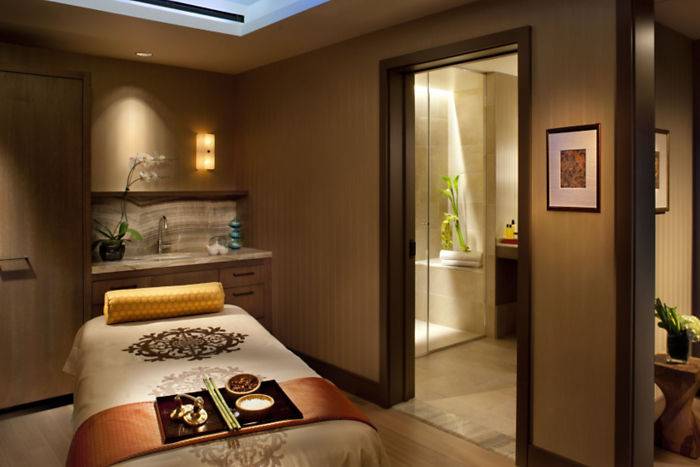 Photo Credit: Courtesy Mandarin Oriental, San Francisco
Check into the Mandarin Oriental, San Francisco, which is offering a New Year, New You wellness package that combines an overnight stay with an enticing way to recharge and detoxify after the indulgence of the holiday season. The New Year, New You wellness package features a unique spa journey at the hotel's Five-Star Spa that promises to rejuvenate the body. The experience begins with the Natura Bisse Sculpting Treatment. Following an in-depth consultation with a spa therapist, you'll choose a sculpting program that re-contours, firms and reduces visible signs of cellulite. The treatment also includes the application of a Vitamin C body cream to keep skin soft and smooth to the touch. You'll then be treated to The Cure Facial, a thorough cleansing procedure based on cutting-edge thermoactive, enzymatic detoxification that opens and softens the pores with refreshing botanical elements. Extractions are expertly performed while the nano-stimulating mask with a deliciously foamy texture efficiently releases its moisturizing, soothing and revitalizing effects on the skin. To finish the spa journey, sip on a cleansing green juice while relaxing in the Spa's Tea Lounge.
You can practice your asanas in your tranquil guest room, which includes yoga mats and instructional DVDs. For a personal touch, book a private training session to jump start healthy exercise habits and embrace the year ahead with a new focus on personal wellness. Valid from January 1 until May 31, 2015, the package is priced from $1,165 and based on double occupancy.
Spa at Farmhouse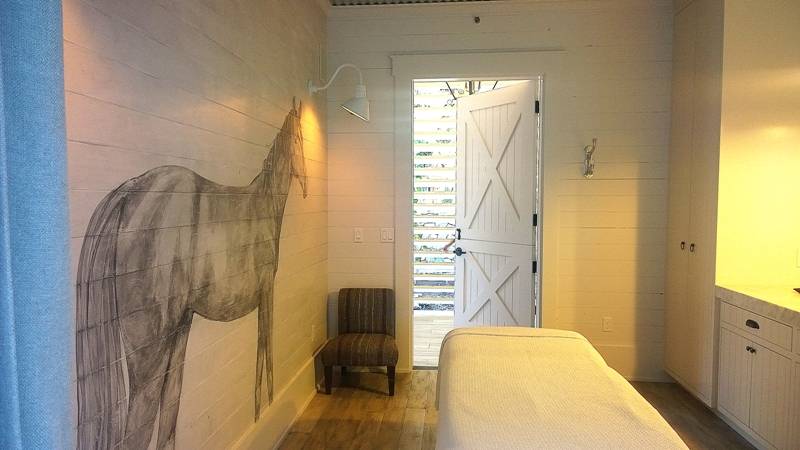 Photo Credit: Courtesy Farmhouse Inn
To celebrate the grand opening of Spa at Farmhouse, Farmhouse Inn owners Catherine and Joe Barolomei invite guests to kick off 2015 with a Sonoma-inspired spa experience. Guest who book a stay in a King Deluxe or King Luxury Room in January will be treated to complimentary treatments! Designed by Healdsburg's Myra Hoefer Design and in partnership with Francis & Alexander, the brand-new Spa at Farmhouse Inn embodies the feel of a glammed-up horse stable with bold architectural accents, richly textured hand-woven fabrics, and simple, elegant furnishings. The new spa is a natural extension of the Sonoma farm-inspired experience and menu of spa services incorporates spring forest honey and heirloom cider apples from the owners ranch along with herbs grown right in Farmhouse's kitchen garden. Here is what you need to know:
Book One Night: Receive One Complimentary 60 Minute Spa Treatment
Book Two Nights: Receive Two Complimentary 90 Minute Spa Treatments
Book Three Nights: Receive Two Complimentary 90 Minute Spa Treatments, Dinner for Two in the Restaurant and a Candlelight Tub Turndown on an evening of your choice
Valid: January 2015
Nob Hill Spa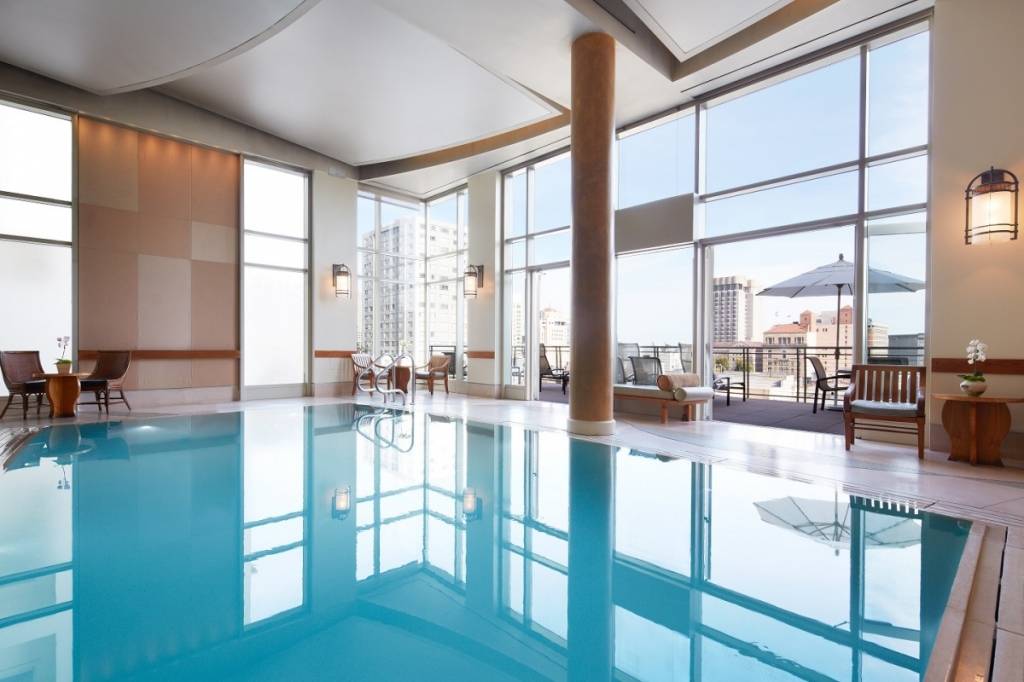 Photo Credit: Courtesy Nob Hill Spa
At Nob Hill Spa, book the Winter Illuminating Body Polish. Perfect for the change of seasons, this is a results-driven treatment from head to toe, incorporating exfoliating bamboo, fruit enzymes, and acids that polish and refine while rich emollients hydrate and protect. This uplifting scrub using ginger, coriander, eucalyptus and lavender instantly invigorates, illuminates and softens the skin, while Multi-Vitamin Firming Crème rich in Shea Butter and nutrient-rich algae is applied to the body to hydrate, firm, tone and restore the body's healthy-looking glow.  This multi-active experience re-texturizes skin to achieve a brighter, smoother appearance and skin tone.  The 50-minute Winter Illuminating Body Polish is available until January 31 and is $140.
Remède Spa at The St. Regis San Francisco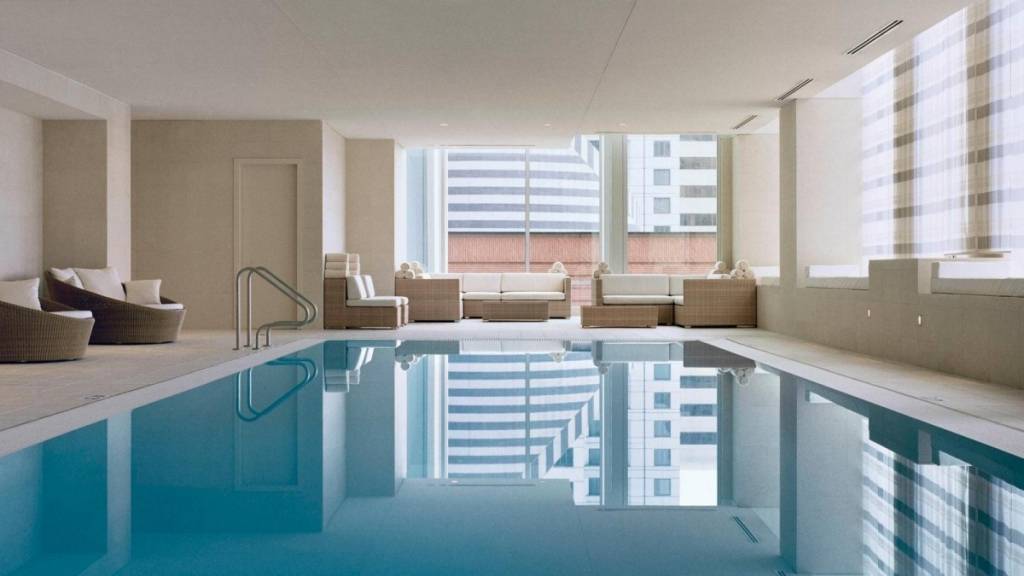 Photo Credit: Courtesy The St. Regis San Francisco
The St. Regis San Francisco just unveiled its newly-renovated Remède Spa on New Year's Day. Book the Remède Spa Escape package for a morning or an afternoon of indulgence. Remède Spa technicians will restore your vitality from head to toe in just a few hours. Here's what you'll receive:
The Remède Customized Body Wrap
The Remède Customized Massage
The Remède Manicure
The Remède Pedicure
4 hours – $435