In this recurring feature that spotlights where to be seen and what to do in a haute neighborhood or specific street, we take you to tony Pacific Heights. Known for its sprawling mansions along Billionaire's Row, Victorian homes, boldface name residents and breathtaking panoramic views, Pacific Heights epitomizes the beauty of San Francisco more than any other 'hood in the city. Bounded by Union Street to the north, Bush Street to the south, Presidio Avenue to the west and Van Ness Avenue to the east (by the Pacific Heights Residents Association definition), Pacific Heights is the perfect place to take a stroll, shop, dine, take a historical tour or get your workout on. Here's what you shouldn't miss: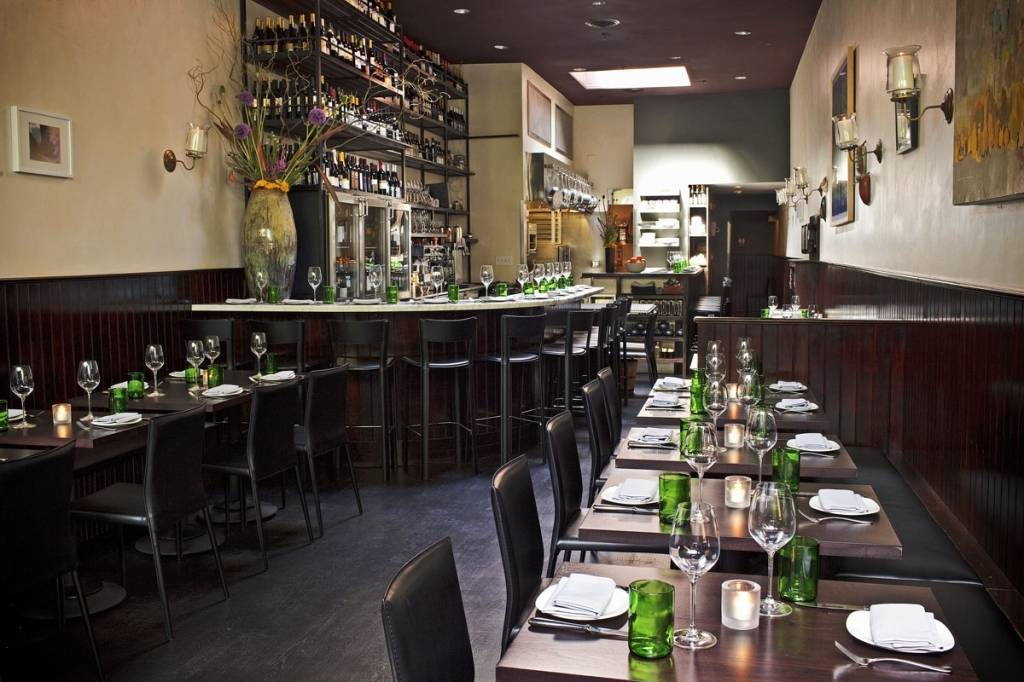 Photo Credit: Ed Anderson
DINE
Standing head and shoulders above the other Pacific Heights restaurants is SPQR, a Michelin-starred eatery inspired by Italian cuisine and wine. The acronym for Senatus Populesque Romanus, SPQR translates to "The People and Senate of Rome" and was the emblem of the Roman Empire. You'll dine like royalty in this tiny restaurant led by Chef Matthew Accarrino a Food & Wine "Best New Chef" in 2014 and celebrated sommelier/owner Shelley Lindgren. Also well worth a visit is Chouquet's, a French bistro that will transport you to the south of France, Charles Phan's Out the Door, which is a lot easier to get in than his highly-praised Ferry Building eatery, The Slanted Door, but has some of the same mouth-watering Vietnamese dishes, and Woodhouse Fish Co, which serves the best fish tacos in town.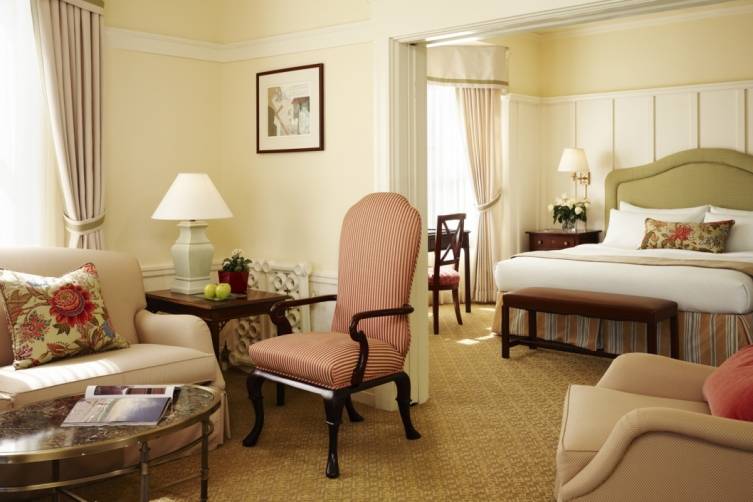 Photo Credit: Courtesy Hotel Drisco
STAY
Tucked away amongst the prestigious homes of Pacific Heights is the elegant Hotel Drisco, where guests staying in the suites have sweeping city views and receive fresh fruit upon arrival. Each evening the hotel hosts a complimentary wine reception featuring California wines, artisanal cheeses, charcuterie, nuts, olives, fresh fruit and hot hors d'oeuvres. A pillow menu, sleep machine to help you fall asleep faster and sleep more soundly, Bvlgari bath amenities, chauffeur service on weekday mornings, free WiFi, bicycles you can borrow and 24-hour room service help ensure a delightful stay.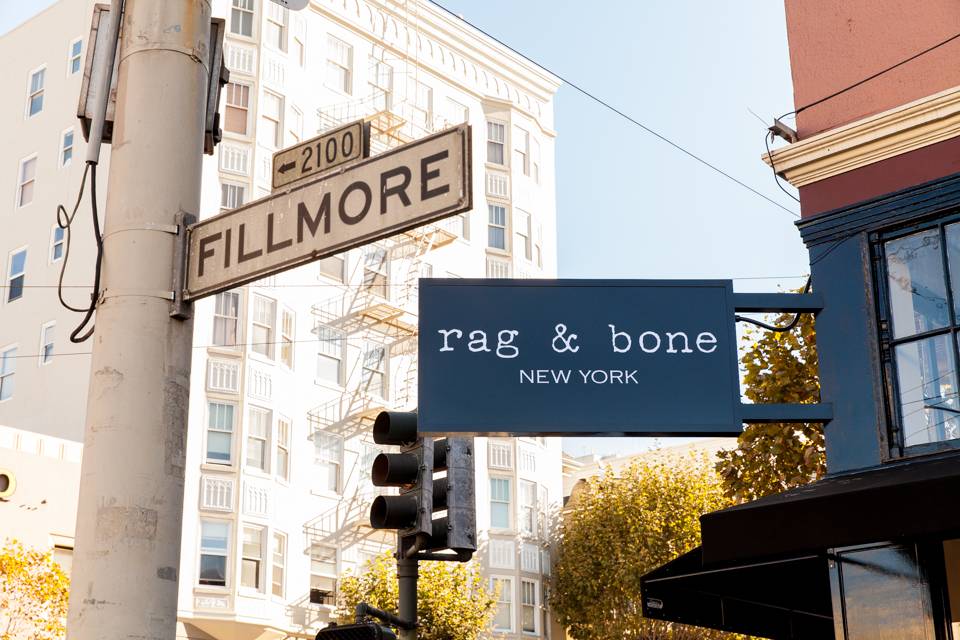 Photo Credit: Courtesy Rag & Bone
SHOP
Once a stretch of second-hand stores, Fillmore Street, the main drag in Pacific Heights, has become San Francisco's most desirable retail space behind Union Square. Rising rents have forced mom-and-pop shops out of business or south to make room for haute, new boutiques, which open almost monthly. Rebecca Minkoff is expected to open any day now and will join newcomers Rag & Bone, The Kooples, Jarbo and Amour Vert, which has a pop-up store through December. Heidi Says, Ralph Lauren and Curve are a few of the ones that have been around for quite some time while the addition of Alicia and Olivia, Scotch & Soda, Sandro, Ella Moss and Joie now provide a bit more variety. For the home, there's Jonathan Adler and Nest; for readers,  there's Browser Bookstore and Juicy News, an independently-run, family-operated store offering a wonderful collection of international magazines, gifts and stationery. Don't miss Toujours, a darling lingerie boutique on Sacramento, just steps from Fillmore Street, or Alexis Bittar, whose baubles are to die for.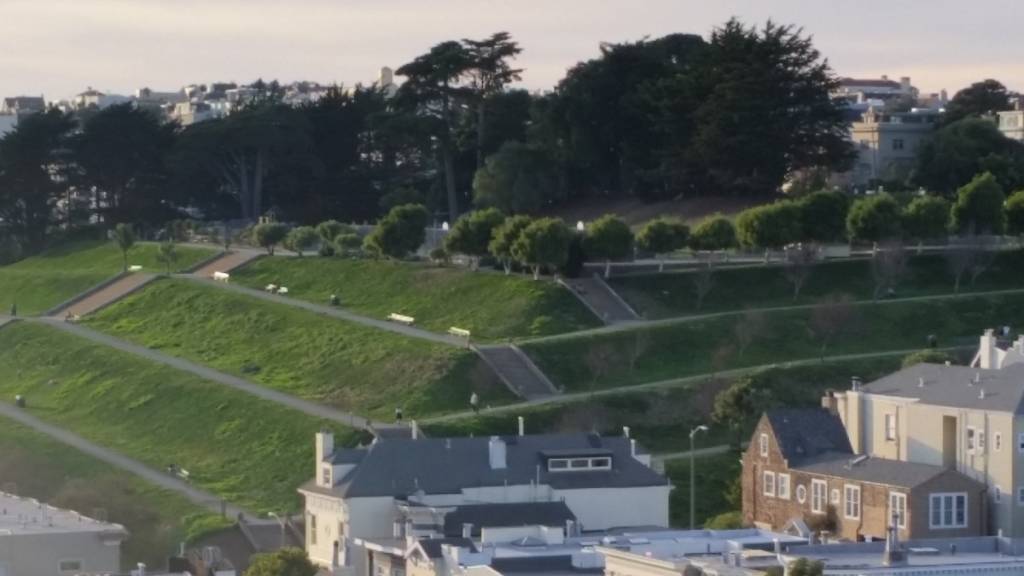 Photo Credit: Kelly E. Carter
PLAY
Two wonderful parks, Alta Plaza Park and Lafayette Park, await  you. Warning: Must love dogs for our four-legged friends are throughout both of these neighborhood jewels. Once the site of a quarry, Alta Plaza spans nearly 12 acres. A broad, tiered staircase climbs the terraced southern slope of this steep hillside park; when you reach the top, you will find panoramic views of the city and Bay. Trees and benches crown the summit, while nearby are a children's playground, a basketball court, and tennis courts. An off-leash dog-play area is in the park's southeast corner but you'll find dogs unrestrained throughout. Just to the east is Lafayette Park, stretching more than 11 acres and recently renovated. With its grassy lawns, lovely views of the city and the Bay, tennis courts, playground, picnic tables, and off-leash dog-play area, this hilly park is a source of respite and recreation for Pac Heights residents and visitors.
Photo Credit: Kelly E. Carter
EXERCISE
As if trudging up and down the hills of Pacific Heights isn't enough, you can really get your workout on by tackling the Lyon Street steps, which have turned into an urban gym— perhaps to the chagrin of the wealthy who live on Broadway close to the entrance of the Presidio. The steps which connect Pacific Heights to Cow Hollow are wide enough where you don't have to worry about getting jostled and are surrounded by landscaping so beautiful that you'll won't notice how steep the steps are that you're tackling.
Photo Credit: Kelly E. Carter
TOUR
History buffs will enjoy a walking tour in Pacific Heights. Whether you choose a tour that takes you down Billionaire's Row, three blocks on Broadway Street between Lyon and Divisadero and where old money mixes with new, or on the eastern part of the neighborhood, which includes the Spreckles Mansion, formerly called the "sugar palace" and now home to romance novelist Danielle Steel, the 1915 Phelan Mansion, and the Haas-Lilienthal House, the city's only intact Victorian era home that is open regularly as a museum, complete with authentic furniture and artifacts, you'll enjoy hearing about the architecture and stories of earthquakes, fortunes and fame.
Like Haute Living San Francisco? Join our Facebook page or follow us on Twitter @HauteLivingMag. Want Haute Living San Francisco delivered to your inbox once a week? Sign up for our newsletter.