YOUR GUIDE TO THE SAN FRANCISCO 49ERS NEW HOME
When you're in Silicon Valley, you have to be cutting edge. Levi's Stadium, the San Francisco 49ers new home, thankfully doesn't disappoint. That the three-month-old, $1.2 billion venue offers Wi-Fi and 4G networks for approximately 68,500 fans is just the start. Read on for what makes this Santa Clara stadium, where Super Bowl 50 will be played in 2016, one of the world's best – and most innovative – for outdoor sports and entertainment events.
MICHAEL MINA'S TAILGATE AT BOURBON STEAK & PUB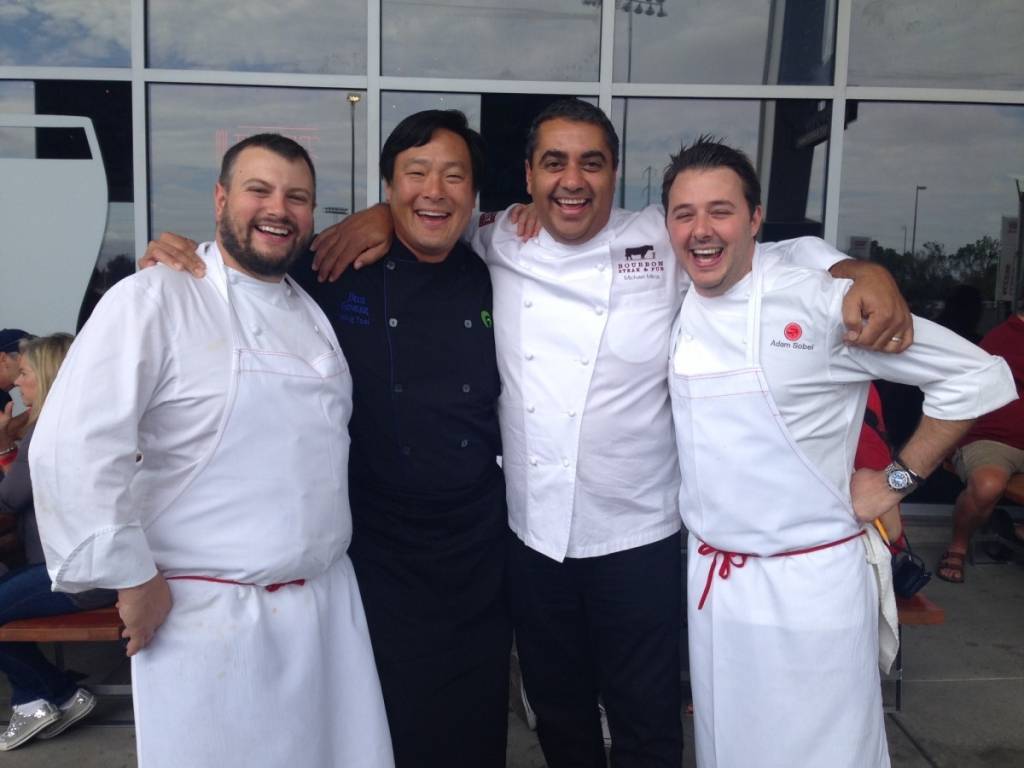 Photo Credit: Courtesy Bourbon Steak & Pub
On game day, celebrity chef Michael Mina, a 22-year season ticket holder, throws an exclusive, members-only, all-you-can-eat-
and-drink tailgate experience like no other. We're talking mouth-watering, buttery poached Maine lobster, Waygu beef, spit-roasted meats, a premium shellfish bar, expansive dessert selection and full bar including Bloody Marys made fresh by his wife Diane using tomatoes from the family garden; a deejay and 70 television screens create sensory overload. Throw in the rotating guest chefs, who have included three-Michelin star chefs Christopher Kostow of The Restaurant at Meadowood and Thomas Keller of French Laundry, and this $500 per-person outing seems like a bargain. Well, almost.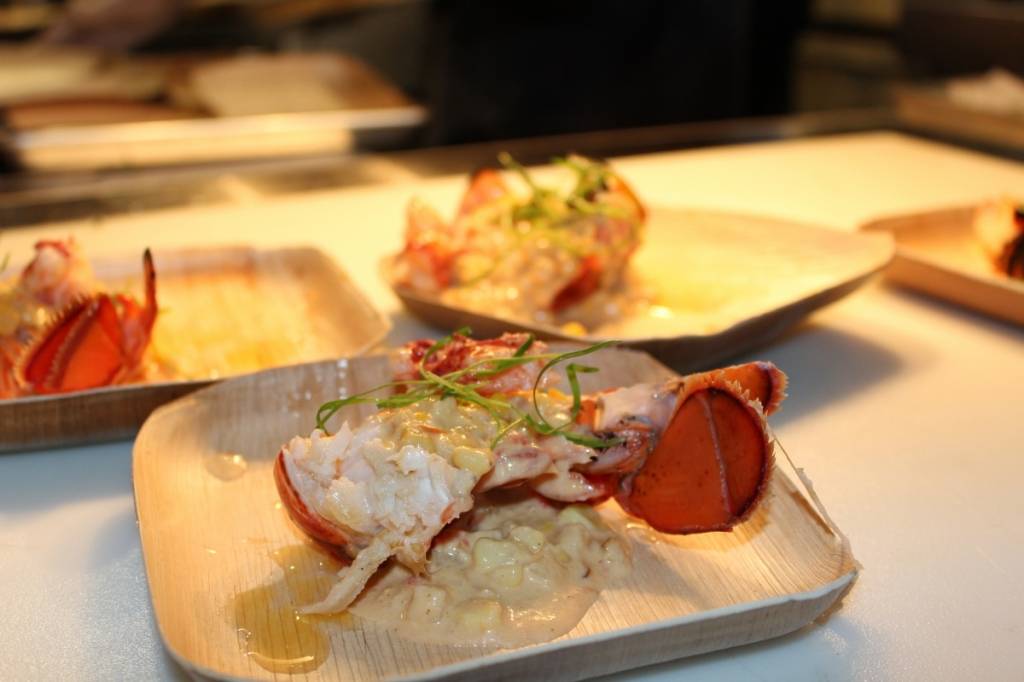 Photo Credit: Courtesy Bourbon Steak & Pub
 49ERS MUSEUM PRESENTED BY SONY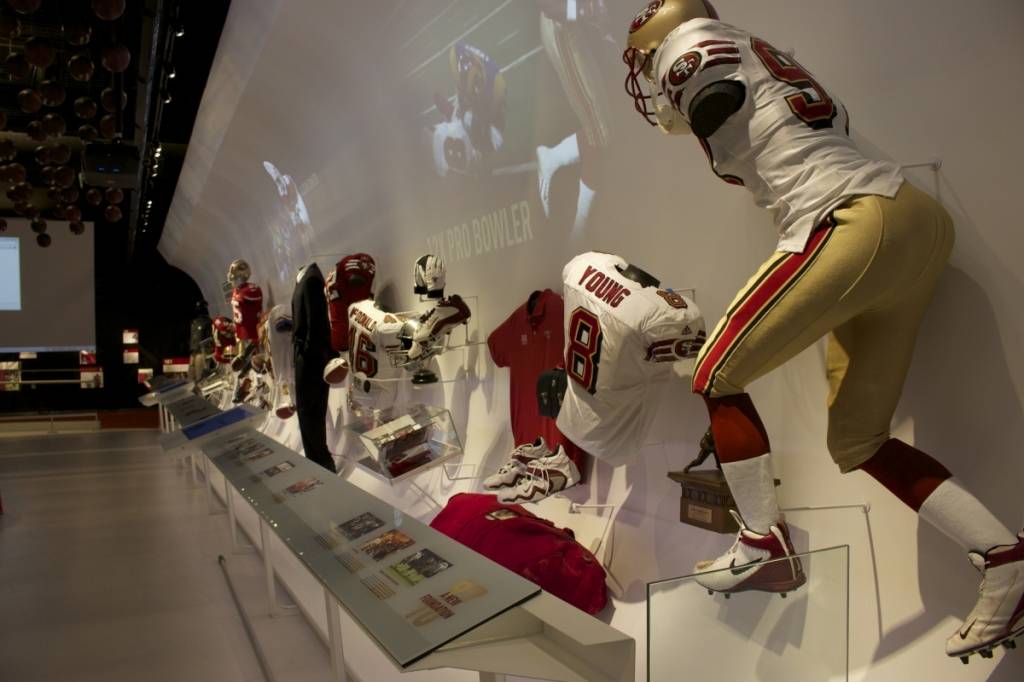 Photo Credit: Courtesy San Francisco 49ers
49er fans can spend an entire game in this 20,000-square-foot technological masterpiece and it still won't be long enough to absorb all that make up the 11 galleries of this innovative museum that sets the new standard for sports museums. Take a selfie next to life-sized statues of Hall of Famers, including Joe Montana, Bill Walsh and Jerry Rice, in their signature poses. Gaze at the
five Lombardi Trophies and rings associated with each one as you watch a film on each Super Bowl. Relax in the Morabito Theater where a film on the 49ers plays on a 50'x 18′ screen with Sony 4K technology. Augmented reality scenes, 15 interactive exhibits and 50 screens enhance this lively and educational look at the team's past, present and future.
CITRIX OWNERS CLUB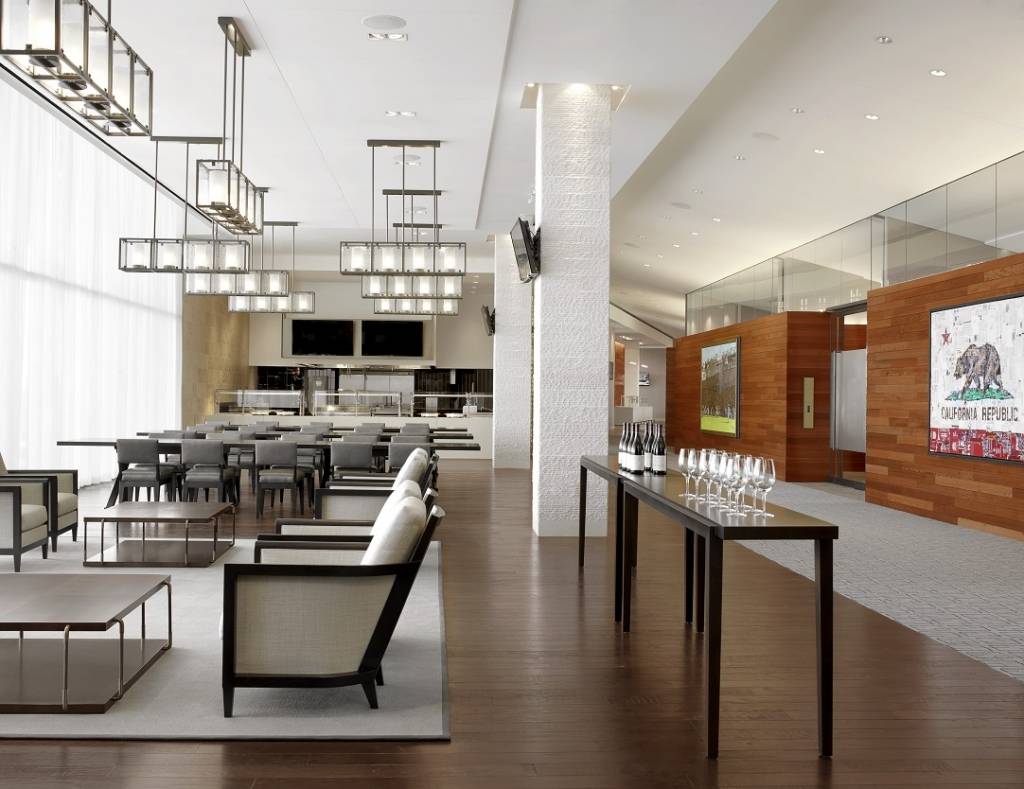 Photo Credit: Courtesy San Francisco 49ers
Situated on the Owners Suite Level where the York's suite sits, this elegant, all-inclusive club is reserved for the exclusive use of those occupying the 22 Owners Suites. Walls made out of redwood reclaimed from the hangar at nearby Moffett Federal Airfield,
tables adorned with fresh red flowers, green shrubbery next to lounge chairs and soaring wine displays encased in glass combine to create a chic space where ticket holders can mingle, dine and even wine taste through Appellation 49, a premium wine program
that also allows fans to meet vineyard proprietors and winemakers during games.
49ERS PREMIUM SUITE EXPERIENCE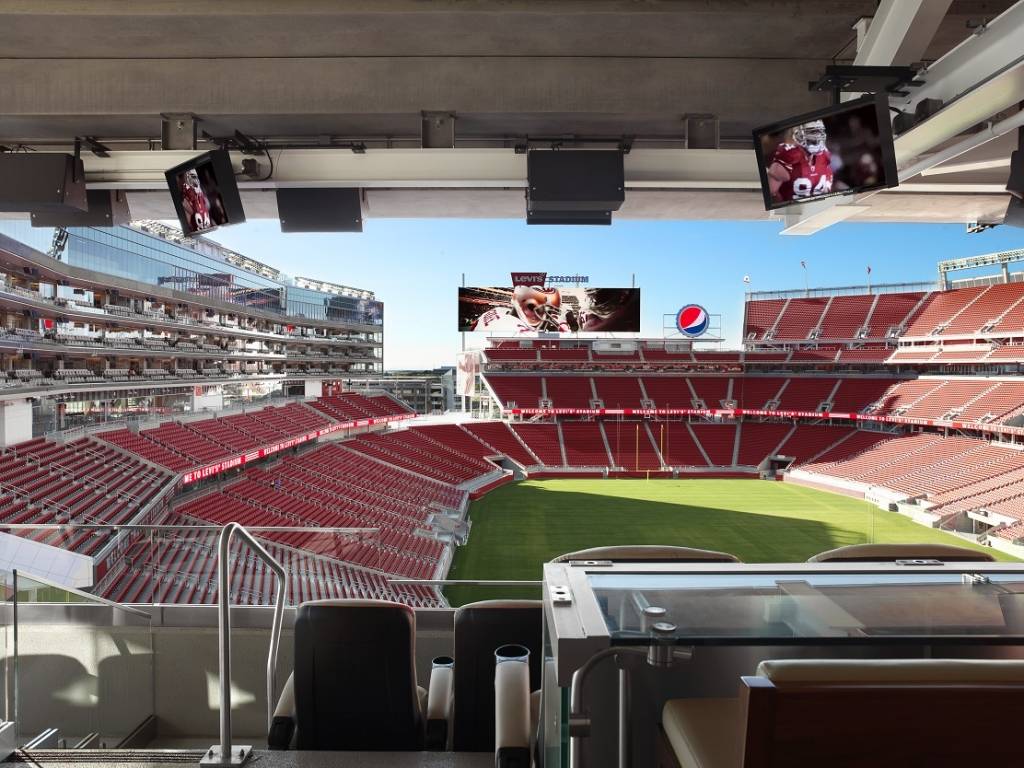 Photo Credit: Courtesy San Francisco 49ers
Gather 19 of your closest friends and rent a suite that gives you and your crew premium parking right next to the stadium, entry to
Michael Mina's Tailgate, upscale catering with an in-suite food and beverage credit, and access to the Trophy Club, where you'll
receive a complimentary glass of champagne and appetizers upon arrival. The suites are outfitted with comfy leather theater-style
seats, Internet access and plenty of flat screen monitors to ensure you don't miss any of the action. Prices vary by game but expect to shell out between $20,000 and $40,000 for the ultimate in VIP hospitality.
ART COLLECTION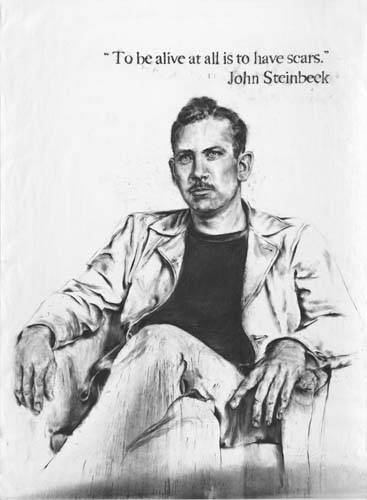 Photo Credit: Artist: Lynn Hanson, Photo Courtesy Art Collection at Levi's Stadium
Being that this stadium is located in the most-cultured half of California, an emphasis on art is a given. Spread throughout the elite
Citrix Owners Club, the Brocade Club, BNY Mellon Club East and West and SAP Tower of suites, this collection, curated by Sports
and The Arts specifically for Levi's Stadium, is comprised of over 200 pieces of original artwork and 500 photographs that celebrate the history of the San Francisco 49ers as well as California's stunning landscape. You'll find charcoal sketches of notable
figures such as John Steinbeck and Jack Kerouac as well as timeless psychedelics of the storied Fillmore made famous by Bill
Graham. However, the portraits stadium-goers still pose next to the most are those of Joe Montana throwing to Jerry Rice and current quarterback Colin Kaepernick on the run.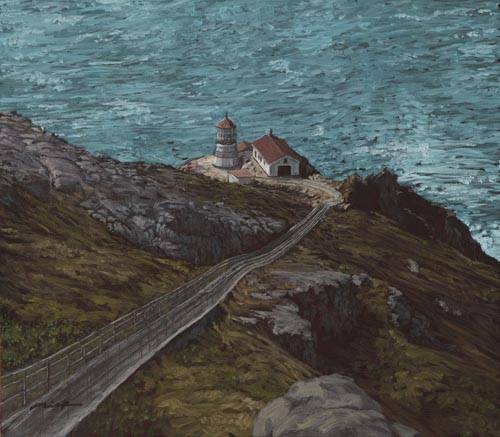 Photo Credit: Artist Nick Brown, Photo Courtesy Art Collection at Levi's Stadium
LEVI'S STADIUM APP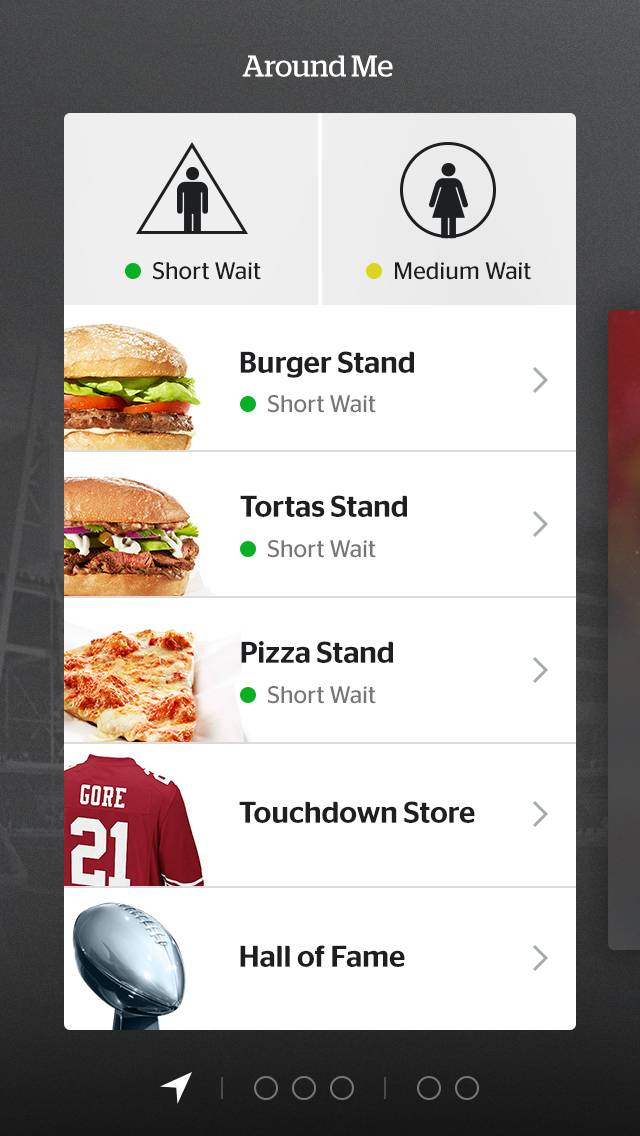 Photo Credit: Courtesy VenueNext
Want to find the closest bathroom and know how long the line is? There's an app for that thanks to VenueNext, a Palo Alto-based
company that is out to elevate the experience at live sports, music and entertainment venues, making Levi's Stadium its first
customer. Use the app to also access mobile tickets and parking, buy a parking pass, transfer tickets to friends, get turn-by-turn
directions to your desired destination inside the stadium, order food – from hot dogs to Peking duck can be picked up at a concession stand, where bowtie-wearing NiNERDS assist customers, or a limited menu that includes staples such as nachos, beer and wine, can be delivered straight to your seat – watch a replay four seconds after a play ends and more.
Like Haute Living San Francisco? Join our Facebook page or follow us on Twitter @HauteLivingMag. Want Haute Living San Francisco delivered to your inbox once a week? Sign up for our newsletter.
Subscribe to discover the best kept secrets in your city