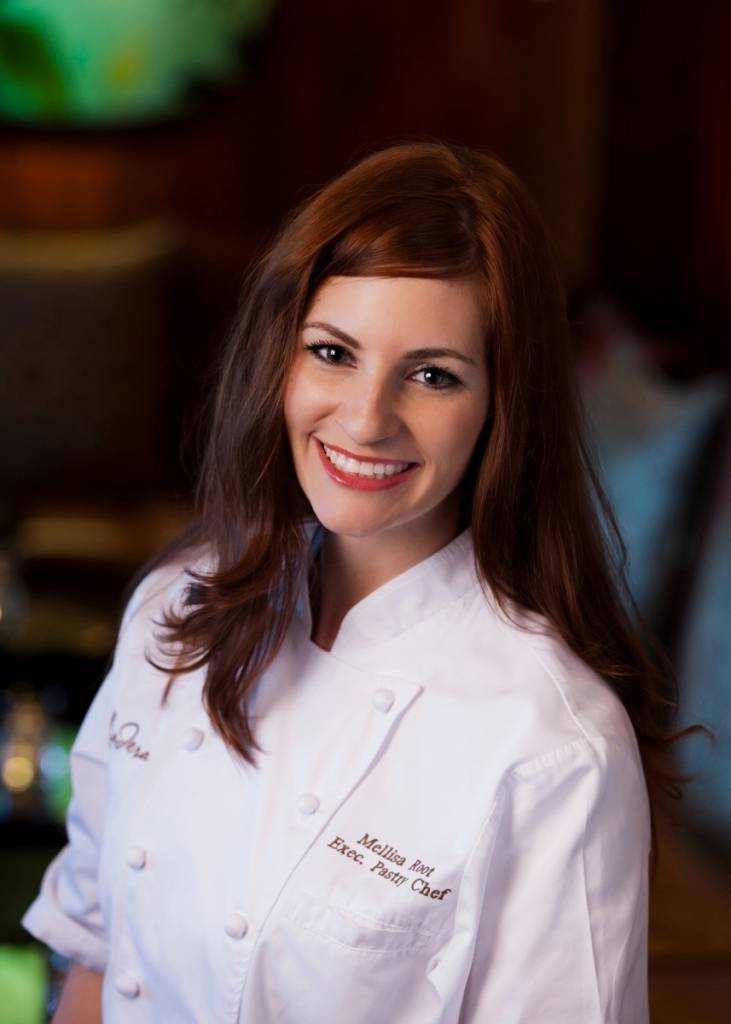 Photo Credit: Courtesy Rosewood Hotels & Resorts
As impressive as it is that Mellisa Root arrived at the Rosewood Sand Hill's Madera restaurant from Per Se, Thomas Keller's three-Michelin star eatery in New York, Manhattan wasn't the place for this gold medal winning pastry chef to flaunt her culinary cleverness. Mixing her kitchen know-how — she graduated at the top of her class from the California Culinary Academy — with her creative mind — she studied music and visual arts growing up in Idaho — she brings an artistic approach to dessert making at the Michelin-starred hotspot that's beloved by the tech community. It's no wonder that Root's face lights up like a Christmas tree as she talks about her craft: she is preparing to enter her fourth holiday season at Madera, after all.
How is preparing desserts for customers in the tech field different than at Per Se?
The clientele here is not looking for the Per Se experience, per se. It was an [incredible] experience to be a part of something so amazing. Here, I've tried to instill that kind of passion and drive into my crew. At the same time, I understand that we're in a totally different atmosphere; we have a different clientele and we're a one-star Michelin restaurant versus a three star. We have beignets on the menu. Also, because we're in this tech-savvy [environment], you have all these people who are adventurous, so we try to push the envelope with our dessert items.
Give me an example of how you push the envelope.
On the menu during blackberry season, we had an entire plate dedicated to the blackberry. I thought about it as being sunshine on a dark day. Everything on the entire plate was black except for the lemon curd, which we created in the form of a happy face. There were lots of people who got it when servers would tell them that it was a bright spot on a dark day. There were so many clients who were like, "Oh, is this from Watchmen?" because of the smiley face. They were like, "You just need to splatter some red on it." That's who our clients are. They're fun. They're here to have a good time.
How do you use technology to help you do your job?
Because of living here in Silicon Valley, I try to challenge myself and my team with ways to utilize technology. We've placed QR codes onto chocolate bonbons that tell the guest "Welcome to Rosewood Sand Hill." I also recently worked an image onto a chocolate bonbon that the guest would scan with their photo to connect them to an augmented reality. Once there, a video clip of our chocolate work and actions shots would play, giving them a really in depth, fast look at the work that went into the bonbon that they were about to enjoy.
I'm surprised to see so many women in your kitchen. How many females work with you?
Seven — and I have three gentlemen. This business is already very difficult, so I want to be a champion for them because I know what it's like to not have had one. I feel extremely grateful for all that are in here. Not to take away from how much I appreciate the gentlemen on my staff, because I do. I couldn't think about possibly doing what I do in chocolate without Lance: he's my right-hand man.
That is quite an alcohol shelf you have in this huge refrigerator.
My cooks make fun of me sometimes. I'll get another bottle and say, "Oh, let's make a pate fruit." They're like, "Geez Chef, your shelf is out of control," but I use alcohol a lot to season — I think it helps enhance a lot of flavors. There are also very particular times when I like it to shine through as a little hidden gem on a dessert. I use it in the chocolate program: we have this green fairy bonbon right now that is absinthe striped with beautiful gold glitter. I find ways in the day-to-day tasks to have fun. That shelf is a fun part — and I'm not drinking it, I swear!
Like Haute Living San Francisco? Join our Facebook page or follow us on Twitter @HauteLivingMag. Want Haute Living San Francisco delivered to your inbox once a week? Sign up for our newsletter.
Subscribe to discover the best kept secrets in your city