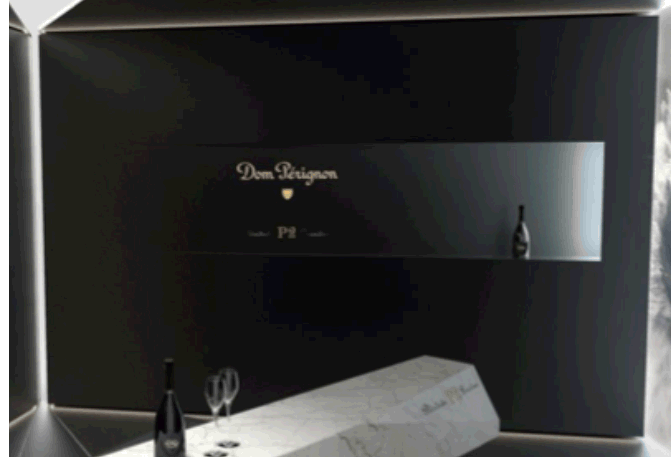 What did you miss this week in Los Angeles? If fashion or food is your jam, then the answer here is: a lot. Gucci, Maje and Burberry had a big week in the City of Angeles, which also saw the opening of a Dom Perignon pop-up bar at the Beverly Wilshire and the re-opening of Power House Hollywood.
DINING & DRINKING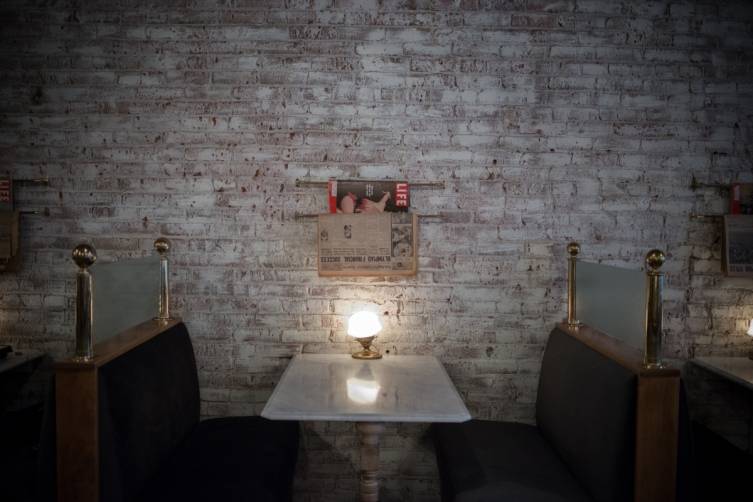 Photo Credit: Rob Stark
POWER HOUSE REOPENS IN HOLLYWOOD Power House in Hollywood has re-launched with a whole new look following a three-month renovation. The collaboration on the bar's latest iteration celebrates the spirit of the neighborhood's upswing, and since opening in late 1947, Power House has become a notable bar in the Hollywood community, serving the nearby residents, Hollywood Bowl goers, and those who are looking for respite from the hustle and bustle of Hollywood and Highland. The new design is inspired by Hollywood's collection of diverse backgrounds, conveying timeless style and drawing inspiration from around the world. The original neon Power House sign remains intact, while the new light and airy interior brings together an assortment of pieces from various places and times. From staggered brick walls replicated from a postal building in downtown Los Angeles, wrought iron bar shelves sourced from Prague, chairs upholstered with materials from World War II tents, and handmade hexagon cathedral floor tiles that adorn the wall behind the bar, the assembly of fixtures is meant to honor the eclectic culture that is present in the city. Guests are welcomed to kick back and relax in the front lounge's plush booths and banquettes, mingle in the back open room, or grab spots at the bar on 1920s-era soda fountain stools. To complement the décor, there is a cocktail menu inspired by old world and new world tipples that are categorized into four classes of drinks, including "Sparkling & Effervescent," "Shandies, Shrubs, & Flips," "Spirited, Savory, & Stirred," and "Stingers, Sours, & Sweets." Each cocktail is simply created and draws upon combinations from deep-rooted classics and new-age favorites, including the Jack Apple Soda, with Jack Daniels invigorated by fresh housemade apple soda; Alley Oop with Arette Reposado Tequila, agave, and lime topped with a creamy cucumber marshmallow espuma; Algonquin bringing Bulleit Rye, French Vermouth, Pineapple, and Gomme; and Kalimotxo, their elevated take on a Spanish refreshment that combines red wine and Coca-Cola with orange and cookie spice.
DOM PERIGNON POP-UP OPENS AT BEVERLY WILSHIRE The Beverly Wilshire, a Four Seasons hotel, has just opened a pop-up Dom Perignon tasting lounge in The BLVD. The intimate space created beside THE Blvd entrance, offers a menu of favorite vintages, as well as featured caviar. The entire space was built and created by Dom Perignon, and THE Blvd. Additionally, the haute brand has just been named the official champagne of the Four Seasons around-the-world jet tour. Quite fittingly, the tour's first stop is the Beverly Wilshire.
FASHION
MAJE OPENS AT SOUTH COAST PLAZA Maje, one of the leading contemporary French women's wear brands, has opened its 16th boutique in America (and third in California) at the tony South Coast Plaza in Orange County. This Maje location will be the first boutique in trendy Orange County community and will offer the brand's unique range of contemporary Parisian fashion including women's apparel, shoes and accessories.Maje South Coast Plaza will feature the chic styling of Maje Parisian boutiques; moldings, wooden floors and cornices, and felt walls.  As an extension of the brand's design codes and new "nomade modern" design concept, this boutique will be the second location to feature the gold leaf band across the interior walls as an extension of the brand's gold logo.
GUCCI ARRIVES AT WESTFIELD TOPANGA opened a new store at Westfield Topanga in Canoga Park this week. Featuring Creative Director Frida Giannini's store concept, the 5,000 square feet store showcases a wide collection of men's and women's ready-to-wear, handbags, shoes, jewelry and accessories.The new Gucci store radiates a true atmosphere of luxury and reflects Gucci's 21st century aesthetic, employing light and transparency to spectacular effects. While historic Gucci materials such as dark rosewood and marble remain integral in the store's aesthetic, new materials such as ribbed glass, warm polished gold, smoked mirror and smoked glass have been introduced and recall the richness of the Art Deco era. Geometric lines, including stylized versions of Gucci's signature web striping, define the internal space, adding further symbolic detailing.The critically acclaimed Gucci Cruise 2015 collection, which features a reimagined version of the historic Gucci Flora pattern from the collaboration between Frida Giannini and artist Kris Knight, will be available at the new store. The pattern extends across men's and women's ready-to-wear and accessories including silks, handbags, luggage, and leather goods. Creating a vibrant contrast, Giannini chose to place the print against rich navy, black, and pastel bases. The design comes to life on both textiles, in the case of ready-to-wear, as well as canvas and leather for accessories. The Gucci store at Westfield Topanga is the third GuccI store in the Los Angeles area. The Beverly Hills flagship reopened earlier this fall after undergoing renovations and the second store is located at the Beverly Center.
BURBERRY OPENS FLAGSHIP ON RODEO DRIVE; ANNOUNCED AS WALK OF STYLE RECIPIENT It has been announced that Burberry will be the recipient of this year's coveted Rodeo Drive Walk of Style Award, just in time for the brand's Rodeo Drive flagship opening. The award will be presented on Nov. 19 in an event to be held at Via Rodeo; it will be accepted by Burberry Chief Creative and Chief Executive Officer Christopher Bailey and will be a celebration feting the new, three-story boutique.
HAUTE SCENE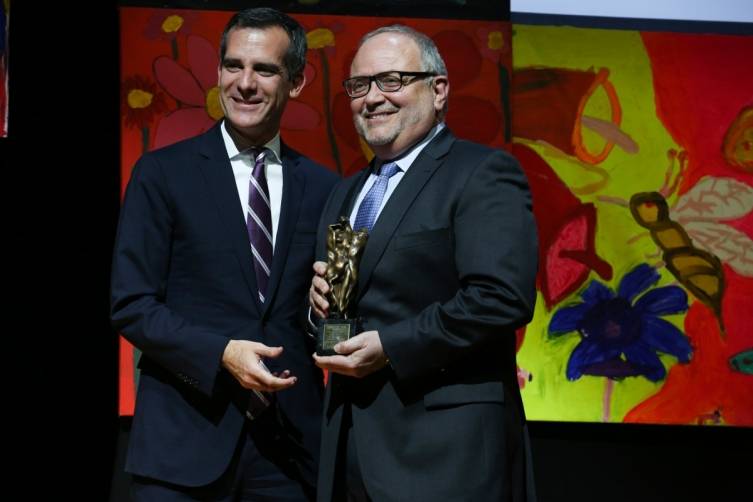 Photo Credit: Mike UnderwoodINNER-CITY ARTS HONORS THE WALT DISNEY COMPANY AND CELEBRATES ITS 25TH ANNIVERSARY AT 2014 IMAGINE AWARDS Inner-City Arts honored The Walt Disney Company with the Philanthropic Leadership Award at its 2014 Imagine Awards at The Theatre at Ace Hotel, Los Angeles. The event celebrated the 25th anniversary of the organization and its mission to unlock the creativity of young people. The Imagine Awards Honorary Committee included such notable Los Angeles philanthropists and leaders as J.J. Abrams and Katie McGrath, Wallis Annenberg, Mark Bradford, Jeffrey Katzenberg, Glorya Kaufman, Jimmy Kimmel, Melanie and Richard Lundquist, Michael Maltzan and Amy Murphy and Monica and Phil Rosenthal. Inner-City Arts board member Vera Campbell, chaired. Los Angeles Mayor Eric Garcetti presented the Philanthropic Leadership Award to Jay Rasulo, Senior Executive Vice President and Chief Financial Officer, The Walt Disney Company who accepted on Disney's behalf. Highlighting his acceptance and bringing unanimous applause from the over 800 attendees was his surprise announcement that Disney will grant $1 million to Inner City Arts to support program development and expansion of the organization's Creativity Lab over three years. The funds will additionally be utilized to found a Creativity Lab endowment. The Creativity Lab, created by Inner-City Arts Co- Founder Bob Bates in 2011, and supported initially by a start-up grant from Disney, has a central purpose – to encourage students to pursue tasks and challenges using creative thinking and creative problem solving.
MAX MARA CELEBRATES VICTORIA TENNANT'S BOOK LAUNCH Max Mara threw a chic soiree for Victoria Tennant at its Rodeo Drive boutique to celebrate the launch of her book, "Irina Baronova: Ballets Russes De Monte Carlo—The Story of a Legendary Prima Ballerina and the Rise of the Modern Ballet." The event was hosted by Irena and Mike Medavoy. 
FAST TOYS CLUB HOLDS HAUTE AUCTION TO BENEFIT THE PRETEND CITY MUSEUMFast Toys generously donated a club membership in favor of the Pretend City Museum for Children. This membership was donated during the Rock The City Gala & Auction annual event the museum organizes. Fast Toys helped raising $12,000 during this auction. Fast Toys is a private members club that serves its customer base within the Los Angeles area. The club provides members with convenient access to a collection of the world's greatest exotic, luxury and race cars. We also offer an exclusive supercar lifestyle experience which includes events such as, track days, driving tours, trips to motor shows, and VIP access to famous races (F1, Nascar, Indycar and USCC) just to name a few.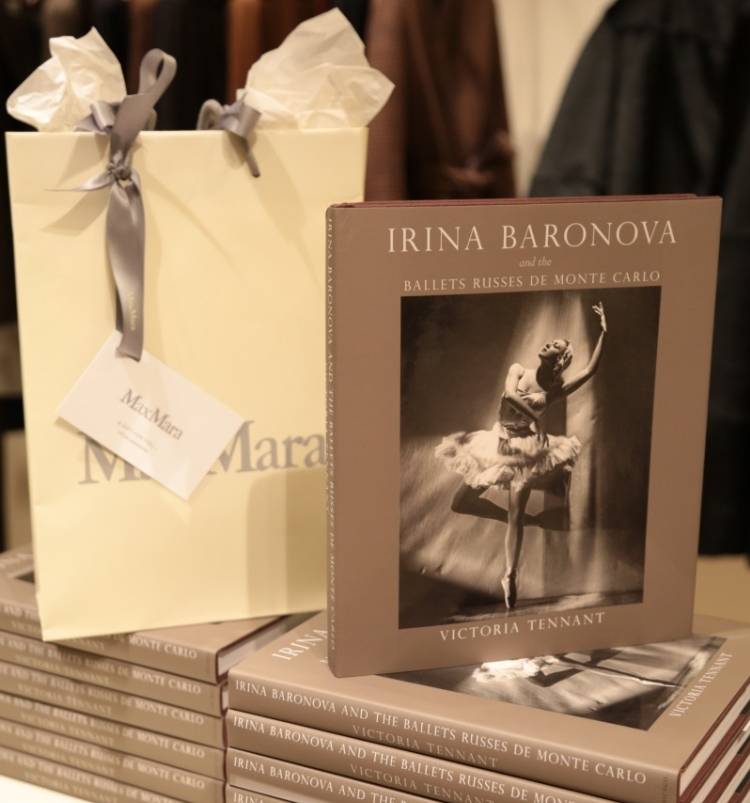 Photo Credit: Alex Berliner
Subscribe to discover the best kept secrets in your city