Good food appeals to all five senses. It pleases the eye, delights the nose, and tantalizes the taste buds. But truly great food goes one step beyond. It captures a moment in time—the season, the region, and the climate—and serves as a mental photograph for years to come. "Winter squash, root vegetables, and mushrooms make me think of fall," explains New York private chef Ricky Mull. "I get a sense of warmth and comfort when I think of those ingredients. I know mushrooms aren't for everyone, but their earthiness makes me aware of the changing season."
Though many chefs tend to gravitate towards meat-heavy dishes when the temperature plummets, the former Le Cirque protégé says he turns his concentration to vegetables. "I prefer to focus on technique to ensure that vegetables possess the proper texture—whether it's refreshingly crisp, slow cooked and deliciously tender, or velvety smooth," he reveals. "Proteins are obviously a crucial element for any meal, but everything else on the plate is what will separate a dish from the standard."
Though there's no shortage of gourmet seasonal cuisine in Manhattan, sometimes there's nothing more appealing than enjoying a freshly-prepared meal in loungewear. Instead of blindly ordering from Seamless, Haute Living asked chef Mull to share two of his favorite fall recipes that capture the flavors of the season (plus a few tips and tricks for pleasing picky eaters).
Describe your cooking style.
Simple, seasonal, and straightforward.
Where did you learn to cook? 
I attended the Culinary Institute of America, which gave me a great foundation for fundamentals, but the restaurant experience gets all the credit. I didn't grow up in a household with family recipes and I was never exposed to anything more adventurous than Chinese takeout throughout my childhood. This lack of exposure left me eager to ask questions when I got to culinary school. I always watched students around me and observed what caused some to do well… and what caused others to do not so well.
What is the most challenging part about being a chef?
Taking criticism and remaining motivated despite it. The important part is to ask why if you aren't sure—make it constructive. As in any field, you have to be able to build off your mistakes.
What is your strategy for dealing with picky eaters?
Leave everything you know behind. Don't try to put a twist on something they said, simply do what they said. If they said no salt, don't add any, not even a pinch. If they want you to fry their steak, then drop it in the fryer. Most importantly, don't throw their food together haphazardly! They still enjoy eating, they just have different preferences.
Name three ingredients (aside from basics such as salt, pepper, flour etc.) that you would be lost without.
Something spicy, something sweet to balance flavors, and well prepared stocks.
CRISPY BRUSSELS SPROUTS WITH APPLE CIDER AND PISTACHIOS 
Ingredients:
12 large Brussels Sprouts, cut in half
1 honey crisp apples
2 oz crushed pistachio
2 oz sherry vinegar
6 oz apple cider
2 oz crème fraîche
1 whole clove
2 pieces whole allspice
1 cup peanut oil
Directions:
In a small pot, combine apple cider, clove, and allspice and reduce to two ounces. Add crème fraîche, season with a little salt, and set aside.
Heat the oil over medium-high heat in a pan (keep the lid nearby). Once the oil reaches 350 degrees, add brussels sprouts and immediately cover with the lid (note: brussels sprouts contain moisture so the oil may splatter). Once the popping subsides, remove the lid and let the brussels sprouts turn golden brown, about 5-7 minutes. While the brussels sprouts are cooking, thinly slice the apple and set aside. Using a slotted spoon, remove the brussels sprouts from the oil and briefly let them rest on a paper towel. In a small bowl, toss the brussels sprouts with sherry vinegar and a pinch of salt in order for the brussels sprouts to soak up the vinegar.
Arrange six or eight pieces of brussels sprouts on a plate and drizzle with a little of the cider crème fraîche. Add a layer of sliced apple, a layer of brussels sprouts, another spoonful of crème fraîche, and top with crushed pistachios.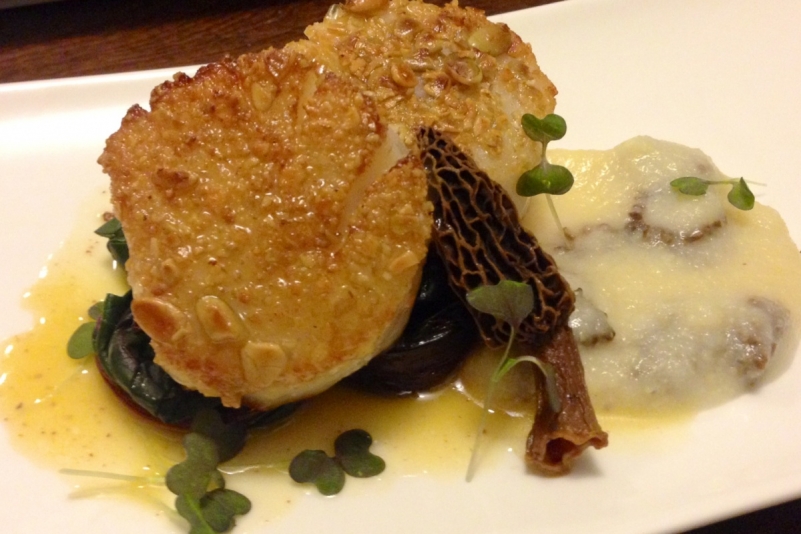 PUMPKIN SEED CRUSTED SCALLOPS WITH SUNCHOKE POLENTA AND SWISS CHARD
IN MEYER LEMON AND BROWN BUTTER SAUCE
Ingredients:
6 large, dry scallops (approximately 3/4 of a pound)
2 oz crushed pumpkin seeds
2 oz morel mushrooms (chanterelle or maitake are suitable substitutes), sliced
4 oz sunchokes, peeled and roughly chopped
1 cup water
1 cup whole milk
1 large shallot, finely chopped and split into three piles
1 oz mascarpone
1/2 cup polenta
3 oz, plus 1T unsalted butter
1 Meyer lemon, juiced
1/2 cup white wine
1T honey
1 egg yolk
1/2 bunch swiss chard, thickly sliced
Directions:
In a medium size pot, add a little oil and sauté 1/3 of the shallots over medium-high heat for 2-3 minutes. Add milk, water, and sunchokes and boil until sunchokes are tender (about 15 minutes). Transfer sunchokes, shallots, and liquid to a blender and carefully blend until smooth. While you are blending the mixture, quickly clean the pot and sauté the mushrooms for 5-6 minutes over medium-high heat. Return the blended mixture to the pot and bring to a low simmer. Add polenta and whisk until smooth. Let the polenta cook for 30-40 minutes over low heat, stirring every 5-7 minutes, and adding more liquid if it becomes too thick. Finish the polenta with the mascarpone and season with salt to taste.
While the sunchokes are cooking, add 3 oz of butter to a small pan and lightly brown the butter over medium heat. Remove from heat, but keep warm. Saute another 1/3 of the shallots in a small sauce pan for 2-3 minutes then add the white wine and reduce half way. Add lemon juice and reduce to 2 oz. Strain out the shallots and keep the liquid in a small mixing bowl and let cool for a few minutes. Whisk the egg yolk and honey into the reduction. Next, slowly whisk the brown butter into the strained reduction. The final sauce should be emulsified. Cover and keep in a warm spot.
With the sauce ready (and the polenta almost ready), add a little oil to two pans and cook over medium heat. Add the final 1/3 of the shallots to one pan and gently sauté for 3-4 minutes. While you are doing this, season the scallops and dredge one side of each scallop in the crushed pumpkin seeds. Firmly press them in the pumpkin seeds so the scallops are nicely coated. (Note: if you are not using a nonstick pan it is very important to wait until the oil in the pan begins to lightly smoke before adding the scallops).
Add scallops, pumpkin seeds, and swiss chard to the other pan. If you have any extra wine, pour a shot into the swiss chard to help it wilt. If the wine is gone, an ounce of water will do the trick. Reduce the heat of the scallops to medium-low heat. Once the pumpkin seeds are golden brown (approximately 2-3 minutes), flip them over and add the remaining tablespoon of butter. Turn up the heat to medium-high and baste the scallops using a large soup spoon for an additional 2-3 minutes. Drain any excess liquid from the swiss chard and season with salt and pepper.
When plating, swipe the dish with sauce and then place the scallops on top. The pumpkin seeds will look nicer without the sauce covering them.
Subscribe to discover the best kept secrets in your city