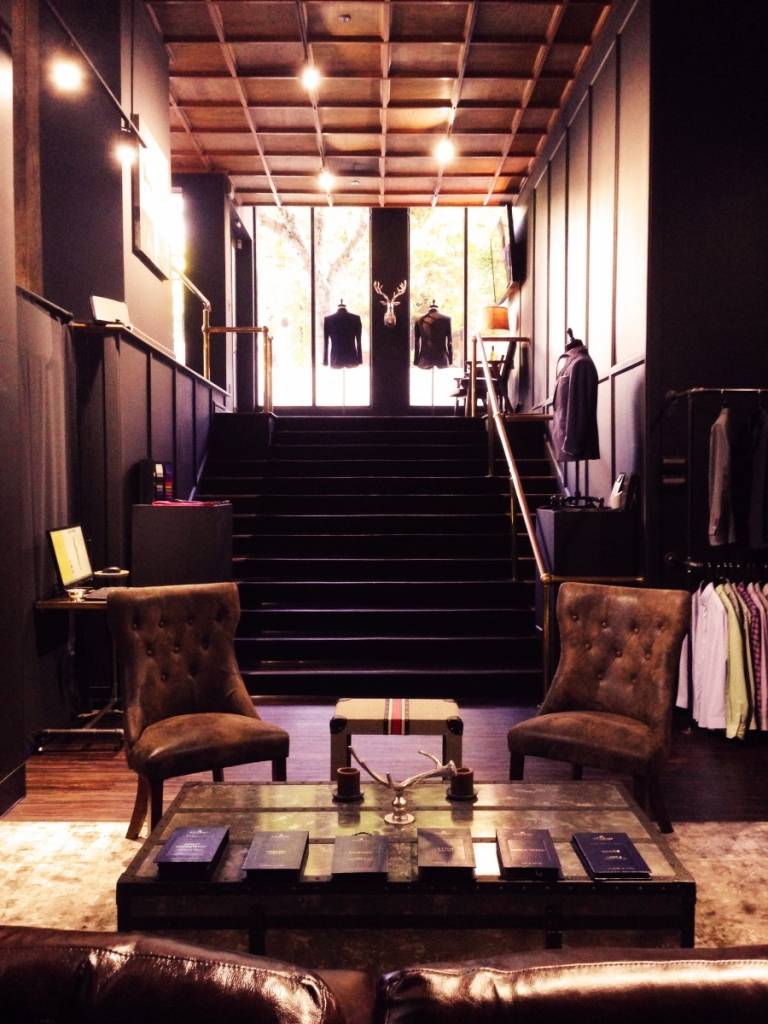 Last week CEO Colin Hunter was in town to open the San Francisco showroom of his customizable menswear experience, Alton Lane. The beautiful new store, located on a corner in Jackson Square, has a digital scanning tool, that measures your entire body in a mere three seconds, a private bar and secret wine cellar, and plenty of haute fabrics to choose from. We sat down with Hunter to learn more about his clothing company and what you can expect when you make an appointment at the new SF shop.
So Alton Lane. Tell us, how did this whole thing come to be?
Alton Lane is really an amazing company. We created it to change how men think about shopping. Most guys want to look great, but they don't like the experience of buying clothes. And to be honest, most of the time, it's not a great experience. I remember when I was working in finance and would shop for clothes, I always felt like men were an after thought. The men's section was downstairs or on the 7th floor and usually with not very good service. We made Alton Lane to change all that. We said, "Let's make guys actually feel special." What we do is basically close the store for every person. It's a one-on-one custom suit experience. We offer a full bar and in our San Francisco store we have a secret wine room! Our stylists get to know you and we talk through what your needs are. We have fabrics that are completely exclusive to us and we offer every price point. So whether you are a seasoned suit wearer or 21-year old and you want a blazer to wear to college parties, we've got you covered.
Cool. Let's talk about this digital scanning tool. Did you create this specifically?
We didn't develop the technology for it, but we did come up with algorithms that determine the best fit for each man's body. It's absolutely fascinating! It's a 3D body scan that pulls thousands of data points to create a digital map of your body. It truly captures all the measurements and shape of body. Essentially it's a digital pattern that's automatically made in your size. Then we use this to make a custom suit for you. We've got some of the best fabrics in the world. As I mentioned before, for us value is having something to offer at every price point.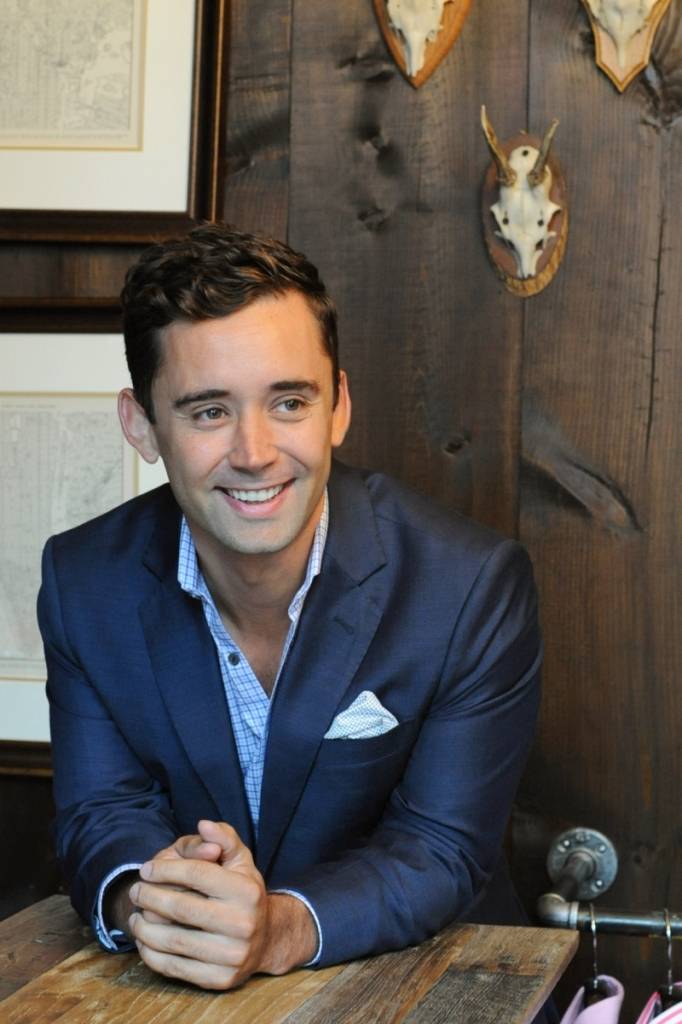 Why did you decide to launch a flagship in SF?
Well, this is our eighth store front, but SF has always been on the map for us. As part of our expansion process, we look at our customer base and determine our next location based on where we have a good amount of Alton Lane shoppers. We actually had 300 Bay Area customers in our database and that's a good strong loyal group to start with. Also, SF is such an exciting city right now, stylistically. It has it's own unique style vibe. Men here have a sharp casual look. It's not like New York or DC where everyone is wearing a suit and it either feels very banker or political. Guys here are very thoughtful about their style and we felt that our brand would really resonate well in SF.
Are there any special items that are unique to this new showroom?
We've got a hidden area behind the couch that is a wine cellar. We really try and delight our customers in small ways. Most of the showroom is designed with reclaimed redwood from nowhere further than an hour and a half outside of SF. We hire a local design team to outfit the store with our signature masculine chic vibe. Each store, including this one, is its own start up in that city. Since food is so big in San Francisco, we're doing a tasting series and partnering with local chefs.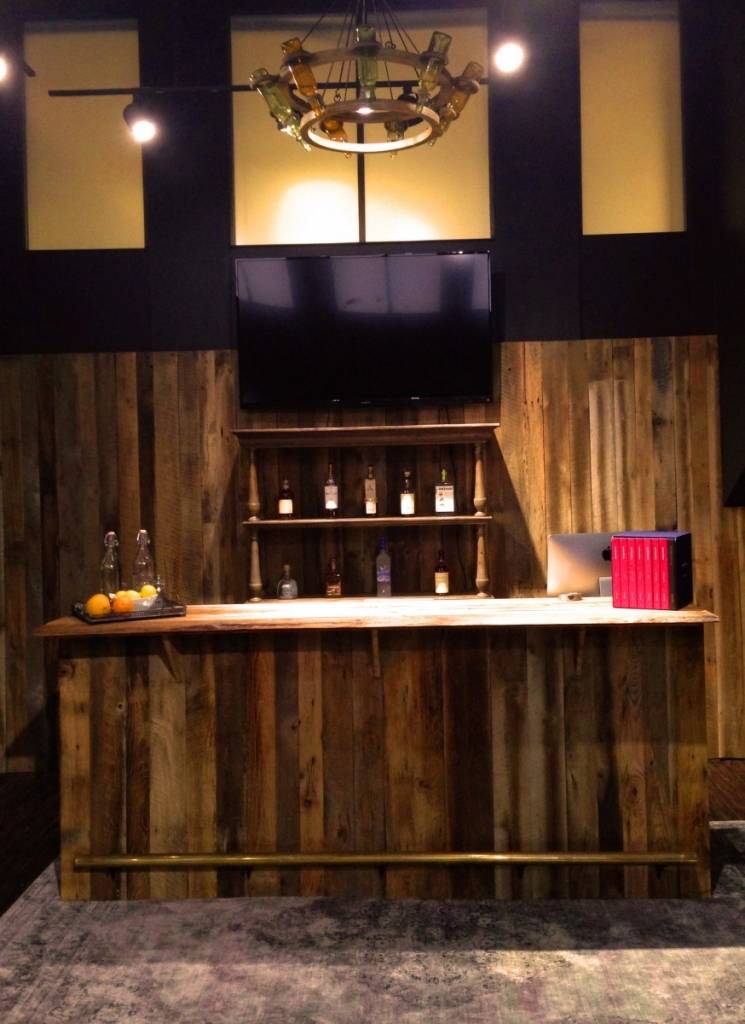 How does the fully stocked bar work? Customers can come in and have a drink? At any time of day?
We recommend making appointments and do private appointments for our customers sake. Our appointments are available at all times of the day and we have a live feed with up to the minute information online. With that said, we try to make it feel like a home and will chat with anyone who walks in. It's really just about being as hospitable as possible. One thing that I want to point out is we keep data on all the companies that our customers work for. It's an incredibly valuable tool for us. Say that we have someone out of business school and he comes in and needs to get suits for his new job at Ernst and Young. We scan our database and know that we have 110 customers who work at that company. So we look and see that 94 percent of them do not wear pleated pants. Or that they mostly wear grey and navy suits. We share this information with them as we want our customer to leave feeling confidant.
What fall/winter pieces should every guy have in their closet?
Every guy needs five to six well-fitted suits. Even if you don't wear suits to work, you want at least two and one in a shade of blue. A blue sharkskin is an incredibly versatile look and a staple I recommend. One to two blazers for SF men — blazers are all about versatility and uniqueness and are really fun for transitional gigs. Other items are some casual shirts — chambray shirts and linen shirts. I'm talking about unique pieces that are going to be fun that will give you versatility to wear in a lot of different ways.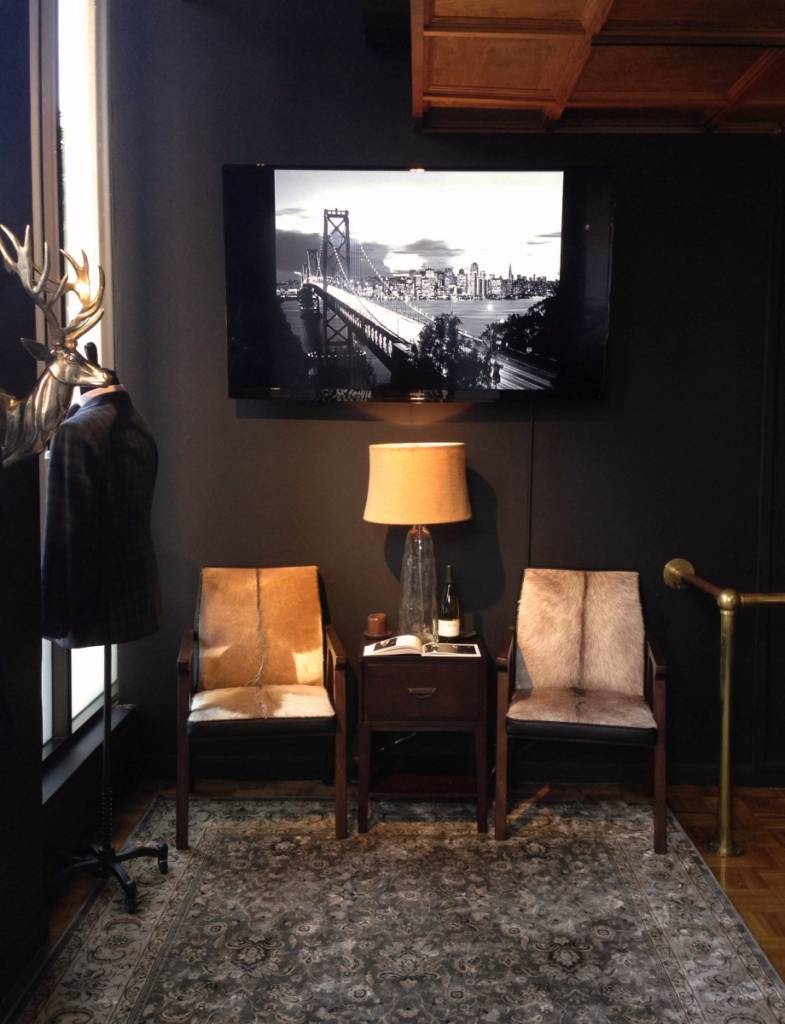 What are your favorite things to do while in SF?
One of my favorites most recently is The Battery. I have a lot of friends that are over there and it's around the corner from the showroom which is great. I love going down to the Embarcadero area. It's fun being along the water and the Presidio is awesome. One of the best parts of being out here is the access to nature that you all have. It's definitely a culture of getting out and I love that.
Anything else you want to share with our readers?
Yes. I know they are people who appreciate the finer things in life and I wanted to talk about our amazing collection of fabrics. We have fabrics that you are not going to find at other luxury brands. Seriously some of the best, most exclusive fabrics in world. We have a fabric that has crushed 24-carat gold woven into wool. There's also a crushed jade, a diamond fabric, the softest cashmere, and the most luxurious shearling. We've made clothes for two living presidents! I know the tech millionaires may not have to wear suits to work, but they love a good story behind what they are getting and we offer that with our fun unique fabrics. Also, if you love one type of material and want to be the only one with a suit in that fabric, we'll take it out of our sample book and not sell to anyone else in city. That way you'll get something you truly enjoy and that's absolutely one of a kind.
Photos Credit: Alton Lane