As San Francisco gears up for Dreamforce, we replay the haute happenings of the past week. George Lucas and Mellody Hobson were on the scene for the Platinum VIP Preview of Art Silicon Valley/San Francisco, Colin Bailey and Brian Chesky were among the boldface names to take a splash at the 22nd annual Celebrity Pool Toss, Christie Brinkley and Billy Joel's singer/songwriter offspring Alexa Ray Joel christened the new Bloomingdale's Stanford, Joy Venturini Bianchi was in her element at Helpers Couture for a Cause and a the San Francisco Zoo's new female red panda's name was revealed at Ghurka. (Hint: The name starts with an H, ends in Y and its most famous holder of it is one of next week's Dreamforce speakers.) But before we get ahead of ourselves, let's look back at the week that was:
Art Silicon Valley/San Francisco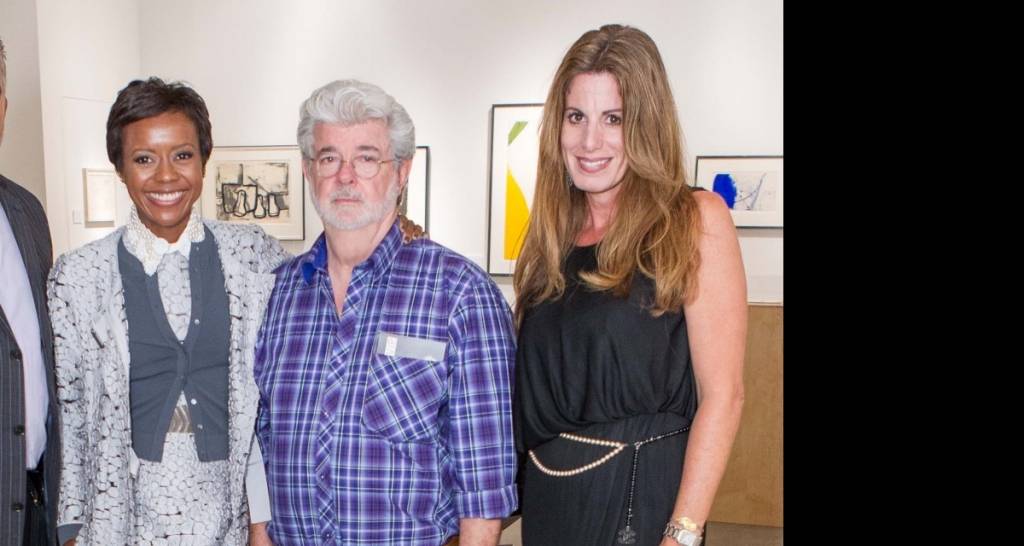 Photo Credit: Drew Altizer Photography
Lucas, whose own museum in Chicago is a few years away from completion, snapped up a piece by Banksy during the invite-only Platinum VIP Preview of the inaugural edition of Art Silicon Valley/San Francisco at the San Mateo Event Center on Oct. 9.
"We were honored to have him here," Art SV/SF Director Nick Korniloff said of Lucas. "When he walks through the big shows in New York, he parts the seas. Everyone wants his attention. For him to come out in his own backyard and support the fair is a big statement. We're proud that he felt this was a show that was at the caliber that he would want to come to. That's very significant."
Also significant is Art SV/SF, Art Miami's first international contemporary and modern art fair on the West Coast. The fair features 70 acclaimed galleries and 750 artists from 42 countries. The special exhibition of monumental Banksy works from his 2013 New York City residency on display at the Keszler Gallery booth is one of the must-see exhibits.
Opening night benefitted the Shipyard Trust for the Arts (STAR) and the Djerassi Foundation. Maserati displayed its latest automotive models in celebration of the prestigious brand's 100th anniversary. GRAFF Diamonds showcased an exquisite collection of rare jewels on glamorous models and in vitrines. Ruinart champagne flowed in the Maserati VIP Lounge. The fair runs through Sunday and Korniloff expects about 20,000 people to pass through. He wouldn't mind if many of them were young techies with big bucks to spend on art.
"This fair is a calling in a way to that newer younger collector," Korniloff said. "It's a responsibility to come out and be the next great caretaker or philanthropist for the art market."
In other words, the next George Lucas.
Colin Bailey Shows His Spirit at Celebrity Pool Toss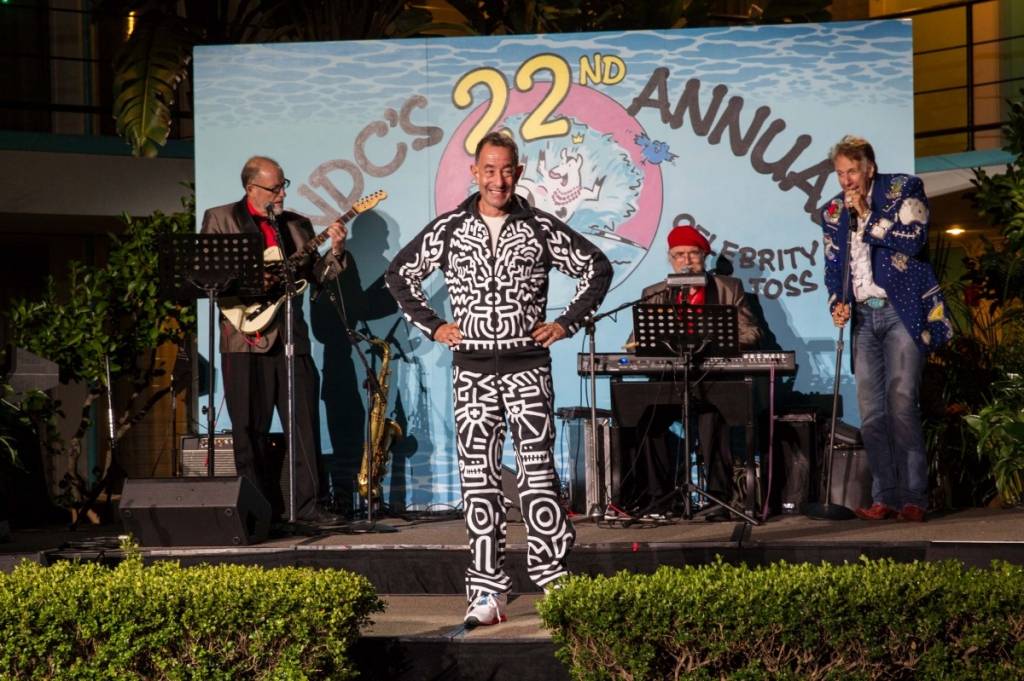 Photo Credit: Drew Altizer Photography
It was the usual wet and wild evening at the the Tenderloin Neighborhood Development Corporation's 22nd annual Celebrity Pool Toss on Oct. 8 at the Phoenix Hotel/Chambers Eat + Drink pool. A throng of guests packed the poolside, where they noshed on cuisine from La Méditerranée, Nob Hill Pizza & Popcorn, Wing Wings and Millennium Restaurant, to name a few, and sipped wine from Deerfield Ranch Winery while The Fabulous Bud E. Luv put on a show.
But the real entertainment was watching this year's tossees — Colin Bailey, Director of the  Fine Arts Museums of San Francisco; Brian Chesky, CEO of Airbnb; Jason Cherniss, Captain, Tenderloin Police Station; Phil Ginsburg, General Manager, SF Recreation & Parks Department; A.J. Kirsch, Actor, HoodSlam Wrestler & Color Commentator; Rebecca Miller, Founder and Principal, MartiniBird; The Ladies of NerdWallet, Eight Gals Making a Big Splash for Kids; David Perry, "10 Percent," David Perry & Associates; and man-about-town John Rosin, UCSF Financial Analyst — get wet for a cause.
Before it was his turn, we asked Bailey if he had lost a bet.
"No, I think I won a bet!" Bailey exclaimed. "It's a great honor."
Part of the fun is seeing the costumes the tossees wear. Bailey's wild, black and white get-up was "to introduce our next exhibition that's opening at the de Young in November on Keith Haring. It's really in the spirit of the evening. This was an artist that was so engaged in the community and involved in all sorts of initiatives. And he died very young. It's a really exciting retrospective of his work. He did work at Grace Cathedral in San Francisco. There's a grove named after him in Golden Gate Park. So though he was a New Yorker, he really has a connection to the city."
Helpers' Couture for a Cause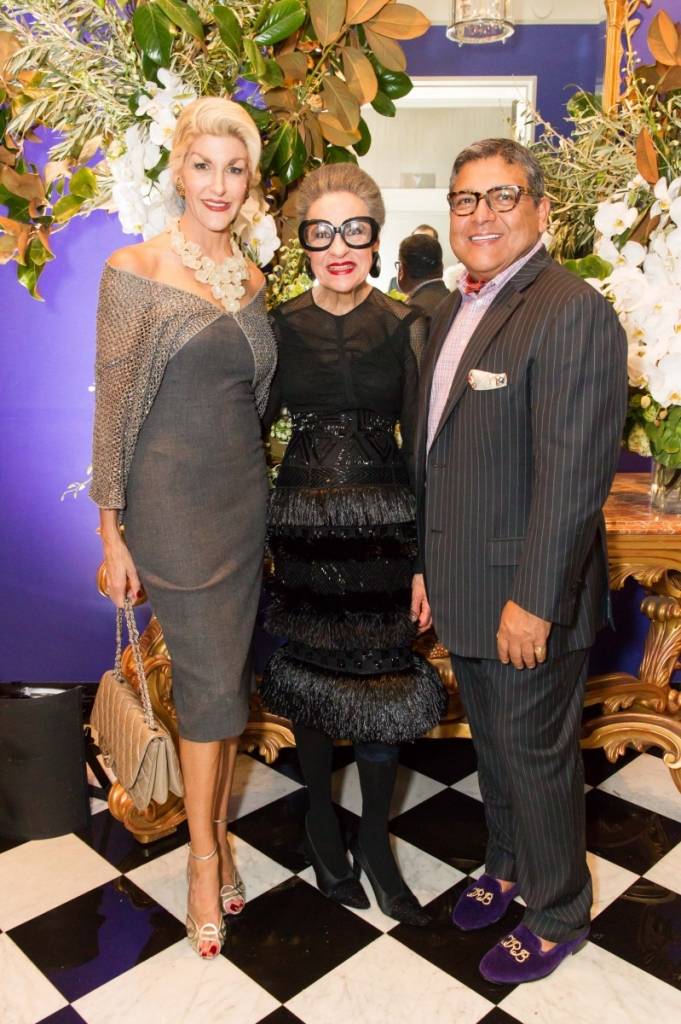 Photo Credit: Drew Altizer Photography
Venturini Bianchi, who runs the charity Helpers, was in her element in The Penthouse of The Fairmont, San Francisco on Oct. 4 when she gave VIP guests a tour of a curated collection of couture gowns designed by Ralph Rucci, Naeem Khan, Balenciaga and other iconic fashion designers. The evening was called Couture for a Cause, a fundraiser to benefit those who are developmentally disabled. J.Riccardo Benavides, Gary Delanges, past president of the San Francisco Police Office Association, Martin Halloran, President of the San Francisco Police Officers Association, and Alfredo Pedroza, Senior Vice President of Government Relations at Wells Fargo were honored during the unusually warm night that made being on the terrace quite special. The chic crowd, which included designer Karen Caldwell, Mark Leno, Giles Marsden, Mark Rhoades and Timmy Whalen, enjoyed passed bites by Gary Danko, and libations.
A Panda Named Hillary Announced at Ghurka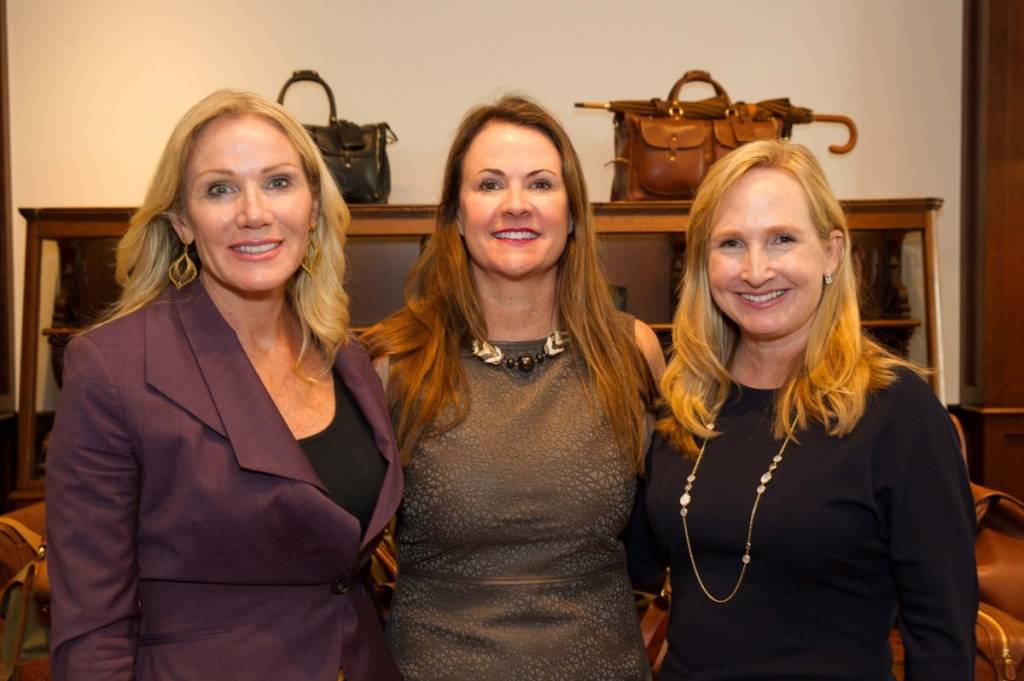 Photo Credit: Drew Altizer Photography
Rosemary Baker, Anne Pedrero, Tanya Peterson and Timothy Wu of the San Francisco Zoological Society, along with Pam Bristow, hosted an afternoon tea at Ghurka at preview the luxury leather goods' women's collection on Oct. 7. The event also drew Katherine Rothschild, Brenda Jewett, Carolyn Dixon, Suzanne Levit, Marianne Pederson and Holly Ferrell. It was also announced that Hillary is the name of the Zoo's inaugural female Red Panda, an adorable ambassador of the Himalayas.
Purchase something from Ghurka's women's collection and you can receive a limited-edition leather pouch emblazoned with Hillary's image as a gift. Plus, part of the proceeds from purchases through Dec. 1 will benefit Hillary's care at the San Francisco Zoo.
Alexa Ray Joel Christens Bloomingdale's Stanford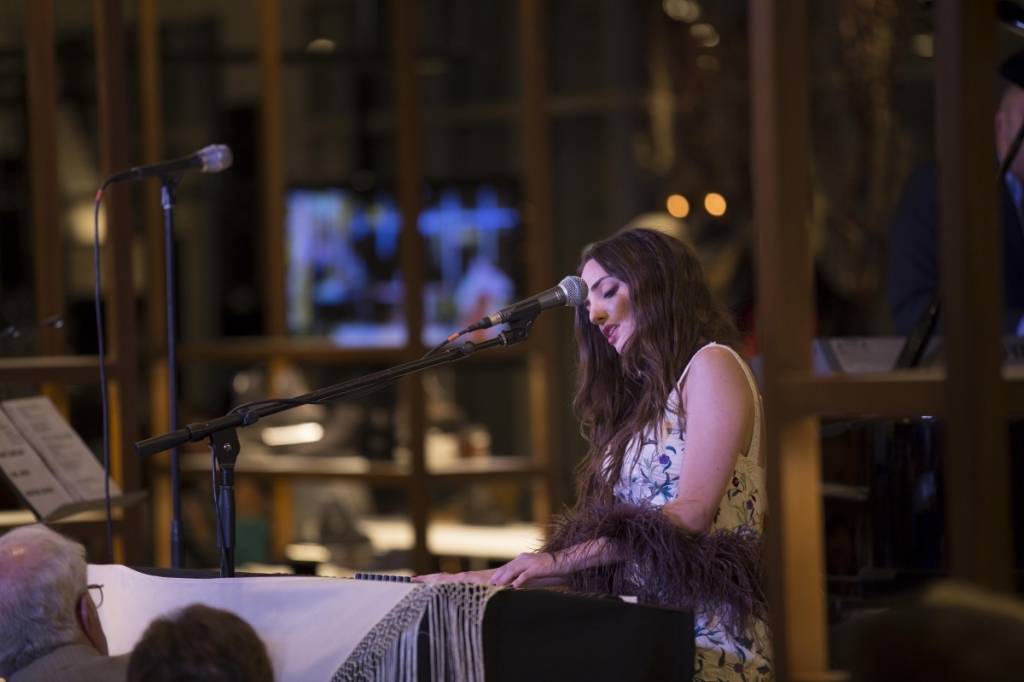 Photo Credit: Drew Altizer Photography
Singer-songwriter Alexa Ray Joel, daughter of Christie Brinkley and Billy Joel, performed at a charity gala to celebrate the opening of the new Bloomingdale's Stanford in Palo Alto on Oct. 8. The store hosted in partnership with the Bay Area Autism Consortium, in which 100% of the ticket sales raised will be utilized to create a new fund at BAAC to support collaborative autism research projects between scientists at local research institutions including Stanford University, UCSF, Children's Health Council and Kaiser. Additionally, 10% of the evening's sales were donated to BAAC.
Looking ahead to next week, here's what haute:
This Old Bag: The Power of the Purse

The 10th anniversary of This Old Bag: Power of the Purse takes place Friday, Oct. 17 at the Bentley Reserve and marks the signature event for the Breast Cancer Emergency Fund. At  its new location, the BCEF can accommodate more bags and party-people than ever before! For one special night, designers, fashionistas and the hottest celebrities come together to help women in need. The night will begin with a cocktail party where guests can bid on an extensive array of handbags and manbags while DJ Shooey gets the crowd going. Before the fun ends, an exciting live auction that is not to be missed, pairs the most coveted designs with exclusive experiences and travel packages. For event information or to purchase tickets please visit www.thisoldbag.org.
Shanti Celebrates 40th Years of Service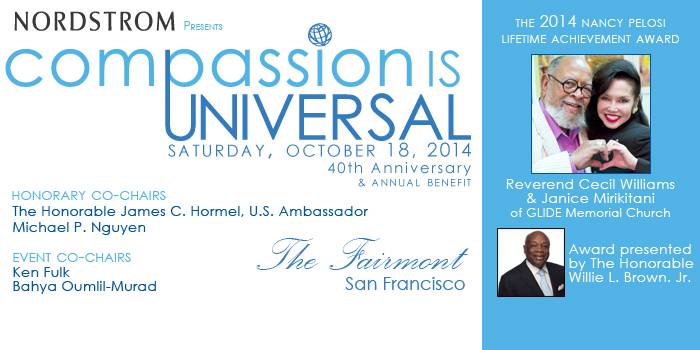 Compassion is Universal, the Shanti Project's 40th anniversary celebration, takes place Oct. 18 at The Fairmont, San Francisco and co-sponsored by Haute Living. The black-tie optional dinner will honor Rev. Cecil Williams, Janice Mirikitani, and Stu Smith (awarded posthumously) among others.  Co-chairs Ken Fulk and Bahya Oumlil-Murad have an elegant and inspiring evening in store with a special performance by Beach Blanket Babylon, along with some amazing auction items, including a five-night stay at the super lux Hôtel Selman Marrakech in Morocco, a "World of Vera Wang package" valued at $5000, and a stay in Napa Valley in a private home at the Connolly Family Wines Vineyard House. For more information and tickets, visit www.shanti.org.
Like Haute Living San Francisco? Join our Facebook page or follow us on Twitter @HauteLivingMag. Want Haute Living San Francisco delivered to your inbox once a week? Sign up for our newsletter.
Subscribe to discover the best kept secrets in your city