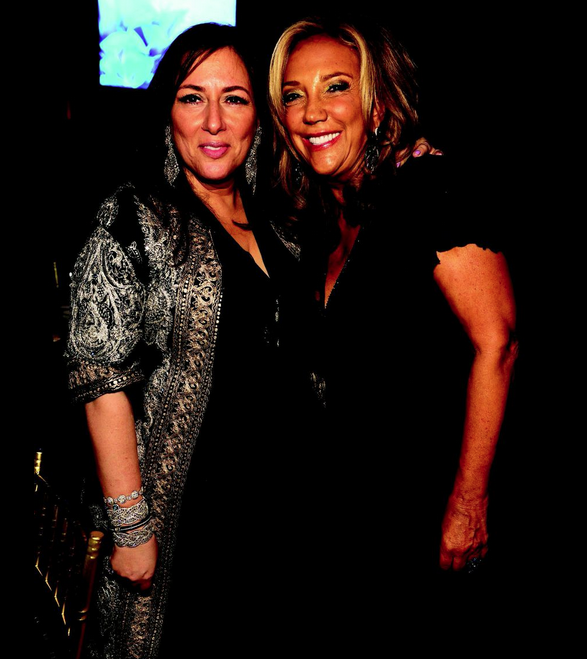 When tragedy strikes it's easy to cast blame, turn to anger, or simply wallow in sadness. But for Denise Rich, that wasn't an option. In 1996, the celebrated songwriter and philanthropist lost her 27-year-old daughter, Gabrielle Rich Aouad, to acute myelogenous leukemia, a type of cancer that affects the blood and bone marrow. Her last wish: create a leukemia foundation to spare others the suffering that she endured as a result of chemotherapy and radiation. "I lost my mother to lung cancer, my sister to breast cancer, and my daughter to leukemia," Rich says with a heavy heart. "Gabrielle said, 'Promise me that if I don't live then you'll carry on.' So after she passed, we started Gabrielle's Angel Foundation for Cancer Research. Today it is one of the largest sources of non-governmental funding in America. I think one of the reasons it is so successful is because Gabrielle made me promise that we would just focus on research."
Throughout the last 18 years, the organization has donated $25 million to more than 120 top physician-scientists in the hope of discovering effective therapeutic approaches that could replace, or be used in combination with, existing effective therapies. The foundation also funds research to improve the efficacy of cancer treatments, reduce their toxicity, and improve the quality of life of patients with leukemia or lymphoma. In 2012, the organization expanded its mission to fund cancer research in the United Kingdom with the creation of Gabrielle's Angel Foundation UK. "Today, I believe she would be alive today because of all the great research that is going on," Rich contends.
To honor some of the individuals who have made significant humanitarian and philanthropic contributions in support of cancer research, and of course, raise much needed funding, the foundation hosts a star-studded black-tie event every fall in Manhattan. Considered one of the premiere events of New York City's social scene, the Angel Ball features a slew of celebrity attendees, lively musical performances, a cocktail reception, seated dinner, and both live and online auctions. "Gabrielle did not want it to be a sad event. She wanted it to be a celebration of life. And because I'm a songwriter, she said, 'Get all your friends involved!' My daughter always believed that music heals the soul and that love defies all pain," Rich reveals.
This year's event—which takes place on October 20 at Cipriani Wall Street— will honor His Excellency Yousef Al Otaiba, United Arab Emirates Ambassador to the United States, and Abeer AL Otaiba; four-time NASCAR Cup Series champion, Jeff Gordon; Chief Executive Officer of Jynwel Capital Limited and Director of the Jynwel Charitable Foundation Limited, Jho Low; and Grammy Award-winning musician, Nile Rodgers. In addition to several surprise musical performances—last year's event featured Usher and Pharrell Williams—Rodgers is slated to take the stage with his band, Chic. "Nile gave me my first hit when we started writing songs. In 1985, I wrote a song called 'Frankie' and he produced it and Sister Sledge sang it. It became a big hit, and it started me on my music career," she recalls fondly. "We have been friends ever since and he is unbelievable. He's not only an incredible songwriter, musician, and producer, but he's also a great philanthropist."
Unlike other charity fundraisers, Rich says that the Angel Ball feels more like an intimate affair than a large-scaled event. "Usually, we have around 800 people and they come from all over the world. It is almost like a family event because 70 to 80 percent of the guests know each other already," she explains. "It is always a great event because the same people come back year after year." In addition to stellar musical performances, the evening also features touching speeches, inspirational stories, and of course, tales of life and loss. "It is very emotional, but I think that is why people like it," Rich divulges. "There are many, many people in the room who have lost somebody to cancer or who are not well themself. There is almost nobody in the world today that cancer has not touched. Every year, we come together to celebrate the memories of those who have passed, and also, to celebrate those who are fighting."
Subscribe to discover the best kept secrets in your city