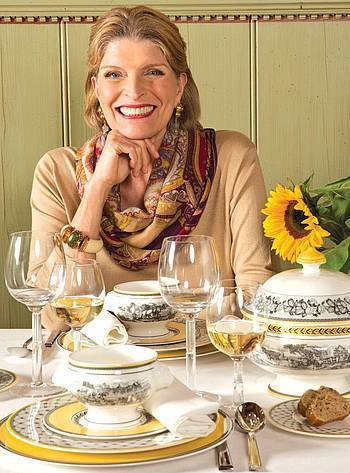 Photo Credit: Courtesy Villeroy & Boch
Fall is here and now is the perfect time to turn your attention away from outdoor barbecues to cozy evenings with friends and family. If you don't want to go through the trouble of hosting a formal sit-down dinner party, try a wine and cheese tasting. With just a few tabletop essentials and the right accompaniments you can easily create an unforgettable evening. Whether you have a palatial estate in the Belvedere, a Victorian in Pacific Heights or a condo in SoMa, you can host the perfect wine and cheese party when you follow these simple and elegant entertaining tips from Isabelle von Boch, Villeroy & Boch's in-house hospitality and entertaining expert and an eighth-generation von Boch family member.


 
Keep It Simple and Natural
When planning your fall soiree the most important thing to remember is to keep it simple – a relaxed hostess makes the evening more enjoyable for everyone. Host a tasting that reflects your entertaining style and let the season inspire you.
Plan Your Menu
Start by choosing a few great red and white wines and four or five fabulous cheeses. Try using a theme like "A Taste of Italy" or "A Tour of France" to make your selections even easier. Complete your spread with a good crusty baguette form your local bakery, some antipasti, and seasonal crudités. This is a menu anyone can handle and it gives your guests choices that are satisfying.
Create and Ambiance
Planning a wine and cheese party is more than just picking great pairings. Presentation is equally as important as what you put on the plate. Make your food pop with white serving pieces. A clean and modern serving platter provides the perfect canvas for any dish, and can easily be layered with vibrant linens and colored glassware.
Choose a white rustic dinnerware collection like Artesano which was inspired by the "farm-to-table" lifestyle. Arrange your serving station with a large serving platter in the center, various matching dip bowls and individual Artesano porcelain plates for an authentic artisanal look.

Photo Credit: Courtesy Villeroy & Boch
Layer basic white porcelain pieces with amber, smoke and burgundy glassware from the Color Concept collection on your table. These vibrant colorful glasses will help you bring Fall colors inside, and encourage guests to cleanse the palette between tastings, and to stay hydrated.
Color Concept glasses and bowls come in different sizes, so they are perfect as votive holders and for arranging seasonal floral accents on your serving station.

Photo Credit: Courtesy Villeroy & Boch
Keep it Glassy
Having the right wine glassware is just as important as having the right wine. Use quality crystal that will bring out the bouquets and aromas of the wines, and add casual elegance to your tasting and toasting. Versatile crystal sets from the Purismo range from Villeroy & Boch come in multiple styles and are an affordable way to accommodate all types of wines and your glassware needs. Designed in partnership with European sommeliers, Purismo crystal glasses are a sophisticated choice for everyday use and entertaining.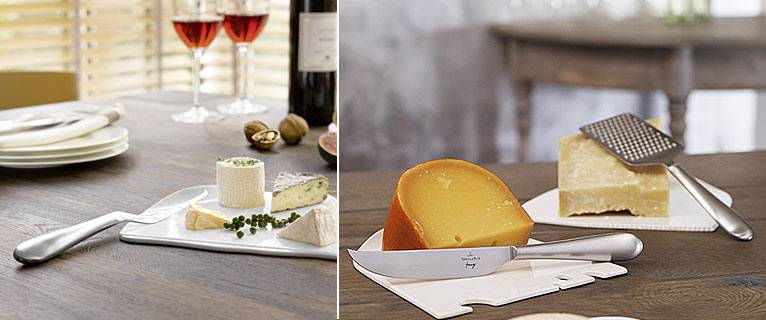 Photo Credit: Courtesy Villeroy & Boch
Knives are Everything
Each cheese needs its own knife. A soft cheese will have very different needs from a harder cheese. Choose a set that can accommodate all variations of cheese like the Kensington Fromage Cheese Knives. Paying attention to small details like this will really make your party stand out, and make your event effortless and stylish.
Like Haute Living San Francisco? Join our Facebook page or follow us on Twitter @HauteLivingMag. Want Haute Living San Francisco delivered to your inbox once a week? Sign up for our newsletter.