What do a philanthropist, a restaurateur, and Hollywood movie producer have in common? They make wishes come true.
Hollywood Director Brett Ratner bursts through two heavy doors, into philanthropist Al Malnik's spectacular Ocean Ridge mansion and makes a beeline for the mahogany-paneled fridge. "I need some grapes," says the director, famous for blockbusters like Rush Hour, Horrible Bosses, and Hercules. To the uninitiated, it might seem overly familiar, but for the director, he is home—and he knows that Malnik always has frozen grapes on hand, if not someone there to peel them.
Even though Al Malnik now lives two counties north of the Miami-Dade border, he called Miami Beach home for decades. Malnik and his family resided on North Bay Road where his son Shareef Malnik became pals with a young Brett Ratner, more than 15 years his junior. To his delight, Ratner was brought into the family and treated like a member of it.
He was even pressured to follow in the footsteps of Al and the rest of his clan and get a law degree. "Al has vision," says Ratner. "He said to me 'Why do you want to be a director? You can only direct one movie a year. If you have a law degree, you can be the head of a studio and make 20 movies a year!' Well, I didn't have to get the degree, but I am doing that with RatPac Entertainment."
Looking around the sprawling ocean front mansion, it's clear that thinking big is in Malnik's blood. The beaux-arts style estate includes a main house, pool, tennis court, and a gallery filled with towering Botero sculptures, ivories, and jades, and quality craftsmanship rarely seen anywhere in the world today. Throughout the property are elaborate woodcarvings, solid marble columns, and a collection of custom, one-of-a-kind and antique furnishings, which are attended by a sizable staff to insure it stays as pristine as the day it was created.
The elder Malnik's philosophy of doing things up and doing things right is one he passed down to Shareef, the first of his 11 children, and Ratner, of course, well known for taking over The Forge from his father in the early 1990s. Not only did Shareef keep the restaurant relevant and thriving (his father opened it in 1968), he has recently taken it to dizzying heights with a top-to-bottom renovation and the appointment of a Michelin-rated chef named Christopher Lee.
It was this same business savvy and sense of drama that led the younger Malnik to take the InterContinental® Miami Make-A-Wish gala to a new level. In its very first year Shareef attended the event—which is now celebrating its 20th anniversary—with guest of honor, Lee Schrager. "Lee said to me 'Hey, you really should get your dad over here,'" explains Shareef. The following year Al attended, and the Malnik family affair with Make-A-Wish began. They helped make the South Florida chapter of the charitable organization that grants wishes to children with life-threatening diseases into one of the strongest in the nation.
For Al Malnik, who became a lifetime benefactor for Make-A-Wish Southern Florida® along with his wife Nancy, there was something about the organization that spoke to him on a visceral level and simultaneously dovetailed with his personal philosophy. One of his own children got cancer—and survived. It wasn't just any cancer either; it was a rare type called acute myeloid leukemia, or AML, that typically strikes adults and can quickly be fatal.
"I have been so fortunate not only economically, but for having one of my own children survive a cancer," says Malnik. "That was death-defying. I feel it would almost be offensive for me to not do something for those who are less fortunate. And who could be more unfortunate than a kid who has been handed a likely death sentence? To be able to bring some happiness and some light into his life, and into this devastating period that I observed with my own child, is a blessing."
It is perhaps this connection to the cause that moved Al Malnik to donate $1 million in 2012 at the InterContinental Miami Make-A-Wish Ball.
The $2 million they raised last year is light-years ahead of the $300,000 the event was netting when Shareef became the gala's chairman in 2004. He's helped raise $14 million for Make-A-Wish Southern Florida since taking over, but it's never enough—Shareef pushes to make each year better and more profitable for the organization. "We want to raise as much money as possible, because money equals wishes," he says.
This means calling on everyone in his Rolodex to chip in, especially Ratner. "Every year I get the same call," says Ratner. "'Brett, who are you bringing down to Make-A-Wish?' I have to come through for them." Over the years, the gala has drawn top talent and celebrities to attend, perform, or host the auction. Boldface names have included Sharon Stone, Pamela Anderson, Kim Kardashian, Adrian Grenier and last year's performer, Adam Lambert. This year's performance will be served up by disco and Motown legend, Diana Ross.
That fun, sexy, celebrity quotient is the other part of the equation that makes Make-A-Wish work. "Everybody has to have the best night they've ever had to keep them coming back," explains Shareef. "Charitable organizations typically are very thrifty and they think they need to get everything for free, or very cheap. [The problem is] that by not spending a lot of money, you wind up with [fewer granted] wishes. I decided we had to look at this as a business and invest in it. At the end of the day if that nets more wishes, we did the right thing."
He doesn't only treat it like a business; he treats it like a job. During the rest of the year when the spotlight isn't on, Shareef is still busy working on the event and with the organization to help any way he can. He comes up with great ideas like the "Chairman's Challenge," a group of 25 donors he put together who each contribute over a five-year period more than $125,000. But he doesn't do it alone. Much of the work is done with Norman Wedderburn, the president and CEO of Make-A-Wish Southern Florida, and InterContinental general manager, Robert Hill. When Malnik, Wedderburn and Hill get together, as they often do both socially and to plan the big event, they refer to themselves as the "Three Amigos."
Like the actors in the original movie, they help bring smiles not only to the faces of countless young people, but also to those who attend the gala, known by those on the charity circuit as the most fun in town. This year, for the gala's 20th anniversary of the InterContinental Miami Make-A-Wish Ball, they have chosen a magical "Oz" theme, which works perfectly with the selection of Ross to perform. After all, she did play Dorothy in the 1978 movie, The Wiz.
"I will be the wizard on November 1st," says Shareef. He won't yet reveal the onstage antics he has planned with his new fiancée, Gabrielle Anwar, who has emceed the auction for the last three years. "Gabrielle brings such an interesting skill set to the ball. She's helped us take it to the next level. Her wit, humor, creativity, and artistry really have helped break the ice and move the crowd," he gushes.
"Sounds like a man in love," teases his father good-naturedly. But for the Malniks, raising money for their favorite cause is no laughing matter. Especially when Make-A-Wish Southern Florida is so close to granting its 10,000th wish.
"Al has been making wishes come true for people since I was born," says Ratner who claims he first learned what philanthropy was from Malnik.
Not surprisingly, it was Malnik that set his honorary brood member on the path to success by financing Ratner's first film. "My first wish was to make a short film, and he made that happen. Al makes peoples wishes come true on a daily basis."
But Al Malnik's generosity doesn't stop at his favorite charity. He also set up a research program at the Dana-Farber Cancer Institute to work on finding a cure for the AML cancer his child survived. "I provided the funding for several doctors on a full-time basis to work on it," he says.
In addition to philanthropy, Malnik's most satisfying accomplishment is his family. "You can't imagine how proud of Shareef I am," his father says. "He's an ideal person in so many respects and Make-A-Wish is just one important facet of his life that occupies his time, energy, and purpose."
He's also clearly still smitten with his wife, the beautiful and engaging Nancy Malnik, with whom he's had six children. "I'm married to an amazing woman," he says. There are the 16-year-old triplets: Jarod, Spencer, and Nathan; nine-year-old son Jesse, and eight-year-old twins, Noah and Sterling.
The family splits their time between California, Colorado, and the family home in Ocean Ridge, Florida, where their proximity to Palm Beach takes them into town quite often. "I was in love with Miami Beach, then Boca Raton, and now Palm Beach," says Al. "But really, all of South Florida is a beyond fabulous, dreamlike place to live. I am so privileged to live on the ocean and have my own beach."
Indeed, he couldn't wish for anything more, so he spends his time answering other people's wishes. "I have always wished there was someone that I could have gone to for help, but there was not. That is why I'm so happy I can be that person for others."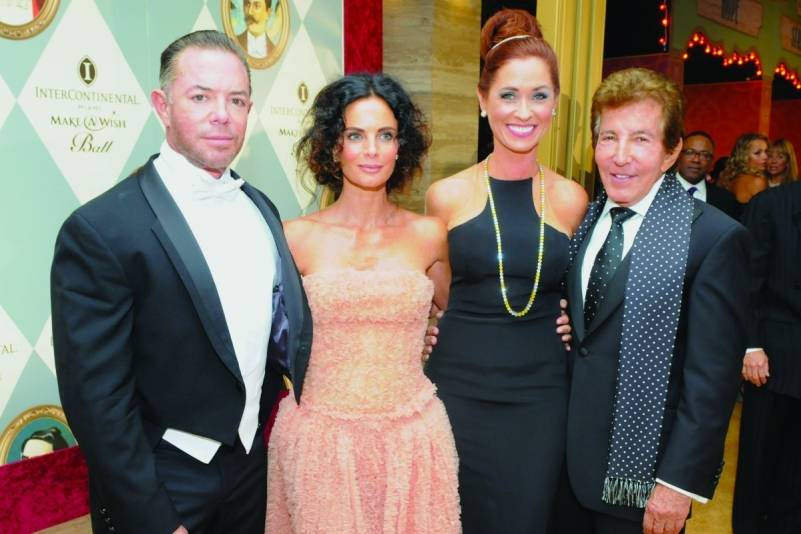 The ball is sold out, but tickets to the Make-A-Wish Nightclub are still available here.
Photography by Brett Ratner
Grooming by Peggy at South Beach Makeup Studio
Subscribe to discover the best kept secrets in your city