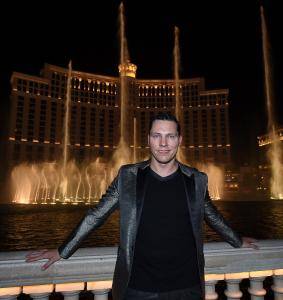 DJ and producer Tiësto brought the iconic Fountains of Bellagio to life with a never-before-heard medley of three songs off his new album, A Town Called Paradise, on Wednesday night. "Footprints," "Rocky" and "Red Lights" serve as the soundtrack to the newest show choreographed by WET, the original fountain creators.
"Las Vegas is like my second home and I'm excited to leave a permanent mark on the city I love," said Tiësto. "The Fountains of Bellagio bring my songs to life in a new and dynamic way that I can't wait for my fans to experience."
The medley is the first compilation created specifically for the Fountains of Bellagio and the only show set to electronic dance music. This is also the first time a composer has collaborated with WET on show choreography for the Bellagio Fountains.
Randy Morton, President and COO of Bellagio, said, "We're thrilled to have Tiësto contribute his talent to our very special Fountains. The collaboration of these two Las Vegas icons will introduce Bellagio to an entirely new audience."
The show was taken from inception to completion by Peter Kopik, Executive Designer & Director of Choreography at WET, with Tiësto and Kopik spending time at the company's California studio as well as on site programming at Bellagio. The mix includes elements exclusively added for the Fountains show and is a spectacle that will appeal to all.
Kopik said, "It was a new challenge to translate Tiësto's fast-paced beats in to Fountain choreography. Instead of starting off slow as the other shows do, this performance begins with an explosive burst from the Fountains, bringing a new energy to the show."
The Fountains of Bellagio is complimentary with daily performances that rotate more than 30 songs.