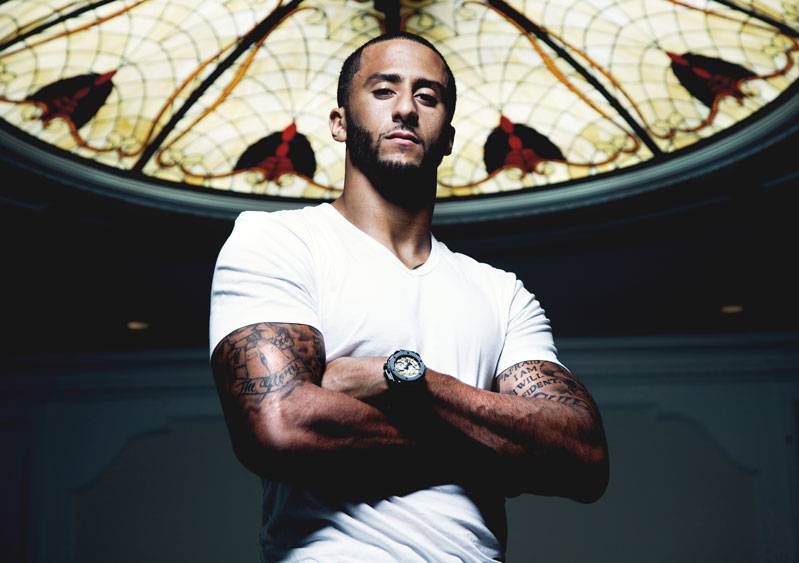 Watch: Hublot Big Bang Ferrari Ceramic, $29,800
(all timepieces shown available at Hublot Boutique Beverly Hills,
(310) 550-0595); Tee, Calvin Klein V-neck undershirt , $19
Admit it, you're jealous of Colin Kaepernick. Men might envy his 6'4 frame, 230 pounds of solid muscle and new contract—worth up to $126 million with $61 million guaranteed—but both men and women alike will most certainly turn pea green with envy when they hear about the size of his… closet. That's right; Colin Kaepernick has a passion for fashion, and he isn't afraid to indulge it. "I have two rooms full of shoes, plus my normal closet," the San Francisco 49ers starting quarterback confesses, albeit a little sheepishly. "I probably have upwards of 400 pairs of shoes."
The coolest thing about Colin's closet(s) is that he doesn't discriminate—to him, style is much more than just a label. "I pick things I like," he maintains. "There's quite a few things in my closet that are pretty expensive, but nothing too ridiculous. The brand isn't necessarily important. " He isn't joking: despite an insistent probe of his personal mini-mall, the only specific item the 26-year-old will admit to liking is his Air Jordan 13 "He Got Game" kicks, because the shoe references "one of my favorite movies of all time."
Still, anyone with taste knows that that Kaepernick is one of the most stylish players in the NFL. He's often spotted on red carpets rocking sleek leather jackets by Sandro, or achingly hip Christian Louboutin sneakers with Acne trousers—he's even sported a Patrik Ervell peacoat (and pulled it off perfectly). To Kaepernick, fashion is just another form of self-expression—and he refuses to hold anything back when it comes to showing the world what he's all about. "Fashion is very important to me," he admits. "It's another way you're able to express yourself; a way of branding yourself. For the most part, a lot of the stuff I like to wear is edgy, and might push the envelope a little. Other times, I can be very clean-cut, or urban. It depends on where I'm going and how I'm feeling." He continues, "Things that fit me, that fit my edge, might make other people feel uncomfortable. I've gone into press conferences with snapbacks and vests, which isn't traditionally what people expect from a franchise quarterback. But it's part of who I am—part of my style. The other side of the coin is that I can wear a shirt and tie and look nice and professional. To me, what I wear can show a little bit of who I really am. I'm different."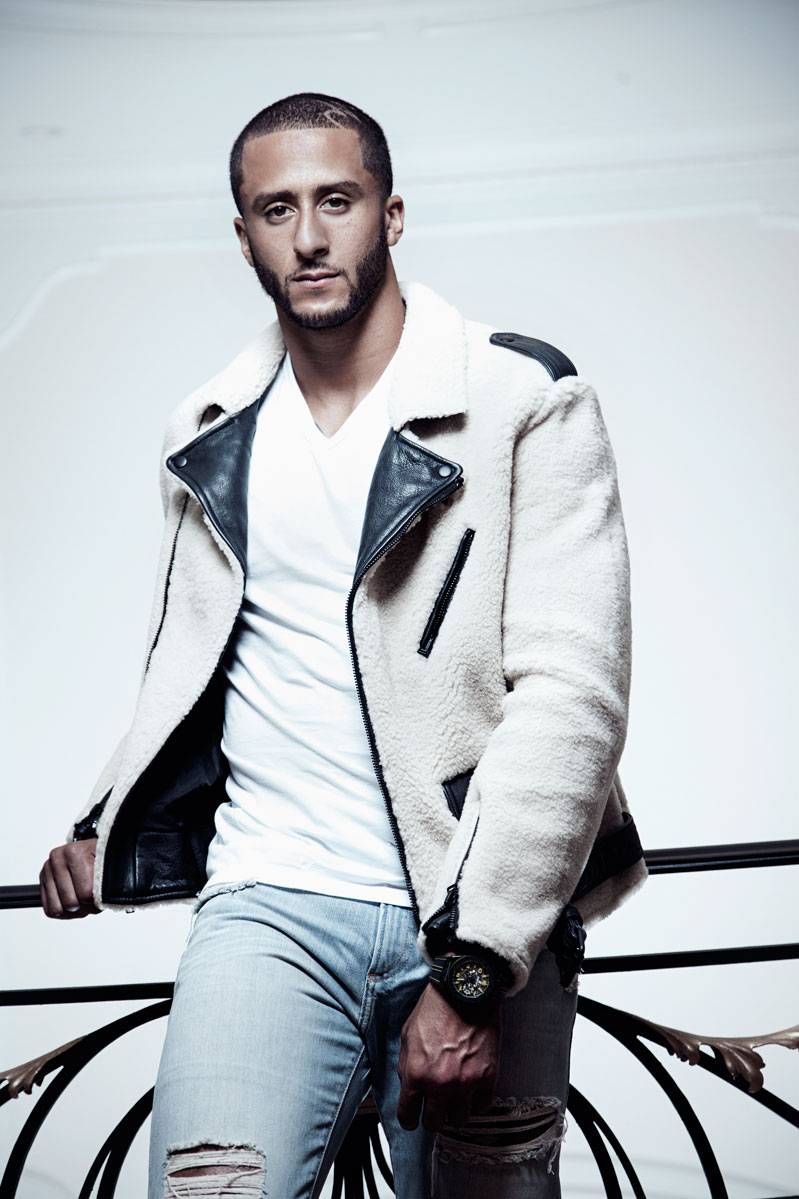 Jacket: Phillip Lim 3.1  motorcycle jacket with multi-zip pockets, $2950;
Tee, Calvin Klein; Denim, Denim: Gap 1969 destructed wash, $70;
Watch, Hublot Big Bang Ferrari Ceramic, $29,800
But who is the real Colin Kaepernick? Is he the adopted son of a loving family who urged him to chase his dreams? You bet. Was he the golden boy at John H. Pitman High School in Turlock, California with a reported 4.0 grade point average who also happened to be a three-sport star? Absolutely. Is it true that he was selected by the Chicago Cubs in the 43rd round of the 2009 Major League Baseball draft, but chose to pursue his love of football at the University of Nevada instead? Yep, that's also a fact. These details are all part of the man—they help to describe him, but they do not solely define him.
Take his tattoos, for example. Currently, Kaepernick sports 13 intricate pieces of body art, with imminent plans to get more. But again, though the ink is part of him, it does not neatly summarize him. "[My tattoos] are another way of expressing who I am and what I believe," he says. "It's part of my brand, how people know me. I'm one of the first quarterbacks to be heavily tattooed, which makes some people uncomfortable. The prototype of a franchise quarterback isn't supposed to [be like] that. But why can't I do this if I'm just expressing myself?"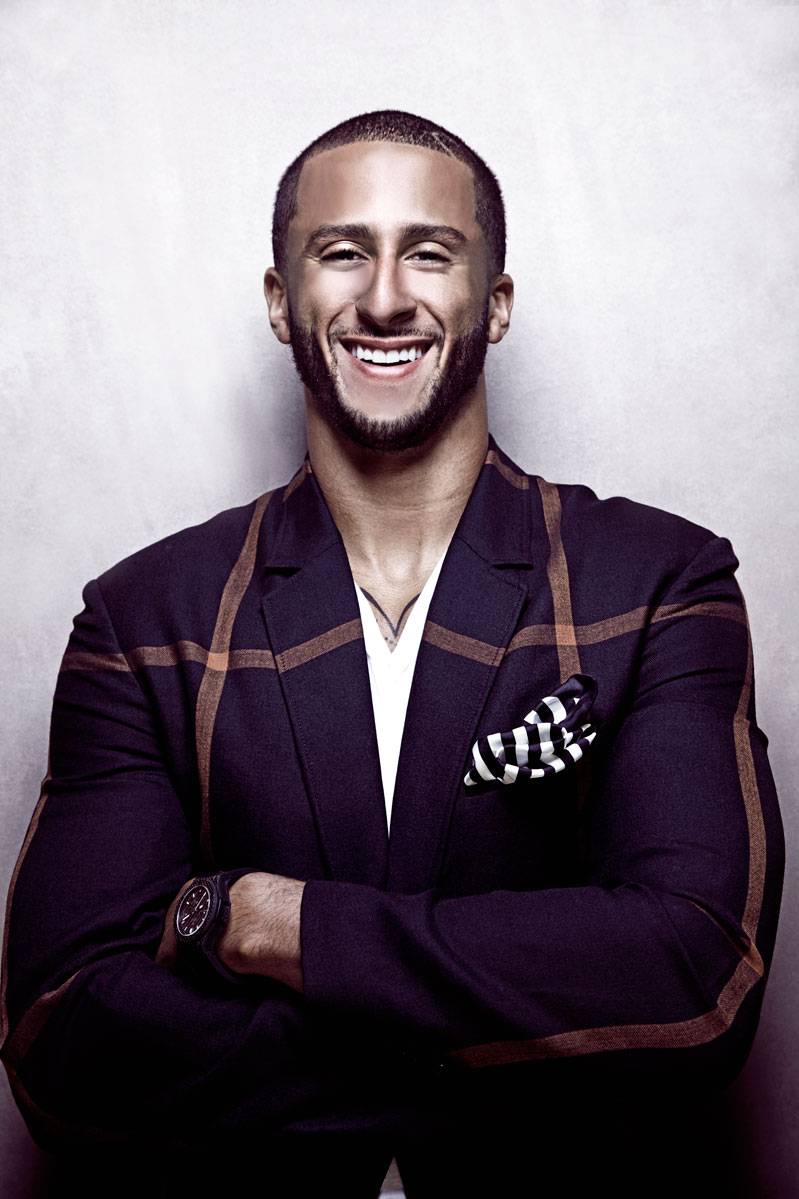 Suit: Phillip Lim 3.1, $1250
Tee: Calvin Klein V-neck undershirt, $19
Pocket square: Tom Ford striped pocket square,  $120
Watch: Hublot Big Bang King Automatic Ceramic, $17,100.00
The NFL star's most recent bit of self-expression caused quite the commotion back in July. He proudly posted his new ink on Instagram—a pile of money attached to the root of a tree interwoven with an arm holding an apple that is constricted by a snake—a Biblical reference to Adam, Eve, and the Garden of Eden. Along with the image, he also posted the caption, "Money is the root of all evil!" which many a naysayer found hard to believe from the man who had just signed such a substantial deal.
"My latest tattoo isn't just a reminder to me, but also a reminder to everyone that money isn't what's most important," Kaepernick is quick to clarify. "A lot of times, money will drive people to do things that are out of character—out of the norm; I don't want to be one of those people that money changes—I don't want to become someone I'm not. I want to stay true to myself whether I have ten dollars or a million. [This tattoo] is a reminder that people look at me differently now. Since I've been in the NFL, people ask different things of me for the simple [reason] that I have the financial means to help them." Another of his tattoos sums up his feelings about the matter perfectly: written on the inside of one of his biceps is 'My gift and my curse.'"This is truer than ever, especially at this point in my life," he says. "The gift I have is to play football and how far it's brought me is truly a blessing. There are a lot of positive things that come with it: success and financial gain, that help my family and me. At the same time, it's also a curse. Expectations of you change, and perceptions of you change, whether you change as a person or not.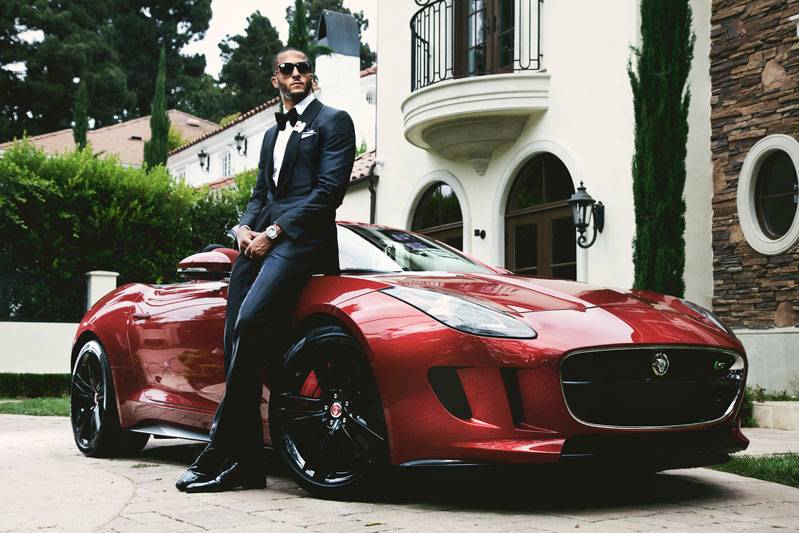 Ermenelgido Zegna Shawl Collar Tuxedo, $2795
Shirt: Ermenelgido Zegna formal shirt, $395
Bow Tie: Tom Ford grosgain bow-tie, $175
Pocket Square: Pocket Square Clothing "The Merrow", $25
Shoes: Ferragamo patent leather tuxedo shoe $,640
Lapel Pins: Vintage (stylists own)
Socks: Paul Smith multistripe sock, $30
Watch: Hublot Big Bang Steel Pave, $32,600
You're critiqued and scrutinized for everything that you do, and you no longer necessarily have the opportunity to live a normal lifestyle. I used to be able to walk down the street with my friends, keep to myself and go about my business, which isn't something I can do anymore. It's still something I have to get used to," he admits. Kaepernick wants to be clear that he's not complaining—like his favorite tattoo implies, life is all about a balance of the bad and the good. "There's positive things to be taken away from any situation—no matter how bad it might seem at the time," he notes. "You can turn any negative situation into a positive by learning from it, or using it as a motivator."
Take, for example, his involvement with Camp Taylor, an organization that offers several programs for youth suffering from heart disease, as well as support for their families. The NFL star wanted to do so something philanthropic to honor the two brothers his parents Rick and Teresa Kaepernick lost to the disease prior to his adoption, and so committed himself to the charity. He not only raises funds and awareness by visiting the organization's "heart camp," but also by hosting the annual "Against All Odds" golf tournament. "My first big philanthropic endeavor was with Camp Taylor. I wanted to help people that are going through rough times, who are struggling and might have been dealt a bad hand in life. I wanted the opportunity to help them overcome, and go through those things with a positive outlook," he says.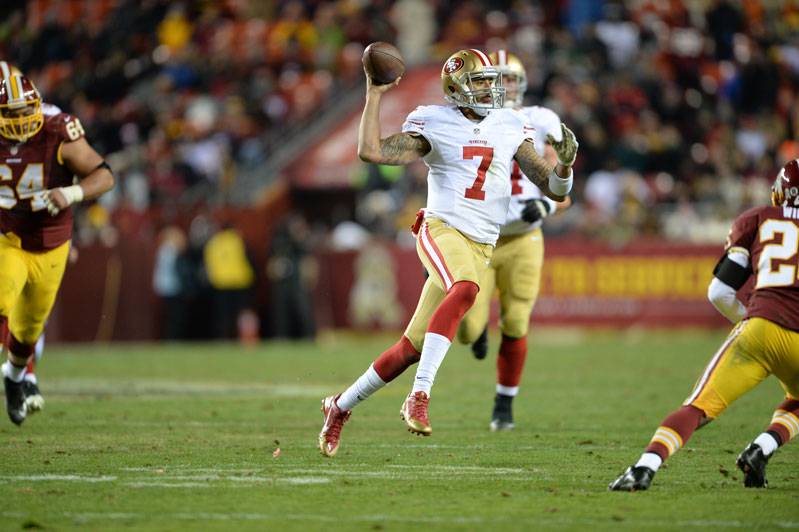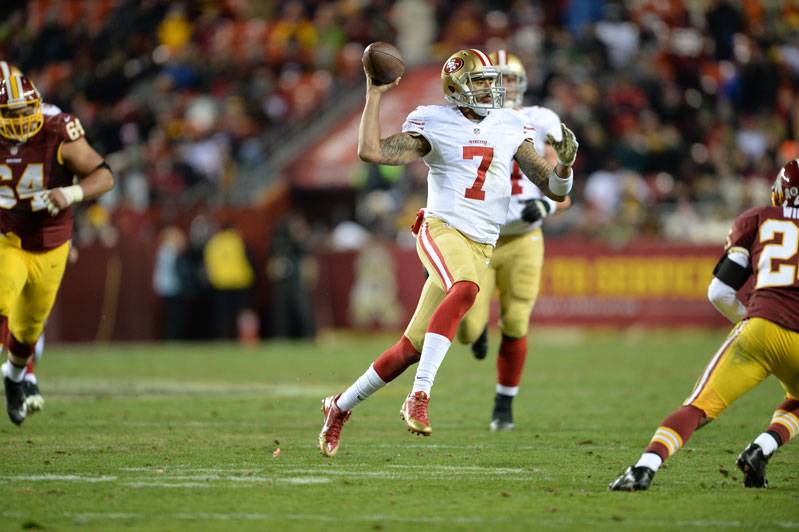 That said, a guy with such a favorable viewpoint would understandably refuse to have regrets. Each tattoo, each fashion choice, and even the decision to stick with football over baseball or a promising career in business management has shaped the man he is today. "I don't have any regrets about anything that's gone on in my life, or decisions I've made," he swears. "If I hadn't gone through certain struggles, I wouldn't have the same outlook that I have today, and I might not be in the same place that I am today."
He reveals that, in the distant future, he'd like to start a side venture such as a restaurant or a clothing line. At some point, you might even see him on TV in a non-football capacity. "I'm open to pretty much anything; I'd be willing to do [TV]," he says, revealing, "I've been asked to appear in a movie before, and "Dancing with the Stars" has approached me, too. I don't want to say [that I'll never do it], but I wouldn't say it's a top priority by any means." Unsurprisingly, given that he's a 26-year-old athlete at the peak of his career, dating isn't a current focus either. "I'm single right now," he says. "I'm open to whatever, but it's not something I'm necessarily looking for."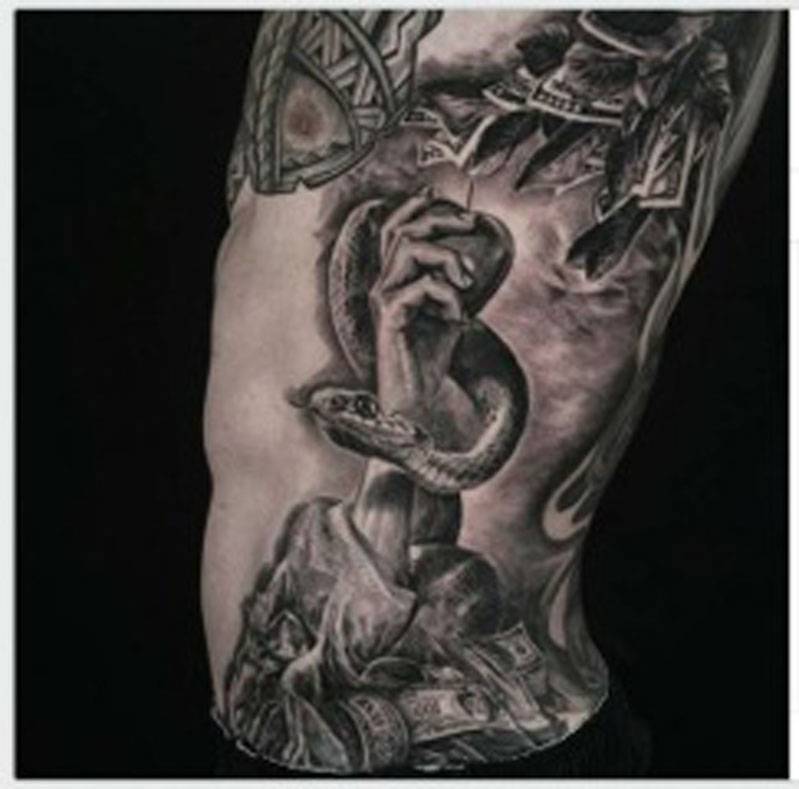 Still, if Beyonce Knowles becomes available one day, she'll know who to call. "When I was growing up, Beyonce was the dream girl for me," he recalls, adding with a laugh, "Jay-Z stole my thunder when they got married, but she's still up there on my list!" For now, Kaepernick is enjoying the moment: celebrating his new contract, enjoying being a spokesman for brands like Jaguar, Beats by Dre, Nike and New Era, and getting back to the business he loves so much: football. That said, he's starting the 2014-2015 NFL season with only one goal in mind. "I try to focus on right now, and what I can do to make this moment in time the best. My only focus right now is getting that Super Bowl ring!"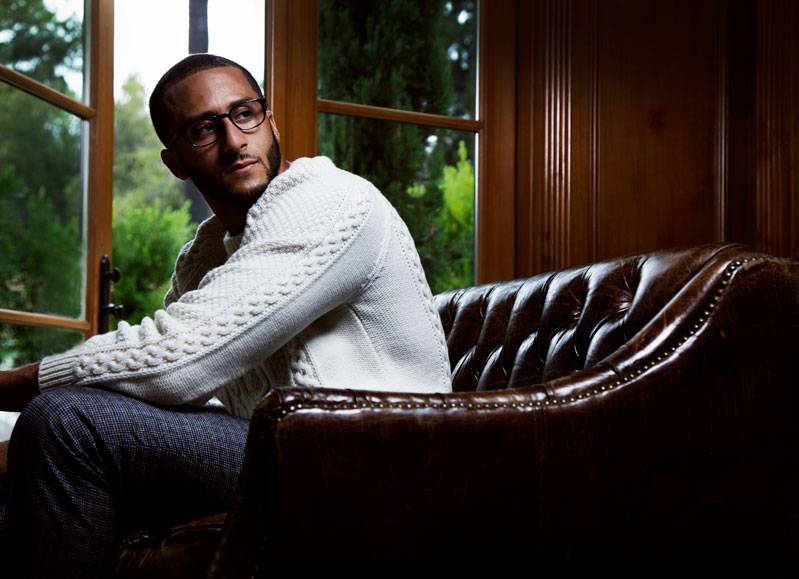 Sweater: Alexander McQueen
Trousers: Topman
Boots: Grenson
Optical: Gucci
Bracelets: Miansai
Watch: Hublot Big Bang King
Subscribe to discover the best kept secrets in your city