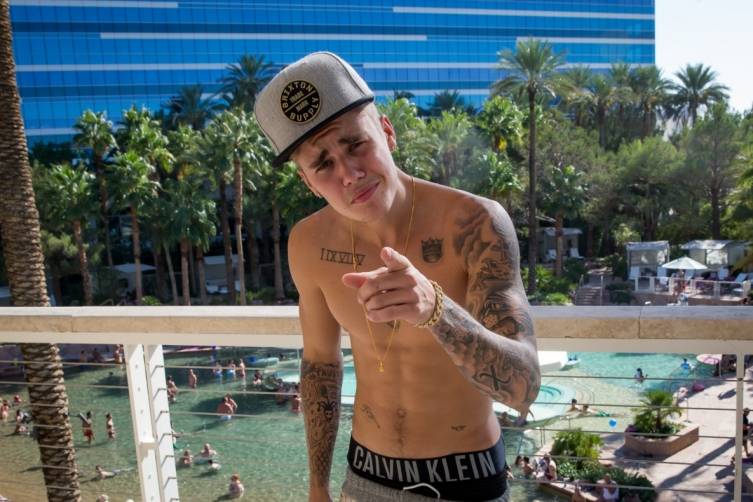 Singer Justin Bieber returned to Hard Rock Hotel with an entourage of friends on Friday. The group made their routine trip to Nobu Las Vegas for lunch, before heading up to Bieber's three-bedroom, penthouse suite.
French Montana hosted at Vanity Nightclub on Friday night. The rapper arrived around 2 a.m. and posed for photos on the red carpet. Montana hopped on stage, where he seemed to hang back and keep a low profile prior to performing his hit songs "Pop That" and "Ain't Worried About Nothin'." Notable guests included TV Johnny; professional rappers Yo Gotti and Red Café; boxers Zab Judah and Danny García; and more. About an hour later, French Montana headed out of the nightclub to meet up with Bieber for a get-together in his suite.
On Saturday, Selena Gomez checked into Hard Rock Hotel and joined Bieber at the property's Breathe Pool. Internet personality Liane V posted a photo with Gomez and two other girls saying, "Pool time! @HardRockHotelLv," on Instagram and Twitter. Additional guests included director Alfredo Flores; singer and songwriter Jason "PooBear" Boyd; internet personality Rudy Mancuso; and more.
Below Breathe Pool, Bieber's official deejay, DJ Tay James, warmed up the crowd for SchoolBoy Q at Las Vegas' original dayclub Rehab. The hip-hop artist took over venue to perform "Studio," his verse in Tinashe's "2 On" and more before partying on the poolside stage. Rappers Khalil, Maejor Ali, Blake Kelley and Fabolous were spotted hanging out at the venue.
Like Haute Living Las Vegas? Join our Facebook page or follow us on Twitter. Want Haute Living Las Vegas delivered to your in box once a week? Sign up for our newsletter.
09.12_French Montana at Vanity_Hard Rock Hotel_Photo credit Adam Amar_2
09.12_French Montana at Vanity_Hard Rock Hotel_Photo credit Adam Amar_3
09.12_French Montana at Vanity_Hard Rock Hotel_Photo credit Adam Amar_4
09.12_French Montana at Vanity_Hard Rock Hotel_Photo credit Adam Amar_5
09.12_French Montana at Vanity_Hard Rock Hotel_Photo credit Adam Amar_6
09.12_French Montana at Vanity_Hard Rock Hotel_Photo credit Adam Amar_7
09.12_French Montana at Vanity_Hard Rock Hotel_Photo credit Adam Amar_8
09.12_French Montana at Vanity_Hard Rock Hotel_Photo credit Adam Amar
09.13_DJ Tay James at REHAB_Hard Rock Hotel_Photo credit Adam Amar
09.13_Fabolous at REHAB_Hard Rock Hotel_Photo credit Adam Amar_2
09.13_Fabolous at REHAB_Hard Rock Hotel_Photo credit Adam Amar_3
09.13_Fabolous at REHAB_Hard Rock Hotel_Photo credit Adam Amar
09.13_Justin Bieber at Breathe Pool_Hard Rock Hotel_Photo credit Erik Kabik_2
09.13_Justin Bieber at Breathe Pool_Hard Rock Hotel_Photo credit Erik Kabik_3
09.13_Justin Bieber at Breathe Pool_Hard Rock Hotel_Photo credit Erik Kabik
09.13_Khalil, Blake Kelly & Maejor Ali at REHAB_Hard Rock Hotel_Photo credit Adam Amar
09.13_SchoolBoy Q at REHAB_Hard Rock Hotel_Photo credit Adam Amar_2
09.13_SchoolBoy Q at REHAB_Hard Rock Hotel_Photo credit Adam Amar_3
09.13_SchoolBoy Q at REHAB_Hard Rock Hotel_Photo credit Adam Amar_4
09.13_SchoolBoy Q at REHAB_Hard Rock Hotel_Photo credit Adam Amar_5
09.13_SchoolBoy Q at REHAB_Hard Rock Hotel_Photo credit Adam Amar
Subscribe to discover the best kept secrets in your city