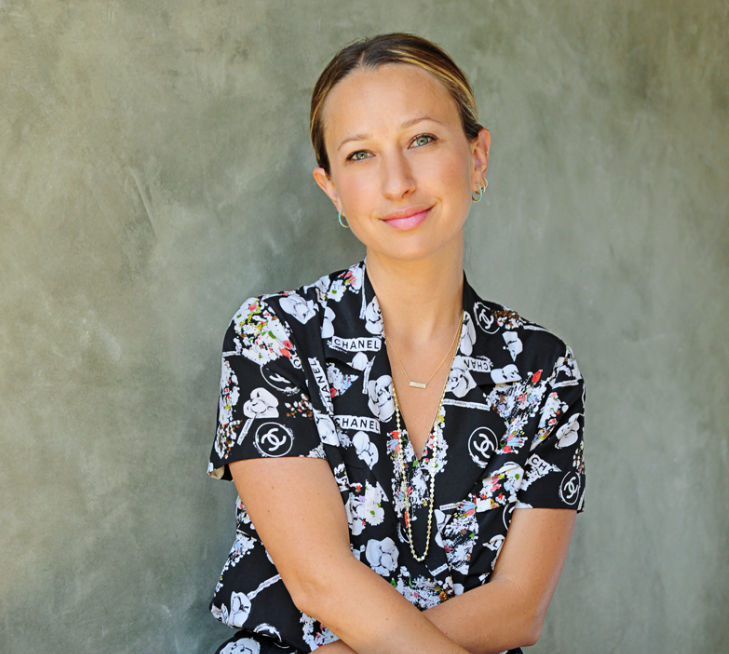 When George Eliot said, "These gems have life in them: their colors speak, say what words fail of," she could have been speaking directly to Jennifer Meyer, a jeweler who truly tries to tell a story with every single handmade creation.
The 37-year-old designer has designed personalized pieces for everyone from husband Tobey Maguire, to famous friends like Jennifer Aniston, Isla Fisher, and Courteney Cox. It makes perfect sense that Meyer's large social network should flaunt her designs—after all, her pals are often the inspiration behind her accoutrements.
"I'm really inspired by my friends and the way they layer their jewelry with classic pieces as well as with my pieces," Meyer admits, adding, "I'm really focused on continuing to make pieces that you can wear forever and with all the other things that you love."
Marrying her mutual passions for fashion and creation was a dream realized, though never one that Meyer believed would see the light of day. Aside from helping her artist grandmother do some enameling as a child, her jewelry-making experience was nil.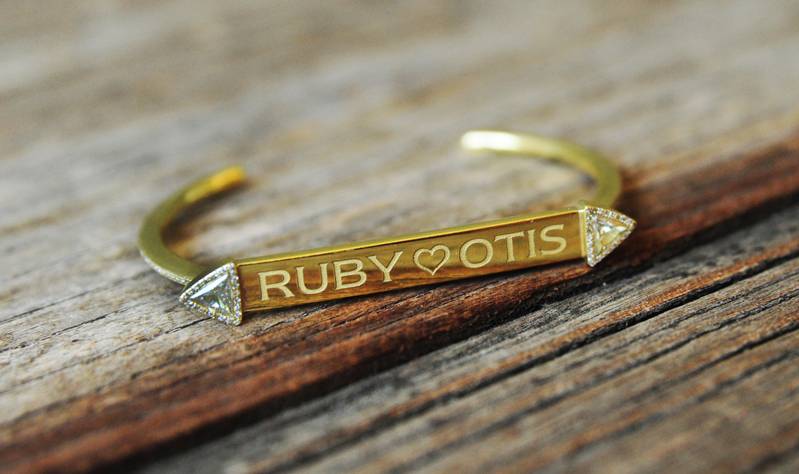 "My grandmother was an artist and did enameling. She had a little apartment, and in her tiny little kitchen, she had a kiln. We used to sit there when I was six years old and she'd let me choose the colors and bake the pieces and create a necklace, or a ring, or a little piece of art. But I did that with her, to be with her," Meyer explains. "She was always the artist in our family. I never assumed I'd do anything like that."
What she did know was that she always loved jewelry, so armed with that knowledge, she sought to be around those who created as a publicist for both Giorgio Armani and Ralph Lauren. It wasn't enough—she wanted more.
"Obviously Giorgio Armani and Ralph Lauren are incredible, but throughout [my time working for them] I'd always think, 'I'd love to know how to make jewelry.' I didn't think that unless you had gone to school and studied that you could do it, though."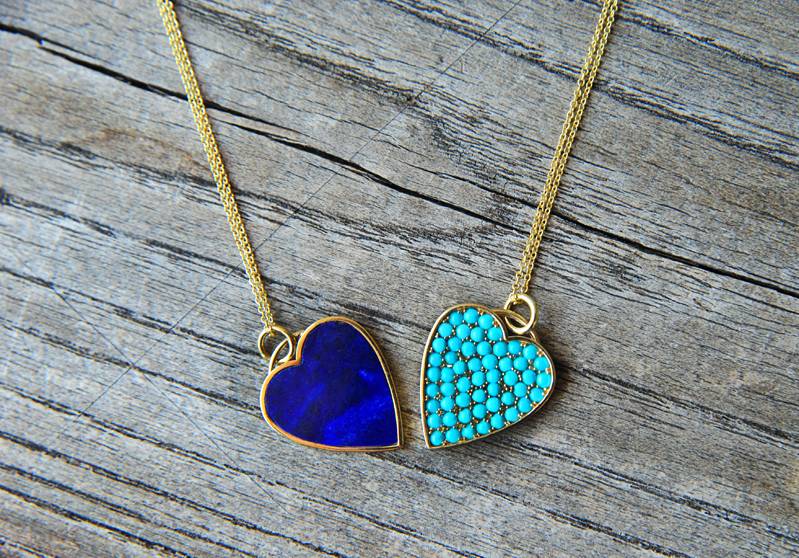 It was a very pointed question from her husband that set Meyer on her path to greatness. "My boyfriend at the time—who I then married—said to me, 'What do you want to do?' I said, 'I want to design jewelry.' He said, 'So design jewelry.'"
It was as simple as that—the will to try, that is. It's often said that where there's a will, there's a way, and Meyer certainly had that drive to succeed. "There's a Star Wars quote that I have in my office that says, 'Do or do not. There is no try.' Don't just try to do it; do it. If it doesn't work, it doesn't work, but at least you have to try. That was the beginning," she recalls.
Meyer threw herself into the task of learning to create with calculated abandon. "I just sort of taught myself," she admits with a shrug. "I did everything. I read books; I spent hours at the bookstore. I went knocking on every door in Culver City, Beverly Hills and downtown L.A. that said 'jeweler' on the door. I didn't even know what a mold was then.
"I figured out the pieces that I loved, sketched a design that I liked, and figured out how much I could afford," she continues. "I saved up my money over a period of time an figured, 'What better way to blow your savings on than your dream?'"
Thus, her signature piece—a leaf, signifying the new leaf she was turning over—was born. A venture that started with Meyer sitting on her living room floor, putting her accessories into Ziploc bags by hand has evolved into a red carpet staple for the celebrity set that is sold at top retailers like Barneys and Net-A-Porter. It has evolved into collaborations with J. Crew and Rachel Zoe, the latter of which—a limited-edition collection of three 18-karat gold luck charms—sold out within 24 hours.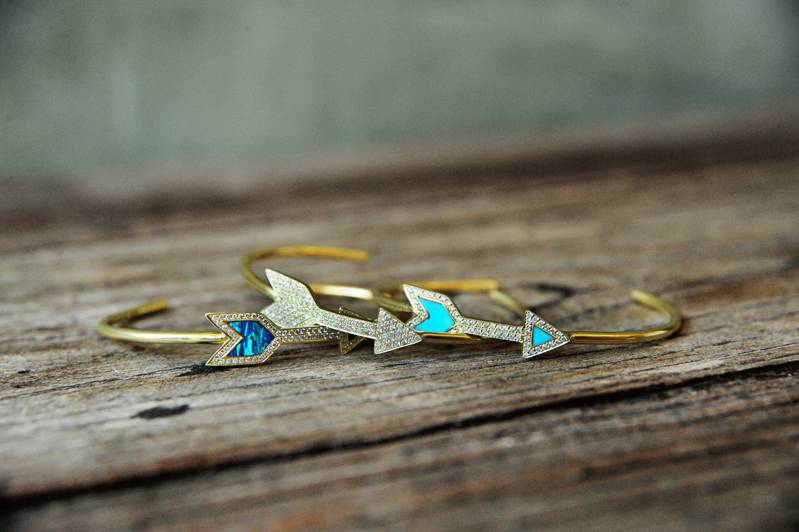 "Rachel and I have worked together for a long time. She's an incredible, amazing, supportive friend and colleague. She said she was launching the Zoe Collective, and asked me if I would launch it with her [in] collaboration. I thought it would be fun to do a few pieces with her."
Though there are no imminent plans for another collaboration, Meyer is confident that she'll be working with another friend (or more) in the future. "I love doing things with my friends. What's better? You just figure out what's best for you and how you can do it in the most beautiful and accessible way possible."
This is what sets Jennifer Meyer apart from her peers: each of her pieces is handmade, with love. Whether she's creating for charity—she donated 100% of the proceeds of a star design she made specifically to the program Stand Up to Cancer—or for those she loves, each of her designs has special meaning.
That includes the matching wedding bands she created for herself and Maguire, her husband of seven years. "My husband doesn't wear jewelry, but I did create his wedding band," she confides, adding, "We eloped, so we didn't have rings with us; we had to get something in the moment. I thought those would just be our rings, and he said, 'Obviously you're going to design me a ring.' I said, 'I am?' and he said, 'Yeah.' I always keep the one we got married with, just because it's so sentimental to me, but I did design one for both of us. He just loved it."
She's also set aside some personal pieces for the couple's first child, 7-year-old Ruby Sweetheart (they are also the parents of son Otis Tobias, 5). Though one might expect that a woman who creates jewelry for a living might have named her daughter after a precious gem, Meyer is quick to clarify that this isn't the case.
"She felt like a little, perfect, shiny, red, bubbly, yummy girl bouncing in my belly, and I've always loved the name 'Ruby,'" she says.
As for her favorite gemstone, Meyer does admit to being "a little partial when I see a great ruby, because it reminds me of my girl. I love all gemstones though—what girl doesn't like diamonds?"
Subscribe to discover the best kept secrets in your city