Last month we revealed where to frolic in Bermuda—now, we're here to tell you where to feast on the decadent island.
It might be small in size, but Devil's Isle is salted with a slew of delectable eateries. And though we unfortunately can't say we stayed long enough to sample them all, we did have the opportunity to dine at a diverse selection of the island's top food sites.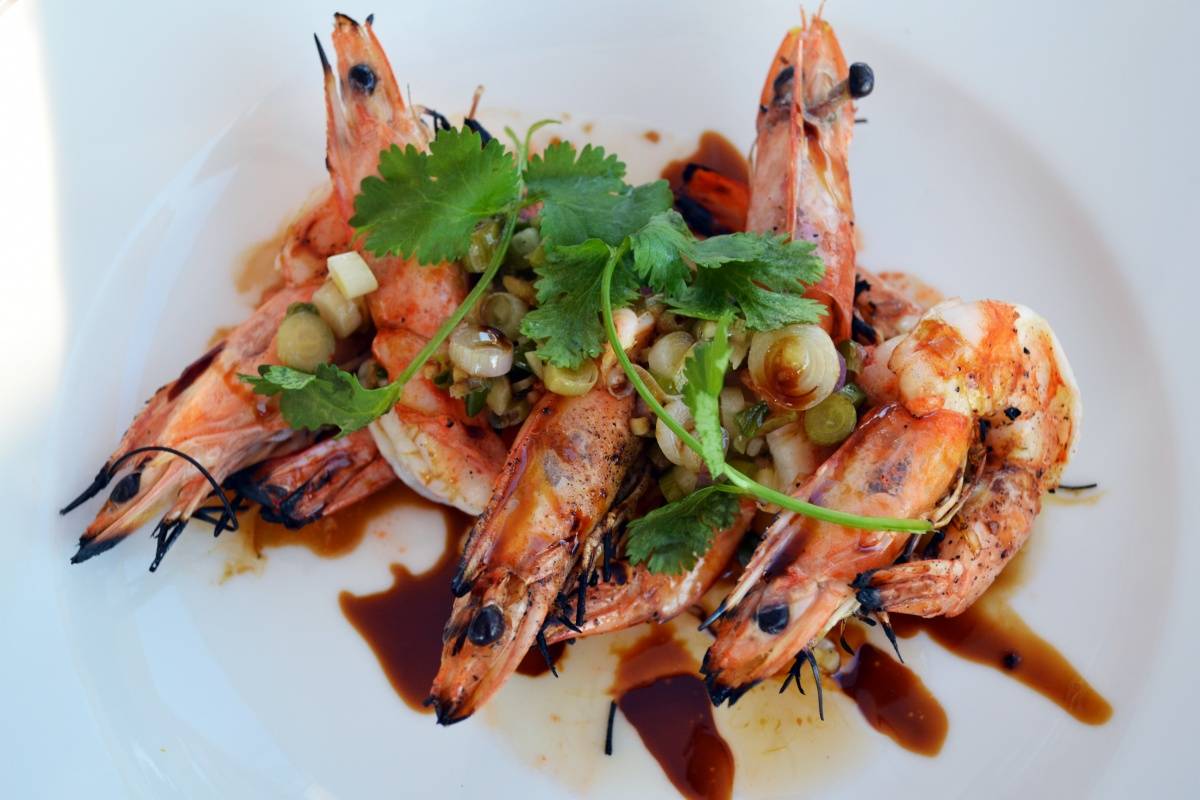 Scroll down for a handful of the top places to grab some grub on the flavorful island according to our palates, from a hole-in-the-wall sandwich spot adored by natives, to the country's most historic—and quite possibly priciest—restaurant.
To boot, we present a unique Q&A with award-winning chef Marcus Samuelsson, who dishes on his new signature restaurant, set to debut at our favorite Bermudian hotel—the Fairmont Hamilton Princess—next spring.
#1: The Hole-in-the-Wall
We dare you to attempt chowing down this mouthwatering monstrosity from Art Mels Spicy Dicy—a tiny locale popular among the locals—all on your own.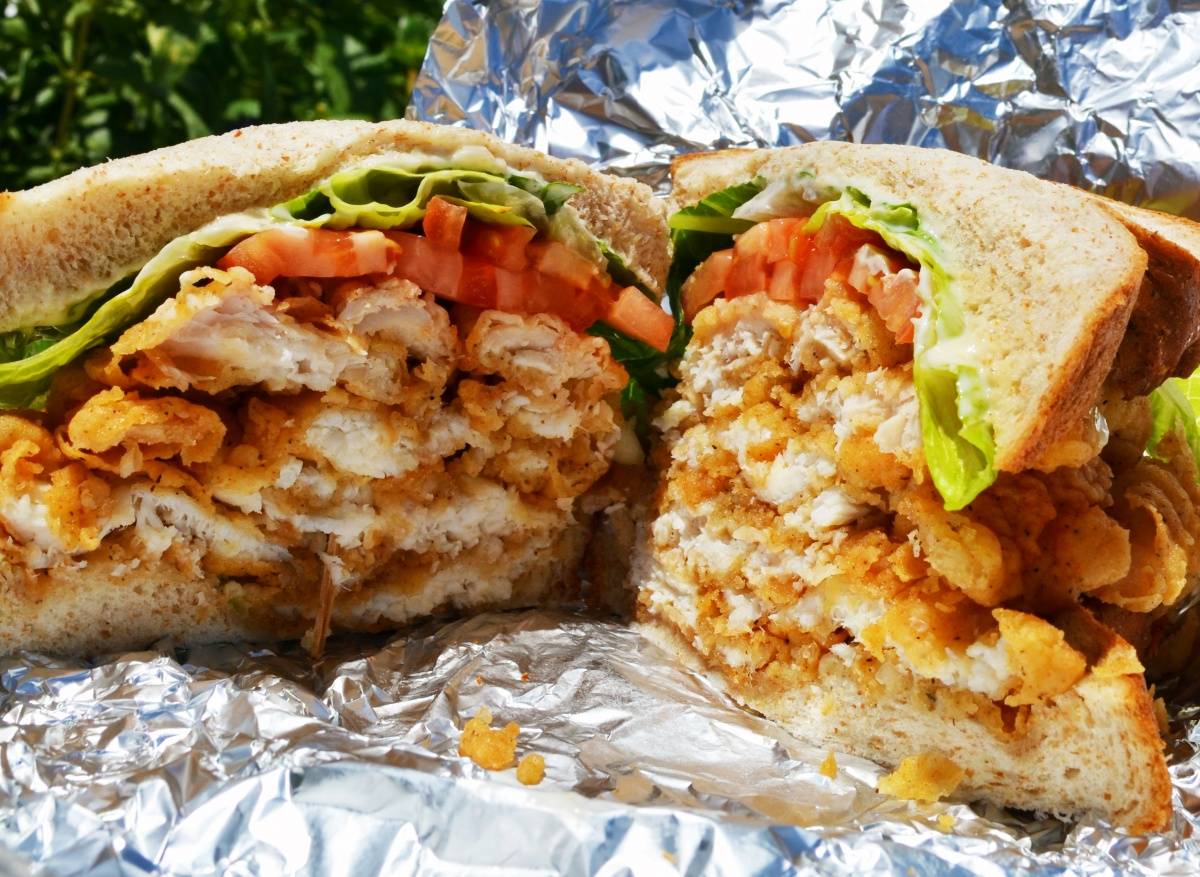 The tartar-slathered, king-sized Mahi Mahi sandwich has been deemed "the best in the world" by many, including plenty of Bermudians. Order it smothered in fried onions, coleslaw, and/or cheese, or have them build it the way most locals do: with the grub hub's signature hot sauce, between two slices of traditional raisin bread. Not a big fan of breaded fish? Try the fried chicken instead (we didn't get to try it, but we've heard a number of rave reviews).
Open five days a week, the take-out only noshery—which has locations in both St. George and Hamilton—is always busy during lunchtime, so if you're looking to nab one of its scrumptious eats, show up early to avoid ending up waiting on a super long queue, which forms outside its doors well before it even opens.
#2: The Real Deal
If you're hoping to savor true authentic Bermudian cuisine, pay a visit to the legendary Black Horse Tavern. Situated on St. David's Island, the rustic eatery is beloved by Onions for its exciting array of seafood dishes, featuring freshly caught mussels, shark, shrimp, lobster, and of course, fish.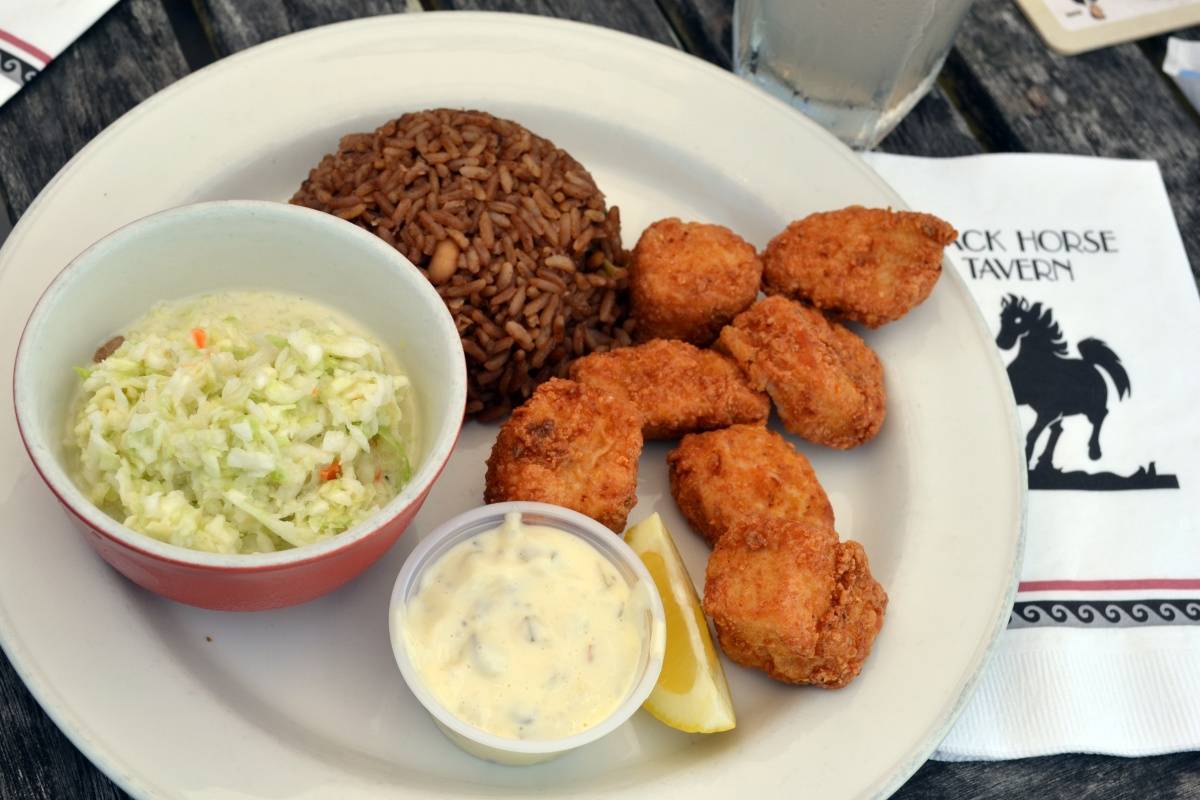 For starters, be sure to try the restaurant's fresh fish chowder—arguably the best on the island. Top it with a few drops of the restaurant's homemade vinegar and chili sauces, just like the locals do. As a main course, we recommend the tender wahoo nuggets, which are served with a generous side of rice and beans, coleslaw, and tartar sauce (take note that the dish goes particularly well with a tall, sweet glass of ginger beer, the island's signature soda).
#3: The Sweetest Scoop
For a scoop of homemade goodness, wander down to Bailey's, an old-fashioned ice cream parlor located in Hamilton Parish, right by Grotto Bay.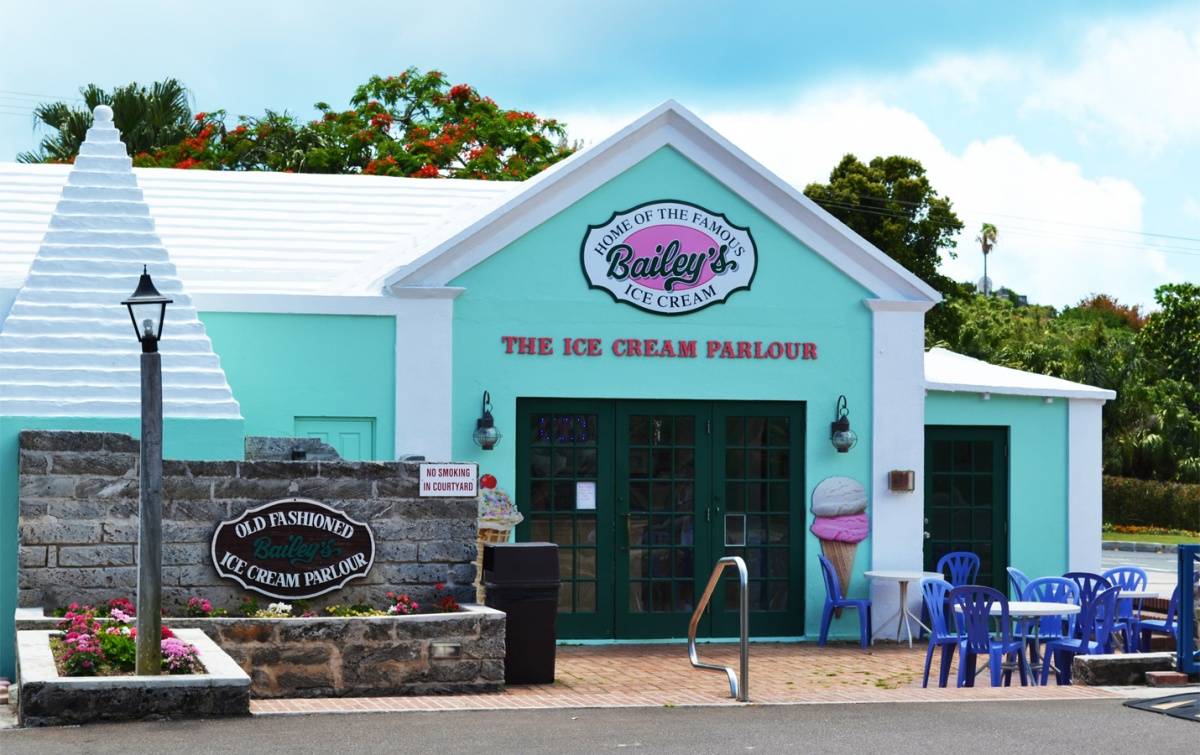 The local fave features an assortment of homemade all-natural flavors, from Ginger and Honey Vanilla, to Butterscotch Crunch and Bermuda Banana. For those looking to show some Bermudian spirit in their scoop selection, go for the "Dark n' Stormy"; it's a luscious spin off of the island's most beloved libation, made with Gosling's Black Seal rum and ginger beer.
#4: The Poshest Plate
Poised on Jew's Bay, the Waterlot Inn is the ultimate dining destination for a classy night out. The award-winning steakhouse—undoubtedly one of the most expensive restaurants in Bermuda—serves the finest steaks you can imagine, along with a fantastic range of seafood dishes.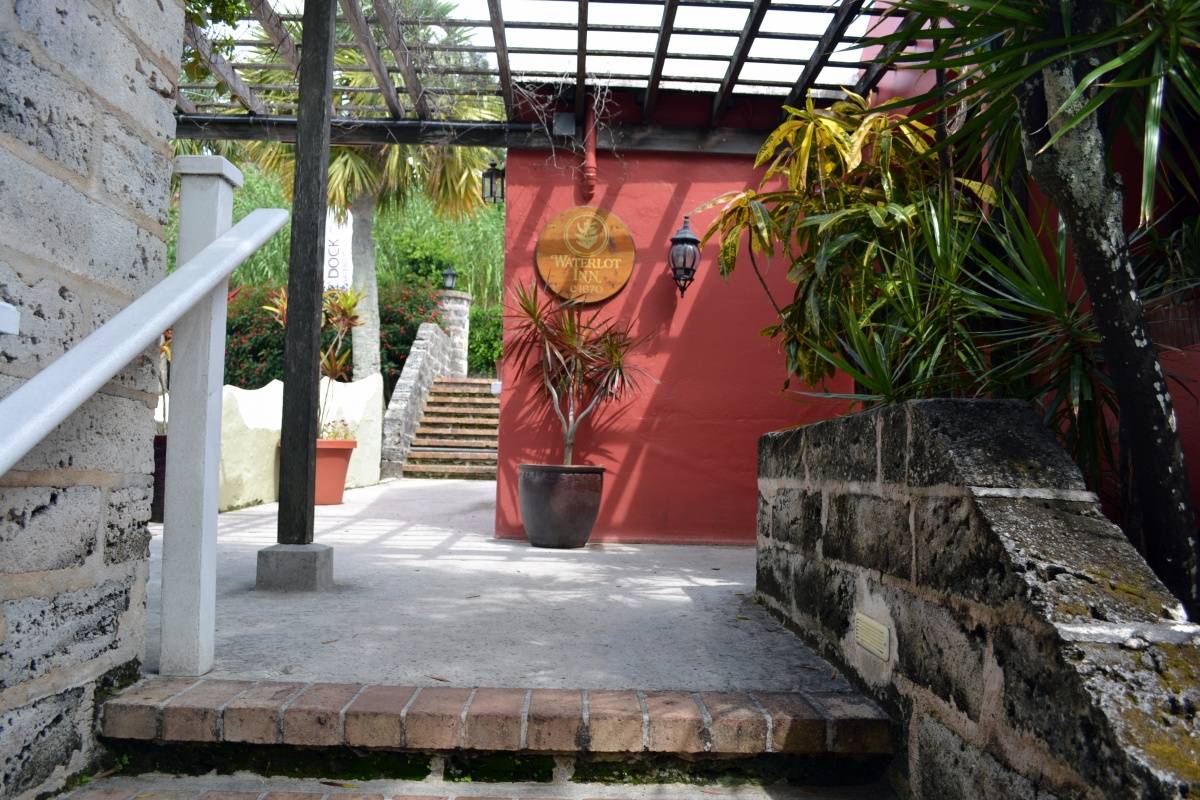 For starters, whet your appetite with the Bermuda Fish Chowder or the Oysters Rockefeller. As for the main course, the Filet Mignon and Cowboy Rib Eye are both must-tries for red meat fiends (though we only recommend attempting to devour the latter—which weighs in at a whopping 20 ounces—if you're extremely hungry).
Can't decide on which sumptuous cut to pick? Opt for the Tasting Trio, which comes with a petite prime ribeye, Niman Ranch filet mignon, and wagyu striploin.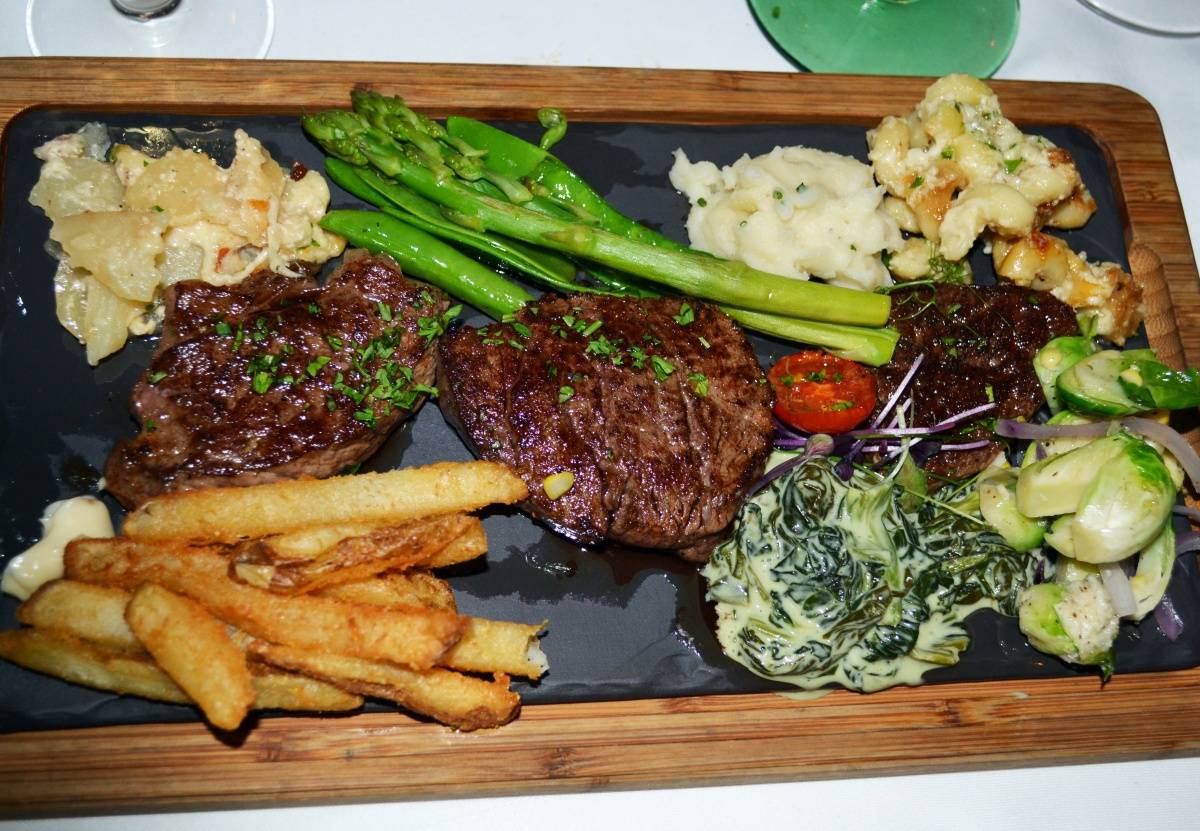 Seafood lovers should consider the pan seared grouper or pan roasted jumbo scallops. Also, among the restaurant's plethora of sides, the truffled mac and cheese, duck fat fries, and garlic creamed spinach are all sinfully delicious.
For dessert, you can't go wrong with the Sticky Toffee Pudding, served warm with homemade toffee sauce and vanilla ice cream. The Bananas Fosters is great, too—especially since it comes with an awesome table-side flambé-making show.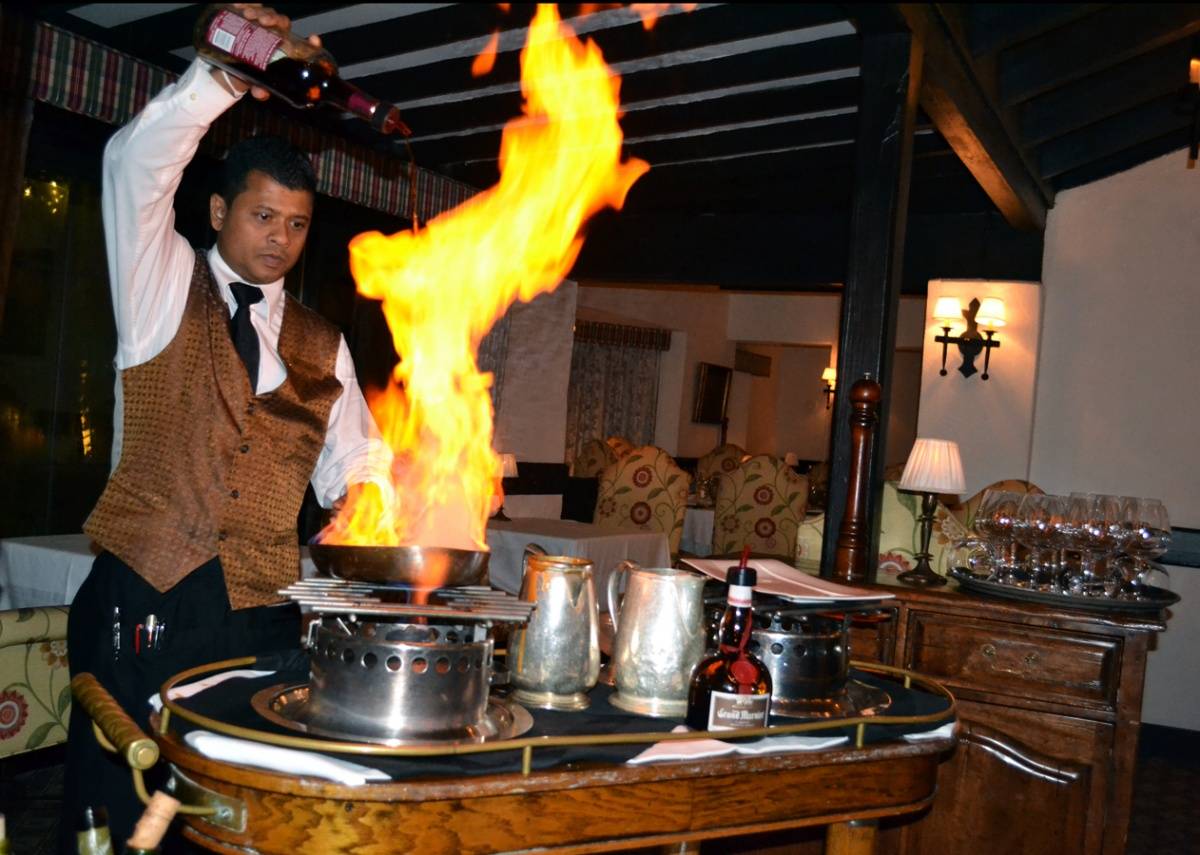 In case you arrive early and need to kill time before your reservation (a must-have in order to dine), The Dock—the Waterlot's outdoor bar and lounge—is the perfect place to grab a drink and a few fancy finger foods while you wait.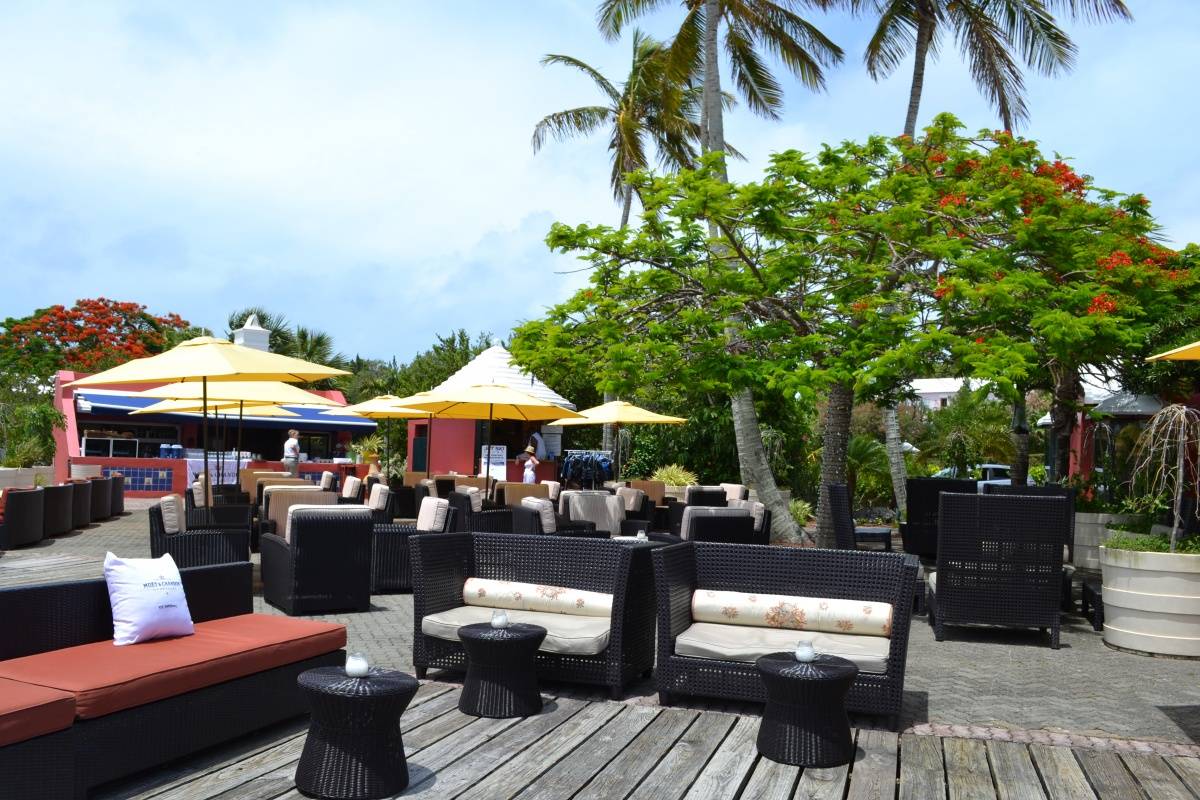 The Dips (red pepper walnut, hummus, and eggplant)—which come with pita bread—are delicious, along with the mini Wagyu burgers. The waterfront locale's most eye-popping (and priciest) offering, however, is the hundred-dollar "Ridiculous Caesar"—an absurdly large glass of the Canadian cocktail adorned with several skewered small bites, including a lobster tail, a seared scallop, and a chunk of prime rib.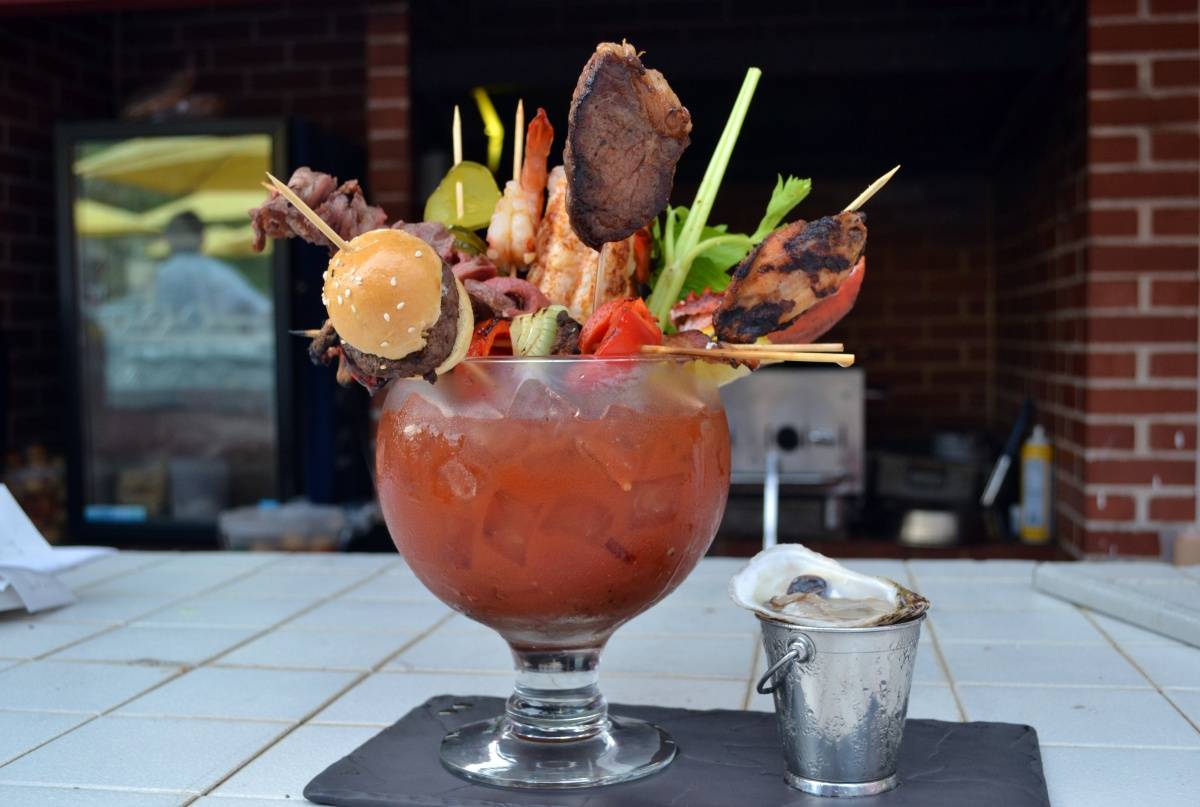 #5: The Tantalizing Up-and-Comer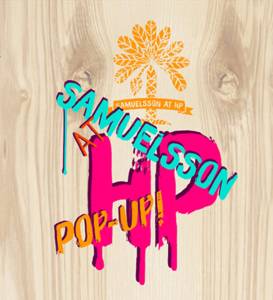 Last but not least, Marcus Samuelsson's new signature restaurant—which is yet to be named—will showcase a brilliant menu flavored by the renowned cook's internationally influenced style, designed to celebrate Bermuda's colorful history and culture.
The award-winning chef's modern venture—slated to officially open in May 2015—previewed its vibrant dish lineup in the form of a pop-up eatery at the Hamilton Princess. Teasing tongues for two months with small tastes of the real thing, Samuelsson at HP was nestled in a completely transformed meeting space adjacent to the restaurant's soon-to-be permanent site inside HP.
Luckily, we had the amazing fortune of dining at the sneak peek spot more than once, and happily got to try the majority of its creative offerings. Though none of the dishes disappointed, among our favorite small plates were the cornbread madeleines, served with a dollop of tomato jam and house-made honey butter; the ceviche, accompanied by grapefruit, avocado, and crispy tortilla chips; and the seared watermelon, topped with goat cheese, arugula, and pistachio pesto.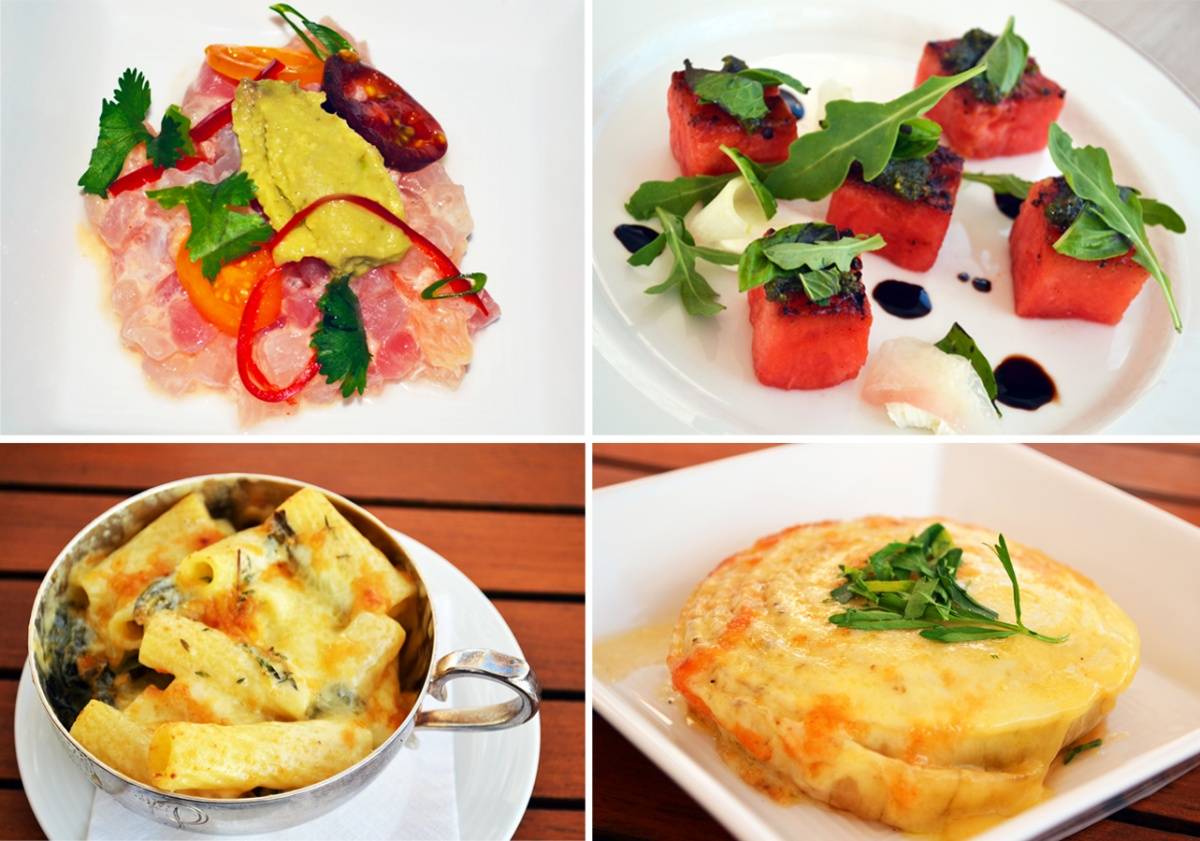 The Cheddar-Baked Bermuda Onion was also a sensational bite, featuring the island's famous sweet bulb. As for entrées, we thoroughly enjoyed the "Seared Catch of the Day" (the tuna steak was pretty amazing, especially when paired with a side of coconut creamed spinach), and the Mustard-Crusted Lamb Duo finished off with espresso-caramelized pearl onions (with the "Mighty Mac n' Cheese," of course).
To top it all off, the "Ice Cream Cones"—a duo of assorted scoops—was perfect for those seeking to sample more than one house-made flavor (the red velvet ice cream is divine). Our top pick of the saccharine bunch, however, had to be the light and refreshing Apple Sorbet, garnished with fennel and white chocolate cream.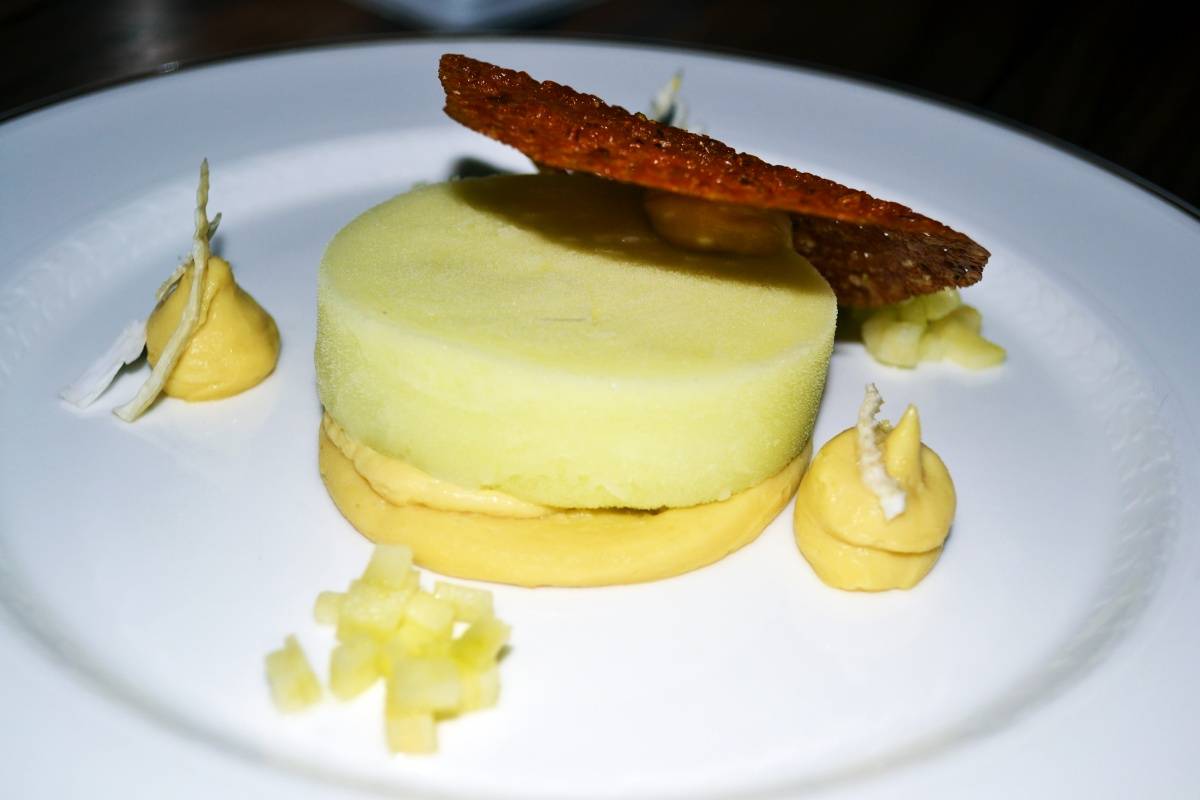 In honor of our extraordinary dining experience, we decided to probe Chef Samuelsson about his thrilling new culinary undertaking. Below, the acclaimed chef—who owns eight already established, successful eateries worldwide—gives Haute Living a unique glimpse at his forthcoming hot spot.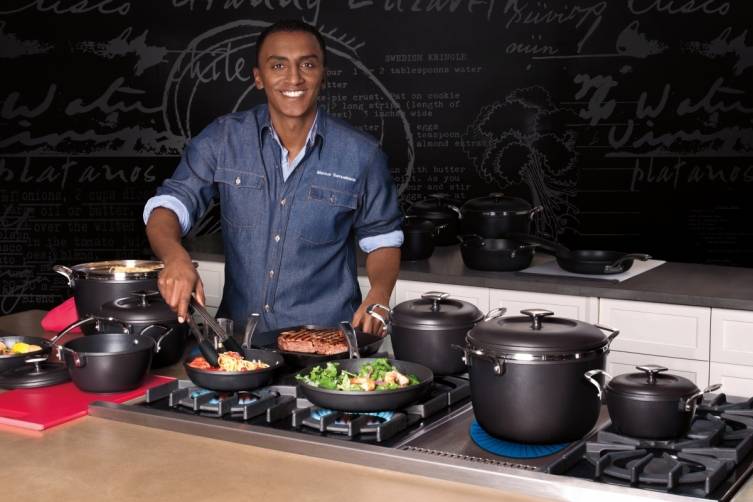 Photo Credit: Business Wire
Haute Living: Why did you decide to open a signature restaurant in Bermuda? What do you appreciate the most about the island?
Marcus Samuelsson: I love Bermuda's British, Caribbean, and Portuguese influences, combined with the country's rich history, vibrant island culture, and abundance of seafood. Different cultures and ingredients inspire the way I cook everyday, and I'm excited to create a new menu through this country's lens. I have really enjoyed getting to know Bermuda through my pop-up at Samuelsson at HP, and am excited to be a part of its landscape in a more permanent way when the signature restaurant opens next year.
HL: Describe how the signature restaurant's menu will successfully marry your personal taste with Bermuda's distinct cultural flavors. How did you go about putting it together?
MS: For my new signature restaurant, I will be focusing the menu on fresh ingredients that the island of Bermuda has to offer, through dishes like seared fresh fish and crudos, [which will showcase] bright, fresh produce. I will also carry over inspiration from my home base of Harlem, my travels, and background as a Swedish Ethiopian.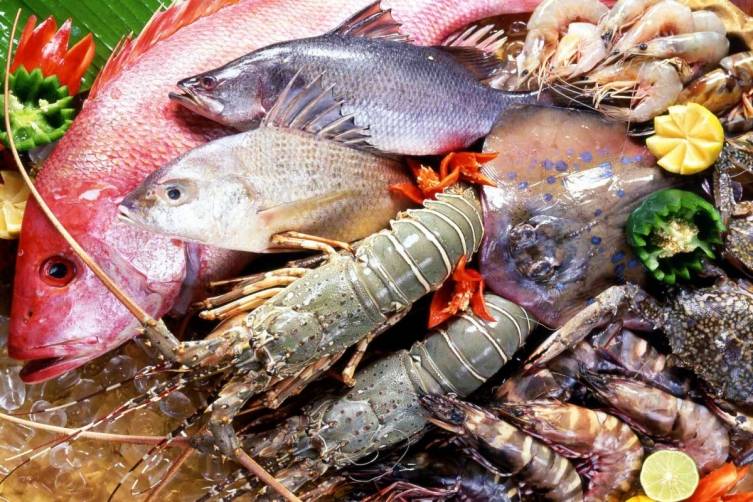 Photo Credit: Gee Kay Enterprises
HL: Name three ingredients your signature restaurant would be completely lost without (not including the basics such as salt and pepper, oil, etcetera). 
Fresh, locally caught fish.
Rum—it's very much a part of Bermuda's culture, and we will include it in desserts, specialty cocktails, and more.
Herbs like cilantro and basil are so important for the way they brighten clean, summery flavors without weighing them down.
HL: Any clue as to what the restaurant's signature dish will be yet?
MS: It's hard to say what will be our signature dish, but we think that the fish chowder croquettes and the jerk pork belly will continue to be the crowd favorites. They've both been hits at the pop-up so we will definitely be bringing those to the signature restaurant.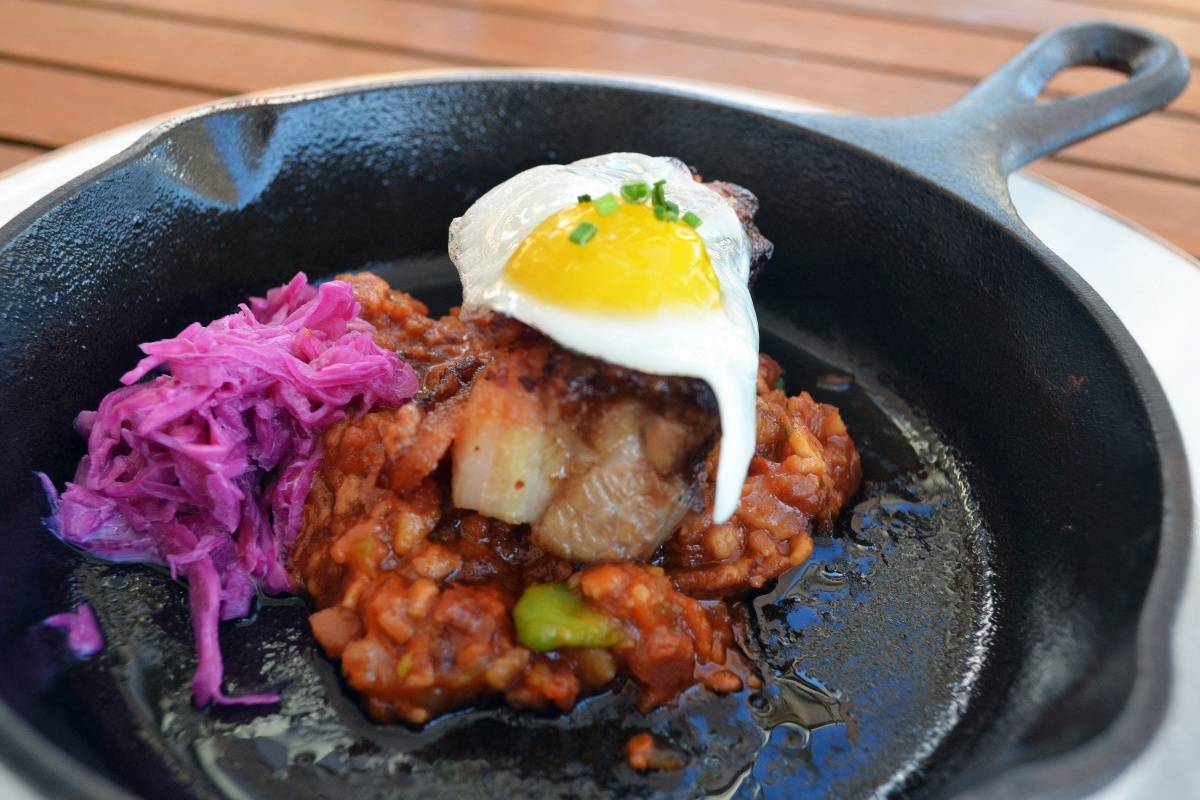 HL: Which dish may seem deceptively easy to make, but in reality is quite intricate?
MS: Our fish chowder croquettes seem very simple, but there is actually a lot of work that goes into making the chowder and then creating that delicious bite. On the other hand, the ceviche is a really simple dish to make and assemble, and can easily be made at home with fresh fish, grapefruit, and tortilla chips.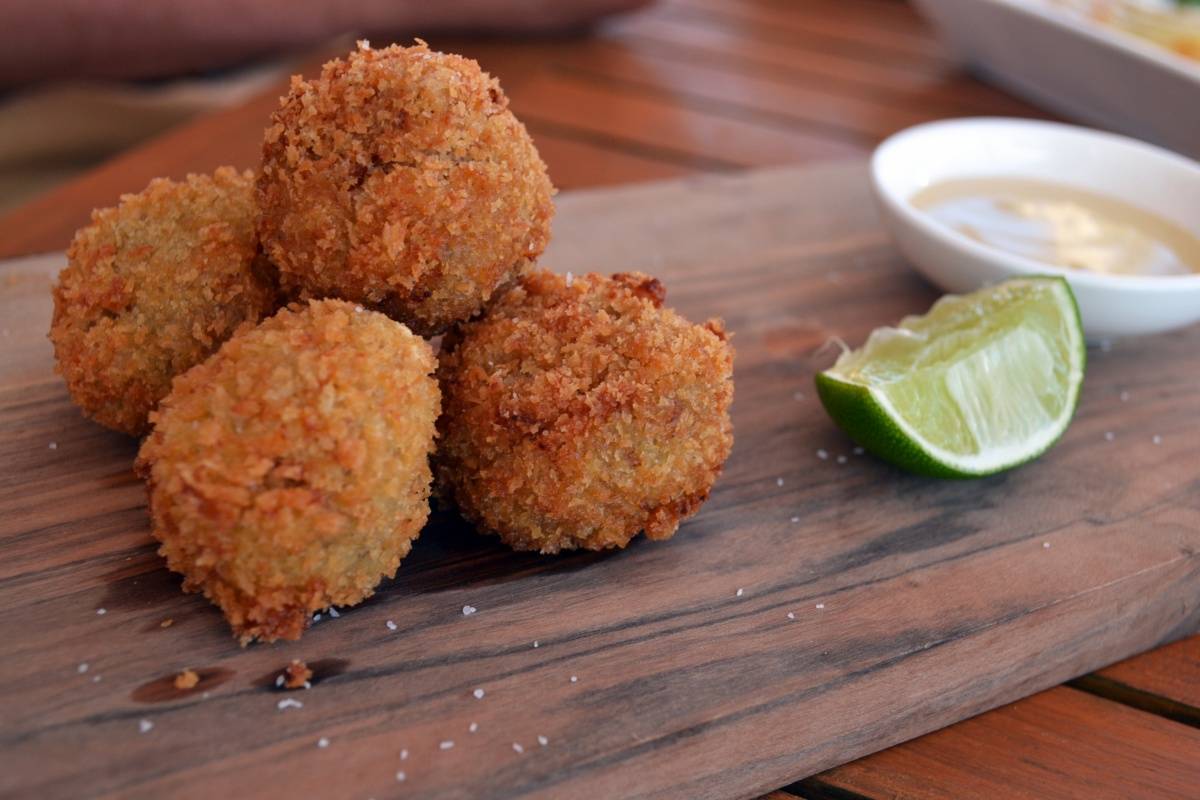 HL: Who will helm the restaurant's kitchen, and why do you believe they are right for the job (will Leo Marino and Justin Levine continue on as chefs de cuisine)?
MS: It's not yet confirmed!
HL: Where are your favorite places to dine in and hang out on the island? Top beaches to lounge by? 
MS: I love hanging out at Horseshoe Bay. The view of turquoise waters and the number of small, natural coves is amazing. One of my favorite things to eat in Bermuda is a classic fish sandwich from Art Mels Spicy Dicy.