Unfiltered, unabashed, and in-your-face, Ultimate Fighting Championship (UFC) president Dana White has a lot on his mind. Luckily, UFC fans don't have to wait to hear what he is thinking—the man at the helm of the world's fasting growing sport wears his thoughts, his heart, and his expletives on his sleeve. He also makes one thing very clear: the sport of UFC is much more than just fighting. "Mixed martial artists have a different mentality than other athletes," says White, who is credited with single-handedly growing the UFC into a multi-billion dollar sport. "These guys are very intelligent. They are very smart, tactical, and calculating."
To the outside world, this kind of intense physical recreation can appear brutal. Fighters of the UFC—an organization created in 1993 with minimal rules—are disciplined in a blend of martial arts styles known as mixed martial arts (MMA), and any combination of martial arts techniques—including boxing, freestyle wrestling and Brazilian jiu jitsu, to name a few—is fair game. Many of the fights end with bloody faces, injuries, and surely bruised egos. According to White, however, those wounds are just superficial. "People who aren't educated on the sport will be surprised to know that there has never been a death or a serious injury in the 20-year history of the UFC. Cheerleading can't say that," he notes. White also wants spectators to know that that 85-90% of the fighters are college graduates.
Since White took over in 2002, the negative stigma about the sport has noticeably begun to fade. "Everything [about the sport] has changed, he says. "At one time, the sport was banned from Pay-per-view (PPV). Porn was allowed on PPV, but UFC wasn't. Now, we're in 145 countries and territories, 28 different languages, and over a billion homes worldwide. We are the largest PPV provider in the world."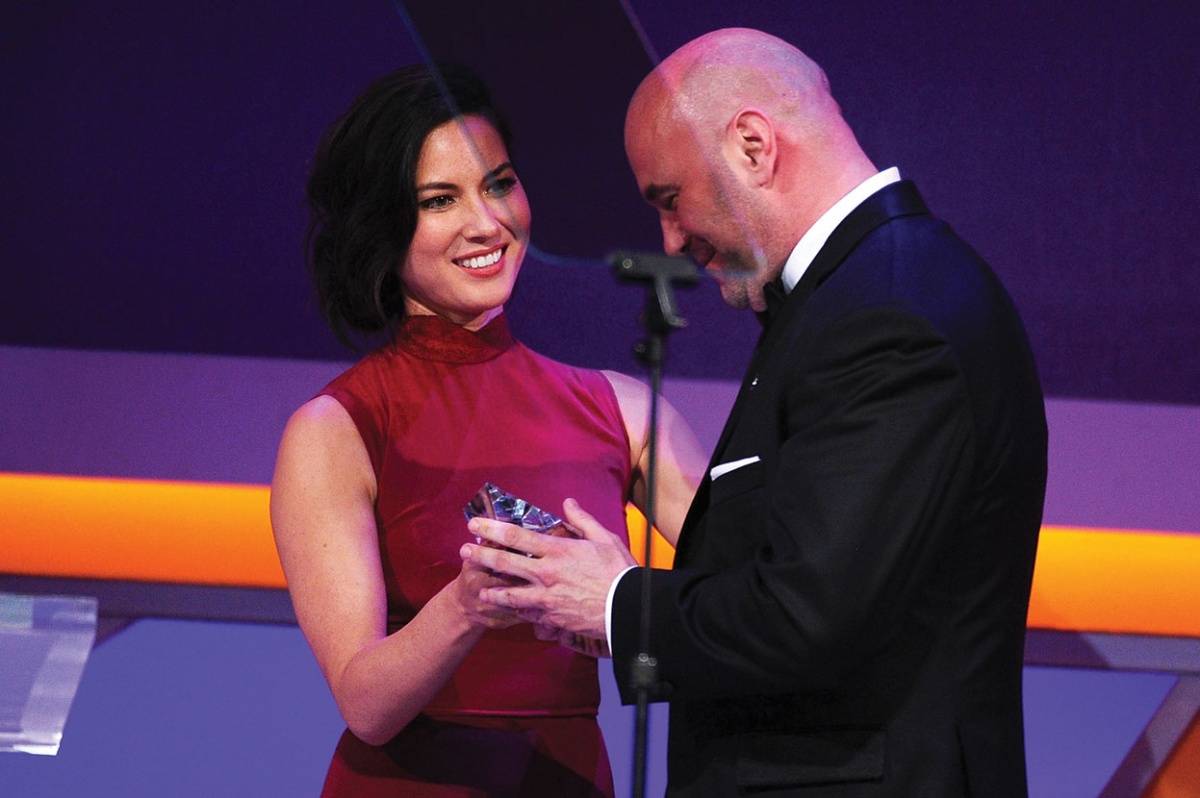 This is a pretty impressive feat, especially for a guy with no formal business training. In fact, many may be surprised to know that White, 44, began his sporting career as an amateur boxer and had never stepped into a UFC octagon before joining the organization. As the Connecticut native puts it, he "barely graduated high school," and with only boxing experience under his belt, it would seem that he had no business stepping into the sport in any capacity, let alone becoming its president. But White knew what he wanted to do. "I hated school, but I've always read tons of books on marketing and public relations, and I've always been passionate about [the subject]," he says. 
That knack for business coupled with his attraction to mixed martial arts led the former boxing trainer to the UFC in the early 2000s. White began by managing MMA fighters who were featured in UFC bouts. He recalls, "I got introduced to MMA [and] absolutely fell in love with the sport. Once I met some of these athletes, I was blown away. It was refreshing being involved with the people in this sport." But White soon realized that the sport was in trouble. At that point, he called on friends Lorenzo and Frank Fertitta to purchase the company. The brothers agreed and in January 2001, they formed parent company Zuffa, LLC, and bought the UFC. White, who now owns 10% of the venture, was quickly made its president.
Today, the UFC's ubiquitous popularity includes a solid base of female spectators who now make up 40% of all viewers, according to White. Female bantamweight champion Ronda Rousey has brought an entirely new excitement to the sport, and White couldn't be happier. "She's changed the world. Women like to see women do well and there are a lot of women getting involved in this sport as fans or as participants because of the Ronda Rousey movement," he enthuses. As White watches the surge in the UFC's female fanbase, his recent public statements about the "Ronda Rousey movement" have also stirred up controversy. He has said publicly that Rousey could hurt heavyweight boxing champion Floyd Mayweather if they were paired in the MMA fighting ring. White defends this statement fully, saying, "In an MMA, fight, she would wreck most guys. One thing people don't realize is that she walks around at 150 pounds, she's an Olympic medalist in Judo, and she has the ability to hurt most men."
Whether it is White's business acumen or his bold and brash commentary, he is able to garner positive attention for the sport because he is genuinely impressed with the caliber of athletes that are drawn into it. "A lot of gifted athletes are becoming mixed martial artists now," he says. "If you look at a guy like Lebron James, and what a physical specimen he is, I always wonder, 'What would happen if Lebron trained as an MMA fighter as a kid?' I think about stuff like that sometimes."
Never mind what could have been—White has little time for dreaming, and  so focuses on the here and now. The father of three likes to spend time at home in Las Vegas, and admits that if any of his children became interested in MMA fighting, he would wholeheartedly back the decision. "Whatever my kids want to do, I would support them 100% percent. If my kids told me 'Dad, [we] want to pump gas for a living,' and they're that passionate about it, then they'd probably end up owning six or seven gas stations," he says with conviction. Naturally, given White's unconventional background, he strongly believes that there is no single path to success. "Kids get pressured that they have to go to college to become a doctor or a lawyer, but what if you hate doing that sh–? I want my kids to do whatever makes them happy," he says.
White is doing what makes him happy as well. In his off time, he enjoys many of life's luxuries, one of which includes his avid love of blackjack. In fact, he is so adept at the game that he was recently kicked out of the Palms Casino Resort for a two-million dollar win. "It's a hobby and something I love to do in my spare time. And yeah, everyone knows that Palms story now," he chuckles. In addition to blackjack, White's shoe and car collections are two material luxuries he cannot live without. The sneaker aficionado confesses to having over 60 pairs. Although he favors a classic brand of kicks, he does mix things up with his impressive collection of automobiles. His assortment includes a Ferrari F430, a Ferrari Testarossa, a 1969 Chevy Camaro, a 1969 Ford Bronco, a 1971 Barracuda, a 2012 Range Rover, and a 2014 Bentley. He also has a Ducati and two Harley Davidson motorcycles. At the moment, though, White is content. "I think I got everything I want, and other than that sh–, I just love hanging with my kids. We have a blast together."
At the end of the day, despite the recognition, fortune, and every reward that comes with rehabilitating the once broken UFC, White stays grounded in what is really important. When asked about what he wants his legacy in the UFC to be, he is quick to say, "I don't care about that. My legacy to me is—when I drop dead and they're at my funeral—I want my three kids to get up and say, 'He's an awesome dad,'" he explains. "That's the only real legacy I care about."
Photography ANTHONY MAIR
Subscribe to discover the best kept secrets in your city