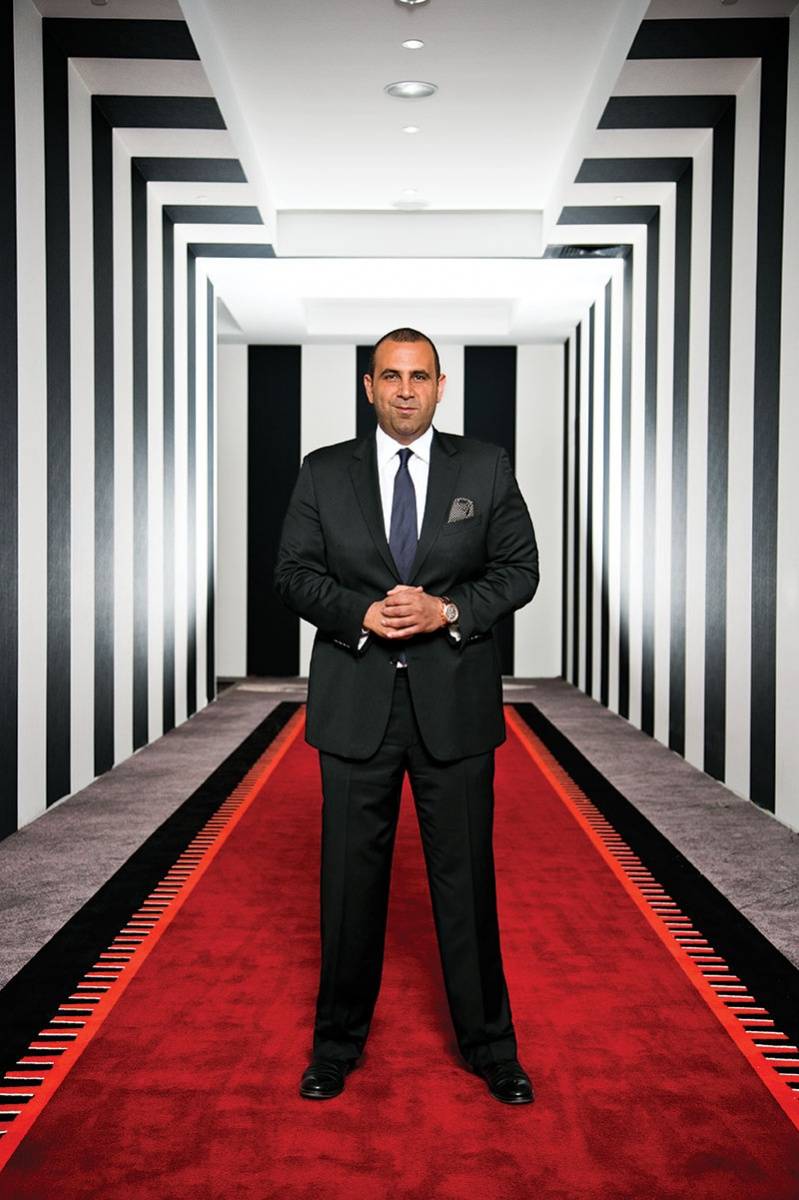 Sam Nazarian has to jet — literally. 
The nightlife and hospitality mogul has just completed the daily detailed check of his soon-to-be-opened SLS Las Vegas and is rushing toward his private plane. Like Alice's White Rabbit, he is late for a very important date (a meeting in Los Angeles). You'd never know from his demeanor that outside, the Sin City temperature has reached a steamy 108 degrees Fahrenheit. The founder, CEO, and chairman of SBE — which stands for Nazarian's childhood nickname, "Samyboy" — looks as cool as a cucumber, nary breaking a sweat as he strides purposefully through his own personal Wonderland: the hotel's 800 machine deep, 60,000-square-foot casino floor with its innovative, five million-dollar Daktronics LED technology marquee.  Seemingly satisfied, he makes his way to the exit; his long legs eat the air as he rushes to make his meeting. Five minutes later he's back after having noticed a slight imperfection, and his six-foot, four-inch frame fills the room once again with his authoritative presence. Nazarian may be a perfectionist, but he has reason: his $415 million, 1,600-room hotel is not only slated to be his brand's flagship property, but is also considered to be the great, white hope of the Strip's north end, a struggling stretch of land that hasn't seen true action since the Rat Pack days of the SLS' predecessor, the Sahara.
It's no wonder that he painstakingly monitors and manages the construction of this hotel: it is his largest undertaking to date. Like clockwork, every morning Nazarian can be found on the SLS' rooftop, surveying the scene of his two-million-square-foot property below. Through the looking glass he can see the jewel of his empire take shape, and, despite the construction, envisions the end result clearly. From this perch, he looks like a king presiding over his empire. Who are we kidding with "like?" The king of an empire sums up Nazarian exactly. "I like to think we're neighborhood builders," Nazarian confides. "The north end took the biggest hit of the recession in Las Vegas in 2009 and 2010, but it's starting to see momentum again since we started our construction 18 months ago."
As usual, Nazarian got in on a good thing early in the game. The SLS, which was purchased by SBE in partnership with private equity firm Stockbridge Capital Group, will be joined by the $2—$7 billion, 87 acre-Asia-themed Resorts World Las Vegas casino, as well as Rock in Rio, a 30-year-old mega festival which will partner with Cirque du Soleil, MGM Resorts International, and billionaire Ron Burkle for its first-ever Sin City festival in 2015. The SBE chief isn't at all worried that guests will shy away from the SLS because of its location. On the contrary, he thinks they'll come, play, and stay because the best of his admittedly amazing nightlife and culinary brands are all in one, easily accessible spot. Why leave when everything is already at your fingertips? "The good thing about Vegas is that it's as much of a gaming city as it is an entertainment city. Nightlife is as relevant as shows, food, and beverage—as casinos. We're expecting the chance to really overwhelm our guests with quality of service and the evolution of some of our already proven brands like Bazaar Meat or Katsuya, and integrating a sense of consistency to the whole building," he says. "A lot of hotels have added restaurants or nightclubs and reacted to what the market wants. We have a real opportunity right now: we have a building [that contains] all the things we've learned over the last five years. There will be consistency from the time you walk in to the time you leave…but I think our two pools and 14 outlets give our guests a reason not to leave."
It will be the VIPs most of all who will loathe to depart the catered and curated experience Nazarian will be delivering the second his property opens its doors at midnight on August 23rd.  "VIPs can expect to be treated the way SLS and SBE always treat our VIPS," he says. "There's a separate entrance, a separate lounge and elevator banks, a 24-hour concierge — not just in Vegas, but anywhere they go — a loyalty system, the ability to use video chat and Skype before they get to the property, and customized rooms like [those that came from our] partnership with Lenny Kravitz [at the SLS South Beach]. Guests are going to have the cream of the crop as far as our property goes. They'll be driven around in new Escalades, and our super VIPs will get a Bentley Mulsanne to drop them off."
Very important people are also in store for a treat at the SLS' new concept club, LiFE, which is described as a club that "rebels against the one-dimensional norm that has come to define nightlife," as well as at its outdoor sister club, Beach LiFE. "Fun things [are to come]," Nazarian promises. "Vegas is the epicenter of nightlife because it has the world's biggest budgets. We don't have the world's biggest budget, so we deliver the approach that the customer is the show, not a live theater where everyone comes to see a live performance and leaves. The customer is just as important as a top DJ.
"There is a sense of multiple experiences," he continues. "Everything is on one level; we like to call it the natural friction of energy, and it will be fun. Some surprises [we have in store are] the deliveries of bottles and surprises [during] shows; we have a whole slew of great entertainment coming up." This includes the SLS' highly anticipated, top secret opening weekend celebration, on which Nazarian remains mum, only saying, "If you know SBE, you know we're going to have a great party!" When it comes to the presentation of LiFE's bottle service, Nazarian also remains coy, refusing to confirm or deny if it will be a Marquee-esque experience that includes scantily clad females, a spotlight, and sparklers. "It'll be a very unique experience," he promises. "I will say that it hasn't been done before, and it's not traditional…meaning, it might come from the sky."
The SLS is implementing another thing it hasn't tried before with The Code: its very own players club. The Code isn't affiliated with any other clubs, though it does digitally enable guests to receive comps and benefits within the SLS and SBE-owned properties in Los Angeles, New York and Miami. This is just one small part of the full SBE experience that Nazarian refers to as "the consolidation of our best brands in one space." Other beloved venues that will start calling the SLS home this summer include Cleo, 800 Degrees Neapolitan Pizza, The Sayers Club, Foxtail, and Foxtail Pool Club, as well as Monkey Bar, The SLS Buffet, The Perq, Beer Garden & Sports Book, Umami Burger and The Griddle Café, plus Jose Andres' Chinese concept, Ku Noodles. Fred Segal is even joining the party on the retail side.
Though the SLS Las Vegas is the most hotly anticipated of his new ventures, suffice it to say that Nazarian has his fingers in many different pies at the moment— most of which involve residential real estate. There is his joint venture with Related Cos. to transform downtown L.A.'s Grand Avenue into a luxury complex—as designed by Frank Gehry—with entertainment, shopping, apartments, condominiums and a luxury hotel. There are also the two properties opening in Miami — the SLS Brickell in 2015 and the SLS LUX Brickell in 2016, as well as the emergence of The Hyde Hotel brand in Midtown Miami and Hollywood Beach, Florida. The latter, which opens in 2016, caters to tech-minded, culturally fluent young professional types: SBE's key demographic. Nazarian will also open the SLS Baha Mar — a hotel and residential development — on the Bajan Riviera next January.  
With the announcements of additional hotels in New York, Philadelphia, Seattle, and China, Sam Nazarian is expanding his empire faster than you can say "SBE." However, as any mogul would, he already has his eye on the next best thing. Nazarian admits that in the not-so-distant future, he'd like to work on a project in Hong Kong. "It's such a forward city, a unique city in many respects. It has contemporary architecture, underground tunneling and so many other great attributes," he enthuses, adding, "Hong Kong doesn't have a lot of luxury lifestyle plans at the moment; I think an SLS would do exceptionally well there."
Let's be honest: SBE is going to do well (and already does) everywhere. At the rate he's going, the only thing Sam Nazarian has to worry about is world domination. He is a man that believably speaks of making his hotel guests feel special, and who isn't afraid to try new things, like serving gourmet food from master chef Jose Andres to serious gamers along with the prerequisite tableside cocktails.  He is the man who knows his patrons will likely be  young and upwardly mobile weekend warriors, but who still caters specifically to local residents with special offers and event invites.
What also sets Nazarian apart and makes both him and his company so successful is not only the fact that he is so hands-on with his properties, but also that he clearly cares for and respects those who work for and with him. If only he could find time to truly relax with said friends, life would be perfect. But he wouldn't be the success story he is today if he took time to smell the roses. "Really, the first decade of SBE was about proving the concept. We're now in the teenage years of the company, so I'd like to find more time with my friends, who also happen to work with me; some of my best friends are colleagues and partners," he says, before pausing to consider what his perfect world might look like. "Personally, I think that the biggest thing for me is having time to do the things that I love to do, having the opportunity to not work as hard as I used to, and being able to enjoy at the moment."
Photography SABIN ORR
Subscribe to discover the best kept secrets in your city