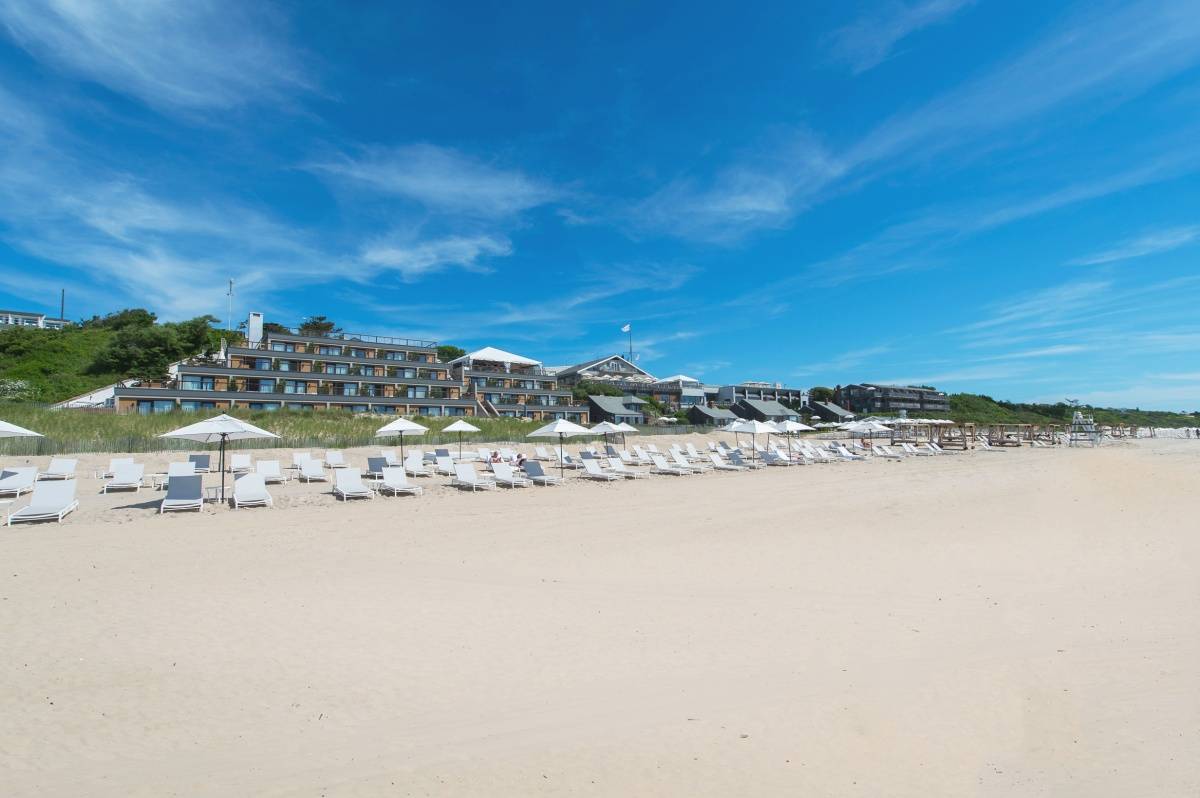 For the ultimate summer getaway, visit the newly remodeled and sleek Gurney's Inn Resort and Spa. Tucked away in Montauk, this Hamptons gem features a 1,000 foot private white sand beach, fabulous dining rooms, a luxurious seawater spa, massive private terraces and stunning decks. Plan on kicking up your feet, unwinding and leaving the city stress behind! Every inch of this exquisite property constantly reminds its lucky guests of nature's magical beauty. Designed by Michael Kramer, the modern aesthetic includes custom built furniture and wire brushed hardwood floors that enhance the beach cottage feel. Expect to be wowed and charmed by vintage record speakers that connect to MP3 players and similar unique touches. Every room delivers dramatic ocean views with floor to ceiling windows and a private terrace—does it get better than that? Imagine going to bed listening to waves crashing and waking up to the sun rising over the ocean.

The main dining room, the Seawater Grill, is just one of four dining areas in the resort. It's an elegant space where one can enjoy an ocean-fresh and local fare meal. Inside or out, every seat in the house has a breathtaking view of the ocean. The modern American menu offers a variety of culinary possibilities, including pounds of steamed lobster, local vegetables, a rack of lamb, foie gras and waffles. While the focus is on seasonality and local sourcing, you can also expect to have an interactive dinning experience with quirky plate presentations.
Once you've rested, burn off the calories you consumed at the Seawater Grill with an energizing row class offered on the resort's private beach. Row House, a premiere rowing studio, has joined forces with Gurney's Inn to offer guests the ultimate workout class on Monday, Thursday, Friday and Saturday mornings throughout the summer. This zero-impact workout combines high-energy erg rowing and floor work to deliver maximum overall body toning. The classes are led by world-class trainer and Row House founder, Eric Von Frohlich, and are designed to maintain your beach body.
Reward yourself after an intense workout and relax on a daybed at The Beach Club or indulge in a massage at the Seawater Spa. It's safe to say you can ditch the car for the weekend since there's no reason to leave this refreshing beachfront oasis. The mantra well worth repeating is, "beach, eat, play, sleep" at Gurney's Inn Resort and Spa.