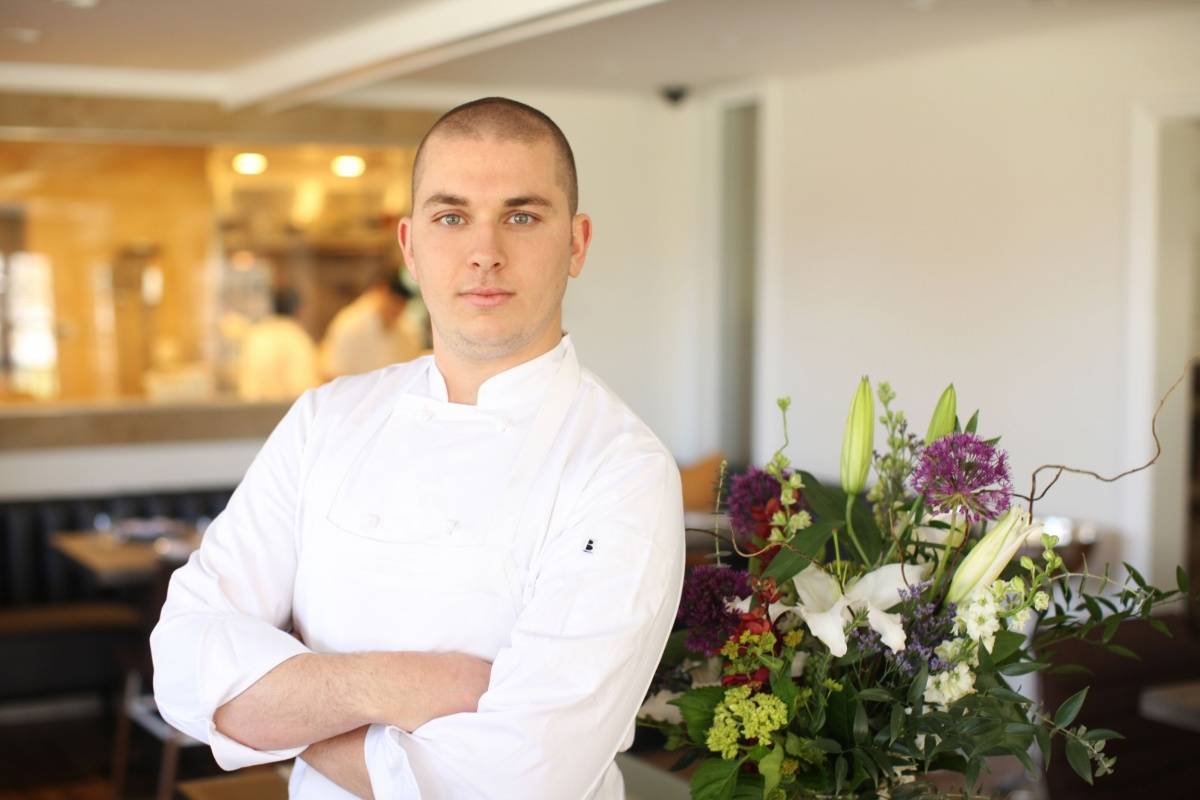 Pulling off a summer dinner party or picnic sounds easy in theory, good food and drinks and some choice music. But having an outdoor feast dictates much finesse, tis true. Anyone can slop together a whole bunch of greasy snacks and throw them into some baskets, but it takes a true artist, well maybe that's a strong word, it takes a little bit of forethought to throw a dinner party that'll really make people remember it.
Chef Beck Bolender of Restaurant 121 in North Salem most definitely knows what an excellent picnic needs, and he agreed to impart his wisdom upon Haute Living readers. As before stated, the ingredients to any good picnic are rather simple. Food and music. It's the choices of the food and music that can be tricky. The food must be tasty but practical. And the music must be good, lighthearted, and simple. Bolender, despite training at Jean-Georges Restaurant School, likes things that are simple, especially when it comes to food. On restaurants he says, "I like small establishments that do certain things well, like Pho Vietnam's Pho Noodles."
Much of his entertaining and cooking ideas come from culinary travels, he often visits Newport, RI where he says, "I go there and eat as much seafood as I can, I like Scales and Shells and Flo's Clam Shack."
When he comes to New York, he likes to eat at some of the city's many fine Chinese establishments like The Great NY Noodle Town or more upscale places like ABC Kitchen or Gramercy Tavern.
His interest in food has made him a whiz in the kitchen both at home and at his restaurant. Bolender offers his five most important entertaining tips, "Have a plan, separate food into courses to prolong the days' events, play good music, have a variety of drinks, and be the life of the party!
Bolender has both recipes and his playlist for the best summer dinner party/picnic you could possibly throw.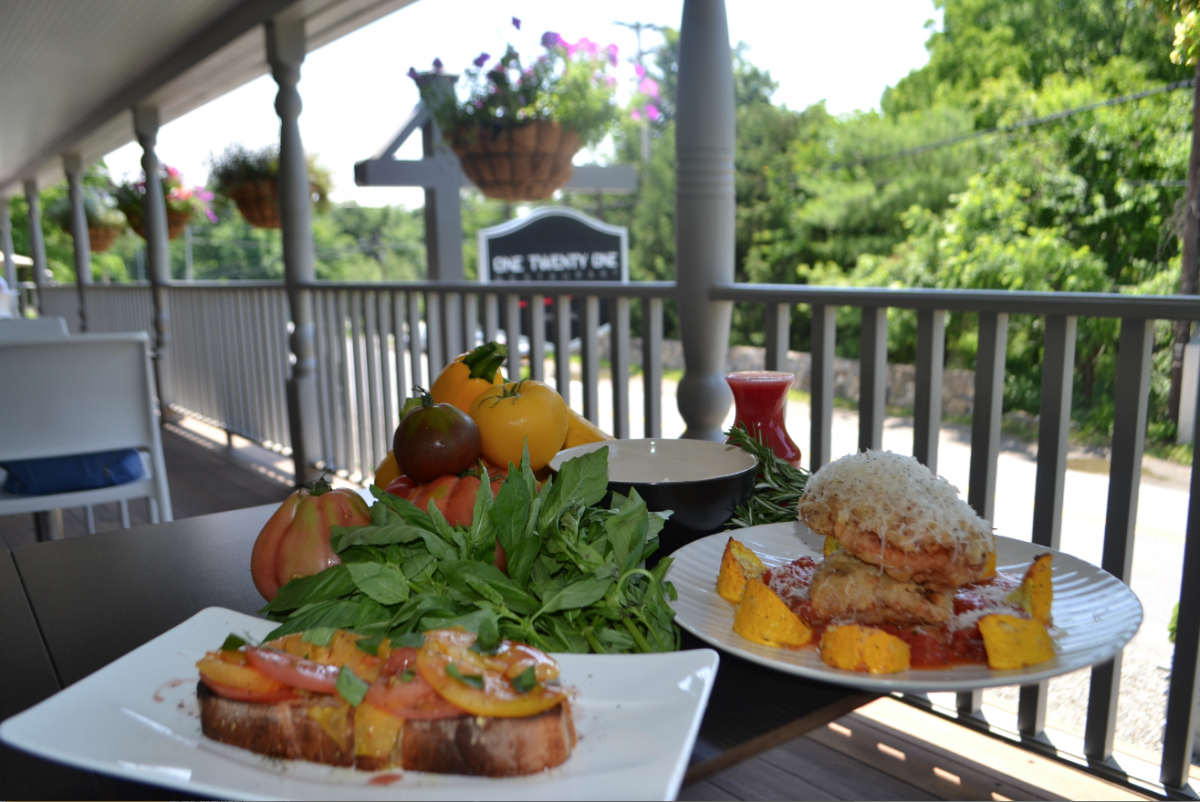 Watermelon Gazpacho With Summer Fruits and Goat Cheese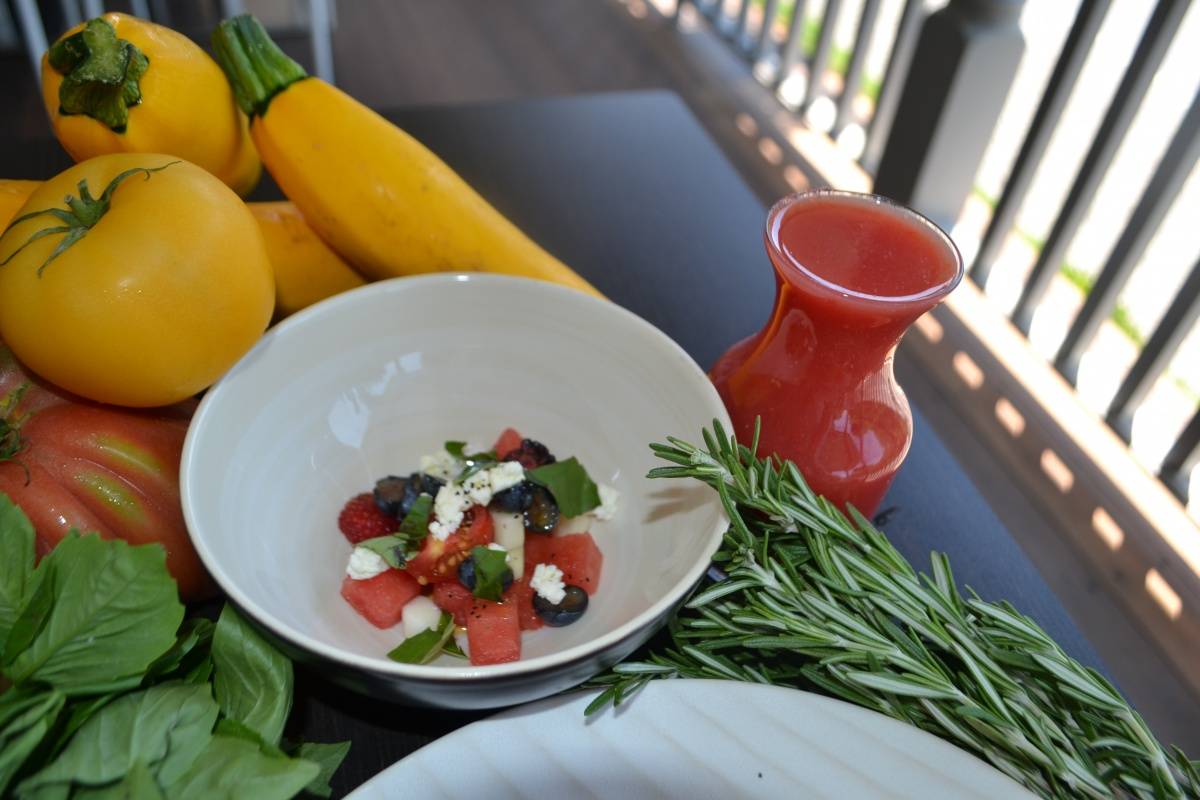 Makes 8-10 servings
1 ripe, red, seedless watermelon
2 red pepper, washed and seeded
1 washed red Thai chili
1 peeled euro cucumber
2 pints ripe cherry tomatoes
Puree in blender until smooth
Season gradually with salt (to taste) and ¼ cup red wine vinegar
Garnish:
1 berry of each: strawberry, cut in 1/2; blueberry, blackberry, raspberry
4 pieces of diced cucumber
1/3 cup goat cheese
2 leaves basil, torn
Olive oil, drizzled on top
Tempura Fried Chicken with Summer Squash, Tomato & Herbs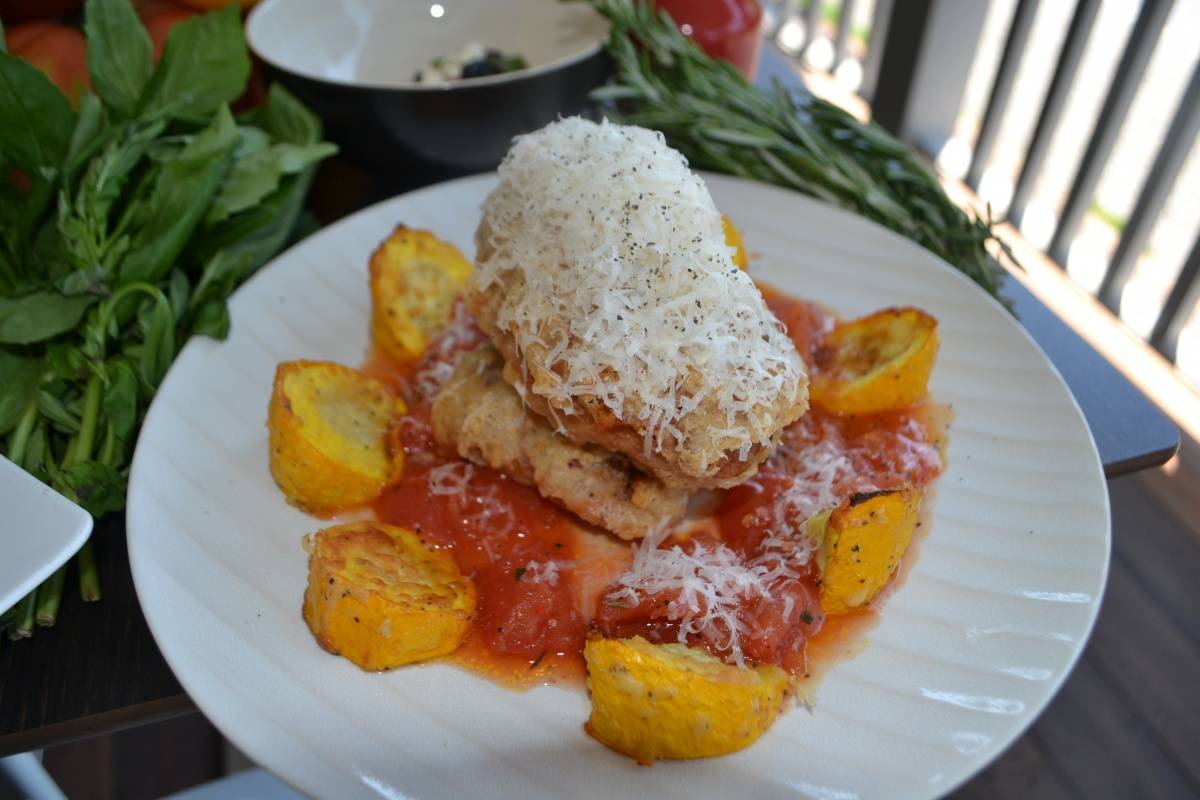 Makes 8 servings
FOR THE CHICKEN:
½ chicken (breast/thighs) with skin on
Salt, to season generously
Pepper, to season
Wondra, enough to coat skin of chicken
3 tablespoons grape seed oil
1 spring thyme
1 clove garlic
FOR THE TEMPURA BATTER:
2 cups flour
4 cups seltzer water
1 tablespoons garlic powder
Mix together and set aside.
Season chicken with salt on both sides and pepper only on flesh side.
Cook skin side down in grape seed oil until cooked 70%.
Remove from pan and store skin-side up in a hotel pan with thyme and garlic.
Take the chicken and separate breast and thigh.
Coat in all-purpose flour then the tempura batter.
Place into a deep fryer at 400 degrees and cook until golden.
Blot the oil and season with salt pepper and parmesan cheese
FOR THE SQAUSH:
4 gold bar squash cut into uniform pieces
½ cup parmesan
¼ cup olive extra virgin olive
salt, to taste
Ground black pepper, to taste
Combine all in a large bowl and mix well.
Place on a sheet try with a resting rack with space between each piece of squash.
Roast at 225 degrees in a convection oven for 1.5 hours.
Once cooked, set aside.
FOR THE TOMATO VINAIGRETTE:
6 ripe beefsteak tomatoes (core removed cut in half parallel to the core)
¼ cup extra virgin olive oil
2 tablespoons Salt
1 tablespoon ground black pepper
Combine all in a mixing bowl and distribute seasoning evenly.
Place tomatoes cut side up on a sheet tray with resting rack. Place garlic on top of each tomato and drizzle excess olive oil over the tomatoes.
Roast at 400 degrees for 30 minutes. Set aside to cool. Once cool, remove skin and discard. Grate Tomatoes through large hole of box grater.
Heirloom tomato toast with olive oil and basil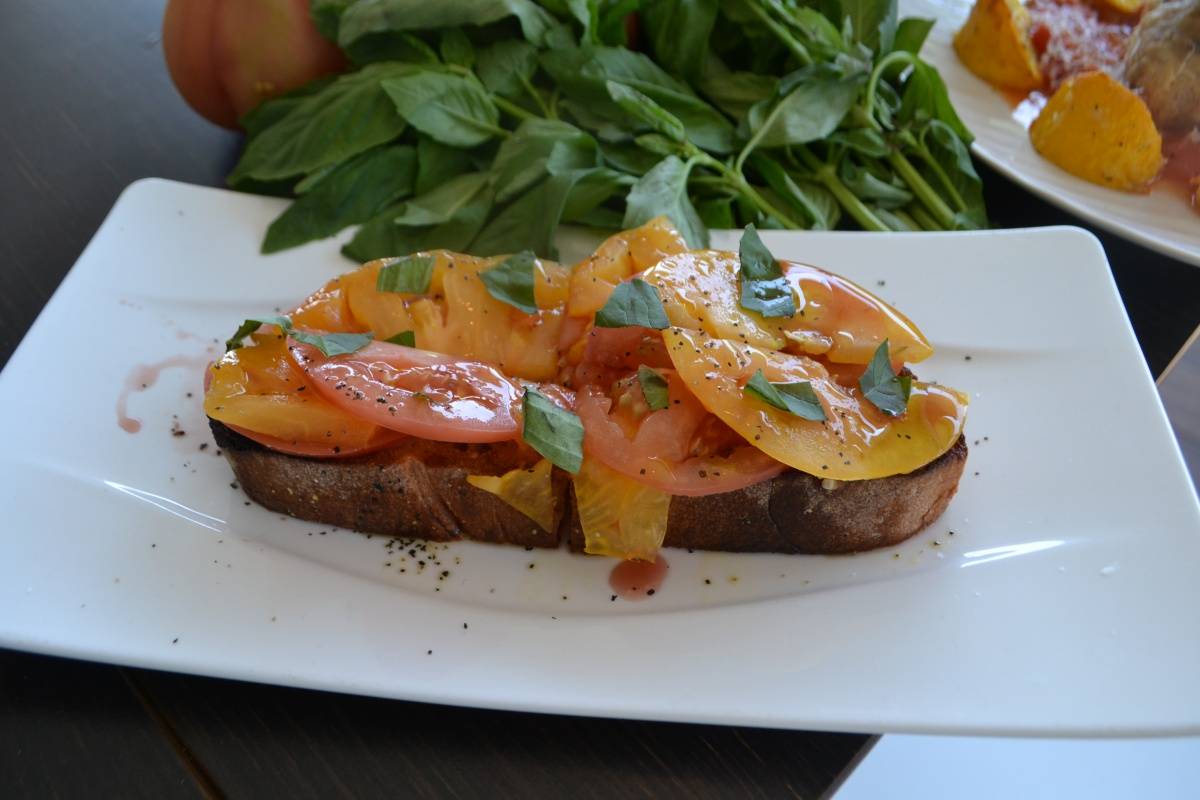 Makes 2 servings
2 each heirloom tomatoes (sliced thin)
1/4 cup, parmesan cheese
2 basil
3 tablespoons olive oil
2 tablespoons salt, 1 per piece of
2 slices sourdough bread, cut 1 inch thick
1 tablespoon red wine vinegar
Black pepper, to taste
Season slices of sourdough bread with olive oil and salt, sprinkle with parmesan cheese
Cook at 500 degrees until toast and cheese are caramelized.
Once toasted slice tomatoes thinly and layer on toast.
Season with salt, pepper
Garnish with basil
Chef Bolender has also offered you the perfect summer PLAYLIST below
Subscribe to discover the best kept secrets in your city