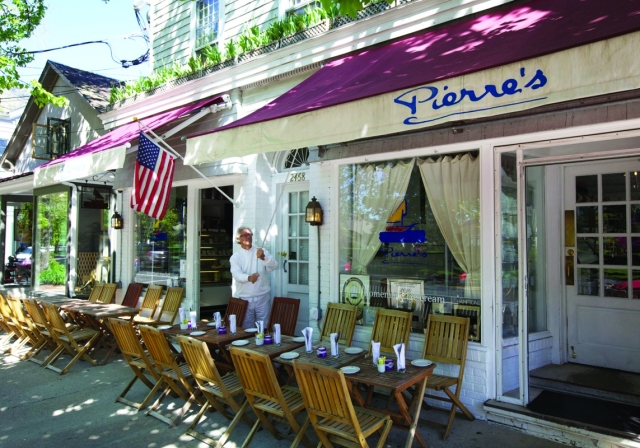 Pierre's
2468 Main Street
Bridgehampton, NY 11932
(631) 537-5110
Ambiance
Invoking the lively spirit of a St. Barth's bistro, Pierre's offers a cozy and intimate dining experience in an elegant yet relaxed setting. Patrons can nibble on one of the renowned pastry chef's immaculate croissants as they relish the warmth of a summer evening while seated at the restaurant's quaint outdoor spot. After dinner, guests can visit Pierre's gourmet market next door, where they can take home everything from homemade cakes to gelato.
Scrumptious Starter
Tartare de filet de boeuf Angus with mesclun et pommes frites ($32)
Enticing Entrée
Moules "Poulette" with pommes frites et mayonnaise ($28)
Delectable Dessert
"Coupe Gouverneur": Light coconut custard, red berry compote and passion fruit coulis ($14)
Sumptuous Sip
"Pierre's Espresso Tini": Low-calorie Voli espresso-vanilla fusion vodka, with a teardrop of Kalua and a shot of espresso ($13)
Topping Rose House
1 Bridgehampton
Sag Harbor Turnpike
Bridgehampton, NY 11932
(631) 537-0870
Ambiance
Enjoy renowned chef Tom Colicchio's exquisite American cooking at this ritzy locale, nestled within a gleaming white Greek revival inn. The eponymous cherry atop the Hamptons' luxury hotel, the Topping Rose House, offers a number of welcoming spaces where guests can wine and dine, including a spectacular wraparound porch. Classic and contemporary elements create the posh establishment's sophisticated vibe.
Scrumptious Starter
Soft-shell crab with flageolet beans, mustard greens and nduja ($22)
Enticing Entrée
Aged striploin with wheatberries, swiss chard, and baby carrots ($45)
Delectable Dessert
Rhubarb basil cheesecake tart ($12)
Sumptuous Sip
Dominican Sidecar: Atlantico spiced rum, Hennessey, Combier Orange and lemon juice ($15)
1770 House
143 Main Street
East Hampton, NY 11937
(631) 324-1770
Ambiance
This colonial gem is nestled within a charming inn that was once a private home. Outfitted with federal style furnishings and wicker accents, the luxe restaurant exudes a luminous glow with its elegant, rustic atmosphere. Though highly upscale, the contemporary eatery's dining room touts a comfortable, laid-back feel. A picturesque locale, the historic spot's outdoor garden patio makes a splendid backdrop for any special occasion.
Scrumptious Starter
Seared Hudson Valley foie gras with red wine gastrique, strawberry rhubarb compote and house baked brioche ($23)
Enticing Entrée
Seared sea scallops with sweet peas and potatoes, served with chanterelle mushroom fondue, melted leeks and black garlic ($36)
Delectable Dessert
Warm chocolate bread pudding with mint gelato and brandied cherry sauce ($12)
Sumptuous Sip
2012 Château Pigoudet 'Insolite' Rosé ($13 per glass)
Starr Boggs
6 Parlato Drive
Westhampton, NY 11978
(631) 288-3500
Ambiance
Located inside a converted historic home, this chic Contemporary American eatery provides ample space for outdoor eating. The classic establishment's alfresco dining area boasts a sparkling waterfall, magnificent gardens, and scenic landscaping. The full-scale outside bar serves as an ideal meet up spot, where patrons can sit, drink, and be merry on a hot summer night.
Scrumptious Starter
Starr's Maryland crab cake with sauce rémoulade ($15)
Enticing Entrée
Baked Moriches Inlet Tautog "Blackfish" with fresh shrimp, garlic butter and grit soufflé ($31)
Delectable Dessert
French Apple Tart with cinnamon ice cream ($9)
Sumptuous Sip
Vitamin C: Hanger One Orange Vodka, pomegranate liqueur and freshly squeezed orange and grapefruit juice, garnished with muddled fresh berries ($16)
Subscribe to discover the best kept secrets in your city