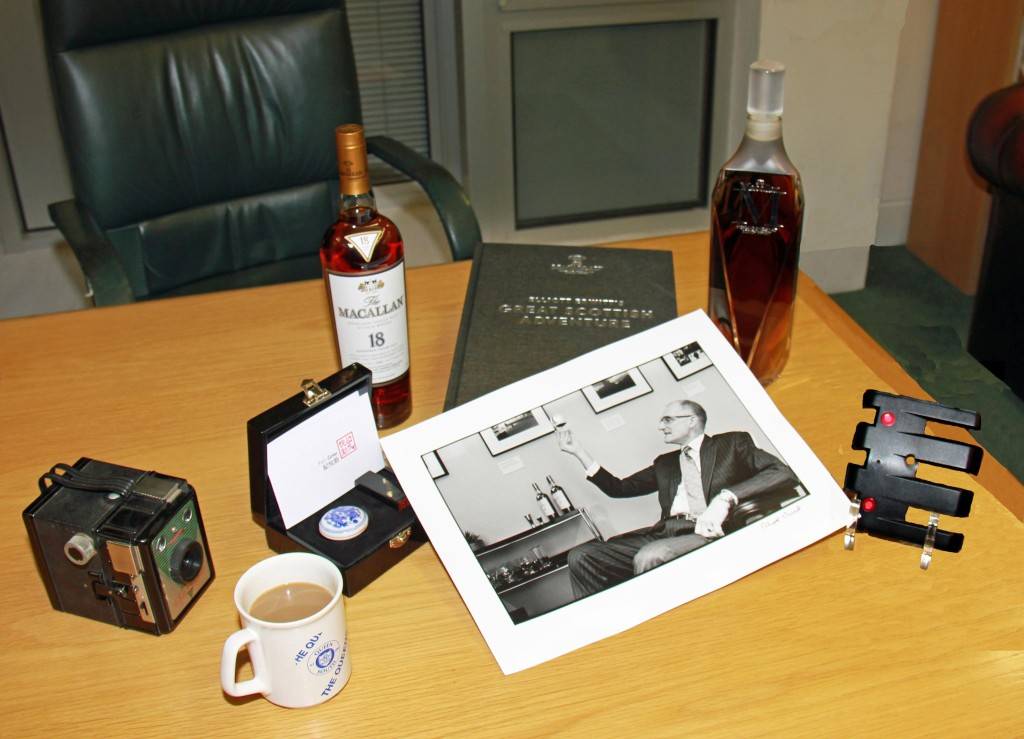 Ever wonder what the most powerful leaders, business execs and celebrities keep on their desks? Well, we're about to tell you. Our biweekly "What's on My Desk" feature will take a look inside the offices and at the desks of the world's most influential power players.
This week we've featured the desk of Ken Grier, the Director of The Macallan. He has worked for The Edrington Group for over 10 years carrying out a variety of roles including Global Marketing Controller (The Famous Grouse) and European Zone Director.  This October he took on the added responsibility ofhead of the company's marketing intelligence team. He is a director of The Macallan Distillers, Highland Distillers and the Scotch Whisky Heritage Centre. In his current role he has overseen the hugely successful launch of The Macallan's Fine Oak range in 2004 which now accounts for one in four sales of The Macallan. This success has propelled Fine Oak to become the most successful initiative in The Macallan's 184 year history, fueling The Macallan's rise to the number three best selling single malt brand in the world. Under his stewardship of Highland Park the brand has doubled MAT sales in the last three years.Ken has driven The Macallan from highly respected aficionado malt to global luxury consumable item, with initiatives such as the launch of the Fine & Rare collection.  He also pioneered the luxury relationship between The Macallan and Lalique. Here is a look at the items on this Scotch aficionado's desk.
The Macallan, 18 Year Old Sherry Oak.  Perhaps the most famous Macallan expression.  The US Quarterly Review of Wines said "Due to the unfaltering regularity with which it wins, we no longer include The Macallan 18 Year Old in our malt tastings.  We have instead enshrined it in our Hall of Fame."  It remains an icon of the brand and Ken's favourite whisky.
Coronet – Consul Camera from the 1950's.  A camera from Ken's collection of antique cameras.  "Photography is one of my great passions, and I love the tactile feel of older cameras, also the ability to compare them to the technology of today, digital is great, but there is something magical about older analogue cameras."
Masters of Photography – Elliott Erwitt Edition.  This objet d'art is hot off the press and is the latest Masters of Photography from the Macallan.  Each book is accompanied by an 11" x 14" hand developed and signed Elliott print paired with a whisky that represents the image.  This is the most extensive Masters of Photography to date with 58 single cask malt whiskies matched to 58 unique photographs.  There are a mere 35 of each of the combinations available making this a global limited edition of only 2,030.  http://www.themastersofphotography.com
Elliott Erwitt signed print.  "This print arrived on my desk this morning; it shows me enjoying a dram in LA.  This was taken, developed and hand signed by Elliott and is something that I will always treasure."
Queen of the South Football Club mug.  "This is always found on my desk and usually full of coffee.  I have been a supporter of the club since 1971 and this simple mug pays homage to both my town of birth and my passion for Scottish football."
Name Stamp.  "This stamp is actually my name in Mandarin Chinese.  This was given to me by our team in Hong Kong.  The Macallan, as part of Edrington, is a truly international business and this stamp reminds me of the success that we share globally."
M Decanter – "A tribute to true mastery.  This decanter was designed by Fabien Baron, made by Lalique and contains one of the most sophisticated and complex Macallan single malts ever produced.  Only 1,750 of these individually numbered decanters have been released in 2013."
Flask Shell.  "This is part of the Flask that we produced in collaboration with Oakley; our goal was to create an indestructible flask. This is the casing that was eventually destroyed – but only after it was shot by an armour piercing bullet! "http://www.youtube.com/watch?v=AR0AT66tM-o
Like Haute Living Los Angeles? Join our Facebook page or follow us on Twitter @HauteLivingMag.
Subscribe to discover the best kept secrets in your city