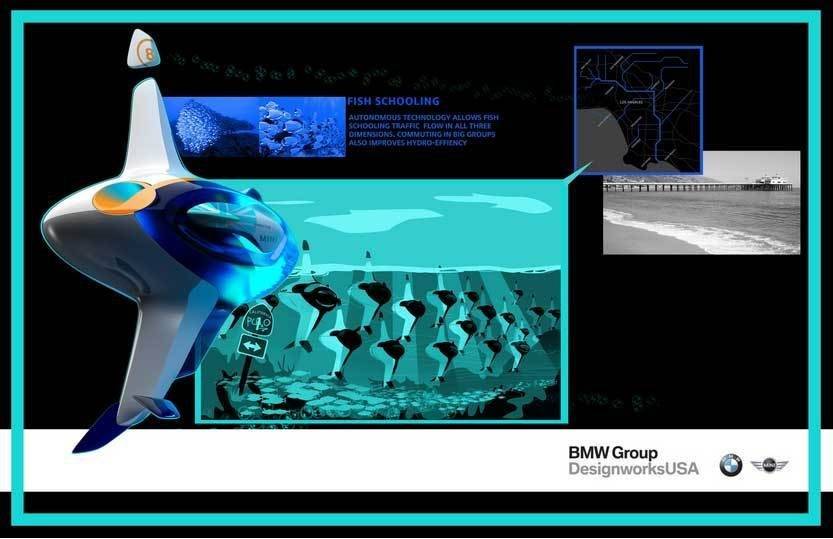 BMW has a plan to counteract the notoriously horrendous LA traffic: a submarine.
BMW Group DesignWorks USA has conceived the plan as part of this year's Los Angeles Auto Show design challenge: "Biomimicry and Mobility 2025: Nature's Answer to Human Challenges."
The design team of John Buckingham, Anders Thogersen, Jose Casas, Daniel Hahn and Marc Girard propose "L.A. Subways", inspired by the efficiency of swarms and the unique power generating processes found within cells, as the answer to the "ever-growing challenges of mobility in Los Angeles."
The haute automotive company's idea is that Mini Cooper-branded pods would travel down the LA River powered by hydrogen fuel.
It's not a bad idea, considering that the river travels through some of LA's most jam-packed highways, from the San Fernando Valley's 101 to the 710 en route to Long Beach to the 5 through downtown.
And why not? If Elon Musk can propose pods that travel in 20 minutes from San Francisco, why shouldn't there be pods that take you from one part of LA to another?
Like Haute Living Los Angeles? Join our Facebook page or follow us on Twitter @HauteLivingMag.
Subscribe to discover the best kept secrets in your city