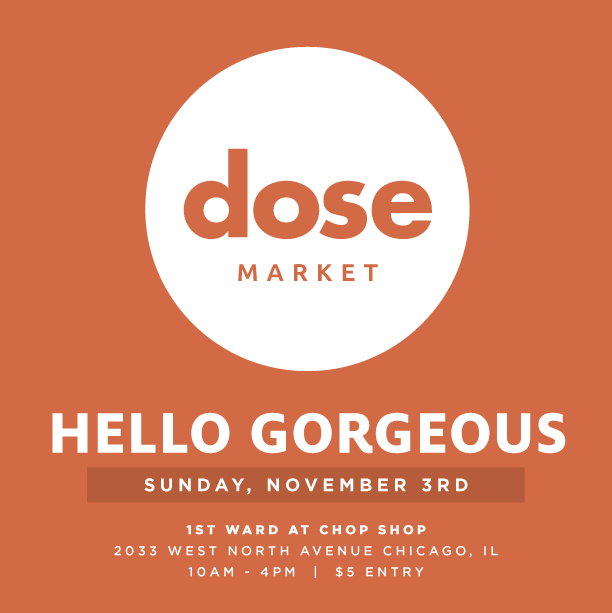 After 5 weeks of back-to-back Sunday Doses, Dose Market keeps the best in food and fashion flowing and the party going with the sounds of DJ LA JESUS, great eats, and step-onto-the-sweep photoshoots this Sunday, November 3. The story for this Sunday's Dose is Hello Gorgeous, a celebration capturing the beauty of everyone in the room.
This Sunday only, Dose-goers are invited to dress their best and sit for a candid portrait by Dave Rentauskas and/or glam it up with the girls of Vavoom Pinups, Ruby Woo lip color application included. Both sessions free of charge for Dose-goers, photo subjects will claim their portrait(s) on Dose Market's Facebook page later in the week.
Eleven new Dosers make their debut this Sunday, including: Rebecca Mir Grady's first collection, a minimal, geometric, twenty five-piece jewelry line in sterling silver and 14k gold; Maven Collection's exceptionally curated selection of handmade home goods and accessories ethically sourced from around the world; Mustache Mike sets up his 100-year-old barber chair and offers barbering, beard and mustache trims, grooming consultations and more for the guys; Eye Spy Optical Doses a selection of handmade, colorful, custom eyewear and sunwear produced by small, independent opticians; Theo Chocolate brings certified organic and fair trade chocolate bars, drinking chocolate, nibs, caramels and confections.
There is so much more to discover at this Dose, including fresh, filling and gluten-free eats from the Farinata Project, Chicago-roasted coffee beans and coffee bar from Dark Matter and a special menu from the ingredient-focused team at Cookies & Carnitas. In addition to the above-mentioned DJ and portrait photographers, our tarot reader, Rebecca Schoenecker, is back as she's become quite beloved by Dose-goers for her calming energy and insightful readings. For added serendipity, everyone gets an extra hour of beauty sleep when the clock falls back at 2 a.m.
Via: Dose Market
Subscribe to discover the best kept secrets in your city