Get up close and personal to the world's leading car-collector event:
There's no celebration of cars quite like the Pebble Beach Concours d'Elegance. The week-long gathering, which culminates every third Sunday in August, showcases the most superior vehicles the world has to offer. All over Monterey County, elite cars take to streets. Car aficionados and collectors travel from far and wide to get a first-hand glimpse at these vehicles. You don't have to be a car collector to enjoy this automotive extravaganza; there was plenty of action for all to enjoy. Here are the highlights from the 2013 edition.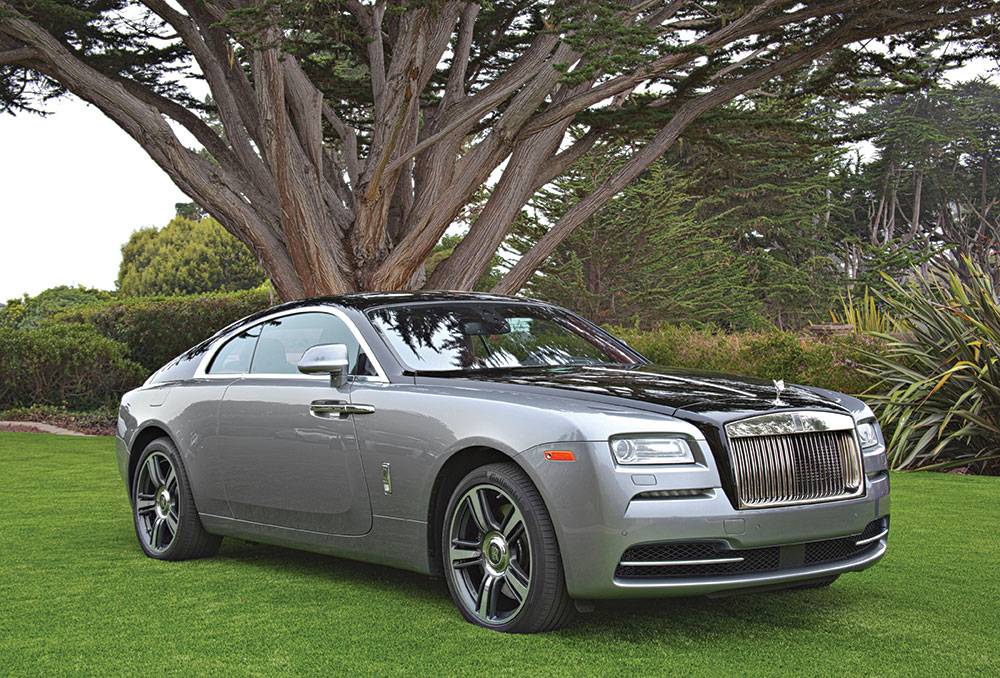 Leisure Society and Crewe Cup Unveil Rolls Royce Wraith and BMW i8 Series
What better place than a private estate in Pebble Beach to hold a ritzy VIP-filled car garden party. Rolls-Royce Motor Cars unveiled the highly anticipated Wraith to guests at an exclusive invite-only cocktail and dinner event presented by mens' sportswear and accessory company, Leisure Society, along with private equity and hedge fund firm, Crewe Capital, who co-sponsored the 2013 Crewe Cup Golf Tournament.
At a lavish dinner on Wednesday, August 15th, Council of Fashion Designers of America (CDFA) designer Shane Baum styled guests in Leisure Society Eyewear before they were seated to a fine dining experience.
The gorgeous Rolls Royce dinner was held at Villa Rolls-Royce. Apart from golf, guests had the opportunity to get up close and personal with the Wraith, the newest from Rolls-Royce Motor Cars, along with other models including the Phantom and Ghost.
Meanwhile, at the BMW Villa, guests had the opportunity to test-drive the never-before-seen BMW i8 series along the stunning 17-mile drive coastline. Picnic baskets filled with delicious samplings of California savories and sweets allowed drivers to enjoy an extra treat at the end of their scenic drives.
Jaguar Kicks off Pebble Beach with Playboy Magazine
On Friday, August 16th 2013, Jaguar & Playboy co-hosted an exclusive VIP party to celebrate the kick-off of the 2013 Pebble Beach Concours d'Elegance weekend. The sexy, invitation-only event celebrated Jaguar's high-performance automobiles including the 2014 F-TYPE, the XJR sports sedan and the limited production, ultra-track ready XKR-S GT.
A live performance by The Dolls (DJ/violinist duo Mia Moretti and Caitlin Moe) brought festivities to a high note.
Bunnies were the perfect complement to these beautiful, high performance vehicles. Playmates Brande Roderick, Alana Campos and Raquel Pomplun, 2013's Playmate of the Year, were in attendance.
Notable guests also included actress and model Gal Gadot, Jaguar Land Rover North America president Andy Goss and Julian Thompson, Jaguar's head of Advanced Design.
Playboy mogul Hugh Hefner's son, Cooper Hefner, also made a special appearance.
Russo and Steele's 13th Annual Collector Automobile Auction
Russo and Steele's Annual Collector Automobile auction is among an elite list of events at Monterey's historic car week. The auction offers a collection of the highest quality vehicles from European sports cars to American muscle to hot rods and custom collector cars. This year, Russo and Steele welcomed some 10,000 people to view and bid on the incredible array of vehicles. The auction kicked off on the evening of Thursday, August 15th, followed by two more action-packed evenings on Friday, August 16th and Saturday, August 17th.
Russo and Steele's top seller was the handsome 1949 Ferrari 166 Inter Berlinetta, one of only 37 166 Inter chassis built in all and one of just 10 bodied by Stabilimenti Farina when new. Following spirited and exciting bidding on Saturday evening, the car was sold for a record $1.05 million, which brought the total weekend sales to just over $7.1 million.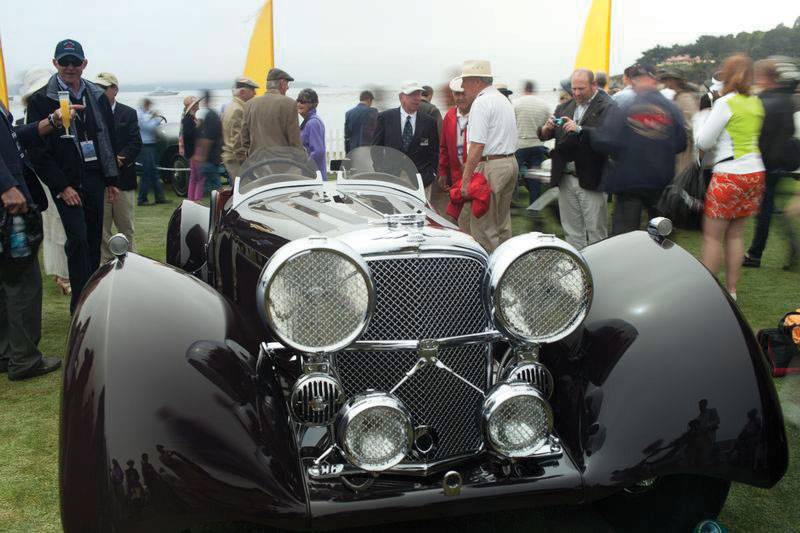 Concours d'Elegance
After four days of festivities, on Sunday, August 18th, the Pebble Beach Concours d'Elegance marked the climax of the 2013 Monterey car week. Affectionately known as "Pebble," it is one of the most prestigious competitive automotive events in the world that showcases exceptionally rare vehicles year after year.
At dawn, about 200 competing cars rolled onto the 18th fairway of the Pebble Beach golf course: automobile owners were ready for their beautifully restored cars to be judged.
The judging process focused on two areas: Class Judges looked at originality and authenticity, while Honorary Judges focused on design, styling and elegance. One of the key criteria was that all cars must be drivable. This year the "best of show" went to a 1934 Packard 1108 Twelve Dietrich Convertible Victoria, owned by Joseph & Margie Cassini III of New Jersey.
2013's honorees included Aston Martin, Lambor-ghini and the Porsche 911. One of the most elegant cars in history, the BMW 507 Roadster, was also honored.