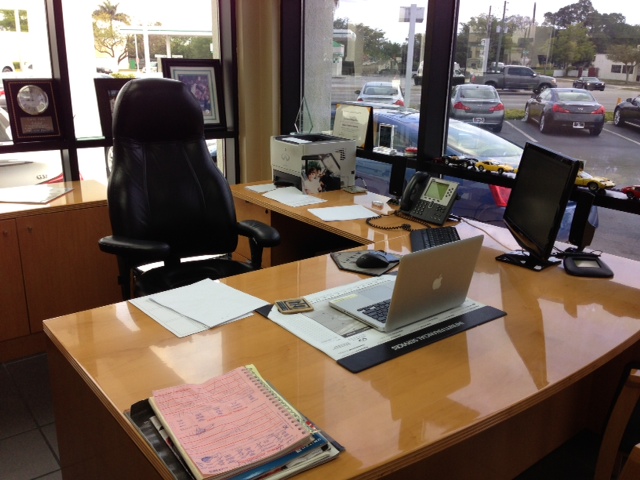 Larry Zinn the son of Warren Henry Zinn and is General Manager of Warren Henry Infiniti, Warren Henry Jaguar, and Warren Henry Volvo, divisions of Warren Henry Auto Group, South Florida's premier luxury auto group. Celebrating their 37th anniversary, Warren Henry Auto Group is headquartered in Miami, Florida with nine South and Central Florida franchises including Warren Henry Infiniti, Warren Henry Volvo, Warren Henry Jaguar, Fisker Miami, Land Rover North Dade, Land Rover South Dade, Lamborghini Palm Beach, Ocala Subaru and Ocala Volvo.
The items on my desk are:
My MacBook, which is my mobile desk. Moving around as often as I do, the physical desk has become less important and being able to work anywhere is what matters most.
A picture of my sister Katy and I in the first Range Rover ever delivered to Land Rover North Dade. It is my favorite picture of all time and a great conversation piece because people always think it is a picture of my children.
A coffee stained Northwood University coaster. After working from eight different desks throughout the past five years, this is one of the only things that has made every trip with me. It reminds me of my college days and the time in my life when I decided to dedicate my future to the automotive business.
The Automotive News "100 Best Dealerships to Work For" award which was presented to Warren Henry Infiniti last year for being one of the 100 best stores to work for out of 17,000 qualified dealerships. A store's culture and environment is very important to me, and it was extremely gratifying to receive an award that affirmed that the dealership we created is amongst the best in the country.
Subscribe to discover the best kept secrets in your city