Actor and producer Wilmer Valderrama returned to Hyde Bellagio to celebrate his birthday for the second year in a row. The 33-year-old, best known for his role as the loveable Fez on the hit comedy series "That 70s Show," arrived with a large entourage of his closest friends. Recent troubles with on-again, off-again girlfriend, 20-year old songstress Demi Lovato, didn't seem to have an affect on the evening's celebratory mood.
Valderrama smiled for photographers and graciously greeted adoring fans on the red carpet before heading inside the club where he was welcomed to a plush VIP table under the DJ booth by Hyde's sexy servers carrying sparklers and signs spelling out "W-I-L-M-E-R." The Hollywood hottie soaked up the attention of fans while dancing and drinking with his "Wolfpack," the moniker for his close-knit male posse. The notoriously flirty star enjoyed the attention of several gorgeous women in his booth throughout the evening, but seemed to be flying solo for a night out with the guys.
Later in the night, Valderrama surprised the packed nightclub by hopping into the DJ booth to emcee the party, saying "Ladies and gentleman, we're at Hyde Bellagio! We're going to blow this party up!" as DJ Five dropped the hottest club hits and confetti showers rained over the crowd. Valderrama waved to admiring fans while keeping the energy high, cheering, "Let's go, Las Vegas!"
Back at the table, it was Hyde's turn to surprise the birthday boy. A massive birthday cake adorned with film reels and snapshots of the star was delivered to the booth. Valderrama blew out his candles as his "Wolfpack" and several attractive female friends sang "Happy Birthday." The group danced and drank into the early morning hours as the Fountains of Bellagio sprayed high into the night sky.
Also spotted on Hyde's dance floor was New York Jets cornerback Darrelle Revis wearing a Chicago Bulls hat.
Wilmer Valderrama with birthday cake at Hyde Bellagio, Las Vegas 2.2.13
Wilmer Valderrama turns 33 at Hyde Bellagio, Las Vegas 2.2.13 (2)
Wilmer Valderrama parties with friends at Hyde Bellagio, Las Vegas 2.2.13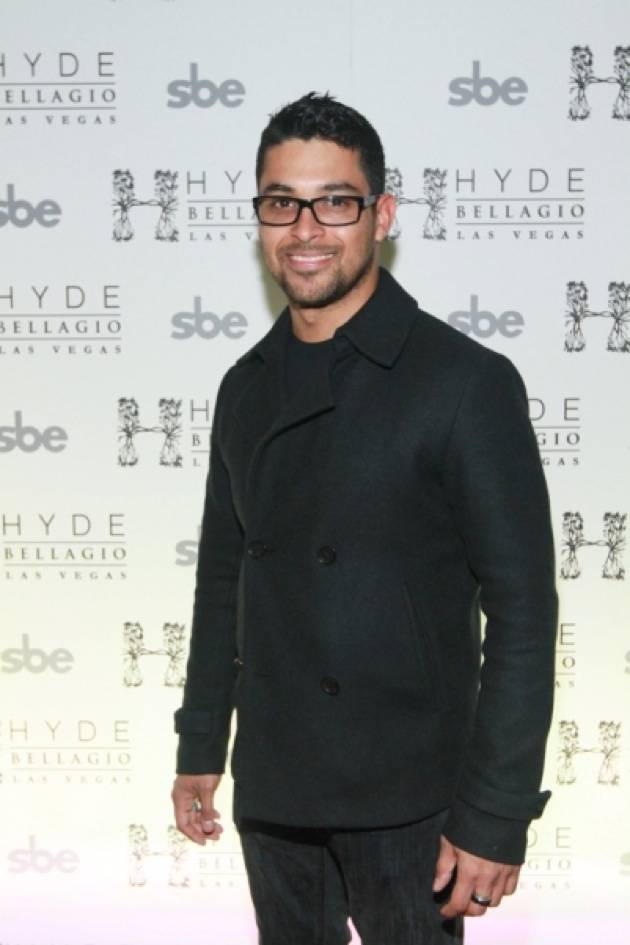 Wilmer Valderrama on red carpet at Hyde Bellagio, Las Vegas 2.2.13
Wilmer Valderrama in DJ booth at Hyde Bellagio, Las Vegas 2.2.13
Wilmer Valderrama celebrates birthday at Hyde Bellagio, Las Vegas 2.2.13
Photos: Hyde Bellagio and Bryan Steffy/Getty Images
Wilmer Valderrama celebrates birthday at Hyde Bellagio, Las Vegas 2.2.13